So ... I thought I'd be getting the post before this post out before this one -- those of us with real world photo jobs can't possibly post every day.  Every week.  Every couple of weeks.  Okay ... once a month.
Seems as though the workflow/digital asset management blog has a life of its own.  Wanted to wait to see if a cd polishing company could save 30-odd discs before I finished.  A month and change ... 1.25 million images and growing ... lots and lots of terabytes later ... and I'm almost done.  The thought of ingesting more damn cd's/dvd's kind of turns my stomach.  Imagine a big-ass plastic container with 16-odd spindles full of optical media and pulling out that first disc...
Yes, it took almost one month of serious ingesting.
It's funny seeing the evolution of cameras.  There are Nikon D1 (2.74 mp) images, D1X (5.3 mp), Canon 1D (4.48 mp), Canon 1D Mark 2 (8.4 mp), Canon 5D (12.8 mp), Canon 1DS Mark 3 (21.1 mp), Canon 5D Mark 2 (21.1 mp), Canon 1D Mark 4 (16.1 mp), Leica M8 (10.3 mp), Leica M8.2 (10.3 mp), Leica P864 AKA Leica M9 (18 mp) and Leica S2 AKA The Saudi's Choice (37.5 mp) images ... as well as tens of thousands of scanned negs/chromes, too.  
Every once in a while I'd peek in a folder -- kind of for data integrity but mostly because I was being nosey -- to reminisce.  I'd rather reminisce than shoot photos of walls.  
I'm sure that's much more "real world" than actually tidying up your ACTUAL WORLD digital asset management and actually doing WORK that is workflow.  Perhaps not. ;)  Photos of friggin' walls.  I mean ... really!?  To me that kind of "real world" is about as relevant as a retired dentist masquerading as a photojournalist.
The latter of which has a website that isn't 10% as good as MANY friends on dA and flickr.  Totally laughable. Funny when guys of "that calibre" call you/me a paparazzi.  Honestly, it used to make me mad when the uninformed and clearly ignorant of the "real photo market" would say this shit but ... now I pretty much laugh at them.  Yes, I've shot on red carpets but none of my photos are unauthorized. Something I'm sure the dentist-turned-wannabe-pj couldn't do.  Not that he'd have ANY chance of being credentialed.  Probably as much of a chance as real worlders. ;) 
Ol' retired tooth-checker has as much of a chance of actually receiving a "real commission" as Kim Kardashian does winning an Oscar®.  I mean she did show up to the SAG Awards, though.  I thought of a Facebook status of "Since when did porn actresses become SAG members?  In other words how the hell was Kim Kardashian allowed to come to the SAG Awards?"  I didn't put that up because ... I don't think it would be appreciated by some people.
I can write it here because I doubt they have time to read my blog.  'sall good.
What's not all good is when marketing companies at the camera manufacturers figure out supporting bloggers wasn't that great of an idea.  Honestly, dunno what it is about the red dot but I think it's almost like Viagra for some.  I'm sure their internal dialogue goes something like "I can't make a photo to save my life but damn is my camera sexy."  They're the same ones who probably bought the Titanium one. Personally, I wouldn't touch their camera unless it was sprayed down with a disinfectant.
Just remember "... an erection for more than 4 hours could be a serious medical condition and should be treated by a doctor."  Red Dot = Blue Pill.
I know.  I'm not nice.  On to the point...
When I saw the discs within that 40-plus pounds of spindles entitled "Space Ship One" I was trying to remember if I was nice or not.  I thought back to the media room and setting a .wav file to play 3 minutes of wet farts of varying lengths with a good amount of lag between them.  I set it to play well after I'd gone outside in the heat to smoke.  I also distinctly remember being able to have an eye on the MBP.  In the "real world" gear gets stolen in media rooms.  Happens all of the time.  
My real reason for keeping an eye out, though, was to see the face of some wannabe reporter for some Christian-based new service that I'm sure was nothing more than a newsletter you find on the ground outside a coffee shop in Barstow.  Homeboy didn't have a sense of humor nor did he appreciate being within 5 feet who didn't use "I'm so blessed" or "awesome" or "my word" as ways to express themselves.  In the "real world" working shooters speak a lot like truck drivers.  ;)
I've made a truck drivers blush.
Anyway ... after about 2 minutes the ol' MBP started to have intestinal issues.  And, yeah, the volume was up kinda high.  Homeboy the play-reporter -- to me like a hobbyist housewife who thinks she's a "real photographer" -- hears a pretty wet greasy one.  He lost his shit.  Lost it.  Sorry about the pun.  I could have run back in and hit mute or pause but I was too busy laughing my spleen out through my nose. Yes, like milk in 2nd grade my gatorade came through my nose I was laughing so hard.  Dunno why that guy couldn't tell it was an MBP making the sounds but ... he left.  I didn't really give a shit.
Pardon the pun.  Again.
Perhaps he got the last word as the Gatorade left a sting for a while.  I don't remember milk hurting that bad.  It gave the "coloured sweat ads" a whole new meaning.
My photos were moving and I'd spent a couple days in the middle of the desert watching grown rich men light homemade rockets to see if they could get some poor soul past the technical boundary of space.  
That and hearing some engineer bum our Grey Goose vodka and recount stories I'm positive his surely tight-lipped employers would expect him to be as well.  Friggin' desert, man.  Strange shit everywhere.
*forgot to ftp the images to photobucket*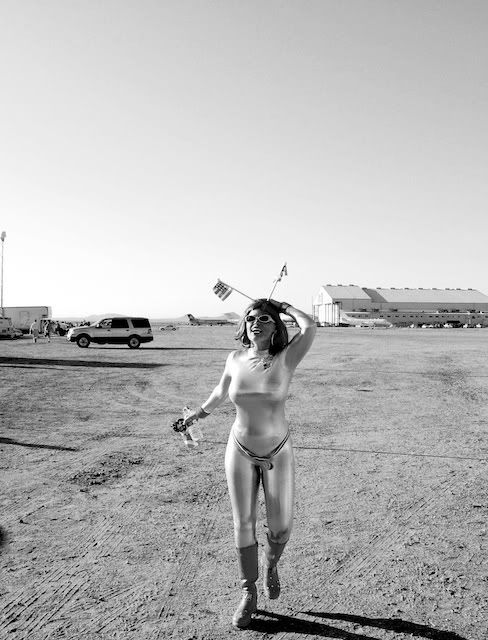 The desert really brings 'em out.  I think that's actually the last shot.  So, yeah, I'm leading with the last instead of something near the first but I think it illustrates that the desert really does ... something ... to people.
Although there are some scans from the assignment paid sojourn to the mojave, I don't think they were done by my lab correctly.  I didn't see them in the 2004 folder around the date they would have been processed.  Whatever.  How much has changed since 2004?  I was still shooting dual systems ... Canon (1D and 1D Mark 2) and Nikon (D1X).  Now I'm all Canon.  Have been for a long time.  Funny looking at those "little files" compared to big bitches of today.
Funny comparing the machine I was using compared to today, too.  I think it was still system 8 or 9.  It was mac but it kinda sucked.  I love version 10.6.6.  I'm starting to love NIK's Silver Efex Pro 2, too, which I've been evaluating within my workflow -- one that doesn't include friggin' walls -- for the last few weeks in beta.
I thought ... ya' know ... to illustrate it to you guys ... I'd see what it made the files of yesteryear look like.  Actually, I was way bored of watching status bars grow and started dicking 'round with the files on the Space Ship One discs once they were ingested from the optical discs.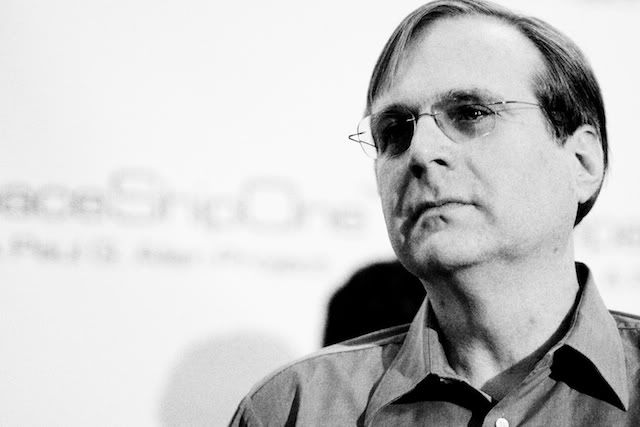 I'm pretty sure this is the Kodak Tri-X 400 variant filter in Silver Efex Pro 2.  I like how, similar the actual film stocks, it holds the mids and highlights better than Delta.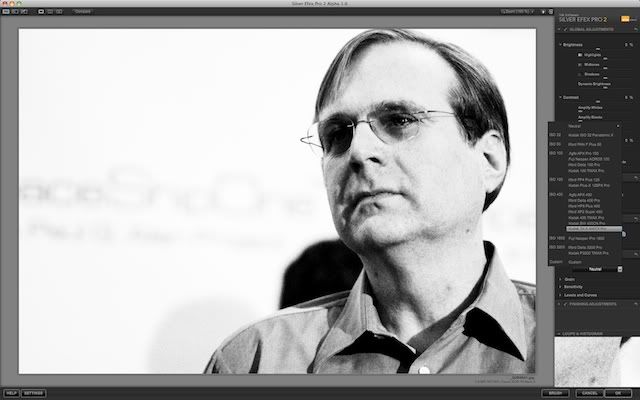 Tri-X as opposed to ...
The Delta.
Wish you guys could see these on the calibrated MultiSync PA241W.
This is Paul Allen of Micro$oft fame and wealth.  He had a range of emotions the day before "they lit it."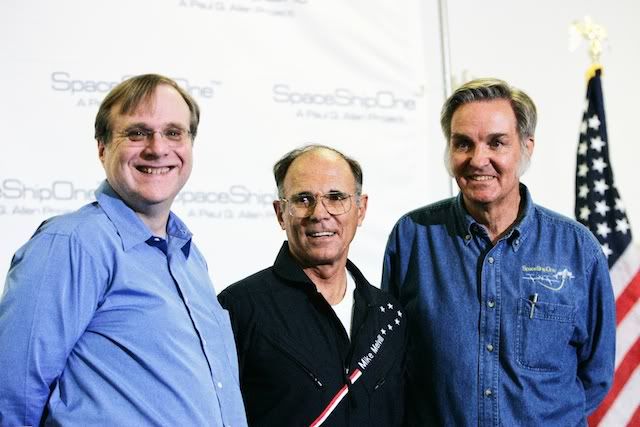 We referred to him privately as a code word.  I've heard he records every single broadcast of every single broadcaster in the world so ... I'd image he may google himself, too.  I don't think google should be capitalized as it's more of a verb these days.
I used Nik's Color Efex Pro 3.0 on this one of Paul, Mike (the test pilot) and Burt Rutan.  Used a nice Kodak Portra 400 NC filter/process.  I wish the wires would let us use these kinds of filters.  I think they give a photograph a better look than just a plain old jpg that they allow us to file.
One of the reasons I loved Nik's Silver Efex Pro 1 is that I grew up on film and like the aesthetic.  That's about all film has become.  Has better dynamic range and shadow detail and yadayadayada but it can't be digital's speed.  Speed of which a couch-blogger needs to post photos of walls.
I would much rather look at any colour photo processed through -- without becoming a contrived HDR mess -- Nik's Color Efex Pro 3.0.  Again, wish they'd let us use these film filters.  They don't make a material change to the editorial content whatsoever.
Perhaps in time.
Seems giddiness was the general mood for the pre-launch day.  I couldn't just file "happy photos," though.  What if things didn't go well?  They'd need something else to play.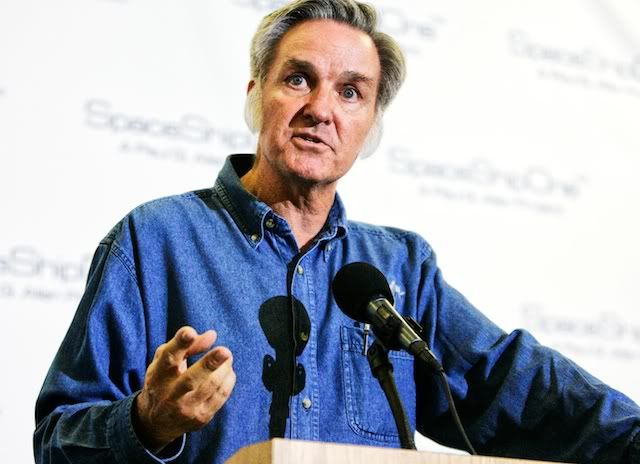 Serious.
And, yes, some Color Efex Pro 3.0 film effects thrown in.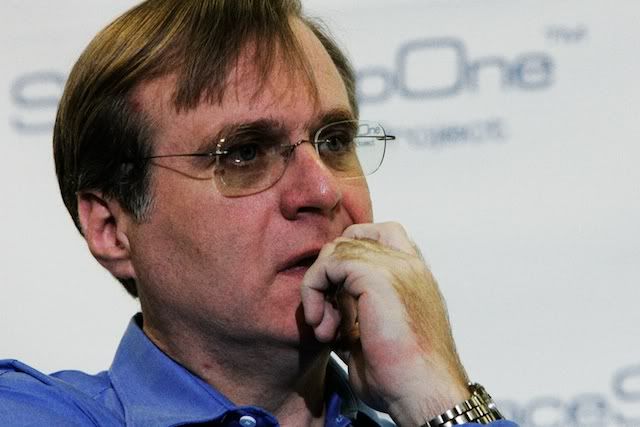 Pensive.  I like how the lens of his glasses refracted (?) "One."  I love the look, simulated with Nik or actual film, of grain.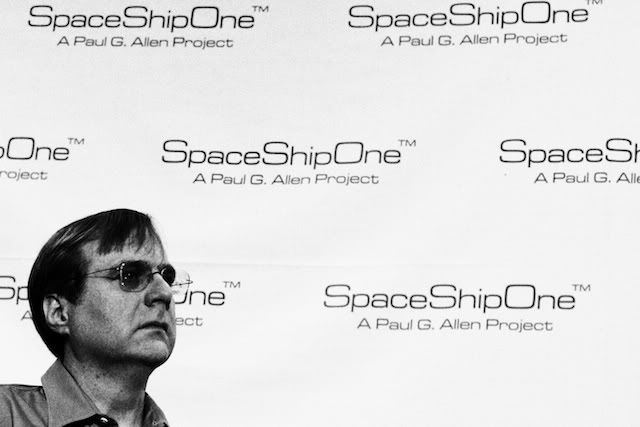 Pensive or just uncomfortable in a room that was some old military surplus kinda room with air conditioning from the 1950's?
We got to Mojave via some other god-forsaken friggin' desert locale at 04:00 or some shit.  Rarely, do I wake to see a sunrise ...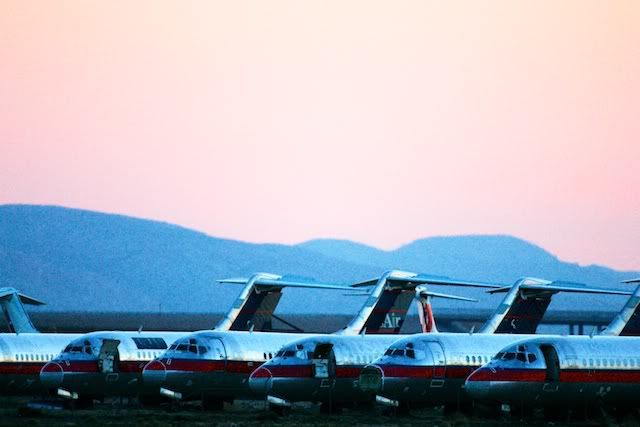 Levels/Contrast-adjusted "camera original" -- can't wait to hear the hobby-bloggers start using that term. I mean we do a workshop with three instructors and ... of course ... the imitators have to add two to their one-man show.  Funny.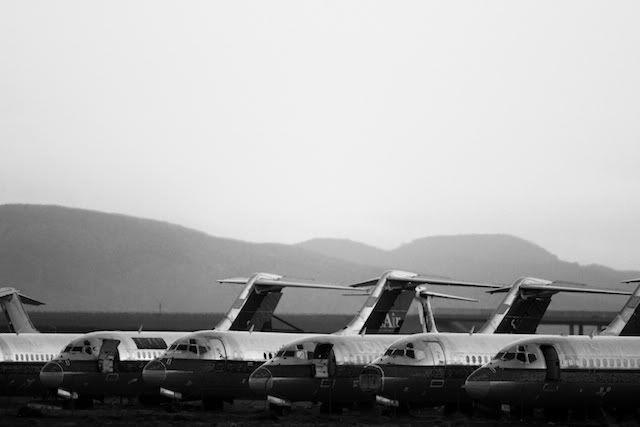 The Silver Efex Pro 2.0 version of the boneyard.  Here are a couple screen shots showing the differences in their emulsion filters...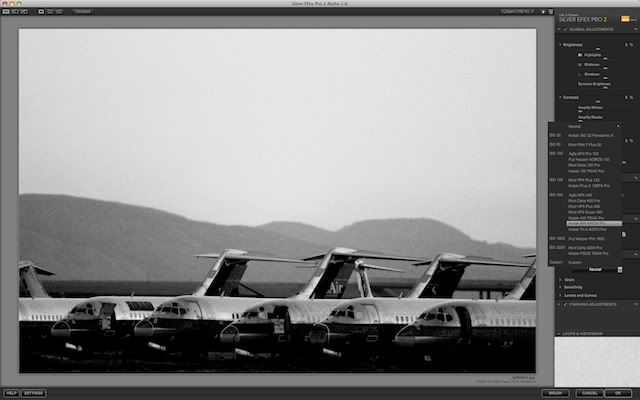 The Kodak BW 400CN Pro filter/process, which Mr. Jackson likes in the "real form," acts a lot like what it does ... in the "real form."  I compared it to a film I like in "real life" Fuji Neopan ACROS 100...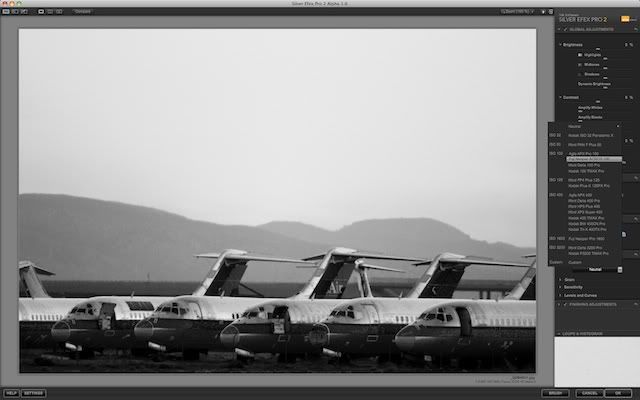 With a touch more contrast -- and especially with this new feature called "Soft Contrast" -- made this the winner for me.
... a little judicious-cough-cough Velvia filter in Color Efex Pro 3.0...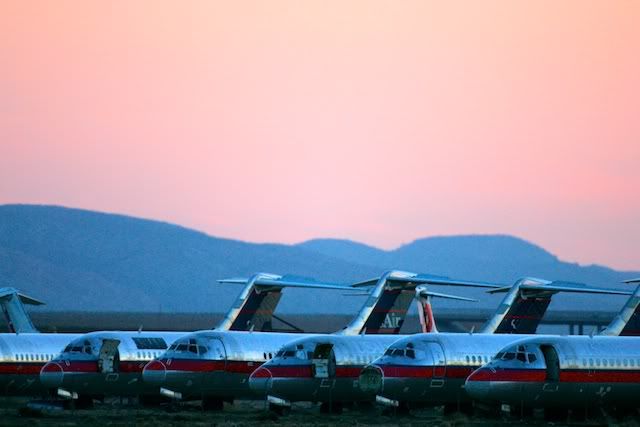 That's seriously more what it looked like than what the "old cameras" saw.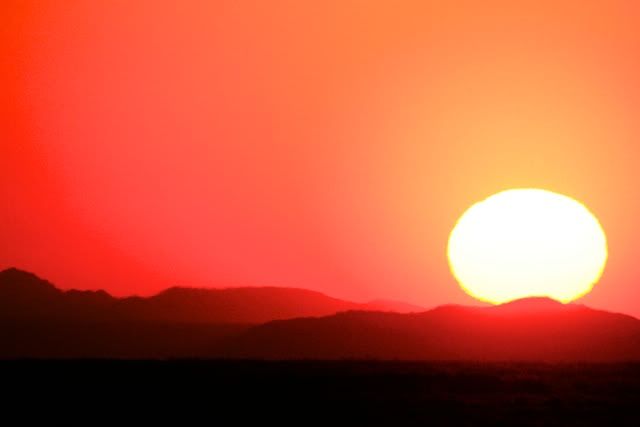 Played with the sunrise in Color Efex Pro 3.0, too. ;)  I miss Velvia.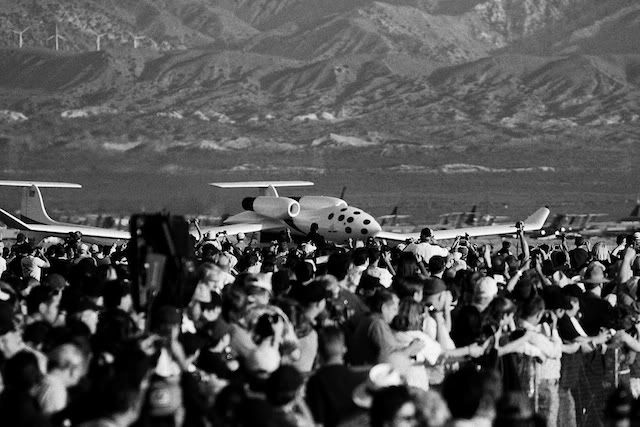 There were thousands there just to see Space Ship One.
A little more Velvia action with some control points.  I was pretty awestruck when I saw the White Knight and Spaceship One beneath it.  NIK's Control Points are pretty amazing, too.

The Velvia and Provia filters in Color Efex Pro 3.0 are pretty damn nice.  Photoshop also allowed me to turn some Canon original into an X-Pan. ;)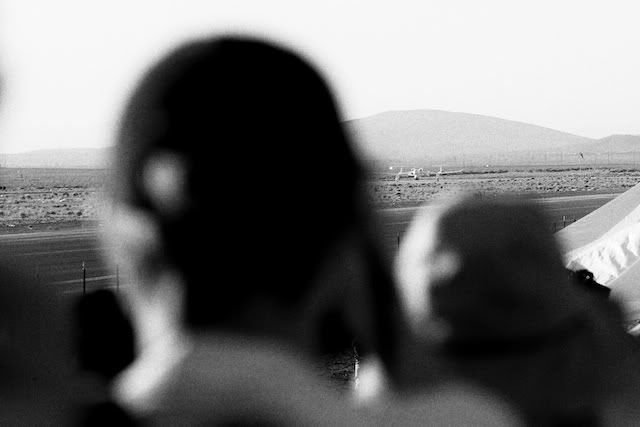 Members of the media or elements of composition ... through a nice emulsion filter in Silver Efex Pro 2.0.
The White Knight seemed to lumber down the runway and almost seemed to "just get off."
Yes, more iVelvia. ;)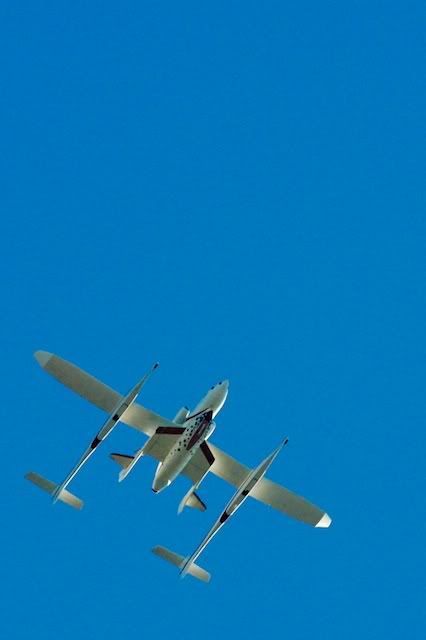 This is an extreme crop from a 4.0/600 Canon.  And, yes, iVelvia in Color Efex Pro 3.0.  They were way the hell up there.  With the naked eye they were hardly larger than a speck.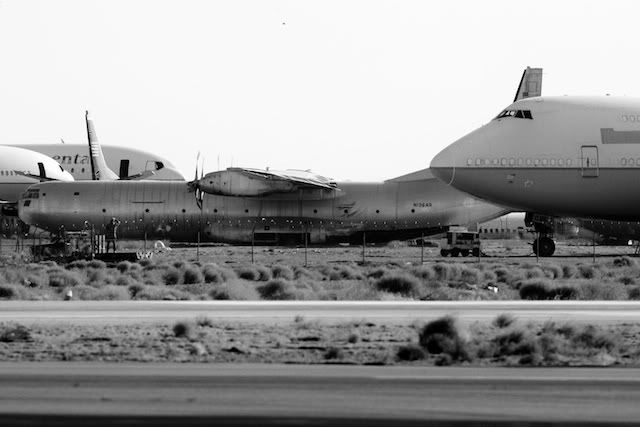 Kinda like the "speck of a man" looking at the "speck of a transporter/spaceship."  Honestly, I think the Control Point feature of Silver Efex Pro 2.0 kicks Photoshop CS5's burn-dogge collective ass.  The above is the "control point applied" photo. This is the unapplied ...
When guest stars or "housewives with cameras" satisfying creative whims try and dodge and burn most of the time they get halos.  Big ones.  Even my gf can spot a photo where someone "tried to bring something up" and it's pathetically obvious.  Selected just a bit of the lone dude standing on the truck.
When I applied 18% brightness within that Control Point it didn't just bring up the man; it also brought up some features on the old airplane but in an even way instead of a tell-tale way when someone plays with something they know nothing about but should if they refer to themselves as "a photographer."  Pretty amazing I think.  Housewife-photo enthusiasts all over the world should buy this plug-in.  I know.  I can't ever be nice.
One of my favourite things in the world is the "blind item."  They're lovely.  They're like sudoku for the shallow.
Everyone tried to shield their eyes from the bright morning desert sun...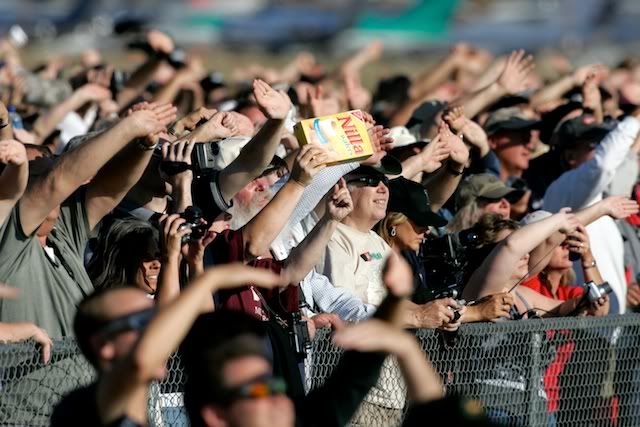 Nice and flat camera original from a Nikon or Canon in '04.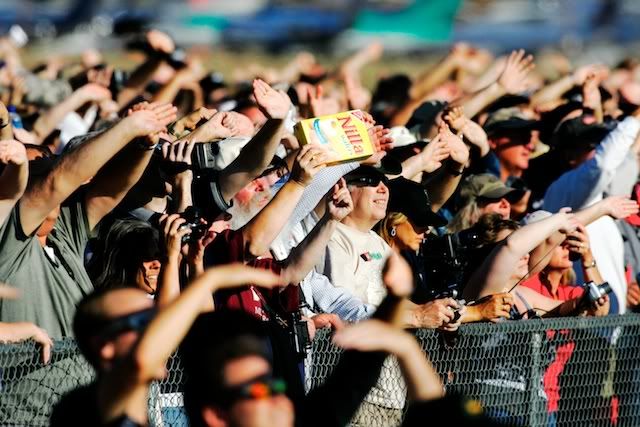 And a file I think looks way better because of a NIK plug-in from '11.  Pretty sure it was Portra 160 VC. iPortra 160 VC.  Sorry.  I know there are people who are sticklers for that shit.
They usually live in forums.
And don't shoot.
At least I haven't dropped an f-bomb. ;)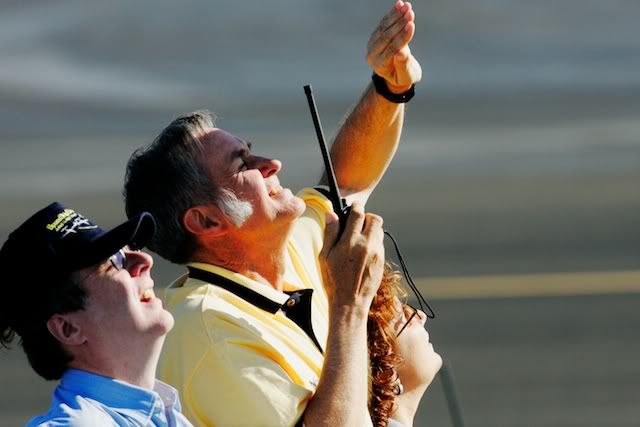 Even the guys behind the launch -- one with money and the other with engineering skills -- tried to see it coming back.
I'm pretty sure I remember hearing it fire it's engines then proceed up to the fringe of space.
It was early.
I'm not a morning person.
It was when iPods still had disc drives.
It was a bitch to see that morning.  
Just some levels/contrast ... pretty much a camera original ... and then a little Color Efex Pro 3.0...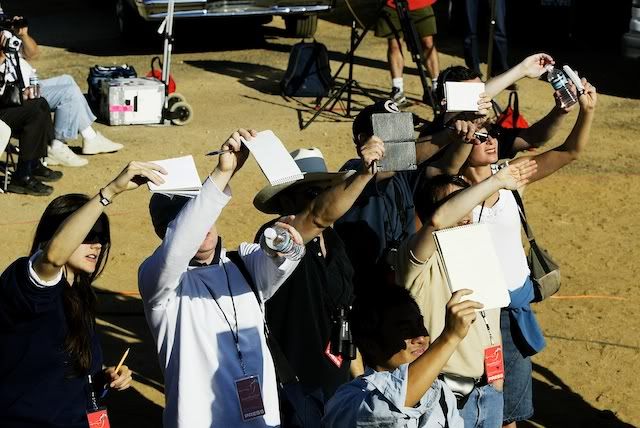 Just pops without being obnoxious.
Went with one of the less contrast iEmulsions on Silver Efex Pro 2.0 for comparison.
Seriously, when it comes to digital monochrome conversion I don't can't stomach looking at something that hasn't been processing with Silver Efex Pro 2.  The first one was amazing as well.
And then she came back to earth ... gliding.  Her escort was a prop-job; NASA gets jets.  Whatever.  I don't think NASA could have done this project without hiring 30x the people needed and wasting shitloads of money, though.  These guys had a mid-seven figure budget.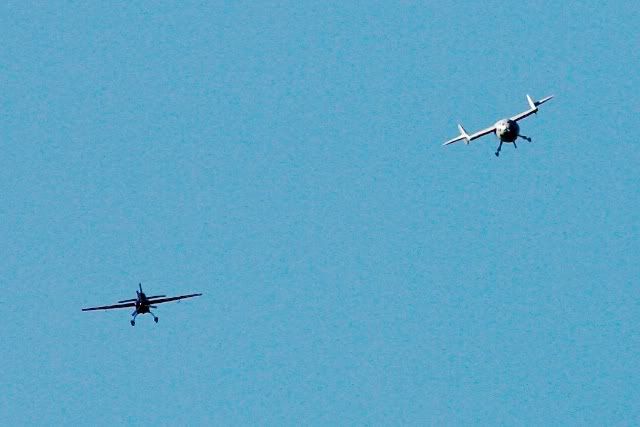 This is more what the original file looked like.  The previous had a little iVelvia applied.
Perhaps a bit here, too.
She was launched from an insect-looking airplane, fired a rocket made from rubber or some shit, blasted its way toward space and then glided home.  Pretty amazing considering the budget.
Rutan and Sharky were stoked...
I was pretty happy for all involved.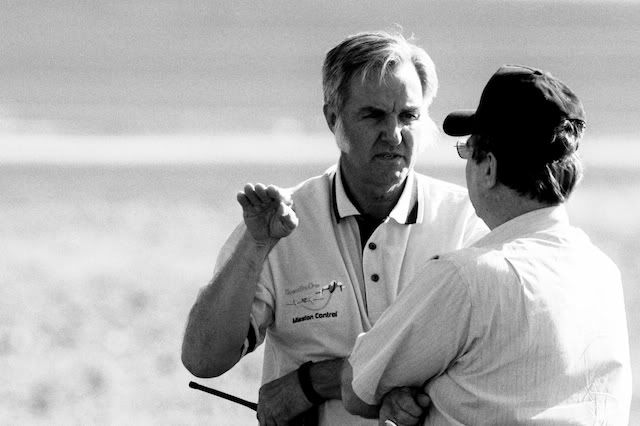 A little post-flight play-by-play and Silver Efex Pro 2.0 iMonochrome.
Water.  I woulda had a bottle of bourbon.  Then again, I don't have a pilot's license nor should I ever.
When you launch Silver Efex Pro 2.0 it brings it displays it in "neutral."  After a little Control Point on Mike's face ...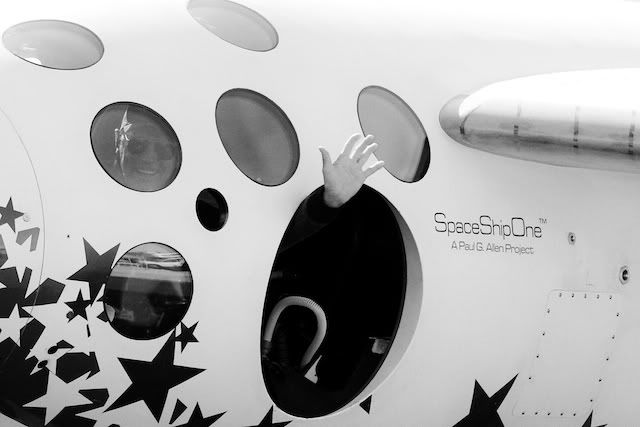 A bit better.  It makes the face pop, which is kind of what the whole frame is about.
He was pretty happy to see the benefactor!  iProvia.  Brings up red in the face a bit much for me, though.
And the Silver Efex Pro 2.0 version...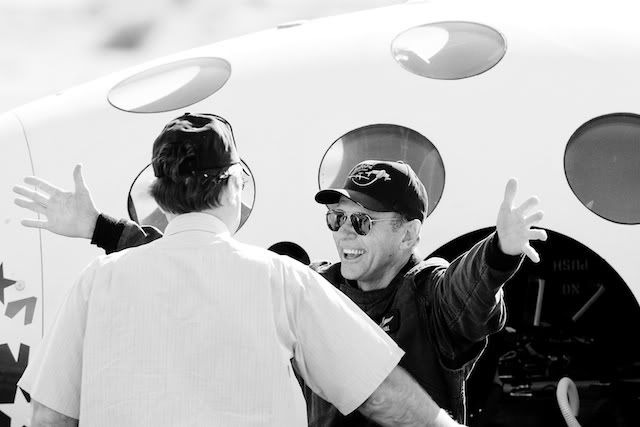 A nice i100 ISO variant.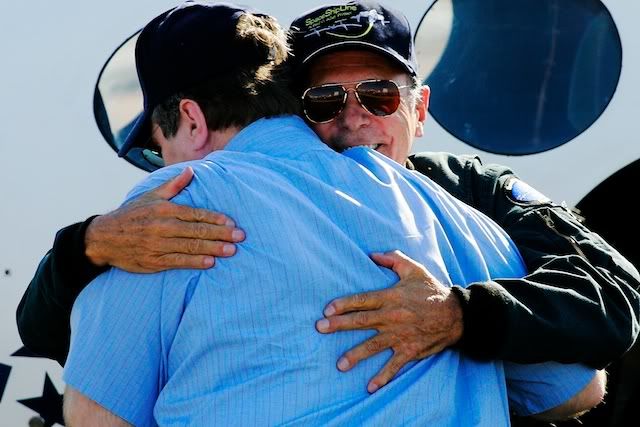 It's really close to what real Velvia looks like and does to skin tone.  Horrible film for skin tone.  It's also pretty fine-grained.  A grained-up iEmulsion version through Silver Efex Pro 2.0 looks like ...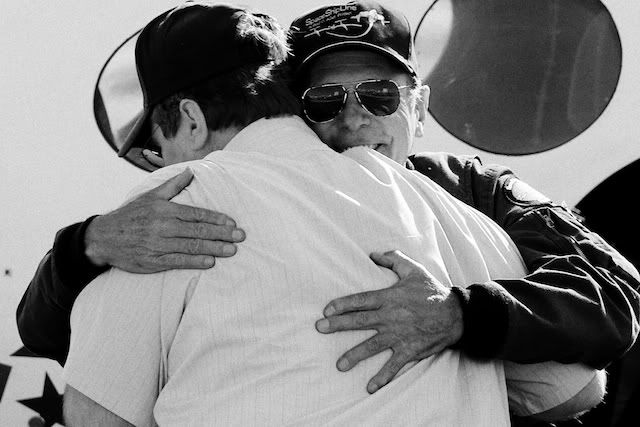 Think it's one of the 1600 iISO's they have.
The look of Rutan in his glasses is priceless.  I'm pretty sure I was on some long glass for this one.  No, I'm not gonna go look at the EXIF.
Here were my two choices I was looking at the most ...
And the one I went with here ...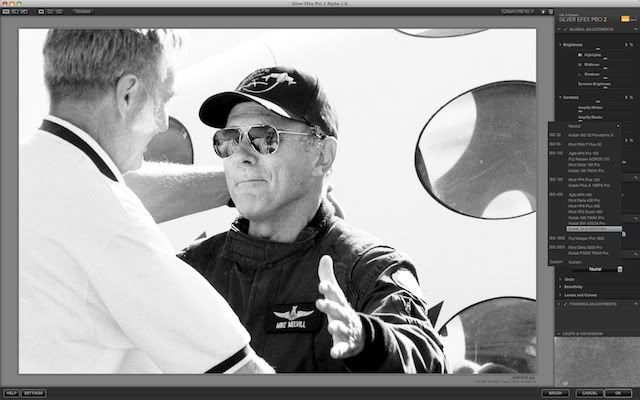 It was pretty contrasty light and I thought this best represented what I remember seeing.
Another nice thing about Silver Efex Pro 2.0 is that when you're selecting your iFilm Stock you can just hover over it and it changes your main viewing screen really fast.  I didn't really mind 1.0 being a bit slower because I loved what it did for digital monochrome.  It kicks ass now, though.
Yes, even I'm patient with things I like. :)
And Mike looked right at me quite often.  Perhaps he agreed with what it said on my shirt. ;)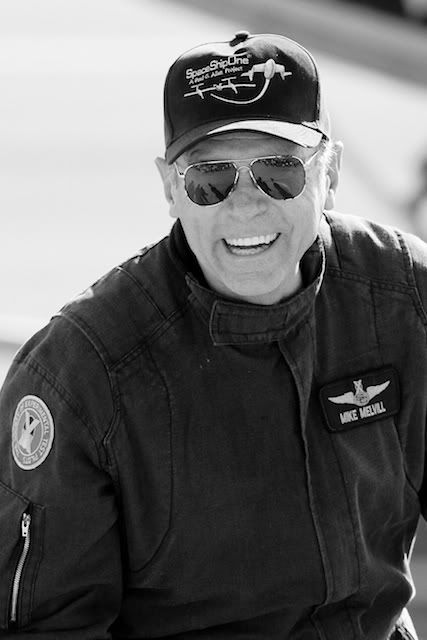 That was my choice for this exercise in getting to know software -- using Nik Silver Efex Pro 2.0 on prior workflow instead of making some nice flower-cat-wall-boring photos.  Here were the iEmulsions I was "hovering" around...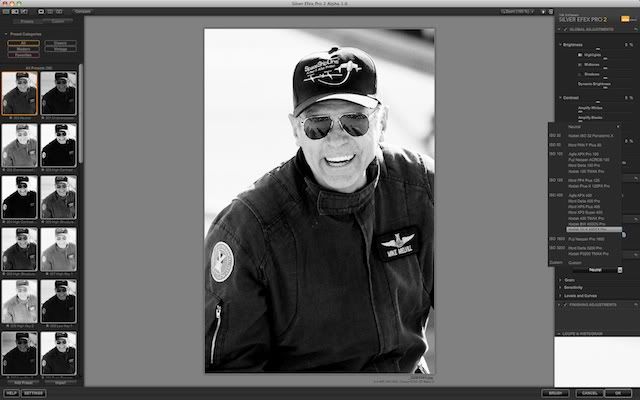 The normal stand-by, iKodak Tri-X 400.
The iAPX I went with ... and ... just for the hell of it ...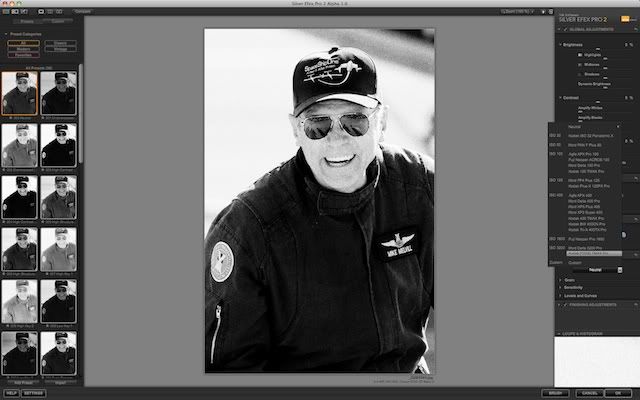 Some super-iGraininess.  Wasn't bad, actually.
Loved this and could have "pulled a Detrich" to remove the post-thing but ... didn't.  This is neutral and I wanted an iEmulsion with some contrasty pop!  I would never pull a Detrich by the way.  We (those who shoot for wires for a living) are allowed to do some contrast, unsharp mask (to make up for our CMOS's softness), levels, colour temp and resize. That's it.  I'm sure couch-bloggers sit around all day making irrelevant adjustments to irrelevant wall photos and looking at their Google Analytics page. ;)
Much better.
Kinda like when you're shooting a Caucasian face against a bright background and the subject is wearing a dark suit against a mid-tone background element.  It's a bitch to expose.  Although we aren't allowed to file a photo with a wire service using a Control Point -- or burn or dodge in Aperture or PS CS5 -- it would sure be nice.  Because of idiots who were stringers for Reuters, dumb asses like Detrick and real dumb asses like Walski we'll probably never get to either.  Doesn't change the editorial integrity of the photo but ... the idiots ruin it for the rest of us.  Just like how couch-bloggers will end up ruining it with the manufacturers.
The soon-to-be-favourite tool of people who wake up one morning and print up "Professional Photographer" cards are gonna love these Control Points!  No halos or whatever you call it when you see someone who doesn't know how to use burning and dodging or whatever they call it in Lightroom.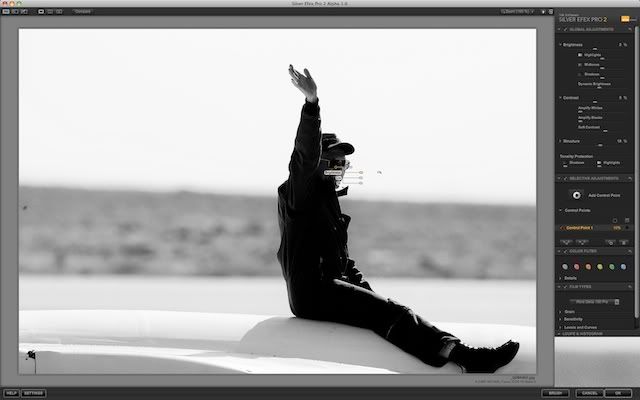 Et voilá...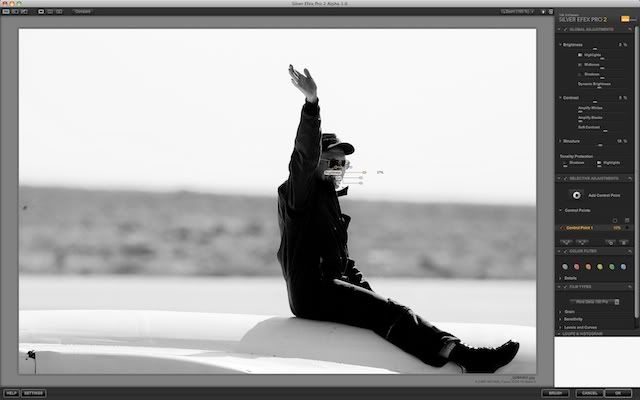 The face is perfectly lifted from the shadow of his hat with a bit of brightness adjustment and no halos from heaven.  I've heard these halos are very popular in some parts of the world.  It makes people look holy.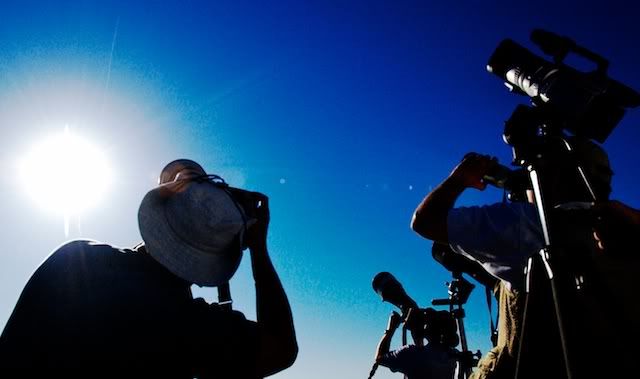 There were lotsa big lenses that morning!  A bit more iVelvia. ;)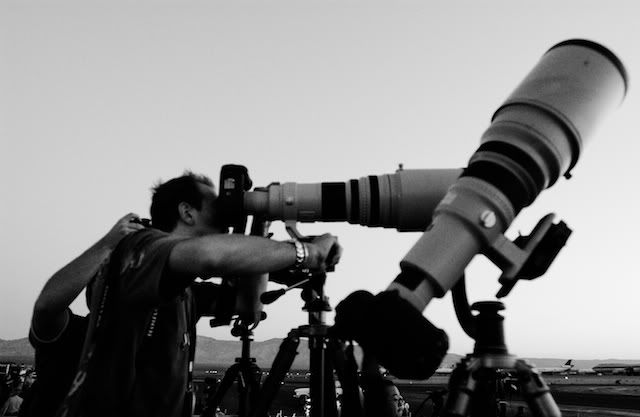 The skinny Italian hard at work.  My 600 wasn't.  Those gimbles -- even though I rarely need long glass -- are amazing.  Perhaps some couch-bloggers can ask a celebrity to borrow one. ;)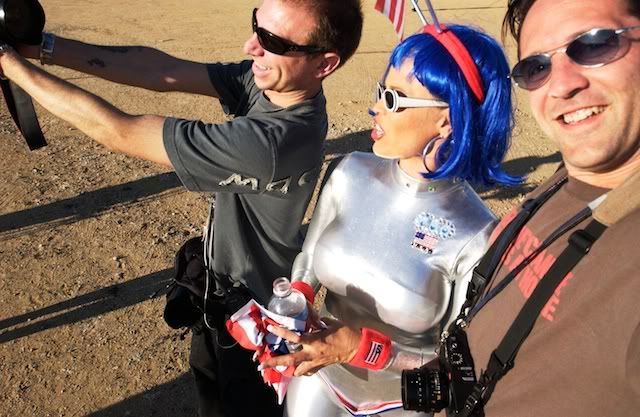 Like the privately launched rocket when would we ever see this again?
Seriously, this was one of the coolest things I've seen.  Nik's Silver Efex Pro 2 is also one of the coolest things I've seen.  Instead of shooting brick walls, flowers, cats and horribly cropped canines -- then again, that's kind of what the most vocal forum members and guys who do portraits sitting next to their cameras do -- I wanted to marry the two.
Digital monochrome looks like sharp crap no matter the depth of field.  Nik's Silver Efex Pro 2 makes it look lovely.  
Funny thing is that I went to Epson's HQ's in Long Beach to demo and get trained on the new Epson Stylus Pro 9890 very recently and got to print some massive ... prints.  One of the files was from the M9, another from the 5DM2 and another from the 1DM4.  Since these were for me, I could process them above and beyond wire service standards.
And, of course, I applied some lovely Nik Silver Efex Pro 2 filters.  The prints looked amazing.  Whereas "plain ol' digital" has too much of that "sharp edge" when you use Nik Silver Efex Pro 2 you soften the edge and make it beautiful.  I know ... if you're intoxicated by the red dot, everything must be sharp.  So contradictory to what "the street forum's god," said:
"Sharpness is a bourgeois concept" Henri Cartier-Bresson
Seeing sharp digital monochrome photos -- beside what I do for wire services -- really makes me throw up a little in my mouth.  Seeing them printed makes me throw up a little more than just seeing them on a screen.  Ask around ... someone's seen me do it.  
Hope you've enjoyed a new interpretation of my little sojourn into the Mojave with the skinny Italian assignment seven years ago with today's newest software. :)  I think you're gonna love it.
In fact, I'm gonna select a random commenter's comment randomly ... and give them a copy of it when it's released to the public!  MAKE SURE YOU USE A REAL EMAIL ADDRESS.  Each comment will receive a number on a little piece of paper.  I'm gonna put the little pieces of paper in a bag and mix them up.  I'll close my eyes and pick one.
Hope you win!
I'll do a short blog announcing the winner and where they're from unless I finish that archiving blog.
Hope you're all well and having beautiful weather. ;)
Cheers from somewhere warmer than where you are!
-C