It's been a while.  Wish I could be like the other blog posters and do an update every day or so but, well, that's not going to happen.  It's much different when you make photos for a living.  Wonder how many of the semi-popular bloggers gave up their day jobs?  If they did, they'll be selling their Leicas. ;)
Unless you're getting the page views of someone like Ken I doubt the "clicks" are much currency.  What drives them?  I remember Angelo told me "It's not the popularity they want; they want human interaction."  And instead of wondering what drives them I wondered what they're missing from their lives that they need SO MUCH attention?
Makes me examine why I post anything online.   I have plenty of human interaction and usually run from things involving more than four people when I'm not working.  Online popularity?  Is that what I'm after?  Being rather pragmatic I don't think so.  Unless you're Ken there's no real money in posting what celebrity friends tell you about something … a day before an embargo.  A pro would never do that.
There are a lot of things a working pro won't do.  Posting every friggin' day is one of them for sure.  Between maintaining relationships with clients and phone calls and Fedexes and emails … then there's the actual work and transit and post-work-flow.  Most of my pro friends … in fact … almost none of them even have any sort of blog nor post anything more than an iPhone 4 photo on FB.
Funny how it works in the real-Real World.  Funny how almost none of the people using that term have any idea what "real world" is.
When I read the phrase "real world" I think of shooting an NBA game for a wire, covering the Boxer victory party as a staffer or perhaps behind-the-scenes (BTS) on a national spot.   I guess I consider location scouting for a automobile commercial or editorial real world as well.  When I did the BTS on a Norman Jean Roy shoot it was so "real world" watching one of Vanity Fair's best do his thing.  Sorry.  No links.  A client owns that stuff.  The "real world bloggers" wouldn't ever know what that's like.
Is a blogger playing with a camera "real world"?  Is a dentist, former ad-exec or engineer traveling to S.E. Asia a REAL photojournalist?  Is someone with barely 3.000 banal stock photos a working photographer?
 It's all relative.
Instead of posting photos on sites such as Flickr or dA and relying on comments, favourites and pageviews some of those out there like to sit on forums.  They wear a 1,000 post  mark like a badge.  The most "popular" on forums lack a qualified eye.  Go ahead and hate.  If you do, you probably have more than 5,000 posts.  Maybe even 10,000.  You're looking forward to 20,000.  Couldn't that time have been spent making photos with the cameras you know EVERYTHING about? 
Yes, EVERYTHING.  EVERYTHING besides the actual execution of a nice photo.
I know.  I know.  Your flower, cat, snow-covered lawn furniture photos, banal fashion photos … all … very sharp.  The people with the most posts usually have the sharpest photos.  And within a little group … they have a following.  A sad pathetic following but a following nonetheless.
Having any kind of online following is such a two-edged sword.  I have a small audience in mind when I write.  I like the fact that most of the people I correspond with by email, comments or FB are pretty damn good shooters.  I like the fact they tell me when something inspires them, they get a gig, want to share a file (photo), get repped or published.  It makes up for the "other comments." 
Unlike most bloggers I don't care if everyone likes me.  I care if editors like me.  There's a huge difference.  Editors, assignments and commissions are "real world"; walking 'round with a camera and telling your forum buddies "this or that is cool" is "not real world."  Perhaps it's practical but it's NOT the real world you're trying to make people think it is.
I think so many photo bloggers care too much about what people think of them.  They're still under the impression the pipedream will come true and their site will be the next dpreview.  In their defense the content is usually about on par.
In as much as I don't care much about the negative associated with any online presence there are some comments that make you think.  When I did that street thing on dA or made the street video last summer I enjoyed 99% of the comments.  The ones that made me think were:
"Why only use Leica?"
"Is Leica the only kind of camera you can use for street photography?"
"I use an SLR and do street photography:  Why is a rangefinder better!?"
"I read some of Chris Weeks Street Photography for the Purist and was disappointed that he knocked the SLR Street Photographers, we are not all in a position to afford a Leica..and just because you dont use a Rangefinder doesnt mean you can't take good Strret Photos..as someone new to Photography I was very disappointed & surprised by this.."
A former FB-friend would tirelessly comment upon anything shot with a Leica with comments such as "I can do that with an SLR."  Sure, cool, perhaps.  I didn't really give a rat's ass.
For the most part I dismissed those statements.  I know … how very exclusionary of me.  Right?  Honestly, I have way better things to do than sit around and discuss rhetorical questions with randoms.  I'd much rather be making photos for either my clients or myself.  I simply don't have the time to just sit around and write bullshit fawning reviews of anything with a red dot on it.  In fact, I think it's funny that some have replaced writing responses on forums and have turned that into writing blogs with 10 readers. ;)
It did make me think, though:  Was I really being that exclusionary by only shooting street with a Leica? 
Having finished my first motion project and looking at lots of hours of "footage" in post shot with Leica R glass and the Canon 5d Mark 2, 1d Mark 4 and the 7d I wondered what it'd be like to actually shoot street purposefully with a D-SLR.  Don't get me wrong … I've shot street with a Holga, my old trusty FM2n with it's 1.4/50 Zeiss ZF lens, a Rollei TLR and even my iPhone 4.  Shooting with the aforementioned was basically an accoutrement to my Leica rangefinder shooting.  Or like the time I broke two Leica M's and HAD to use the FM2n.
I always defend my use of Leica to my friends who are REAL PHOTOGRAPHERS.  Ya' know … the ones who are the ones getting published all over the planet through traditional and emerging media.  The staffers.  The freelancers.  The stringers.  Funny thing is … I don't know anyone who's a WORKING photographer who uses Leica.  They use Canon and Nikon.  All of them.  They rent 'blads.  Most of those I know who own the expensive digi-'blads are not what I'd consider innately talented at anything more than bullshitting clients. ;)  They know who they are. 
In as much as I love my M9 … My MP … My M6 …. My M3 … I wondered what it would be like to just take out a D-SLR and give it a go.  I know there are smaller bodies out there but all I had was the Canon 5D Mark 2.  Okay … I have 1Ds Mark 3's, too, but that would have been ridiculous.  I still think shooting street with the smallest footprint possible is the smartest way to go.  Who knows, though.  Can't really say unless you really go out and do it.
I know … now I'm gonna get comments that I'm being exclusionary toward big D-SLR's.  I'm sure those comments will come from those with 1000+ comments in forums.  FYI … if you use 1000+ comments as a badge of honor, you're a wank.  Just FYI.  Just STFU and make photos, loser.
Anyway … a few weeks ago … I left the house with the Canon 5d Mark 2 … a Cameraquest Leica R to Canon Eos adapter … a Summicon-R 2.0/35 and a Summilux-R 1.4/50.  Felt so so so strange to start walking 'round Downtown L.A.   There was a bit more "heft" on my shoulder as compared to having a trusty M-body on my shoulder.  When I picked up the body I didn't see frame lines.  I saw a matte screen and felt a bit disconnected from reality as I wasn't seeing reality through a crystal-clear window. 
So funny that when I started this experiment/project I had a certain view of life.  The very next day of shooting, though, I had a wholly different view of life.  It had nothing to do with the project/experiment whatsoever.  Wholly unrelated to photography but very very nice.
Making the first few frames seemed awkward to me.  The heft went from my shoulder to in my hands.  It felt so strange to have such a massive body shooting street.  The focusing seemed different, too.  Wasn't wholly different, though, from shooting with F3's, F4s's and F5's back in the day … ya' know … before autofocus.  Yes, I know that F4's and F5's had autofocus but I mostly used manual primes.
I could have used some AF prime on the 5DM2 or even a zoom to really dispel others.  But, no, I love Leica glass for myriad reasons so … I wasn't going to cheat myself out of the visual pleasure later.  I like fast glass.  Shoot me.  I like fast GOOD glass. ;)  Sorry … meant to clarify.
The first time I went out I was hunting for some light I'd seen on Grand before.  Sadly, I was a bit late but walked around anyway.  I think it was more mental than anything else but I felt like "everyone could see me making photos" with that massive D-SLR up to my face.  Such a different shooting aesthetic than the M9 or any of the other M's for that matter.
Focusing is so fast with a rangefinder, too.  5dM2's are meant for AF … not manual.  Whatever.  I was doing this project/experiment/folly and it was gonna happen no matter what.  There are photos I totally missed because I'm so used to the precision I've come to love with focusing a Leica rangefinder.
As time when on I got much better.  The 5dM2 sings in low-light with beautiful files up to 3200 where as the M9 struggles with anything above 800.  Don't get me wrong the files are useable but they're not as beautiful as the 5dM2's files.  If only the quick rangefinder focusing as opposed to the not-so-fast-focusing of the 5dM2 in the dark could be coupled to a nice new sensor solution that could sing as well at high ISO's. ;)  Guess we'll have to wait and see. ;)
I don't know what it is with the M9's AWB but it "wasn't as good" as the 5dm2.  I know minor changes can be made to RAW's but if I don't have to tweak it, why would I want to?  The monitor on the M9 is a bit too reminiscent of the M8's when you look at it and then look at the same photo made with the 5dm2.  I've gotten used to it, though. 
In practical use it was very interesting.  The 5dm2 is noticeably louder than the petite M9.  My girlfriend said "You should really use the Leica if you're gonna do that."  Yes, the subject was pretty damn near and within eye-/earshot.  Just FYI … they didn't say anything nor look at me.
There was one instance in Echo Park where a dude was "less than pleased" that I just photographed him.  I'm not sure if I had the M9 that he still wouldn't have said something.  And … FYI … I've found the best excuse yet for making street photographs.  I'm not, however, going to say what it is.  Yelling at someone in Italian that I'm a tourist and don't speak English works pretty well but the new one … ah … it's perfect.
They even leave smiling. No, I'm not telling you what it is so some wank with over-processed HDR street can attempt to teach some pedestrian course about street photography.  Perhaps, though, I'll be able to tell select groups in person. ;)  More on that in the next post.
Except for the ex-/current Mexican mafia dude in Echo Park everyone else bought the "new excuse."
Honestly, I don't care if I get caught making a frame.  If there's someone with me, I care but … if I'm alone, it's all good.  There's one dude in Central Eastern Europe with some kind of "Leica print" I'm sure is still on his face. ;)
Let's see … what else can someone say?  Okay … yeah … I could have used some Canon glass and tried AF street photography.  Thing is … I don't own any canon AF primes – the Zeisses are much better.  Wasn't going to put a CPS order in either.  I can say that the footage I saw with the Canon 1.4/35 and 1.4/24 is lovely.  I kinda thought that the Canon 1.4/35 was too big for street.  For street with the 5dm2 I used a couple Leica lenses via adapter and the beautiful 1.4/50 Zeiss ZE.
I tried to use the motivation that I wanted to shoot street but didn't have a Leica.  I was directing myself.  Let me tell you … directing is fun.  Since I didn't have a Leica and all I had – my projection of myself to myself – was a Canon 5dm2 and a few nice manual focus primes. 
Funny that the price of 5dm2 and the lenses in question could be purchased with room left over for a roundtrip ticket and accommodations when compared to the M9 body alone.  But if you're a retired dentist/engineer and a current forum wank what's a few grand, right?
"I have the red dot; I'm qualified."  That's what I assume they say to themselves.  Too bad they can't buy a "qualified eye."  Too bad even the paparazzi I know are better photographers than they could ever deign.  I'd much rather work some red carpets for clients than "pretend-work" in the streets of S.E. Asia for sure.
Since my life and assignments had me all over L.A., the Bay Area and Seoul, Korea, that's where my experiment/project took place.
In as much as there were situations where I wished I had the M9 with me, I remembered my motivation and did the best I could.
And then I look at the material to edit and find out that, in fact, I started this experiment/project/folly way before the light disappeared on Grand.  It began on a walk with a doctor-friend to brunch in our wonderful little neighborhood on a Saturday morning, which means 2:00 p.m. in our this 'hood.
only in los angeles do you see mariachis figuring out a parking meter.
After walking back from brunch i decided to go to a place my friend Dan and I call "Mexican Wedding Fountain."  It was straight up and down light but whatever ... I can't shoot in flat light every time I want.  
Every weekend there are wedding parties lined up after wedding parties to shoot formal photos.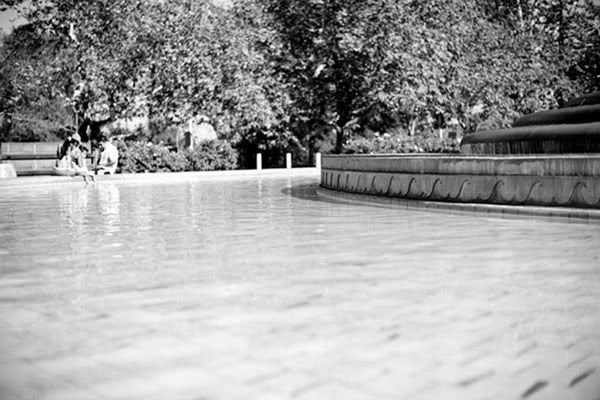 Not everyone is part of a wedding party at the fountain.
Was odd ... Even though I had -- what seems massive to me in terms of street shooting -- this D-SLR in my hands and no one really paid any more attention that normal.
Yes, I was using B+W ND filters.  I use them all of the time.  I usually have to tape them on to the Leica R lenses as they have some brilliant-ass filter scheme that no one uses.  Well ... except for guys in forums who would rather talk than shoot.  
Interestingly, and not that you're gonna see it here, but like shooting D-SLR video I used a certain picture style making everything flat.  In doing that it seemed like the dynamic range of the 5dm2 was better than the Leica M9 as well when the picture style was flat.
Was totally surprised no one really paid all that much attention to me.  For having shot 99.9% of the street work I've done in the last however long with an M9 ... it shocked me.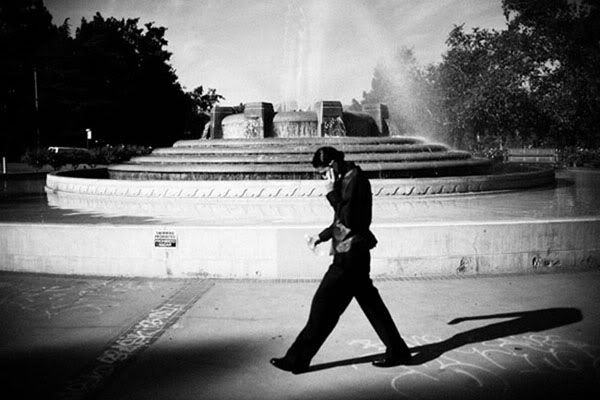 To me it was so ironic -- i like to look for patterns in human behavior -- that some out there would "tag" this area when so many of their own culture use it as a place of beauty.  I'm not being racist as I live in this neighborhood as we know who the taggers are.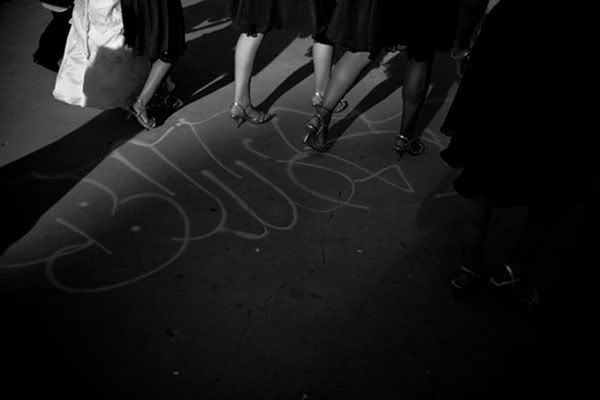 The previous two photos show how different NIK Silver Efex can be.  The dude and the tag and the fountain I processed as high ISO whilst the legs and the bride and the tag were done using a low ISO process.  I love NIK Silver Efex.  It takes the edge off of photos that are too-sharp ... too-digi.
In fact, for me it's a factor that levels the playing field when shooting digital street.  Seeing a too-sharp street photo makes me throw up in my mouth a bit -- whether the file's from a Canon, Nikon or Leica M9.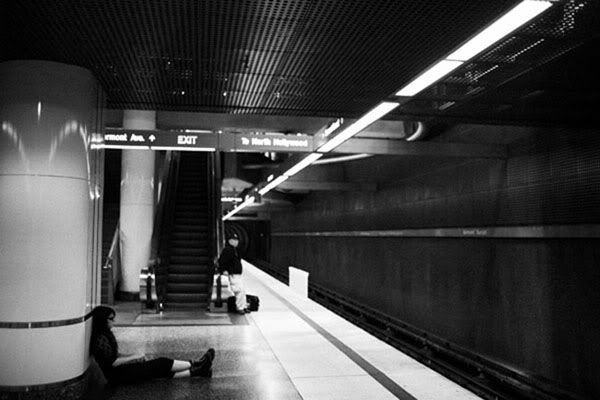 I'm pretty sure it was that night we took the metro into Hollywood.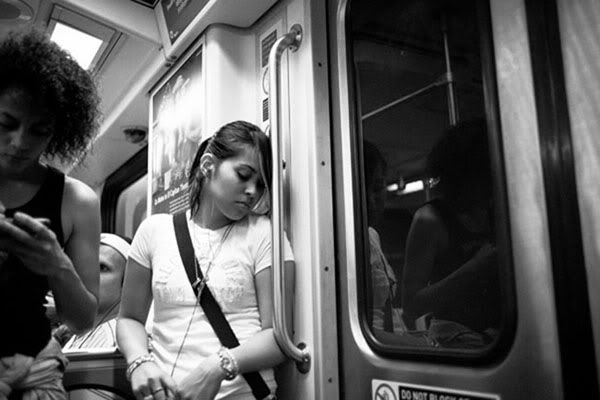 I found that the 1.4/35 Summicron-R was quite nice for a hipshot.  No, it wasn't wide open.  I wanted the photo and wasn't waste the moment on trying to be a hotshot at f/1.4. ;)
It's one of the things that I love about Leica focusing scales:  They're right the fuck on.  Ah oh.  I said fuck.  Hmm ... wonder which of the donkeys I just offended.  I'm sure some marketing-pussy will hear about it. ;)  I've NEVER found the Canon scales to be anywhere near accurate.  The Zeisses do almost as well as the Leica R-glass.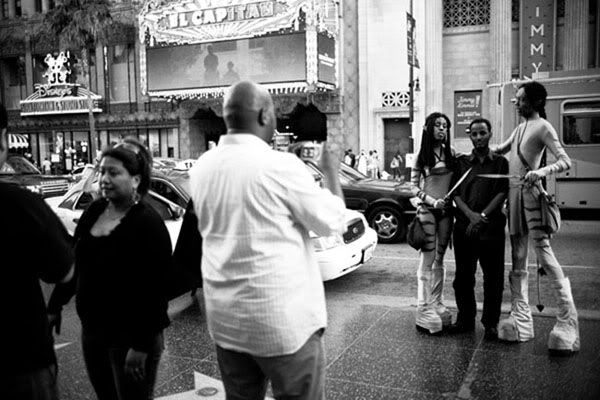 Had no idea Avatar character-impersonators-buskers were there now.  Hollywood ... You really glitter all that's gold.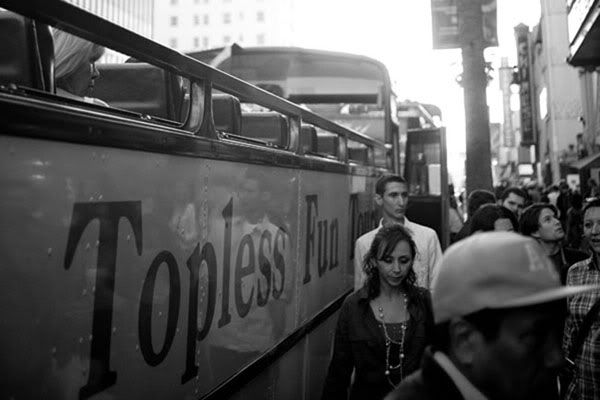 All fun must be topless, right!?  Homegirl's having lotsa fun.  Those bastards driving those buses get in our way all of the time.  I've come to really dislike them.
Ever since late June of last year homey's been working it day and night.  My Leica M9 couldn't have made this shot any better than what I got here with the 5dm2.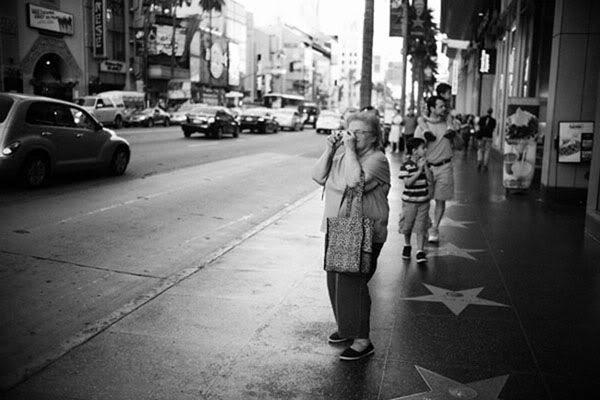 I always wonder what tourists bring home with them and if it's how they really remember what they thought they saw.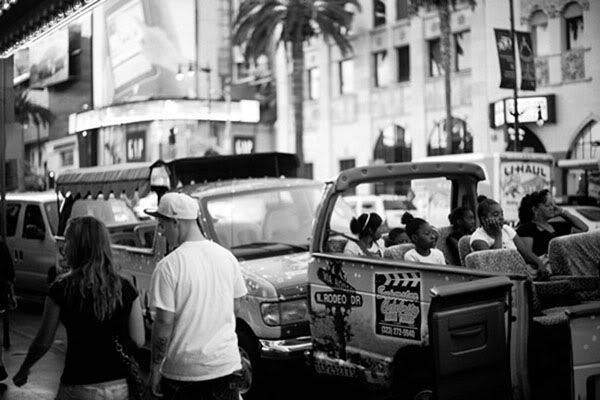 Having "stood around" listening I know that these guys on Hollywood Blvd. basically entice customers into these sight-seeing vans.  They say that the next one leaves in 10 minutes.  Well ... that's not usually the case as they're trying to "fill 'em up."
So they can drive slow and piss us all off.
I think it's creepy to want to drive around and see private homes of public people.
Honestly, I think it's as creepy as sex tourism. ;)
Or getting a puppy from "a breeder" at 5 weeks old ...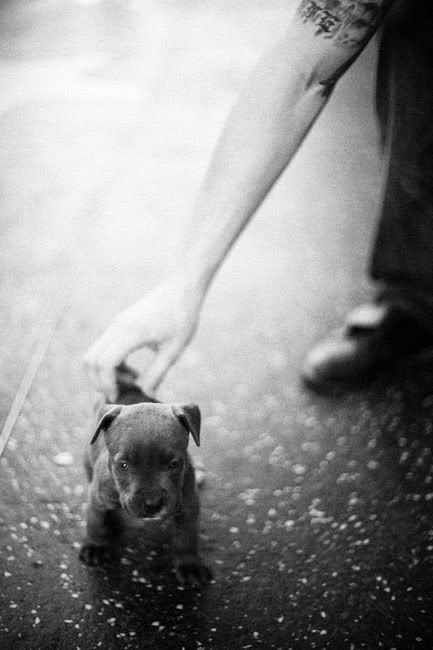 Hope he raises it right.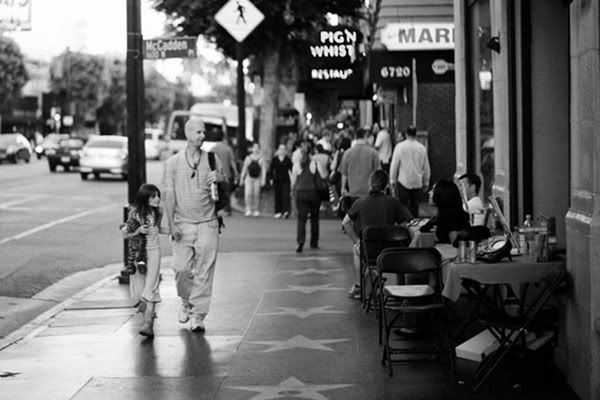 Along with the tweaky dudes and way-too-young-puppies, junkies, tourists, character impersonators and the like ... there are those trying to get others to do "personality tests."  Oh my.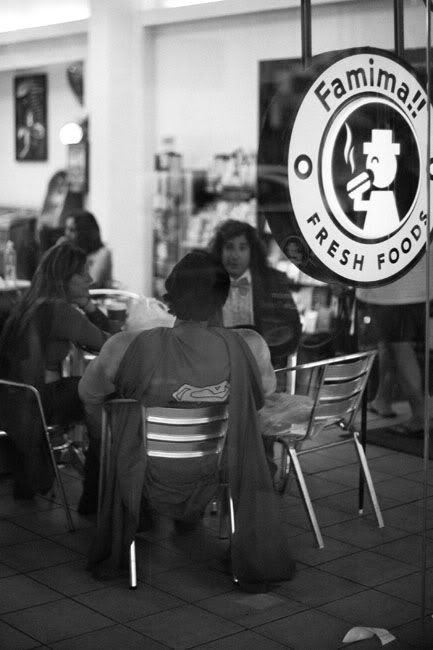 Famima:  Where Two Supermen and a Willy Wonka recreate.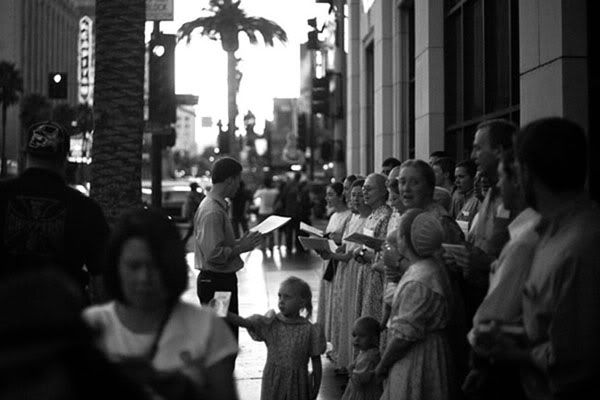 Reborns:  Using the young and gullible to save souls. ;)
I know.  I know.  I know.  Not all reborns are crazy.
Along with the previously described list ... there are a lot of pizza-by-the-slice places.  I guess it's no different than Amsterdam, really ... save the kebab joints.
And ... for the dudes whispering in your ear "Coh-ca-ina," "Ecstaaaahsee" and "Russian girls, young girls!?"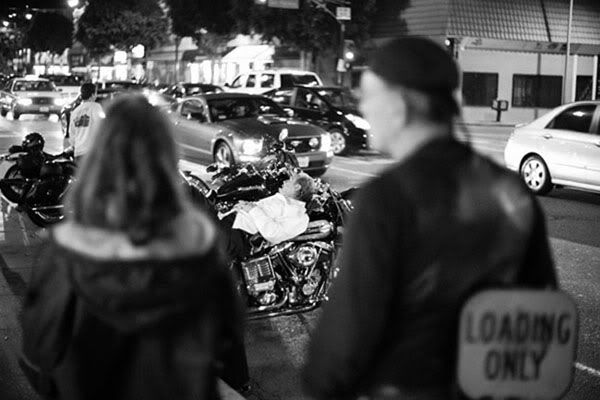 As good of a place as any I suppose.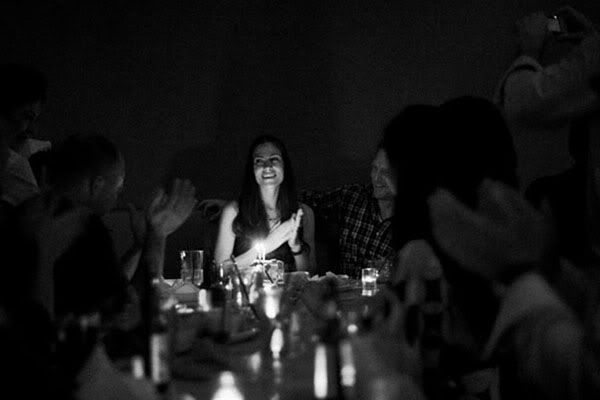 1/40th at f/1.4 and 1000 ISO.  Guess a big ol' D-SLR can handle slower shutters.  I mean ... when I do some atmosphere photos for clients I regularly handhold a quarter or a half so ... whatever ... perhaps I'm well-practiced ... but I found shooting someone's candid moment just as easily as I would have with the M9.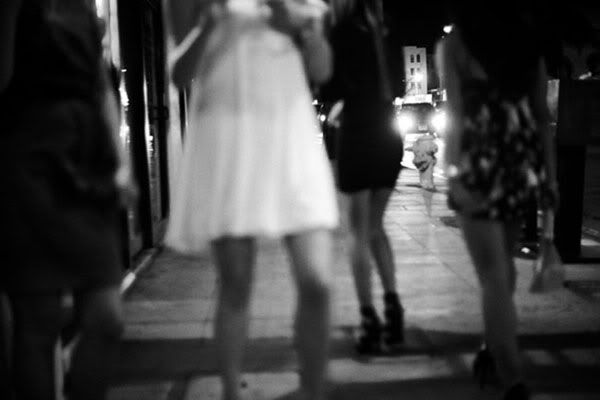 I've always wondered what a drunk guy wearing Affliction on his way to "get some bottle service" at Drai's would see.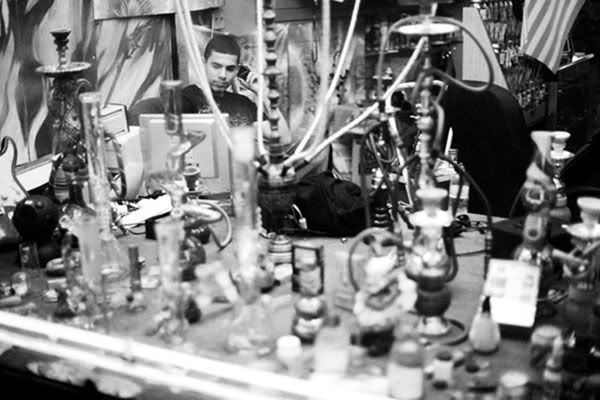 Merchant of pipes bored out of his mind.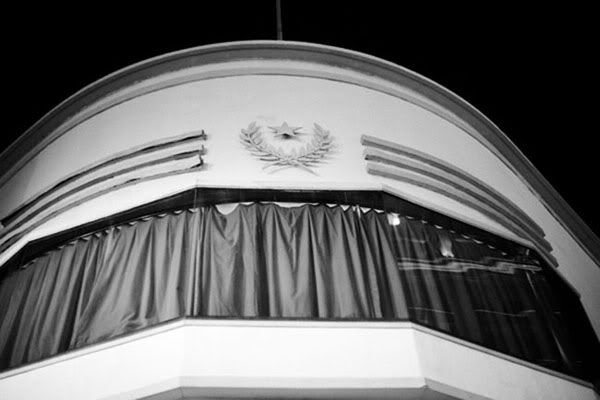 Behind closed curtains.  The captions keep on coming, though.
Same lovely out-of-focus negative space as the M-glass.  Then again, it's glass made by the same company so I'd hope it'd be pretty consistent.
Luckily, R-glass is pretty easy to find and not all that expensive.  Poor R-System shooters.  Lucky us, though.  Wonder if that fate will ring true for other systems besides the M?
Metro antics.  He told me he practiced a lot to do that.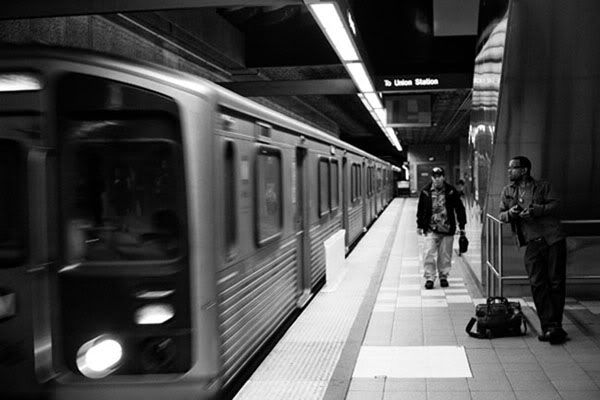 By this point in time I'd gotten over the fact I didn't have an M in my hands.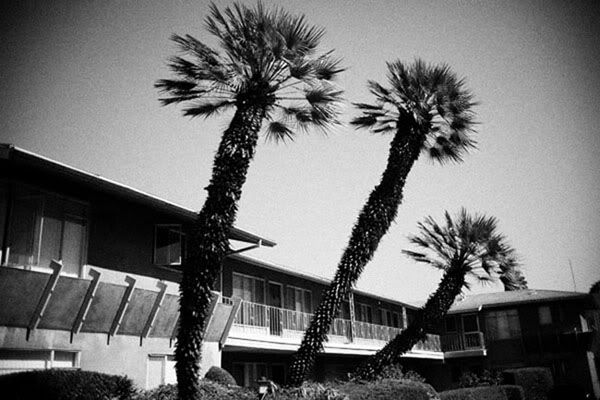 I seriously have no clue where I made this photo.  It's LA-somewhere.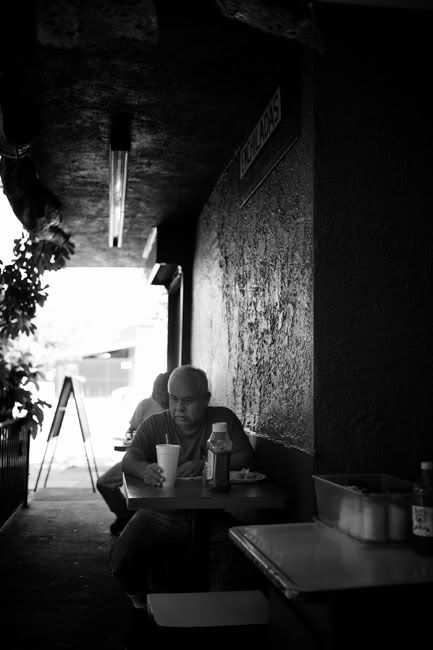 I would have thought the kinda-loudish sound emanating from the 5dm2 would have killed this moment. It didn't.  Before I would have tried it I would have thought the ONLY camera I could have made this with would have been a rangefinder.  
Contemplative-life-shots are some of the ones I'm always looking for.  Once they see you, though, and you get eye contact I think the moment is ruined.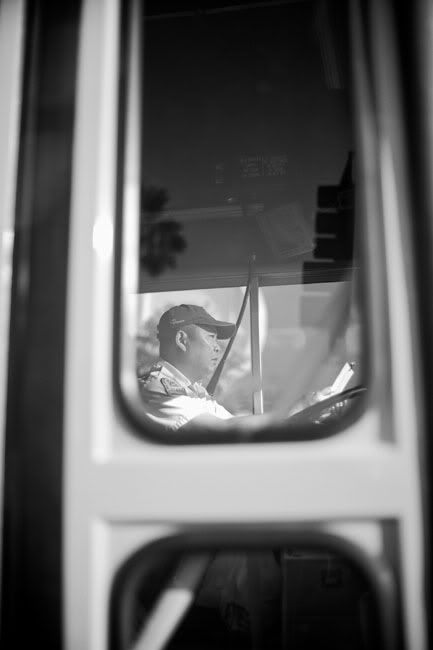 LA ... one of the only places where you can make street shots from the car. ;)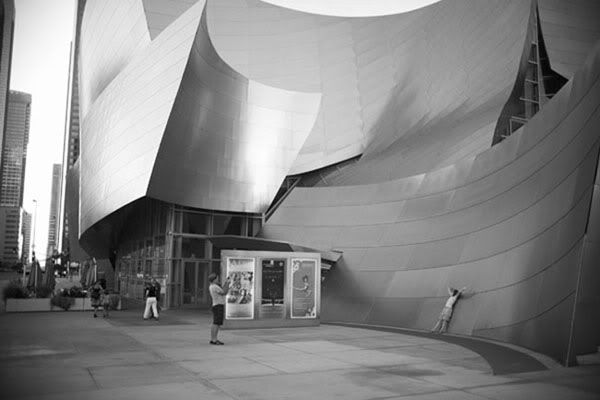 I always see the Luminous Landscape-kinda guys with their d700's, wide glass and a tripod here but ... was so happy to see a moment that also provided scale.
Can't say much about the difference I feel in life between this series of photographs and the next photo. The next photo doesn't symbolize anything other than it was the next frame I made after learning some news.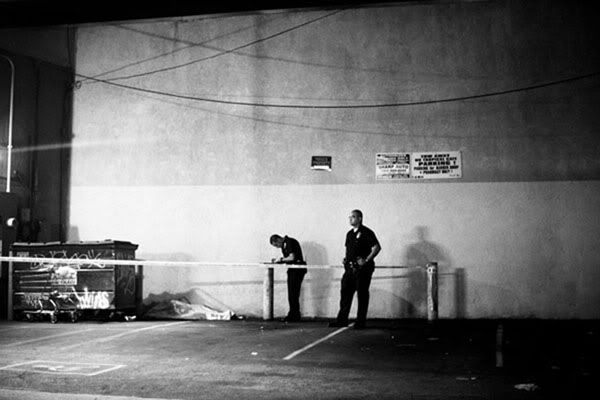 Some have a life-changing experiences like the poor dude under the sheet and some have other life-changing experiences.
Life is strange.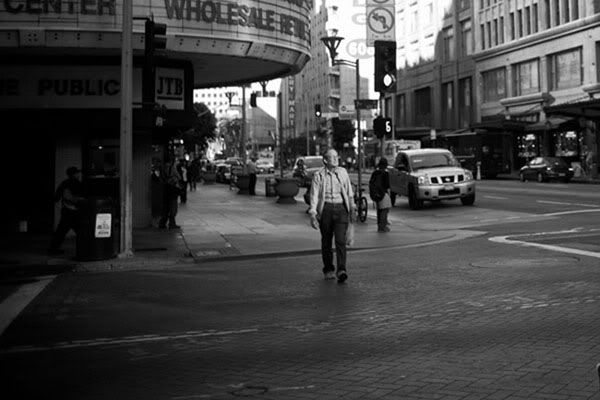 Light and the reflection thereof are things I'm amazed by.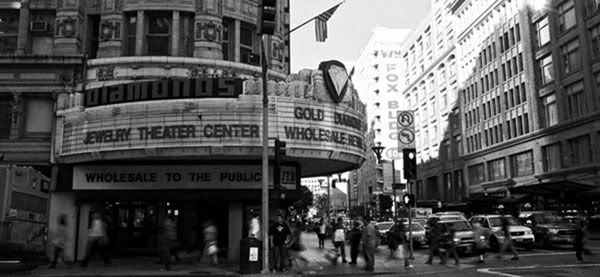 Wish you guys could see this on the big screen.
In as much as I thought it would make a difference ... and ... seeing as how I've made almost 100,000 frames with an M9 ... It was me I had to get over when using the 5dm2 for street.  No one else noticed.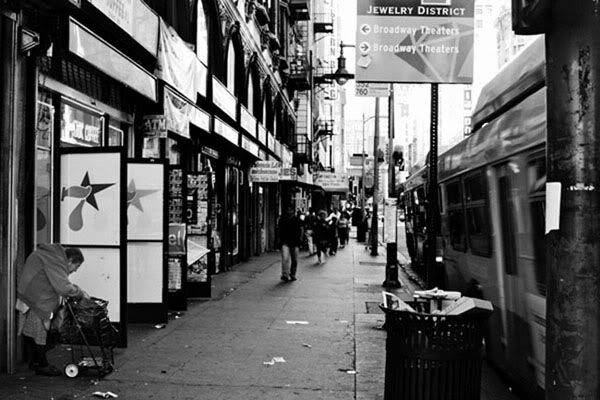 Strange for me was -- I have no idea why this was shooting with the 5dm2 -- that I would routinely use longer shutter speeds when I'd try and isolate a slow-moving or stationary-for-the-moment subject.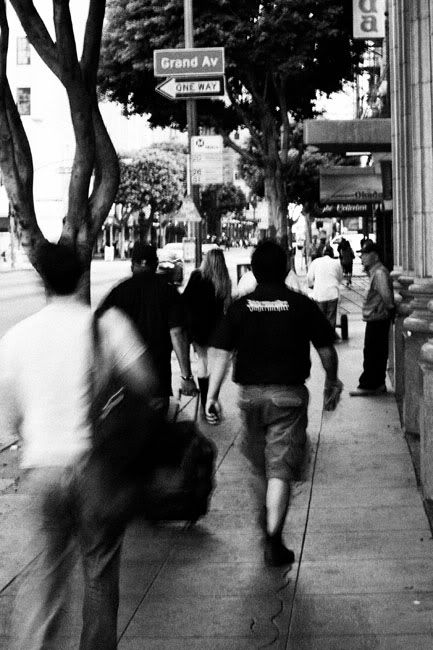 Like I said. ;)
Ya' gotta try Louis downtown.  There aren't a lot of things good about downtown ... but there are a few.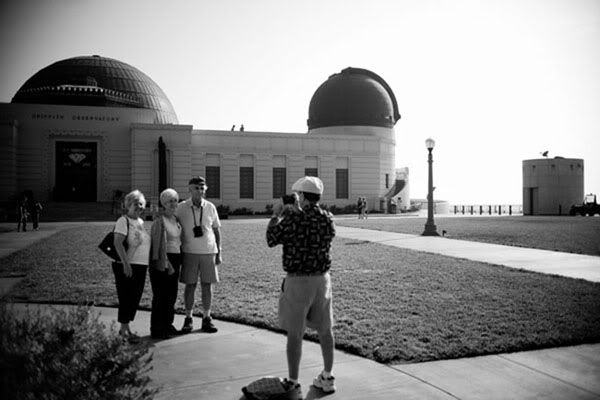 Shooting wide open with an ND got me a bit of vignetting but ... I'm used to that on M's as well.
So ... Whatever.
Wonder if the above tourist went home and posted that photo and said he was a cough-cough travel photographer.  Wait ... He'd have to have bought a Leica first to do that.  Sorry.  My mistake.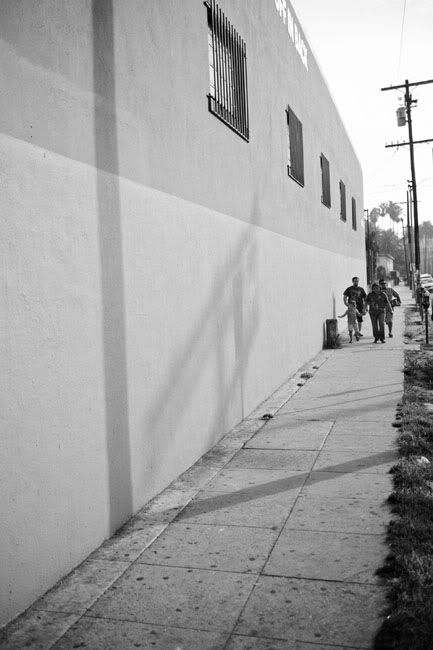 The beautiful light of Echo Park. 
Where haircuts cost USD6.00...
Would have thought they'd have heard the click and the diaphragm and whatever else the 5dm2 does when it's making a photo.  They didn't.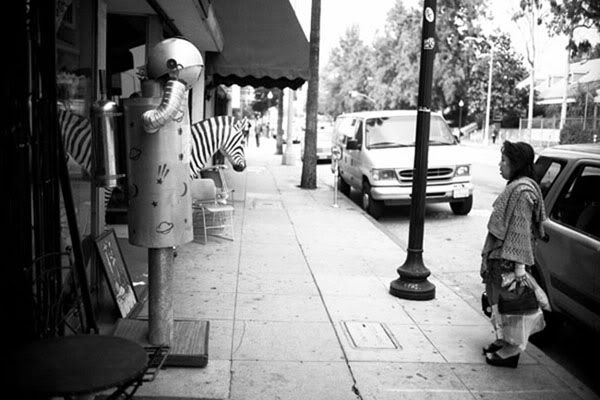 Fairfax is a trippy place.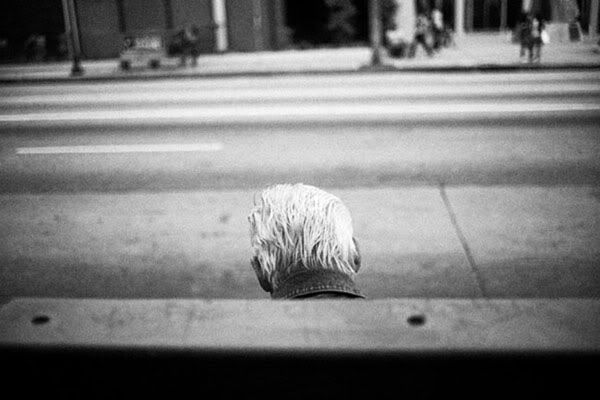 Such a dichotomy between 2 or 3 blocks here ... not to mention a mile or so.
They caught me but their expressions were no different.
Hence the photo.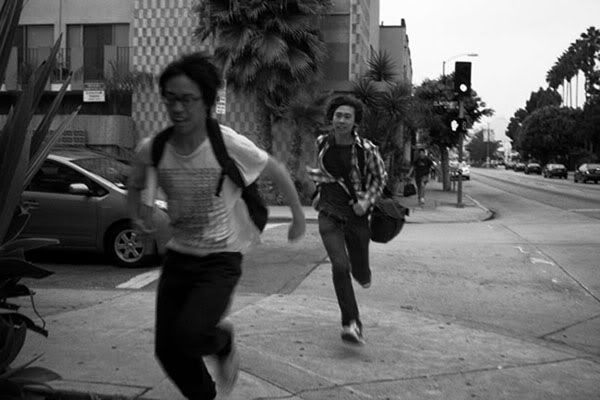 This brings up another thing ... 
Sometimes between frames time elapses.  I noticed that every time I picked up the 5dm2 it was ready for me to make a photo at a millisecond's notice.  
Unless you put it on a certain mode the M9 eats battery life.  I have it set to turn off after a minute and if i wanted this frame on this day carrying the M9, I wouldn't have gotten it.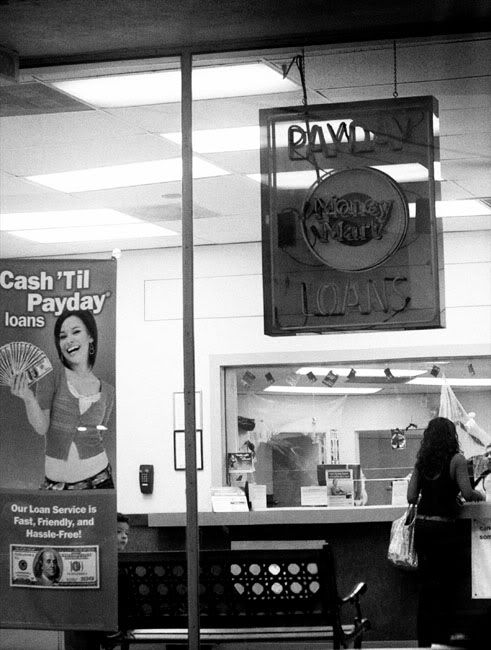 What is aimed at whom interests me as well.  I like not-so-apparent things.  Really doesn't matter what camera I'm shooting, though.  No camera inspires what you like to shoot.
If I ever move from L.A., I'll miss the ghetto birds.  Traffic?  Not so much.
It wasn't as bad as Seoul, though.
They must spend so much money on jet fuel those guys.
So from Hollywood, the Metro, um, Echo Park, Silver Lake, the Mexican wedding fountain, Fairfax, Hollywood ... I ended up in fake Denmark.
Greeted by tea baggers.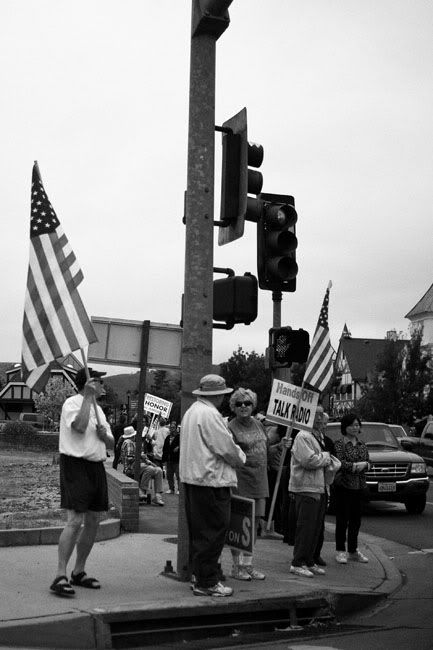 I like the confused tourists.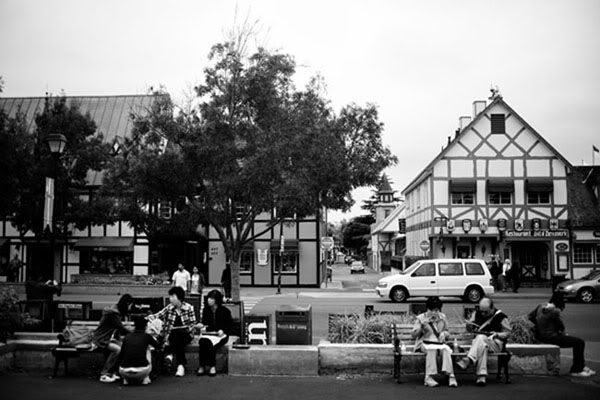 Clearly, enjoying their native cuisine over some nice Abelskiver.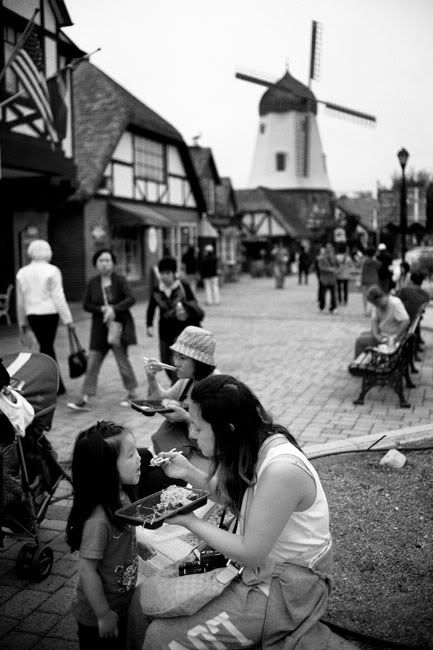 I see a momma-bird and baby-bird.  My friend, Sev, said "... a rarely working portrait format."  Something to that effect.  I would rather hear that from a guy like Sev than from 100 forum-farts with unqualified eyes.
Yes, your eyes can see frozen lawn furniture, cats, rivers, flowers and Asian models quite well.  No doubt in my mind.
So many captions ... so little time.
As opposed to the area best know for a Mexican gang called "Los Avenues"...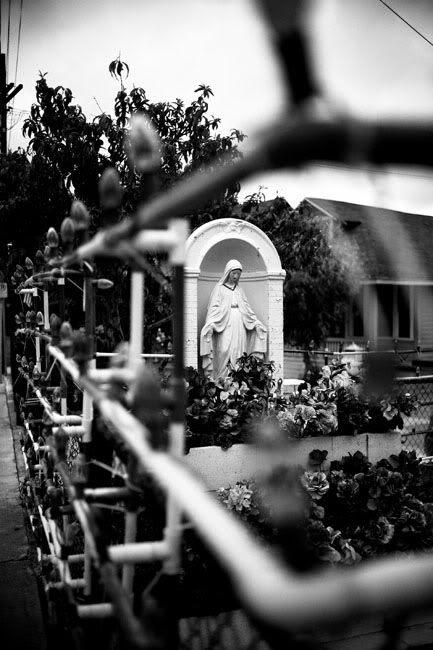 I find these as odd as I find the ones in Napoli.  Does Mary really want to be fenced?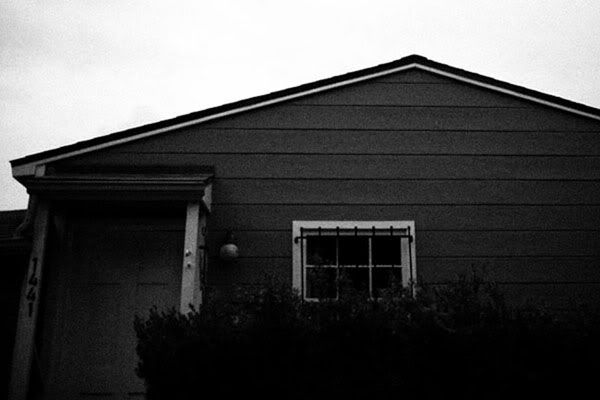 Dunno why I saw their house this way.
But I did.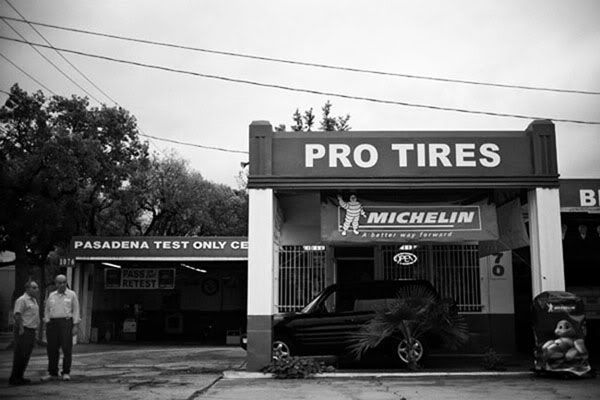 Don't think there was much business this day.
Clearly, lunch affected homey to exhaustion.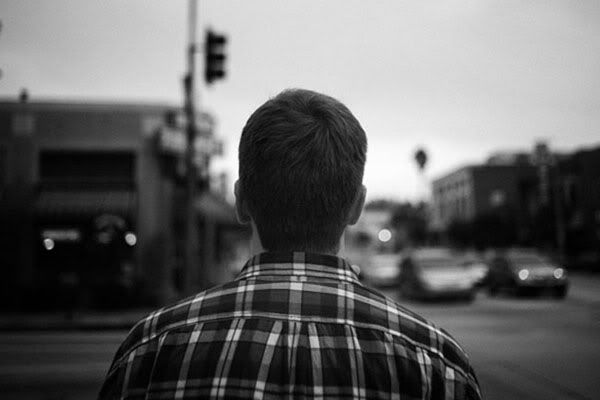 Would have thought anything but an M would have alerted faceless homey ... but ... no.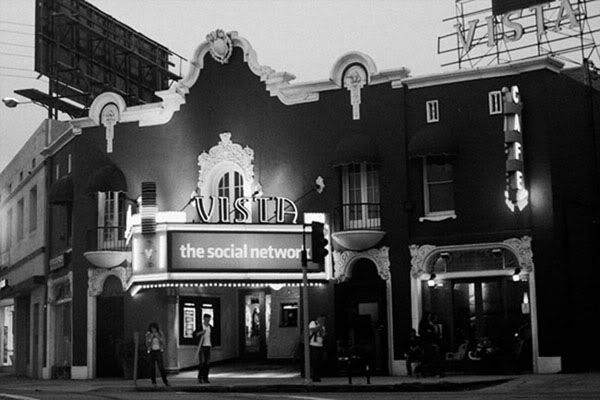 The Vista.  I wonder if she was "checking in" on "the social network"?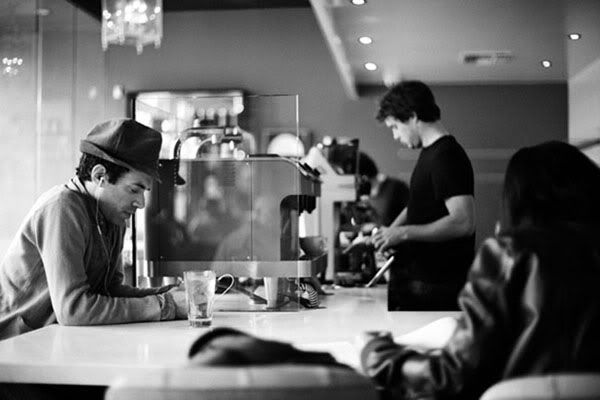 No one paid any attention to the 5dm2 and more than they would have if it were an M.
Was sitting having lunch with "The Maestro of the Moment."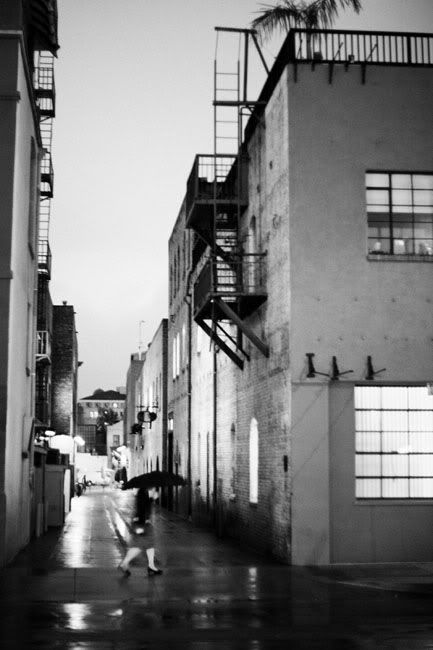 We do get rain here.
Not often but it happens.
Then I found myself on a BART train.
Then somewhere off Market in SF.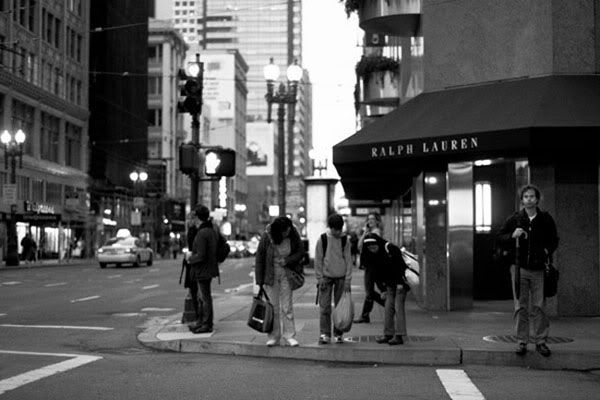 It was raining up there, too, but it always rains up there.
I've been told that SF only looks good if you do HDR to your street work because you hear it's trendy and that's what the art buyers want.  Perhaps. ;)  Perhaps you'll sell the Golden Gate Bridge as well?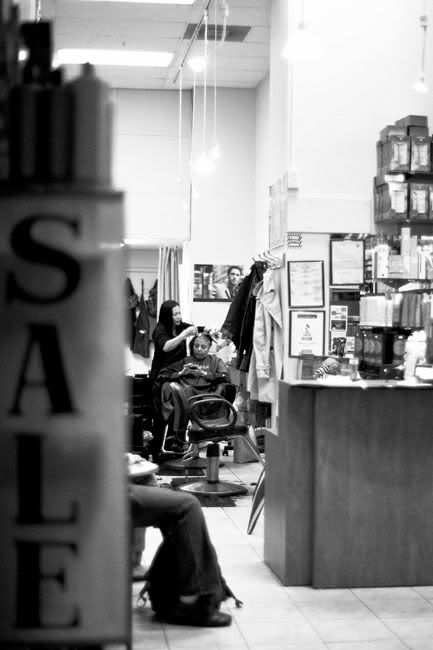 I like sniping people getting their hair cut.
I'm not sure the dude on the right is much of a fan of the waiter -- kinda made a bit more sinister looking by juxtaposition to light -- frame left.
Again, was surprised how low-profile the 5dm2 is in PRACTICAL use making street shots.
I won't say REAL WORLD.  I'll say PRACTICAL.
I mean I guess it's real world, too, to a degree.  
Just makes me laugh how much I see/hear the words real world used these days.
I knew that I snuck up pretty well but I also knew I'd better have had the focus nailed ... as there's no way -- even with a Leica -- that they wouldn't have heard the click.
They did.
I'd also switched to the 1.4/50 Zeiss ZE.  For me the out-of-focus negative spaces have a totally different look than the 1.4/50 Leica-R and M for that matter.  I'm sure there's some donkey on a forum who disagrees and thinks it's ugly but ... they're usually shooting a brick wall or their cat.
Or for their ModelMayhem portfolio.
Equally as uninspired and banal.
Of course.
It'd be fun to imagine that this guy is carting the cumulative contact sheets or printing from most forum members to the curb.
But he wasn't; he worked at a restaurant.
I'm pretty sure that's how 99% of her night was ... seeing as how most people were in North Beach and it was starting to rain.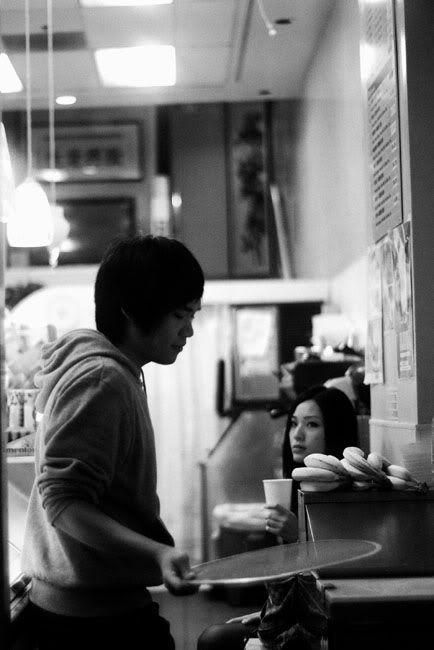 I was honestly shocked that I could get this close with a D-SLR and pull off a moment as much as I could with the 5dm2.  They didn't see me once in four frames.
Whereas with any of my film M's I would really hope I got it before I could fast-advance, the M9 was better but ... it's no match frame-rate-wise with the 5dm2.  No match.
Has to do with that inherent lag when you have it set so that the battery doesn't drain.
Yes, I have extra batteries.
But still.
They didn't catch/see me either.
Yes, focus on the hand is intentional.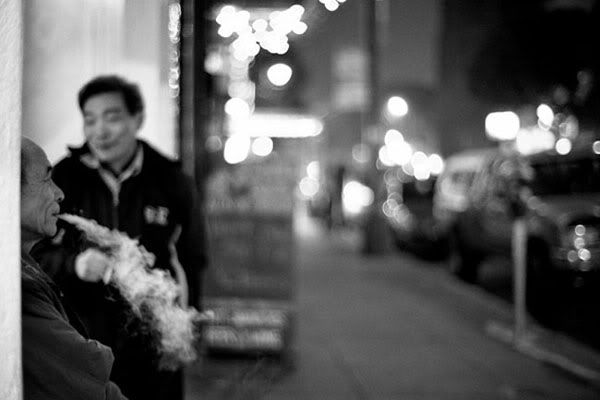 The old dragon saw me after about five frames but I ended up liking the second frame better.
That concluded my stroll 'round Chinatown and North Beach with my friend Martin.
Sorry ... that was the conclusion to the stroll ... a purposefully Dutch shot of someone who's confused. ;)
The next couple days were spent at a dog show.  Yeah, I know ... PETA hates me.
I'm good with that.
From there ... I flew to Korea for a minute where I continued my experiment/folly/exercise in futility.
Yes, "Pretend Jesus" has a pt. 2.
I never thought I'd do enough street shooting with any SLR much less a big-ass D-SLR to actually have enough material for a normal blog post.  Honestly, I was blown away by the fact except in rare situations I didn't really miss the M9.  Or really ... any M ... for that matter.
As my friend Martin said the other day ...

When I asked "what does a pro/working photographer mean?"
I'm sure that the masquerading forum guys who think they're "a pro" still think you can only shoot one brand or another.
I shoot both.
I love both for different reasons.
My Leica M9 compliments my Canons and vice-versa. 
But I'm still amazed that shooting the Canon 5dm2 for street was such a joy.  It's nice to have ISO 3200.
Ya' know ... usable ISO 3200 or even usable 2500 in the way the Mark 2's usable.
Unless I'm editing an assignment I use Aperture to do selects, make adjustments, put it through NIK Silver Efex and export to the blog.  For me it's seamless.
So ... on that note ... I'll try and get Pt. 2 done, too.
Hope you're all well!
Cheers from a fall-like-for-the-moment-LA,
-C
p.s., If you're still thinking you're a photojournalist, please look at this photo.  That's what real photojournalists do.  They do it for real.  They don't just call themselves a photojournalist because they're a tourist.