One would think that 100+ media at a courthouse would mean something BIG was going on.  Right!?  Well ... In the lovely city of Angels suburb Beverly Hills ... that's not the case.  At least this morning it wasn't the case.
Instead we were all -- 10 legitimate photographers and about 45+ paps -- waiting in the beautiful morning sun of the city that will bring us all "The Persian Version" soon.  Think "Jersey Shore" but in black beee-ehhhm-douuuuble-uuuu's and girls with bad bad bad dye-jobs.
I didn't have an assignment today but thought about the spectacle and felt I wanted to photograph it myself.  In case anyone in Sweden doesn't know what's going on actress/model/clothes designer/singer/tabloid sensation Lindsay Lohan was scheduled to appear in court due to a possible probably probation violation.  Usually I'm inside an exclusive party with her but this was different.
You'd think there was a baby killer having a trial.  Seriously.  Sat trucks.  MULTIPLE teams from each outlet.  Remote cams.  Dudes with backpacks carrying USD50,000 transmitters with 7 aircards inside transmitting live feeds.  It was crazy.
I went, too.  A couple Leica M9's.  The 1.0/50 Nocti with a nice B&W ND, the old 1.4/35 ASPH (send the new prototype back to Germany with broken aperture blades) and the Voigtlander 4.5/15 (the old version with no focus coupling).  Oh yeah ... the shot I envisioned was up high so I brought the step ladder I use to get out pots and souffle dishes.
 And I was gonna do a post about a wedding I shot a few weeks ago.  That's gonna wait.  It was looking at the selects of that wedding that I decided that digital black and white conversions suck ass.  They may be monochrome but ... they're not the same as film.  Not even close.  Even the presets in Aperture and my favourite converter I use in PS CS3 -- no, I don't need anything more than CS3 -- "aren't quite right" as it were.  Not even close.
A friend was showing me some work.  After 8 beautiful film scans I got to a photograph and I said "Um." He looked at me and said "I know."  Shot with an M9 ... It was probably f/8 or greater.  Honestly, I'm not sure I want to look at M9 digital conversions to B&W shot with a tight aperture.  In fact, I think you have to be wider and perhaps get the exposures you need via ND filters.  If you're gonna leave them in colour, all good.  
I'd always heard of the NIK Software solution Silver Efex.  Well ... it's only like USD100 so I bought it and started using it with Aperture.  Switching from 64-bit to the 32-bit version because NIK doesn't have the 64-bit version out for Apple sucks.  Whatever.
I worked a lot of photos from the wedding and was way more pleased than just looking at normal B&W conversions.  Silver Efex "took the edge off" and gave noise a nicer grainy look.  So far, I'm very happy with that plug-in.  I just wish they'd get off their asses and put out the 64-bit version.
The following photos were all processed from DNG's in Aperture, then opened in Silver Efex and then exported from Aperture to a size photo that piece of shit typepad won't crop horribly.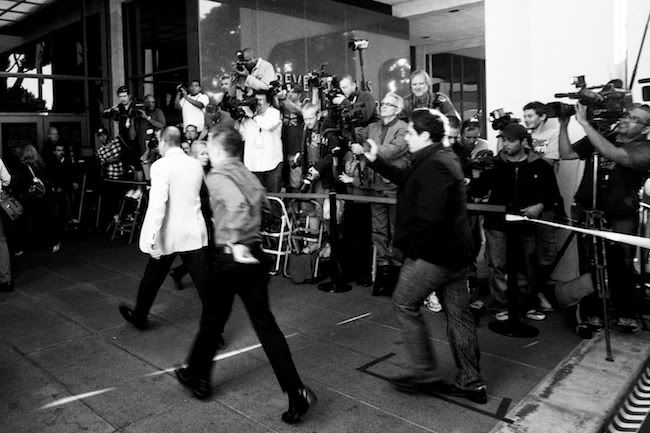 Unlike his normal routine Michael Lohan didn't spend 30 minutes being a fucking blowhard and talk to even the most obscure or irrelevant "outlet."  He just walked in.  I knew he'd have to say SOMETHING later.  
I asked if they were doing a school project.  Whatever.  I don't think they got sarcasm.
Her "note" was pretty funny, though.  Watch out talking heads in Los Angeles as this girl wants your job.
Was funny watching those two.  I had a lot to watch, though.  Getting up at 05:00 wasn't a total wash.
Guess I was noticed. ;)
Even talking heads -- always trying to "market up" -- have contemplative moments.  I didn't know they actually thought.
I have so little respect for video news-gathering organizations.  I mean ... fed bullshit by producers with agendas ... shot by "spray-and-fucking-pray" video-operators ... 
I think news video-operators probably have the least talent of the working visual pros out there.  
There's always one.  He kept yelling "Lindsay's not Mel Gibson."  I'm positive he was a plant from some television programme yet I couldn't identify who was taping him.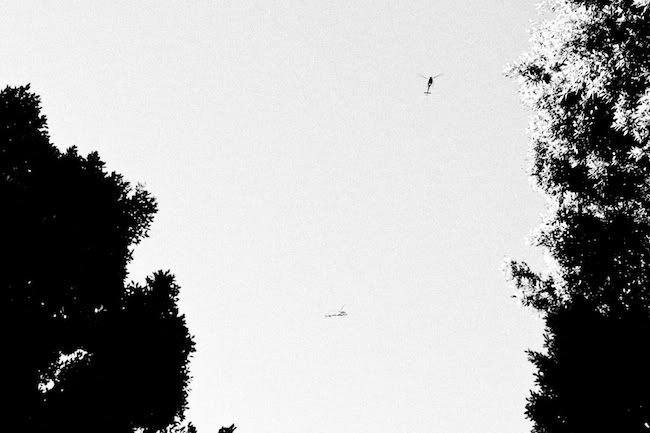 When the news choppers arrived I knew we were close to the kick-off.  Helicopters are so annoying unless, of course, I'm watching a splendid high-speed chase that we're so famous for here in la-la-land.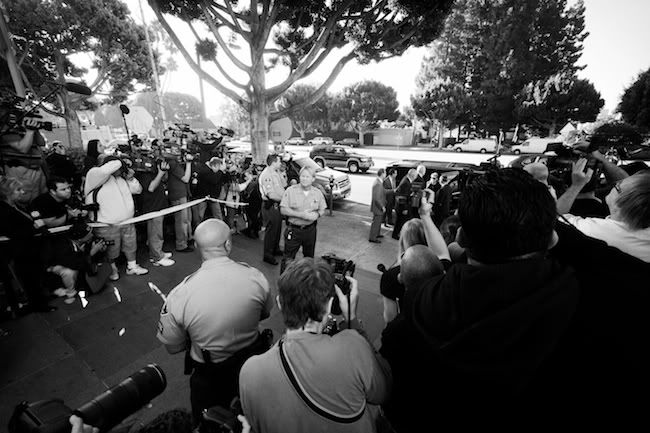 And then she appeared.  
And did the "perp walk" ...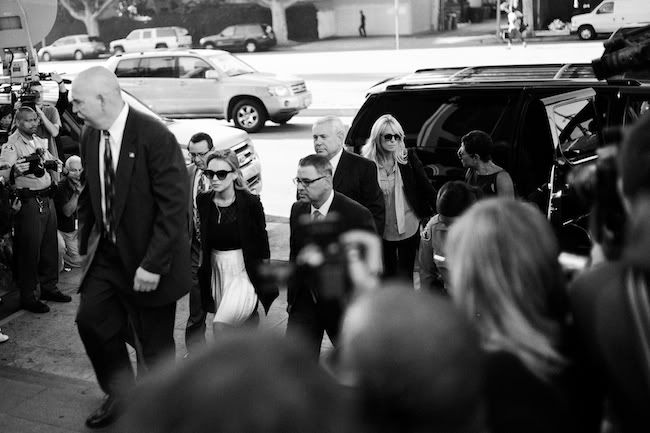 Must suck having to do that.  Her mother, Orange Oprah, and her attorney, Shawn Holley-Chapman, trail her.  I'm pretty sure the "dudes in suits" are either BHPD or LASO.  Dunno.
I saw a lot of my friend's work and didn't think she looked as "worried" as she does in my take.  I don't know anyone who shot wide.  FYI.  It was 70-200/2.8 all the way.  Well ... unless you're a low-level pap with a fresh visa and you've still got the kit lens you bought in Sao Paolo. ;)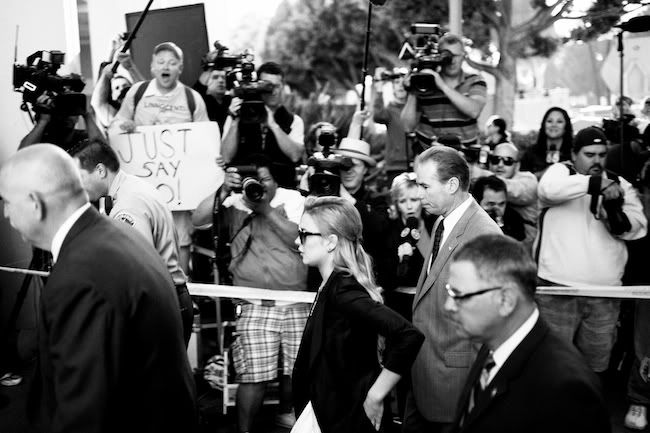 Imagine 150+ cameras on you as you're on your way to find out because of your disease you may be going to jail.  I know ... poor little rich girl ... but ... I've always had nice experiences with Lindsay.
I like this because it's almost like she's shielding herself from the light.  The light from someone's flash. No, I wasn't shooting with a flash.  
I think this is my favourite photo, actually.
And ten seconds later ... it was over.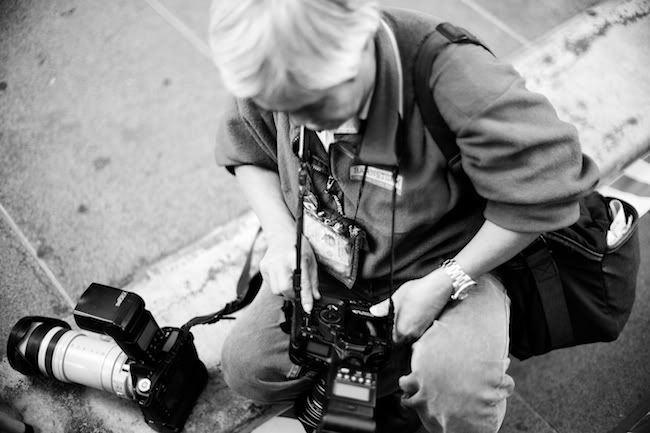 And my photo-buddy Pulitzer Prize-winner Nicky Ut began getting his cards out of the cameras.
And everyone started ingesting, selecting, editing, captioning and sending to their desks.
I didn't.  :)
About 30 minutes later fifteen reporters burst out of the doors saying "She's not coming out; she's going straight to jail."  Since I was there to show what it's like to attract world attention for something pretty petty, I went 'round back for a position.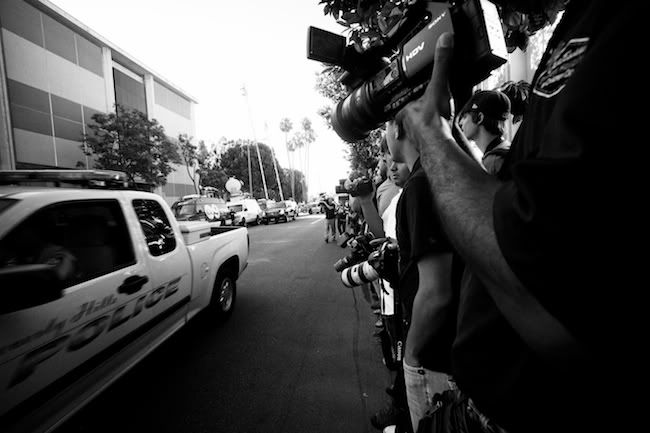 Like most white suburbs the cops have nothing to do.  This was a big deal to them and they surely treated it like it was.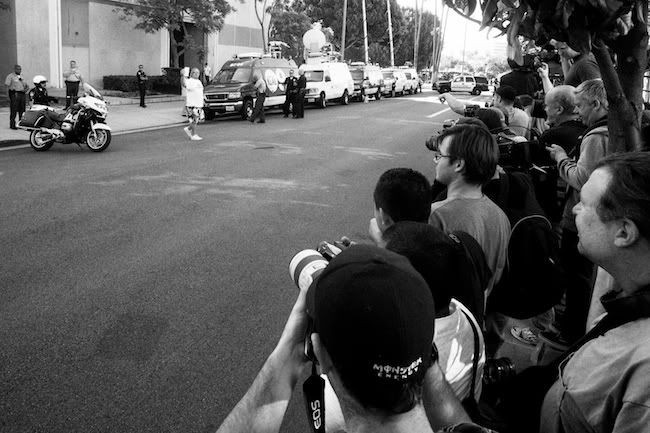 Some d-bag nicknamed "Malibu Bob" or some bullshit got a ticket for jay walking.  :)  Funny as shit.  He's one of those "in your face video-paps."  Honestly, I think they're the worst.
Because of that dumb-ass the po-po on bikes made it their life's mission to keep everyone on the sidewalk...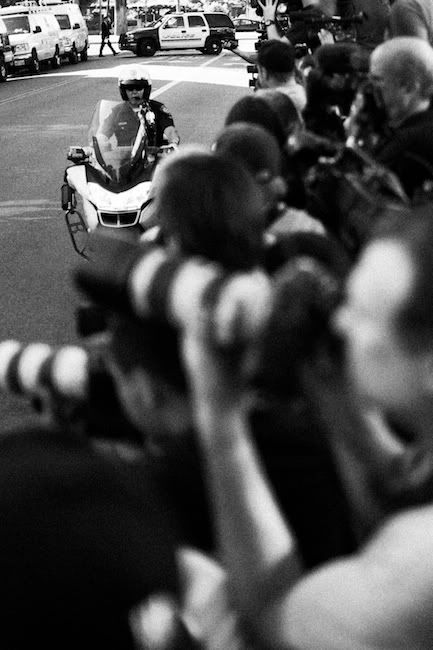 Instead of hiding behind bushes and nicking people for speeding he was wrangling.  Whatever.  I set my step ladder down and stepped up.  Didn't really need much else.
And once again ... she appeared ...
This time, though, behind heavily-tinted glass and some kind of other obstruction.  There's no chance any of the dudes with long glass got anything.  
Wonder how much that transport/escort cost?  Yeah ... all for a misdemeanor and a fucking axe to grind. Well played guys.
Lindsay's clearly angry father decided to speak (big shock) and ya' know 30 crews wanted to listen.
Amazing, really.  You'd think something really important was being said and instead it was bunch of grandstanding as this dim-wit has zero going on in his life and continues to live it by glomming on to someone else's fame.
Ya' know ... like all of those "equipment reviewers" (loosely defined) ... who came from forums ... and of which hardly say anything bad about anything.  They are so laughable it's ... well ... it's funny people actually listen.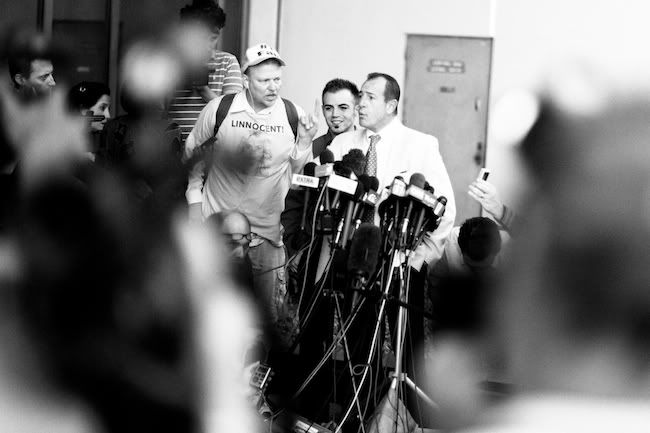 He's making a point.  Homeboy behind him is one of those "pop star reborn Christian minister-types."  I was just waiting to hear him say "... and you can find more information at [insert evangelical name].com."
Something tells me I wouldn't want to be a woman in a relationship with pappa Lohan.  
Perhaps he really does need Jesus.
Crazy-plant-guy was lead away by the Sheriffs. ;)
A serious hard-hitting video journalist took contemplative notes.
And then he went on-camera for the recap.  I was more intrigued by the way one of his crew was looking at him.
And the AFP had their mobile office set up. ;)  Sending out the last few photos from such an important day of news gathering. ;)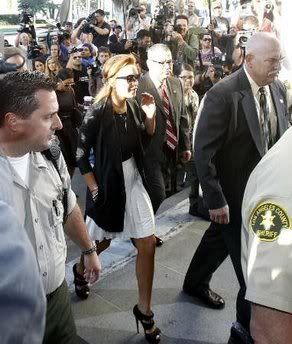 Amongst the ENG crews and long glass ... I think you'll see something ... besides Lindsay, of course.  The above photo is ©Reuters.
So, yeah, an interesting morning.
And I'm loving the NIK Software Silver Efex!  It makes looking at normal digital B&W palatable.
Hope you guys all have amazing weekends.
I'm sure a certain baby killer won't be. 
Cheers from la-la-land.
-C