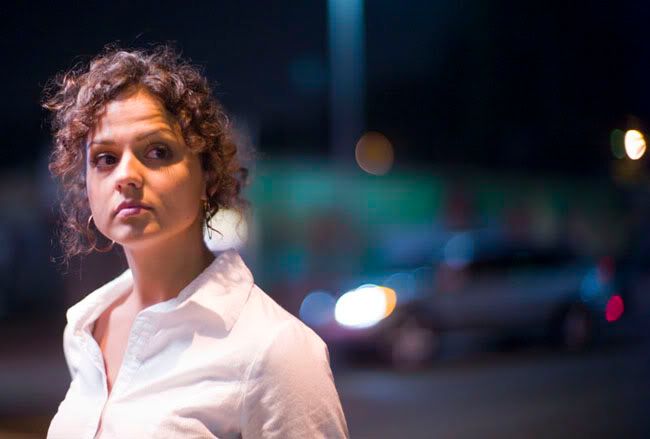 photos.  that's what i've been doing when i haven't been shooting stills.  it's been an experience.  
this is the thing:  i wanted to shoot something that looked like what i was used to seeing in the cinema.  up until recently there wasn't really anything available.  there was no way i was going to try and do some deep-focus bullshit with a panasonic video camera.  no thanks.  nor was i interested in using some dof converter and a nikon lens.  as much as i loved the dof look the rig was just so large.
not until the 5dm2 came out was anything available under a thousand dollars per day to rent.  when i got one it replaced my 5d, which was shot along side the 1dsm3.  the first time i shot the 1.2/85 and put the picture up on a 52" samsung i was pretty blown away.  the whole auto exposure aspect really sucked, though.  all you had was riding the iso.  nd's.  still wasn't great.  useable, though.  definitely.  once that firmware fix came out it became much better.  i think that was the point i started shooting the street docu-thing.  I believe it's been loaded almost three quarters of a million times.
when i look back at shooting that ... it seems so rudimentary now.  perhaps not rudimentary but this new project makes that seem easy.
i think anyone in los angeles has a screenplay.  i've met more people "with a screenplay" than without.  go to starbucks in weho.  intelligentsia in either silver lake or venice.  everyone's sitting there with final draft open.  see .. the difference between being in nyc or la rather than being in wisconsin or vermont is that ... this is the real world. ;)  a lot of the time the hopeful writers are listening to people having conversations hoping to hear something interesting.
although i've never written in a coffeeshop i'm not unlike them.  the difference is that i can shoot something i write whereas they probably don't know the difference between an f/stop and a focal length. 
I've also been lucky to have shot a lot of unit stills.  moving photos don't work together the same way still photos work together.  being able to see why certain shots are made and how they work together in editorial was invaluable.  i've also developed a keen respect for the 1st AC.  he's your autofocus.  
so ... being from los angeles means you're a screenwriter ... by default.  given that ... and the fact i've always wanted to make something that wasn't deep-focus bullshit like most of what i've seen shot on hd (besides the high-end cinealta stuff or the d20/21, etc., etc.) ... i felt it was time to do something since i had the 5dm2.  doing a bunch of friggin' time lapses wasn't really what i wanted to do either.  i know some have built huge followings because of a good gab, nice time lapses and ... well ... ya' know.
i think i was most impressed with what vincent laforet had done.  those hoping to ride his fame with their knowledge of all things hd-slr ... well ... i wasn't interested in that.
i think time lapses are cool but ... entire story lines developed around time lapses and friggin' music?  puhlease.  what does that really show you can do?  most of what i see from ex-news guys is "pretty b-roll."  i doubt their talking head shit makes it onto the reel. ;)
i think another really funny-ass thing is the fact none of the "guys with fanboys" have come close to doing anything as pretty as what laforet has done.  laforet doesn't just do time lapse.  
anyway.  
having watched a lot of people use the 5dm2 handheld and trying it myself i found that it's really only good for pretty wide perspectives.  forget handholding something like an 85.  really ... a 50 for that matter.  if you can, though, GOOD for you.  that's not a bad thing.  there's nothing as small as a 5dm2 that can do what it can do.  in fact, i think i tried -- in a practical sense not just on some forum -- to locate the areas where the camera had shortcomings and work around those.  
i knew it could produce lovely images.
having used something wide and handheld i knew that you could get away with shots you couldn't get with anything else.  people look at these things and thing "still camera."  since i kinda like street photography, i appreciated this.  if only the m9 did video.  whatever.  i mean ... seeing something from a ccd instead of a cmos would be so interesting.  hint. hint.  
one of the first pieces of equipment i got to do motion work was a nice video head.  i was able to find a sachtler cine 7+7.  seeing as how new sachtler sticks can cost upwards of us$3000 i went with the best manfrotto made for a 100mm ball mount.  i can't stress enough how important it is to have a great head and really good set of sticks.  putting a sand bag on the spreader is a very nice accessory, too.
it's such a good thing that canon allowed us to "make little videos while doing still assignments" as it was put to me by one of the cps people.  that said ... if you want to focus your 5dm2 without touching the lens and creating camera giggle ... well ... you're SOL.  as a unit photographer i always marveled at how much STUFF was on a movie camera.  when i first asked what a follow focus was and was told "you twist that barrell and you're going to move the camera.  we only move the camera when we want to."  he then let me rack through the focus on the focus wheel.  wow.
that's what i remember.  that feeling.  it was so fluid and lacking play.  i mean ... the guys on the technocrane had a remote one.  felt just the same.  wish i could show some of the unit stills but they're usually almost a full buy-out with a long-ass embargo.  some day i hope to play with those toys i see on 7 figure projects. ;)
knowing what a "real follow focus" should feel like i was ... underwhelmed at what i was seeing for well over fifteen hundred u.s.  on the other side of the spectrum i was underwhelmed as well.  being in los angeles you can find this stuff at places like the big s and film tools in burbank and see what they feel like.  i couldn't imagine ordering anything like this over the internet sight unseen.  unlike equipment companies in the photographic world i'm used to dealing with ... the biggest players like zacuto nor redrock had professional demo equipment.  unless, of course, you hock their equipment or have a fanboy base of 1,000,000+.  ;)  then again, having been able to see what they were all about at dealers here in l.a. i knew there was something different out there.  i mean ... this is the thing ... why should something be so expensive that doesn't have to be?  
i was shocked to learn that many of the popular follow focuses out there had internal parts sourced from r.c. car part manufacturers.  um ... no thanks.  they even have follow focus units that are a direct contact roller-thing.  never tried them.  perhaps they work.
although cinevate didn't have a pro-demo unit available and i didn't know them from adam, i liked what they stood for.  i was also told that if i didn't like it i could return it for a full-refund.  at the very tail end of shooting the street docu i had a head, sticks, rails and a follow focus.  the follow focus being the 15mm durus made by cinevate.  being in between the cheaper stuff and the ungodly expensive stuff in price seemed good.  the build quality is better than anything out there. they couple to your lens via these lens ring things.  the current generation is much better than the last.  the last was a bitch to install.  i mean ... nothing's as easy as the "cinch down kind" but ... they felt like they'd slip.
there's no play in the cinevate durus and the little lens gears have a pretty firm grip on the lens barrel. you'll see that the follow focus is attached to a rail.  they're 15mm rails and they're pretty standard unless you use 19mm rails.  i use the cinevate proteus rail system.  it feels solid.  the height is adjustable.  it's angle is adjustable.  having used this set-up a lot over the past year i can say it's probably one of the best made that's not arri or chroziel.  see ... the first follow focuses i ever got to try were on panavisions and arris and they were made by arri and chroziel.  the cinevate was the first one i tried that was as solid as the "big boys."
although cinevate sells a shoulder mount system, i don't think they were available when i was buying. i ended up buying something from cavision.  funny that when i went to their website i remembered that the first rails system i bought was from them.  the mount from the camera to the rails mount sucked. terrible design.  funny how i totally forgot about the fact i own one.  anyway ... i do remember buying their shoulder mount.  i don't recall it being very expensive.  funny that when i re-read their description they say "shoulder pad."  pad.  my. ass.  that thing is so uncomfortable.  i bribed my mother to make me a "real pad" and used wide-ass velcro to attach it.  cavision makes alright stuff.  that said ... the bolts that connect the shoulder assemblies together are cheap.  on two occasions the chrome came away from the bolt and went into my finger.
yes, i'll probably replace that assembly with that of what cinevate makes.  i know the build quality is a hundred times better than 99% of what's out there.
cavision makes some kind of holder for the back of the shoulder mount for weights.  yes, i could have gotten one of those as well.  glad i didn't.  i just use a five pound boa bag and a zip tie.  works for me.
the boas are rough, too, which kinda keep them in place.  forgot that i also have a cavision single grip but ... that will be replaced with a cinevate grip system.
that last photograph ... it's so funny ... people think that just because "there's light i can shoot."  so so so untrue.  the light above my little character's head is sodium vapor, which has a CRI of -100.  kidding.  it's friggin' ugly.  thus i had to bring in my own tungsten light source.  nhat is riding the boom.  on the end of it is a mathew's grip head and a lantern lock china ball with a 75w 3200 kelvin light source.  i wanted to drown out the ugly-ass street sodium vapor.  where's the power?  was i not only stealing the location but also swiping their power?  no.  i have a few duracell 600 powerpacks.  i've run 275w and 500w bulbs for about an hour on each charge.  not bad at all.  if you want fancier lights, you'll need a inverse square sine wave converter and applicable power.  perhaps one day but not today.  tonight.  whatever.
i've wanted to do the behind-the-scenes mega-blog about hd-dslr motion photography.  first off, i've been busy shooting my project.  secondly, i'm a working still photographer not someone who just reprocesses rumors, gets some fans and ... becomes a forum-god to those who would rather theorize than learn something practically. ;)
what is this project about?  largely, it's visual.  i'm introducing you to a character after her shift at work. i'm letting you into her life.  who she is.  i want you to empathize with her situation.  i want her to endear herself to you.  i want you to stand in her shoes.  then i hit you in the gut.  that's about all i'll say about it.  my lead actress is back in canada working.  another one of my actors .. well ... he's kinda busy until the second week of august.  i'm enjoying a bit of a break.
and, yes, i know there are those who can shoot a project in 4 days but ... i didn't want to rent a red, two kinos and call it a day. ;)
and let me tell you ... music rights clearances is a nightmare.  just fyi.
getting back to the 5dm2 ... focusing that bitch is a nightmare.  being able to rehearse and block is cool. setting focus marks on the focus wheel helps a lot.  but the 5dm2 really does suck at sending out signal to see your image.  when you're in liveview mode you're using a 720 image to focus.  right when you hit record though ... you drop down to a standard definition image.  trying to use that for focus when you're shooting 1080p ... is beyond frustrating.  using a bigger monitor is better but it's still a bitch.
most everyone i know uses this marshall 7" LCD, which has false colours and a peaking filter, which is useful for critical focus.  i'm looking forward to trying both that one and one made by datavideo.  i'm currently using the dp1 from smallhd.com.  the newer dp-slr they came out with looks better, is smaller and lighter and has an sdi input.  my dp1 has done pretty well.  it's gotten knocked around a fair bit and still fires up and lets me shoot in the 5dm2's sd-glory. ;)
i'm very interested in using a monitor with false colours and a peaking filter, though.  every dp i know uses the marshall.  
there are two pieces of equipment i bought from redrock micro.  the first is a little connector i use to clamp onto the 15mm rail and couple to an israeli arm.  the second piece i bought from them was a mount for a monitor loupe.  there are so many kinds of loupes out there.  that bruce dorn guy sells the hoodman with his bracket.  there's the z-finder, which is about the most expensive out there, not unlike the rest of zacuto's products.  i've checked it out and, yes, it's very nice.  
you can spend us$400 or you can spend under a hundred and get the hoodman 3.0.  i've used it along with the redrock attachment and ... i've been very happy.  it's not as easy to mount as the z-finder but ... it's only a few more seconds for me.  not only ... but ... i'd rather spend that much money on something else.  don't fall for the cinema straps that hoodman sells; they're crap.
seems to me that i have to focus the hoodman 3.0 every time i mount it.  it's all good.  i'd rather be in focus that soft.  when you set focus ... focus on menu items instead of picture.  trust me.
hoodman also sells an eye cup that i suggest, too.  the redrock/hoodman set up fits well with the cinevate rails and mount i have.  i've never lamented having purchased the combination.
in this current project i've used both the 5dm2 and 1dm4's.  i haven't used the 7d.  what i love love love about the 1dm4 is not only does it do a better job at higher iso's than the 5dm2 but ... it doesn't shift the image on the monitor from hd to sd when going from liveview to showing recording output.  the shallow dof from the mark 4 is very nice indeed.  the sensor is bigger on the 5dm2 but ... it's not all that much bigger. it's still bigger than a piece of 35mm film from the cine world.  bigger than the red one, too. ;)
yeah ... i know ... the red one is the end-all-be-all.  i'm sorry if i made any comparison.  i know that you "have to be a pro cinematographer if you have a red."  excuse me.  i'm naive.
much like the fact if you post on a leica forum, you must be an amazing photographer!  you must.  look at the equipment in your hands!  ;)
on a still editorial shoot ... it's usually myself and an assistant.  assistants that almost always come from the film world.  i find them "all business" and not wanting to show the client their portfolio.  in the cine world ... outside of talent ... there are so many more players.  except for some small pick-up shots for coverage that i could do with myself and talent ... there were situations when i had nine people.  i was told by a 1st AC friend that he's seen 30 person crews with no permit.  no one really pays attention in los angeles.
having more people to schedule is not easy.  i have a key grip who knows everything.  having shot with me for a long time now he knows exactly what i want.  it's really amazing.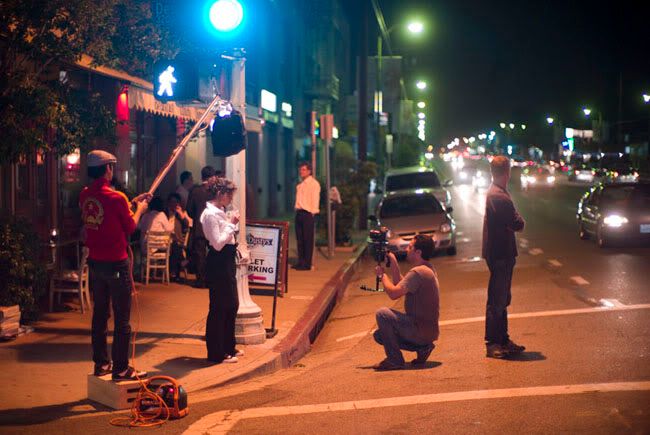 he also makes sure i don't get hit by cars.  very important.
in that last shot ... no ... i wasn't handheld ... i wasn't on sticks ... wasn't on a dolly.  i was using the glidecam hd2000.  before i knew any better i made one myself out of 5/8" grip rod and connectors and a couple weights.  it was alright.  there are also DIY stabilizers.  i even shot some puppies with grip rod configuration.  both my franken-rig and the diy have a lot of limitations.
having an experienced grip make sure you don't fall on your ass is ... so important. ;)
once you determine your balance, which changes depending upon what you have "riding on it," the glidecam hd2000 is amazing.  it's WAY better than anything i cobbled together.
talent likes it, too. :)  when i was out-of-town my key grip sent me an iphone photo of a shoot he was on.  they used a 5dm2, the glidecam hd2000 and ... a little electric cart known as griptrix ... to shoot an entire commercial for a "major athletic shoe brand."  pretty amazing.  i can't show you the photo, though.  sorry.
the initial set-up was "interesting" for someone who'd never set one up before.  lensrentals.com has two great videos on the subject.  setup. practical use/balancing.
you really don't need the glidecam vest unless, of course, you're riding the stabilizer for hours and hours. if that's the case, then try lifting weights for a while.  you could always rent the vest.  i never needed it as i would only use it an hour at a time.
you'll see that i don't have follow focus or rails on the glidecam hd2000.  for me ... they weren't really needed. not only ... but unless you have a remote follow focus, the lens motor, the power supply, etc., doing any kind of focus control with any kind of stabilizer is ... well ... not helpful.  touching the lens at all is a bitch as it shifts.  
in as much as i think most canon glass sucks i found that i used the 2.8/16-35, 1.4/35 and 1.4/24 the most when the 5dm2 was attached to the glidecam hd2000.  i also used the 2.0/35 leica r-glass.  i found that unless you are really good at keeping the distance between your focal plane and your subject perfect, there was really no way to use really wide apertures.  i'd usually get a "buy take" at f/4.0 and then play a bit with looser apertures.
i don't see how you'd go tighter than a thirty five attached to a stabilizer.  i'm sure it could be done but i wasn't going to waste my talent and crew's time "experimenting."
there are a lot of more expensive stabilizers out there ... but the glidecam hd2000 and hd4000 are amazing values for the money.  once you get the rig balanced and set-up, though, you won't be a steadi-shot pro just yet.  you need to practice.  i would also advise lifting weights. ;)  all of that said, though, the moving floaty-cam shots (what my grip calls them) are really beautiful.  
when i was talking to industry veterans about making motion pictures a working 1st AC said, "you know those canon slr lenses aren't accurate, right?"  what he was talking about was the fact if the lens scale said 5 feet, it really wasn't.  hmm.  really?  i know for a fact my leica m-glass was super-accurate.  in fact, i've used the focus scale as a tape measure before.  works.  trust me.
so ... i put a target on the wall.  got out a friggin' tripod.  first i checked the canons.  i couldn't believe that my 1st AC-friend was totally right on.  i then put on the zeiss ze glass and measured.  way way way better.  then ... i put on the leica r-glass and did the same test...
it was pretty much spot on between my measuring tape and the plane of focus and the distance scale on the lens.
one of the bitches of using slr lenses compared to cine-lenses is that if you move an slr lens a millimeter, your focus has shifted by feet.  whereas if you move a cine-lens a mm, your focus doesn't move nearly as much.  most cine-lenses don't have enough "coverage" for a vista vision-sized sensor of the 5dm2.  in fact, there are way more that won't cover than will.  except, of course, according to the manufacturer, the zeiss compact prime 2's in ef mount.  :)
i'm hoping to get my hands on some of these when i start the next project.  14 blade irises!  granted, they're a bit slower than what i'm used to ... but ... shooting wide open doing motion with the 5dm2 is no walk in the park.  on the wider-side t2.9/21 or a t2.1/28 isn't bad.  in ef mount there's also the t2.1/50 and t2.1/85.  i think they've got plenty of good glass to work with.  the next project will include a real 1st AC.  very happy about that.  zeiss really did a great job with this glass ... especially beating out almost everyone with their introduction.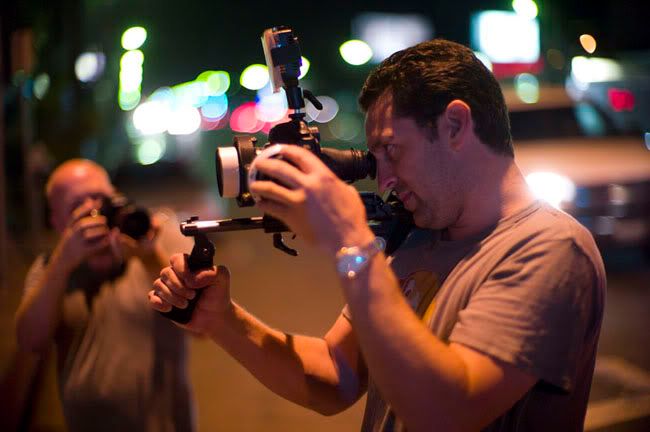 on the shoulder-mounted rig i have the 1.4/80 leica r-glass.  jesus.  it's beautiful.  even when i get my hands on some of that zeiss loveliness, though, i'll always shoot the 1.4/80 leica r-glass.  you'll see that there's some tape on the front. well ... leica's got some odd-ass filter system.  no way was i about to buy different filters for whatever filter mount is on that glass.  instead ... i taped the tiffen 1/8 black promist.
why am i using the tiffen promist?  yes, i know you can get those effects in post.  yes, i know it technically degrades the image.  yes, tiffen's site really has bad photos on it.  the 1/8 filter is lovely.  it just takes off that "hd edge" as it were.  and ... it's about "the look you like" not what some 15 year-old canadian (sorry, canada i could have picked on anyone) thinks on some irrelevant forum.  i spoke to enough dp's who actually work ... they suggested i look at tests with both.  i liked the look the 1/8 gave me.  you may not.  tutto bene.
i mean ... i just looked at this post.  jesus christ.  i mean ... wow.  there's so much information.  this is day-two of writing.  day-one was 2 hours.  i'm on another right now.  i stop and think about what i've already written about.  i then look at the photos i ftp'd to photobucket.  damn.
whilst on the topic of filters ... um ... well ... in as much as i don't like filters besides those of the nd-variety ... it was odd to me ... 
then again, when i'd do unit i'd see them stack three or more in the matte box.  i didn't think ... er ... i avoided thinking that i'd need a matte box.  given that i hit up craig's list and found chroziels, arri's ... lots.  seemed as though there are a lot of dp's getting rid of equipment.  anyway ... i ended up with a cavision, yes, cavision, i forgot that i had yet another cavision accessory, their 4x5.65 matte box for 16:9.  i think i paid the guy us$250 cash.  it was about a us$600 discount on new.  then again, new ones don't have glued clips.  whatever.  a matte box is a pain in the ass.  especially this one.  it has two filter stages.  one rotates so you can use polarizers.  
buy quality like tiffen or schneider.  don't buy shit.  these aren't the round-friggin'-filters; they're square. i use the schneider true-pol 4x4.  really makes the skies pop when you're doing exteriors.  also, they're nice for reducing window reflections.  filter stage one filled.  the other filter i use in the box is that of the tiffen black pro-mist 1/8 in 4x4.  oh shit ... while looking up links i forgot that the other filters i "don't leave home without" are the tiffen 1, 2 and 3 stop neutral density filters in 4x4.  because two filter stages fill up quickly i'll sometimes put round ones on the actual lens and then one or two in the matte box.
if you're shooting at night, though, i'd limit yourself to one filter as lights do some pretty interesting things when bouncing around all of those reflective surfaces.  trust me on this.  
although i've totally gotten my two-hundred-or-so dollars out of the cavision matte box of scorn, i'll be upgrading to a cinevate titan swing away mattebox.  the cavision is stationary.  sucks.  the cinevate swings away so you can have access to changing lenses easier.  not only ... at us $900 or so ... it's still less than half of what an arri or chroziel will cost.  having had a lot of experience with the excellent craftsmanship of cinevate's other products i don't think i'll be disappointed.  plus ... it'll swing away. :)  so important.
don't get me wrong ... the cavision's done it's job.  minutes between set-ups add up.  and when you're ripping off exteriors in busy locations ... you don't have a lot of minutes.
that being said ... no one ever ever ever said anything to us.  one night i had quite a few people.  i was amazed.  
got a filter stack including the tru-pol and 1 stop nd.  oh, yeah, and a focus whip.  i've never quite understood why cinevate doesn't make a whip.  i mean ... why should a piece of spring-friggin-steel cost an arm and a leg?????  us $280?  really, guys?  i got one from cavision for us$60.  would have bought one from cinevate seeing as how i have their durus follow focus but ... they don't make one. ;)  of course, zacuto makes one for us$141.  i don't see why they have to be even that expensive.  
back to the filter stack.  the 5dm2 has it's limitations.  shooting at 24 fps i wanted to be at 1/50th.  1/48th would be more apropos but whatever 1/50th it is.   in fact, i'm always shooting at 1/50th for motion.  it looks the best.  coming from the still world i'm used to having a world of shutter speeds.  in this motion world ... not so much.  not being able to use anything but one shutter speed means i've got to knock down light with either iso, f/stps (t/stops in their world) or nd's.  
that brings up something else.  iso.  i prefer -- having spoken to people who've shot real projects and not just time lapses -- to be as close to the 5dm2's native iso of 160 ... especially for daylight exteriors.  it just looks better.
another thing that looks better is if you go into picture styles and knock the contrast all the way back save one little click, saturation down a few clicks and ... here's an iphone 4 photo of the settings ...
 it's the neutral or flat style that's been discussed ad naseum on the web. hit apple-f and search "neutral."  you'll see vincent's comment.  i'd rather have a bit more dynamic range to work with by dialing in this picture style.  in post you can apply your look and other adjustments there ... don't let the camera do it.
speaking of iso ... i've gotten the 5dm2 up to 1600 and been happy with what i saw (a stairway lit by ugly sodium vapor).  
i was happy with what i was seeing at 1600 and 800 shooting my character walking up a set of stairs. i was kinda shocked how good it looked with just using available light.
you'll probably also notice that i have a little light on the hotshoe.  basically, it's a little obie light, paying homage to dp lucien ballard in 1944 during the filming of "the lodger" to conceal the scars of actress merle "obie" oberon.
you can see the effect of obie aka lite panels micro LED on emelie's face.  balancing for tungsten i also put a 1/2 cto and a small piece of rosco 216.  having grip-friends helps.  they trash a lot of good expendables on sets and i'm the willing recipient of hand-me-downs.  totally cool with me.  i'm sure the planet isn't pissed.
now why would i use some cto or 216 instead of the little filters that come with the micro LED?  well ... i don't know the exact colour temp of what lite panels uses nor the qualities of their diffusion.  i know what a 1/2 cto does to a daylight source such as the micro led.  not only but ... i like the look of 216.  i regularly put it on windows to knock down direct sunlight.  it looks pretty.  also, remember that the diffusion becomes the source.  if it's now my source and it's lighting my talent, i wanna know exactly what i'm dealing with. 
i found the micro LED's filters came off easy.  gaffer tape it is.  the best stuff on earth.  people think duct tape is the end-all-be-all?  they've never used gaffer tape. :)
we're now on day three.  
what else?  dunno what it's like in your town but in los angeles we have a lot of rental houses.  most rental houses will preclude you from renting because you don't have production insurance.  some, though, will allow you to buy insurance directly from them.  if you want to rent an arri bl3 and some lenses you'll have to get production insurance.  luckily, or unluckily, i don't need to shoot film.
did i just say that?
whatever.  perhaps some day i'll get to shoot film for a motion project.  i'm told i'll love it.  i could imagine so.  i found a really cool place in los angeles that rents primarily to the indy community.  wooden nickel lighting.  i needed a 1000w arri tungsten gelled with 3/4 CTB to replicate moonlight.  i also needed to go up 20 feet so ... i had to rent a matthews mombo combo.  this thing can go up 24 feet. the guy fulfilling my rental order said, whilst looking at my 1000w arri light, "you gonna fly that little light on that big-ass stand?"
yes.
looked enough like moonlight.  didn't rent the walkies.  a friend and i went in on a set of four used uhf's, two of which came from a police department.  amazing how much you really need that shit.
yelling is unprofessional.
so much about the visual and nothing about the auditory.  well ... what i've discovered is that unless you're in a PERFECT environment your sound will sound like shit.  i have the sennheiser me67/k6 shotgun, the zoom h4n, the k-tek k-102 boom pole, a windscreen and lots of cable.  truth-be-told ... sound's a bitch.  
miking this night exterior on a busy night was a nightmare.  we only had two lines.  i had one person on one corner and another at another corner pushing the crosswalk signals in unison so that i got 30 seconds to get nice sound.  
when i do exterior dialogue scenes now ... i hire out.  my guy has a us$6000 shotgun mike, vampire mikes, mixing equipement, etc., etc.  he's well worth the money for rich sound.  there's no substitute.
i'd rather direct and shoot. ;)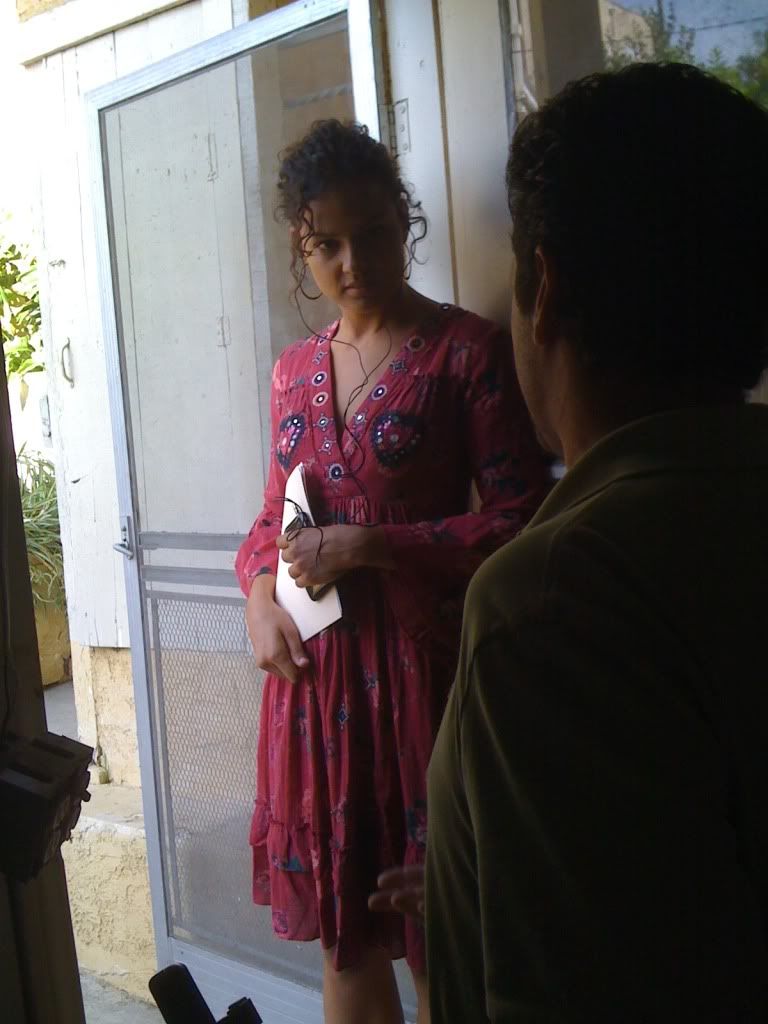 directing and shooting is a total challenge but i'm very much enjoying it.
i've also been doing some 1st AC work and leaving some of the camera operation (panning, tilting, framing) to someone else when there's too much going on.
i know that the time lapse kids love love love little short dollies that have motors.  well ... in the real world ... you don't see those often.  you either see real dollies like fishers, which require us$250,000 of insurance.  um, yeah, right.  those are worth a quarter million?  don't see how.  there are so many other DIY dollies but ... i didn't want to screw with that shit.  there are "little dollies" that barely have 1 meter of travel and they cost a grand.  actually, they're more than a grand if you get their supports.
i opted for something different.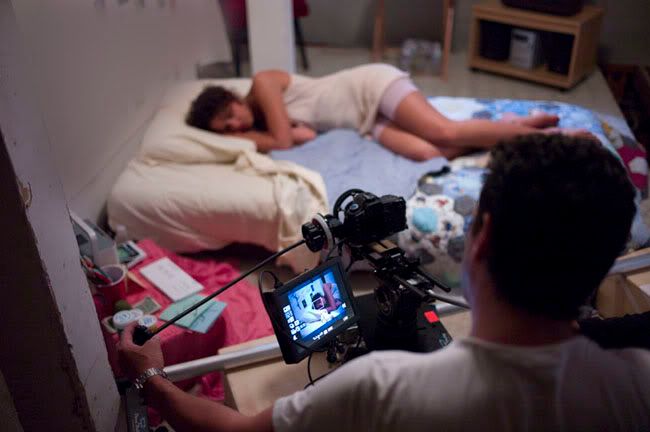 (these photos have been digitally altered to blur-out the background)
i remember making some comment on facebook about why someone would want the kessler crane dolly and the head-fan-boy himself said "go get a proper dolly."  mmmhmm.  yeah.  okay.  first why would i need a dolly to hold 100lbs. of gear when my gear doesn't way that much and room for two overweight union members?  dunno.  
there are dollies that use aluminum ladders, plastic pipes, etc.  i wanted something that didn't limit me to a three foot move.  one day i was reading american cinematographer magazine and saw an ad for the dana dolly.  for us$549 you get a complete kit that includes the dolly system and 2 track ends and 100mm and 75mm bowl adapters.  basically, you get speed rail from wherever you get that stuff from cut to whatever length you want, put them in the track ends and either put them on stands (heavy duty ones) or on apple boxes.  it appears that the time lapse fan-boys can get a motor for the danadolly as well.  i didn't know that until i went to their site!
it works perfectly.  i still think the kessler crane thing with it's crank is beyond hilarious.  never ever have i seen anyone use anything even close to that in the real world.  perhaps in the time lapse world, that's got such a huge market, it's big.  dunno.
the dana dolly rocks.  i have 4', 8' and 12' speedrail, which is just aluminum pole-like material.  they use it for all sorts of shit on real sets.  i had another set of 8-footers made that have a curve for another project i'm getting ready to shoot.
can you get the kessler to curve?  wait ... if all you do is shoot time lapses why would you need a curved track? ;)
what else?  hmm.  it's funny that this post has taken so long as there is so much gear needed to make a motion project.  gear.  people.  time.  patience.  energy.  balls.  ripping locations can be ... interesting.
i'd get this one little book called the guerilla film makers handbook.  i found some of it very useful, which is about all one could expect.  
during the crux of shooting over almost two months it was funny:  i ran into Michel Gondry a couple times.  check out his youtube page.  once it was at a shoot for tod's, which was launching their new adverts shot by elliot erwitt, and another time at a fashion event.  although i spoke to him for a bit at the first event, i was able to talk to him for quite a while at the second event.  he gave me some really cool advice.
sorry but that's private.
he also made me dance with he and his girl.  that was a site for sure.  frankie rayder took my camera and did my job for a while.  where else does a supermodel take your camera after you got sage advice from one of the best directors to have ever lived ... have a drink ... and then dance?  you tell me.
making a motion project is a lot of hard work.
i'd say one should also have as many "unit stills" or "onset stills" as possible.  hopefully, they're good ones.  luckily, for me, at least, i have a lot of talented friends who are photographers.  go figure.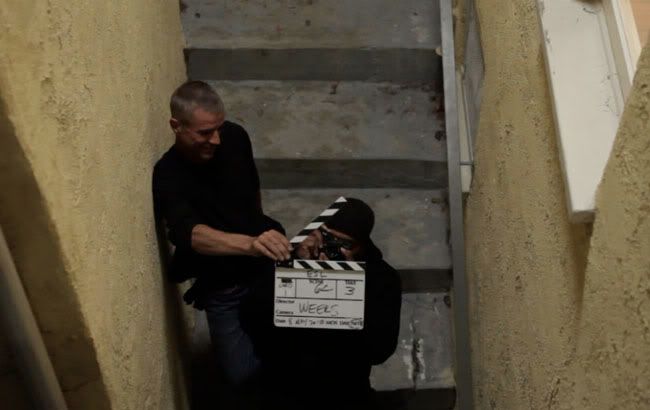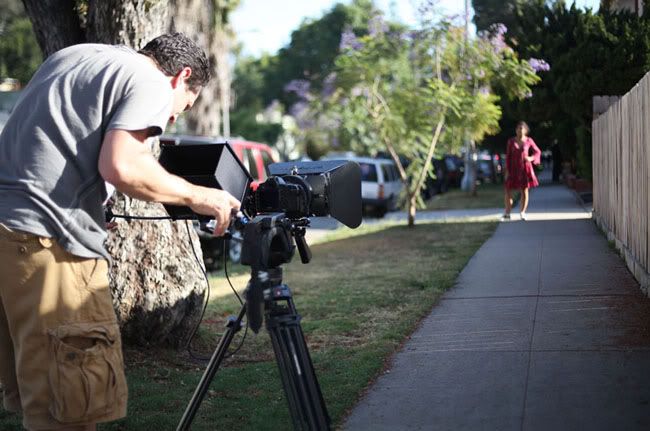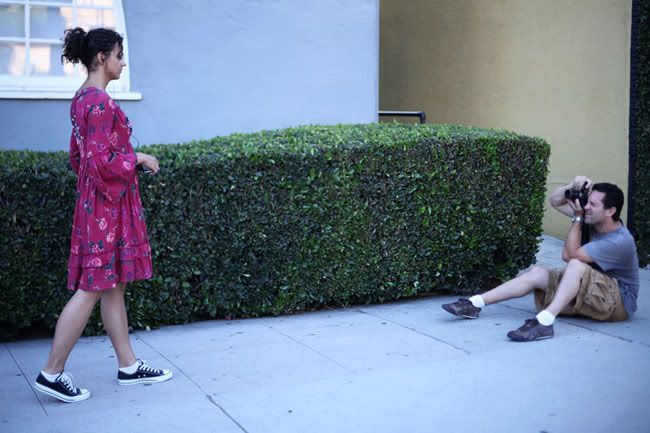 in fact, i did some stills myself as well. ;)
the preceding photos retain the respective copyrights of their authors:  frank jackson, mario anzuoni, daniel kagle, nhat nguyen, launius via iphone, thorsten overgaard or me.
is it done?  um, no.  my actress, annamaria, had to go back to toronto for a bit and my actor ... he's pretty much blown-up ... so i'm hoping i can get the half-day i need with him to fit his busy-ass schedule. so happy for him and his crazy-success.
another funny thing was that the car we were using as a picture vehicle decided to blow it's engine.  yes, indeed.  she's all fixed and has a "donor heart" so ... it's just getting the actors back and ... finishing. continuity is a bitch, too.
i mean ... then it goes to post.  i'm doing quite a bit of it myself in final cut studio with a bit of magic bullet looks.  "grading" my still images for ... some of the time lapses ... i did in aperture where it was easy to create a look, apply it to ya' know ... 5,000 frames ... and then exporting so that i could re-import the files to make a .mov and then export it out in Apple ProRes 422.  as much as i wish i were doing all of this on a nice mac pro ... no ... i'm doing it on my mac book pro ... not bad, actually.
and lucky for me i have a lot of industry pros who are helping with my post. :)  very happy with that as well.
sadly, though, i have no one to help me with some of the music licensing issues.  that ... and language barriers.  but ... whatever.  it'll all come together.
*sits quietly and thinks of the other "stuff" he's had to use to get this done*
yes, i almost forgot, looked toward the window and saw a matthews 4x4 artificial silk solid frame that i used in a variety of situations.  when my matthews quick corner overhead butterfly i have in 6x6 wasn't big enough i was able to use a 12-by.  i use either the white artificial silk (when i didn't care about ambient bounce) or the black (when i did care about ambient bounce).
one note:  if you're flying something heavy above your talent and crew, MAKE SURE YOU KNOW WHAT THE HELL YOU'RE DOING.  just a 6-by is 36 square feet of sail.  a 12-by is 144 square feet of sail and it can totally get away from you and seriously hurt someone.  you're warned.
of course, i've been using a plethora of matthews stands ... from little ones all the way to beefy overheads and mombo combos.
there are a lot of matthews clamps and grip heads and wall plates i've been using as well but i think a photo of them is better than a description...
milk crates are a nice accessory, too. 
seriously, there's so much more.  what's one of the things you kinda "discover whilst doing"?  cutability of shots.  i know cutability isn't a word.  you may think two shots can marry up in edit but ... they don't. there are so many things to think about when doing a project like this.
i'll end up doing another post especially with the venerable picture car all geared-up with matthews microgrips and several matthews pump cups.
even a good-size editorial shoot only lasts a few hours; these motion-monsters take way way way longer than that.  it's really crazy how much effort one needs to put into all of this.  and ... you can't do this alone.  i'm EXTREMELY grateful to my collaborators.
i'm looking forward to completing this for my reel a) to get it done, b) because i can't wait to cut it together and colour grade the bitch and c) so i can move on to the next project.  cannot wait to do something that's primarily interiors and i can control the lighting the way i'd like.  that ... and ... the next one is something i've REALLY wanted to do but didn't want it to be my first.  
i'm so looking forward to my cast being back and available for shooting.  it's so close to being done i can taste it.  
was having coffee with my friend alexx and he showed me some tests that david fincher did on the new red mysterium with leonardo.  my god.   amazing.
this post took three partial days to do.  i wonder if i'm done?  i'm hoping so.  hope some of you got something out of this in a practical sense that you wouldn't have gotten out of some forum post in a theoretical sense.
also, i hope you guys all have an amazing weekend!
wanna also thank everyone who's been helping me with this project.  some have been name-checked above but there are others who haven't.  thank you.  i'm indebted to you and your time and effort.
cheers from the most temperate summer EVER!  GRAZIE A DIO!
-c
p.s., check out this new remote follow focus from redrock.  jesus.  hope it's iphone4 compatible. ;)