i know i know i know. it's been a while. i always kinda feel bad when i'm not regular. not that kind of regular. well ... okay ... that one, too.
unlike the others who post every day ... well ... i actually shoot for a living. i love reading some of the blogs out there by people who are a) failed photographers, b) couldn't make it editing a magazine or c) tech geeks who have no clue how to be a real photographer. they make me laugh. seriously, if you aren't a good photographer why does your opinion on photography or even gear make you relevant? is it because you attract an audience of equally untalented readers? i suspect it does. funny to me is that you check the stats of these blogs and you see that their readers are all over 50 and white. funny to me.
my favourite quote of late is from robert rodriguez "creative people are born creative. you're lucky. technical people, however, can never be creative. something they'll never get. you can't buy it." yeah, shove the bfa up your ass you vonce. vonce isn't a word but i use it in the context of how it was used by stanley motss in "wag the dog."
what i also find fucking funny as shit is the fact those who have bfa's and mfa's and ph.d's in art all support each other in an untalented circle jerk. ;) they sit around and see who can tell the best lies to each other about "what their art means." mmmhmm. i've heard it myself.
they're laughable.
so is "their art."
yeah, whatever.
go listen to your friggin' jazz on your tube amp and call it a day. i'm sure you do that whilst making sure your punctuation is letter perfect, yes? vonce.
okay. vitriol. check.
the way typepad's compose editor really sucks. i think i'll be moving my blog soon. then again, i just googled and found blogo! we'll try this.
been shooting a lot of motion projects. i think i could do a whole other blog about it ... but ... it's a time-issue-thing. would love to ... but ... i'd rather be shooting than writing ... or going to some stupid-ass forum with wholly uncreative trolls quoting tech data.
was up in the pacific nw for the leica m9 roadshow. although i wasn't able to do a lot of street stuff in sf, i was able to shoot some material in seattle and portland. and indeed blogo is way better than typepad's shitty compose interface. still think i may move it.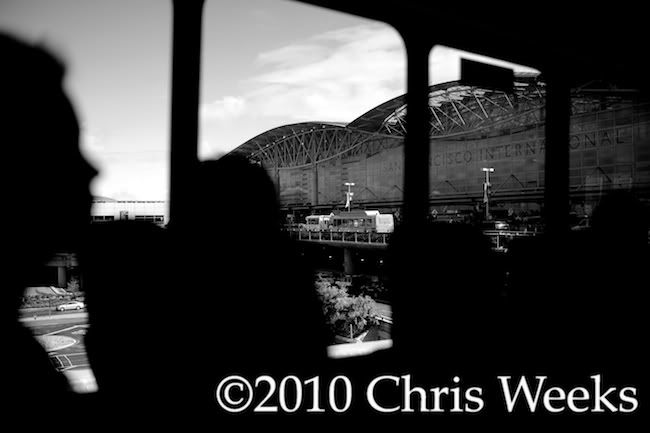 i see so many shuttles. and airports. and hotels.
but not a conference room full of m-shooters. i didn't even meet any dentists there. ;)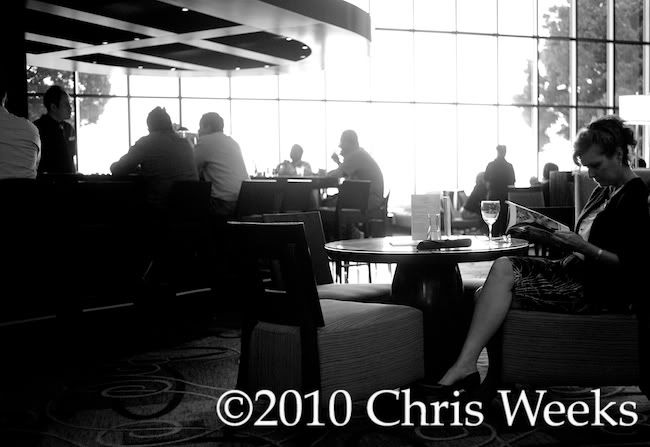 airport hotel bars/food really are the bane of anyone's existence.
but not sniping sleeping/working co-passengers on aerial transportation...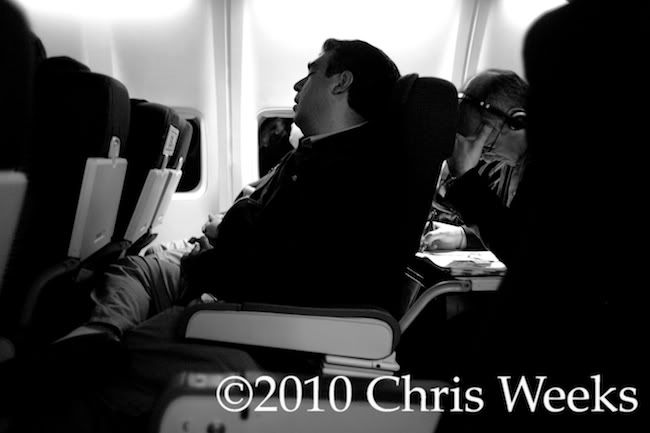 after educating a certain front desk person about acceptable conditions for a downtown hotel and finally being able to sleep ... went for a walk in and around downtown seattle.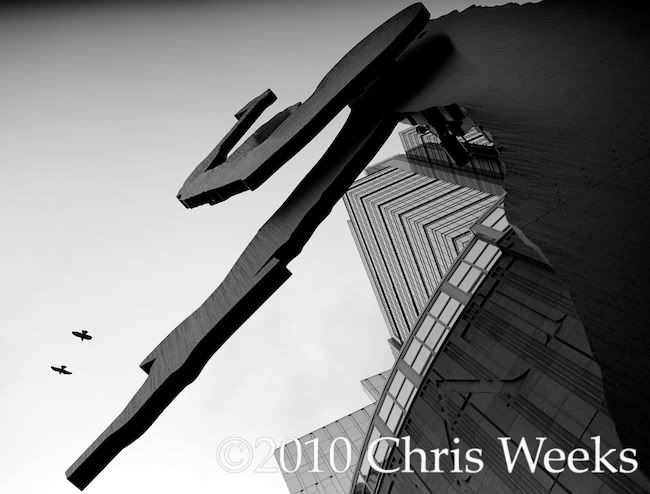 looked up and saw that behemoth of an "art installation" and then the birds flew threw. then my friend justin did the best save of both his body and shot of espresso i've ever seen in my life. #damnslipperysidewalks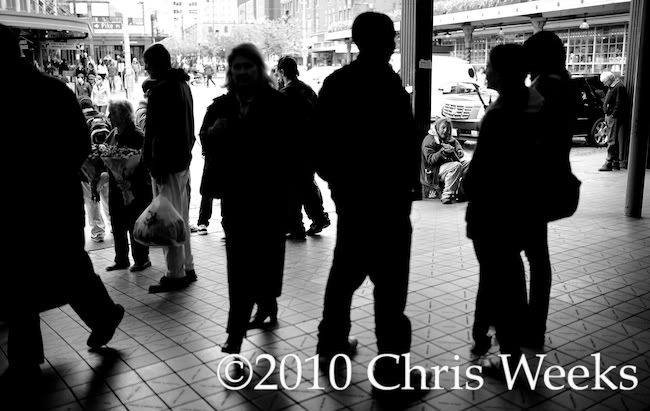 i'm sure it's tired for you seattle-area shooters but the public market-thing is a veritable street shooter's target rich environment we could all wish for. i really like the triumvirate of subjects starting from frame left to frame right.
and i like dogs. ;)
and flying fish as trite as you seattle-area people may feel the subject matter is. i've never shot there. i mean i've shot there before but it was a wholly different context. i think going back 10 years later and not being in deep-cover situation was both long enough and apropos.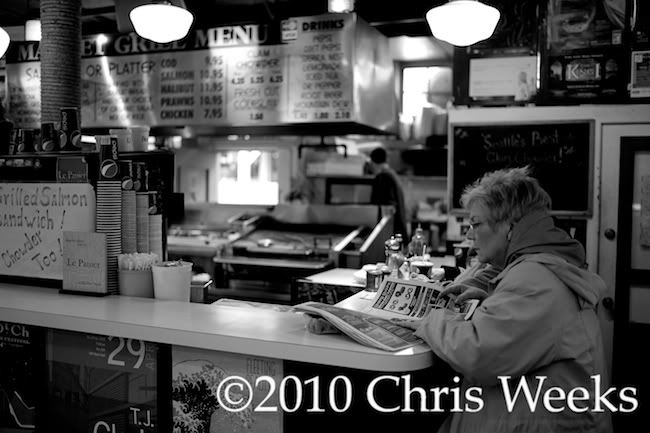 i've been shooting people with newspapers lately. and, of course, using an m-camera she didn't see me whatsoever.
this happy pup did, though: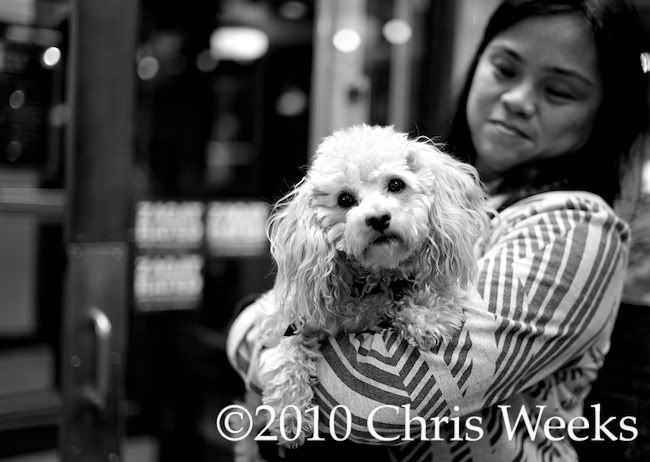 i'm not really talking about what i used lens or iso-wise as you can look at the exif data on each photo but ... in general ... my two favourites the 1.4/35 and 1.0/50 were with me.
and in general people who dress up like santa clauses, easter bunnies and clowns creep the shit out of me.
tulips do not.
gotta say that the three dudes (and one girl) playing guitar and singing at the market were actually very good musicians. yes, i tipped at least two of them.
i love the fact that when i say "i wanna take a picture of those flowers" they think that i'm actually talking about "the flowers." i think they think that it's some point-and-shoot and i'm zooming.
in as much as i love simple composition i also love the ones where there's a lot going on. my plane of sharp focus was on the clarinet guy and then these girls just jumped in the frame and "did what they did." thank you, girls. :) was one of my favourite frames of the entire "tour."
getting to street shoot with justin was a pretty good part of it as well.
humans in their human zoo having quiet moments interest me, too...
walls full of gross-ass used chewing gum? i'm sure the donut who started it has an mfa, right?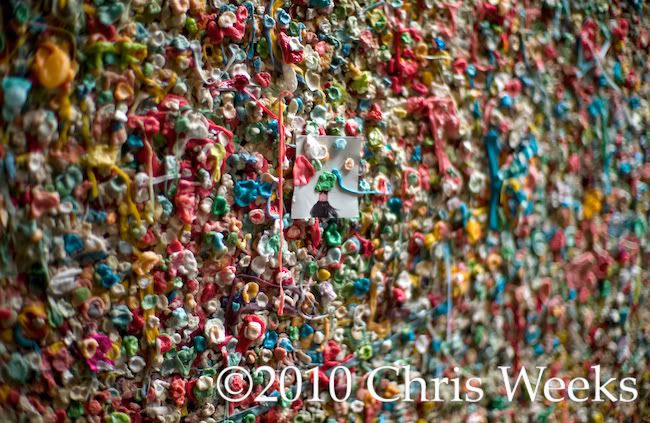 it actually smelled like friggin' gum in that alley. just. not. right.
focused on the driver to the right of frame who happened to be the same distance as homegirl. i'm sure homegirl wouldn't have been too pleased if she saw my camera go up to my eye.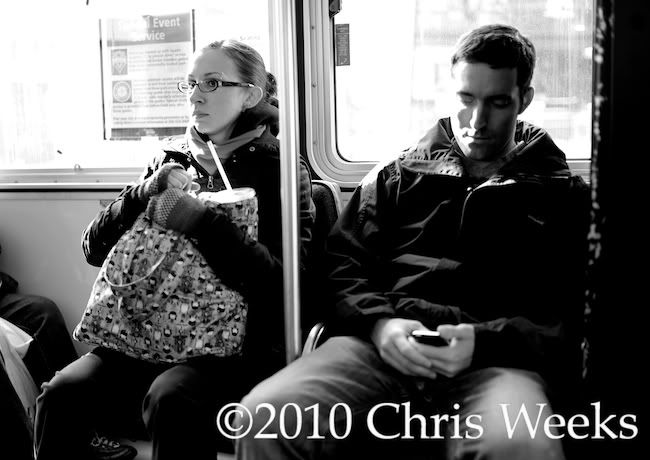 body language says a lot about someone. again ... a modified hipshot. ;)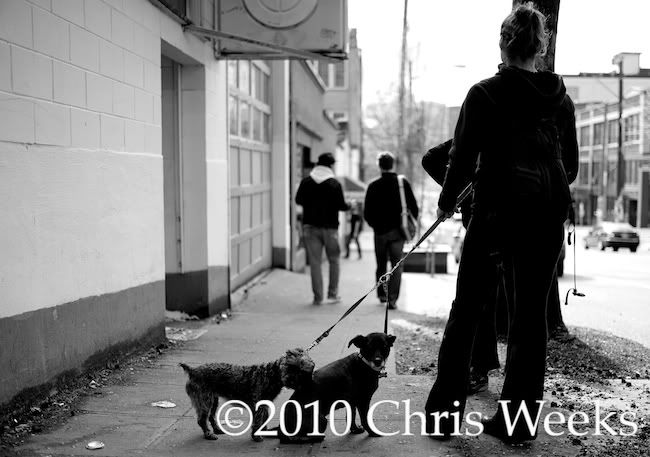 i mentioned i like dogs as subjects, yes?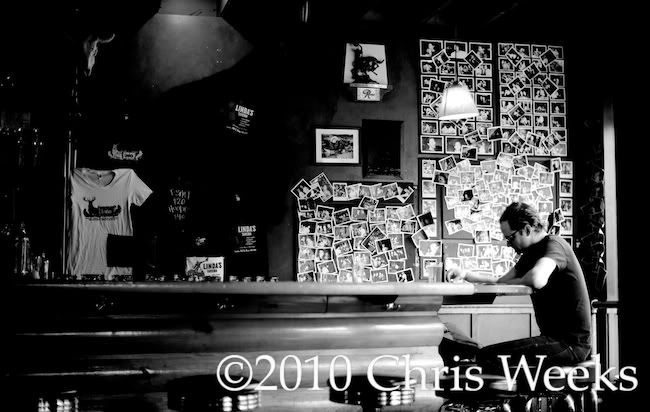 and people having quiet moments to themselves? ;)
i usually do not shoot homeless people unless they look dignified. i think this late seattle light provided a bit more dignity ...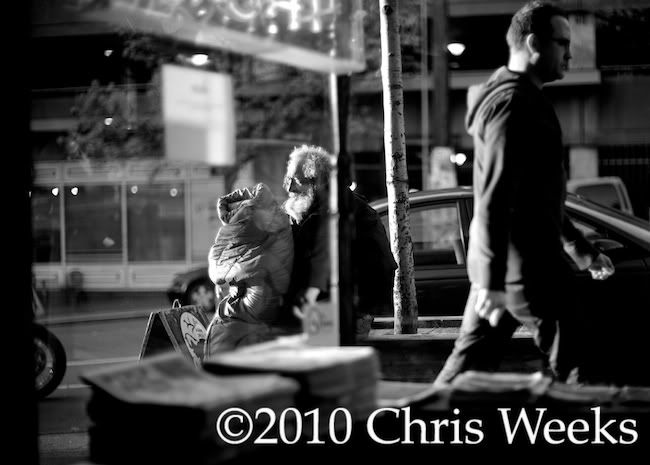 bike messenger by day ... id-checker by evening...
you gotta check out linda's tavern in the capitol hill area of seattle.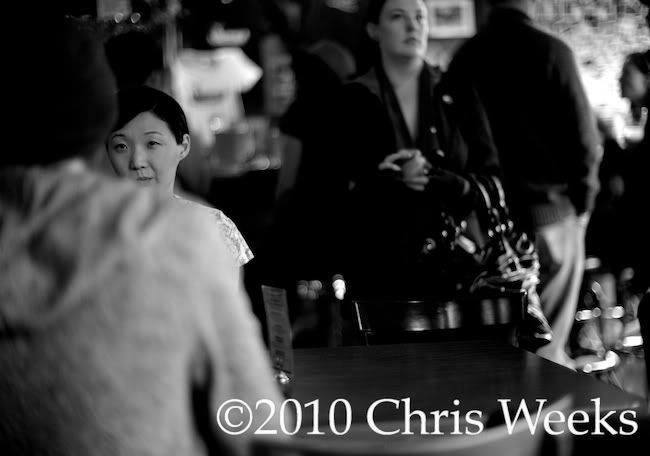 gotta love the m-camera's stealthy ability ... she didn't see me at all. yeah, i drank the m-rangefinder kool-aid and ... i'll never stop. pry this bitch out of my cold dead hands as it were. that ... and this girl -- i'm convinced -- could be the elusive hipster-grifter. ;)
perhaps not, though.
to me it was my own pacific nw Sasquatch sighting.
in this day of twittering and fb status updating ... why is capitalization so important to some people? dunno.
speaking of hipsters ... listening to the phoenix remixes. :) sorry it's not jazz. sorry i'm not jerking off to a silver print of some horrible contact print. ;)
thought that looked cool. kind of the last street view of seattle ... juxtaposed with the first street view of portland...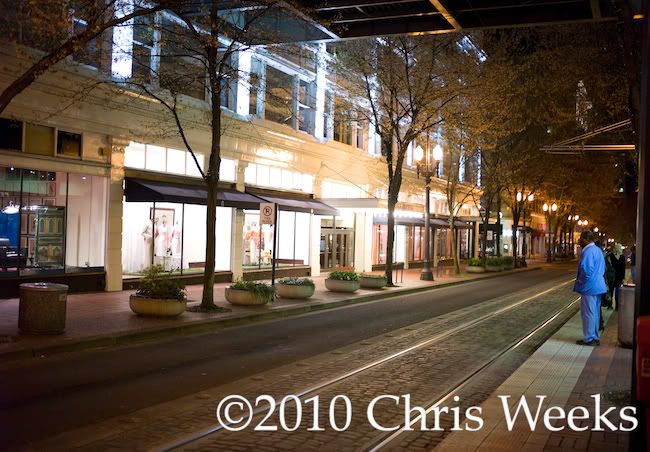 a little pre-dinner conversation at clyde common. perhaps it's better to have a few drinks before you eat their kinda-esoteric-to-be-esoteric menu?
friendly surveying dudes with their own leica.
i don't think we need to see her face because her face is so much better defined in my brain with my own definition of stoicism. no?
fancy a donut?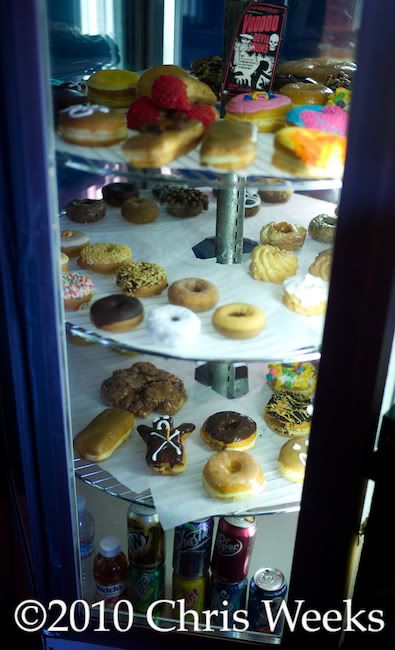 walking 'round with a rangefinder ... ah ... nothing like it. and if you say you can do it with your d-slr ... you just don't know.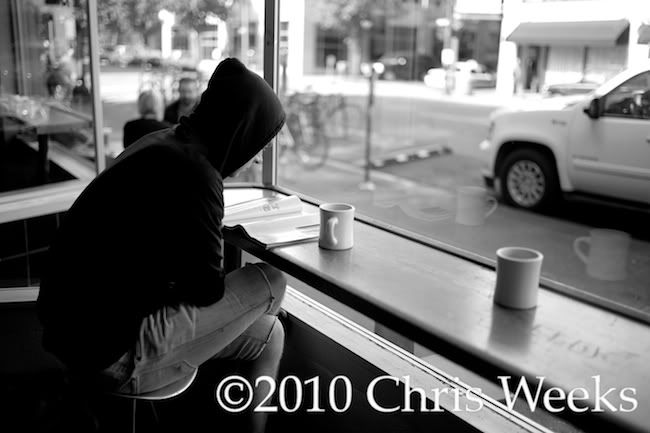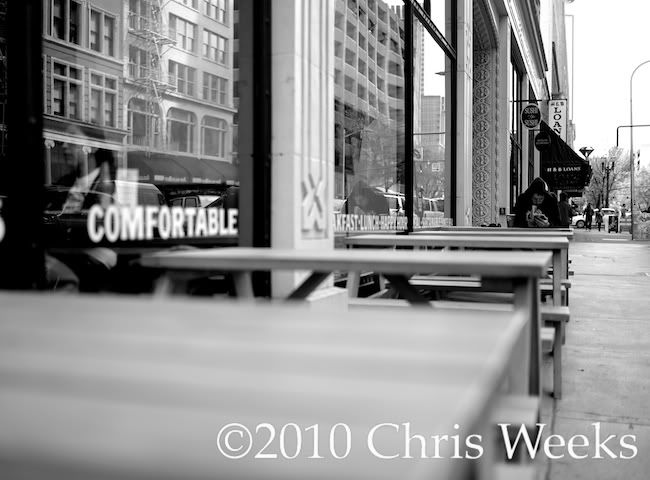 i understand there's a big parking garage underneath this pretty plaza.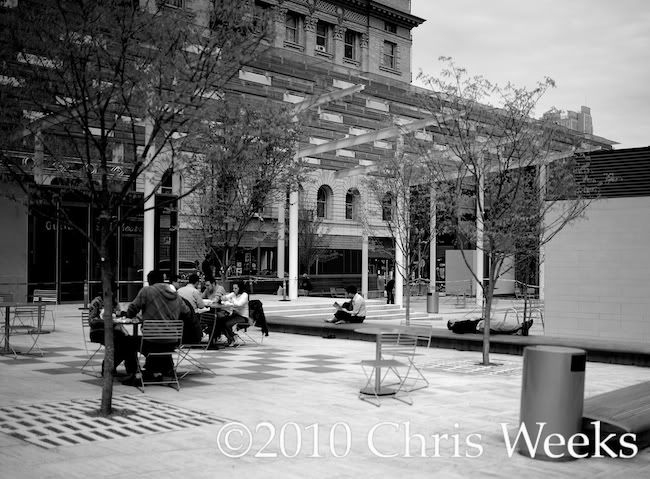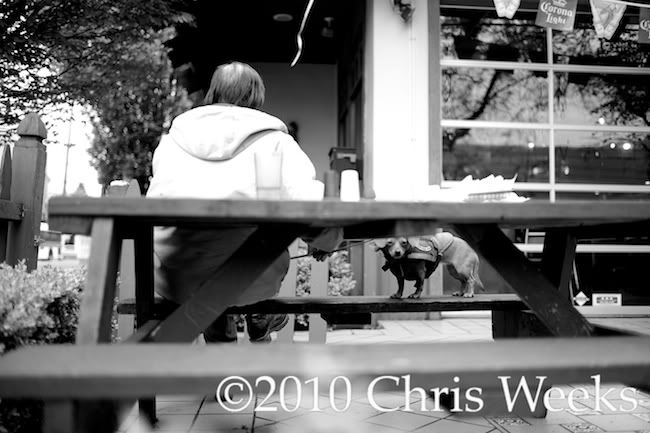 her name is baby. she's a service dog. her owner mike, although homeless, is her guardian. actually, though, she's more of his guardian as she's trained to lick his skin and act a certain way if he needs medication for his heart.
they were both very full of heart...
he was sitting at a bench and table and a server came away and took away some chips and salsa. we asked mike if he was done and he said "it's not mine. i am kinda hungry, though." well ... we made sure he had the resources to eat at least that day. we spoke with him for a good 20 minutes which i'm sure was more than anyone else had done for a while.
god speed my friend.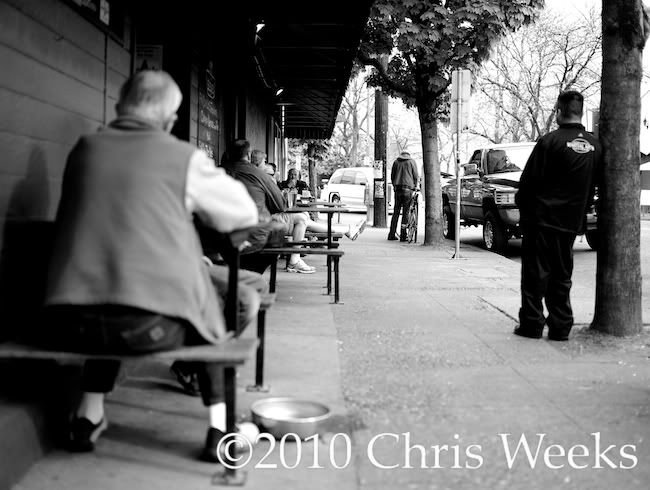 funny that when we said to people we were in "north portland" people got all big-eyed and shit. it's not such a bad place. in fact, we found it very interesting in many ways.
three frames and he didn't hear the discreet mode. ;) i'm sure your big ol' mirror and diaphragm flopping and contracting, respectively, would have achieved the same result. ;)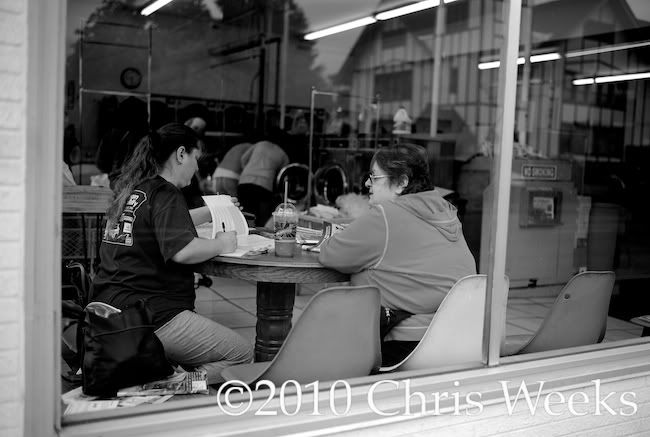 street is so interesting to me on so many levels. i love seeing realities so different than my own. i wasn't saying better or worse ... just different. we're all human.
unless you're a forum poster, of course.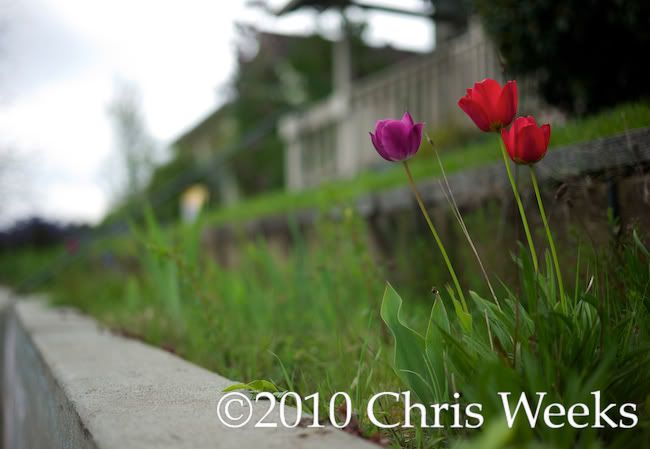 i did say i liked shooting tulips, yes?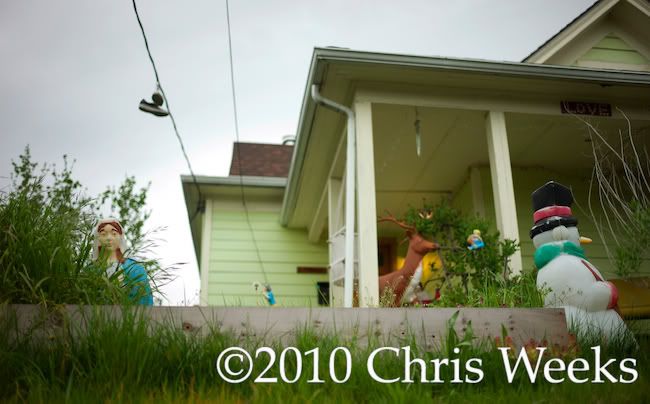 portland is such a unique place. where else do you see this kinda stuff?
great area that neighborhood!
restaurant row at 28th and burnside is pretty amazing, too. if you're in the area check out, tabla bistro! you'll love it. they don't "try as hard" as clyde common. ;)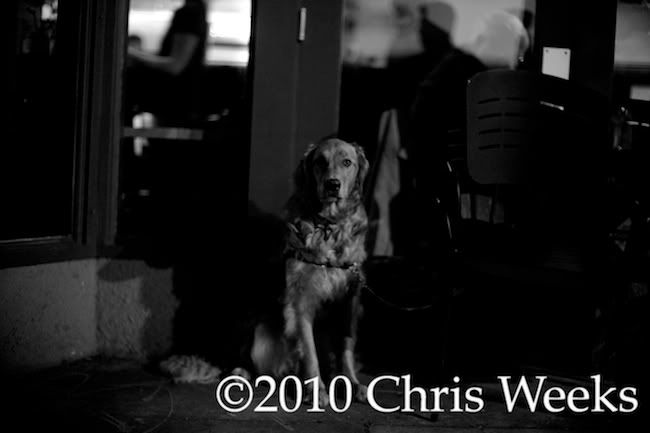 went up to little homey and he wasn't having it ... wanted to record the look he gave me.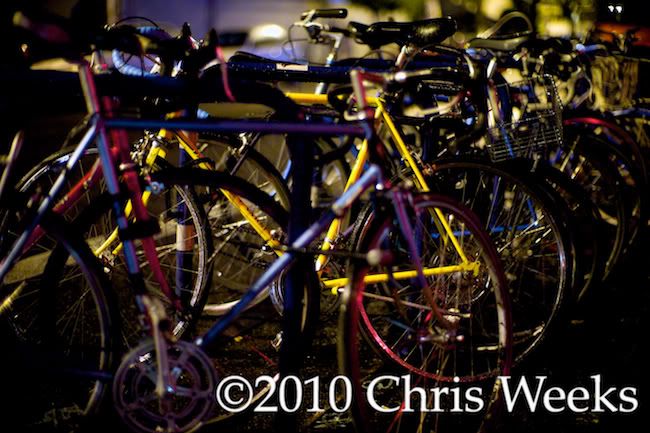 used a little preset action on this one in aperture 3. this one was called cross-process 2.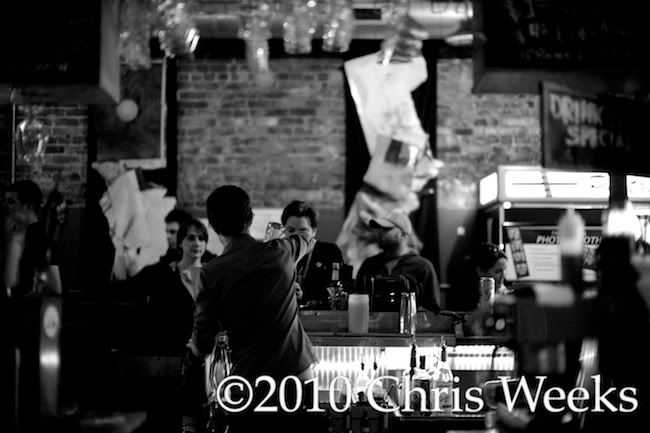 don't remember the name of this bar but it was on 28th south of burnside. the owner whom was sitting next to me reminded me of david lynch. very cool guy. very cool place.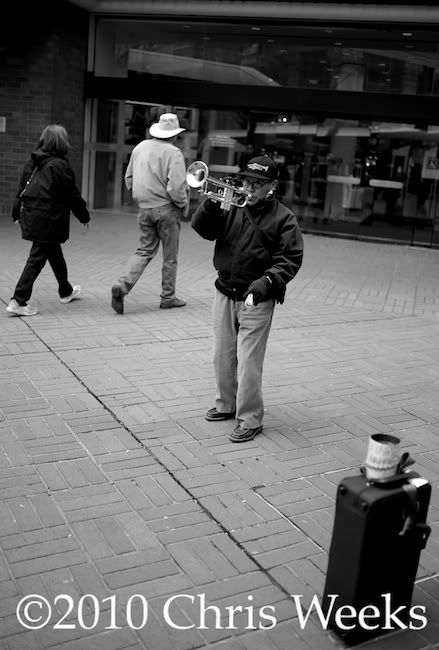 the sound emanating from that thing was annoying.
note taking at voodoo.
wish you could see this bigger ... like on my monitor.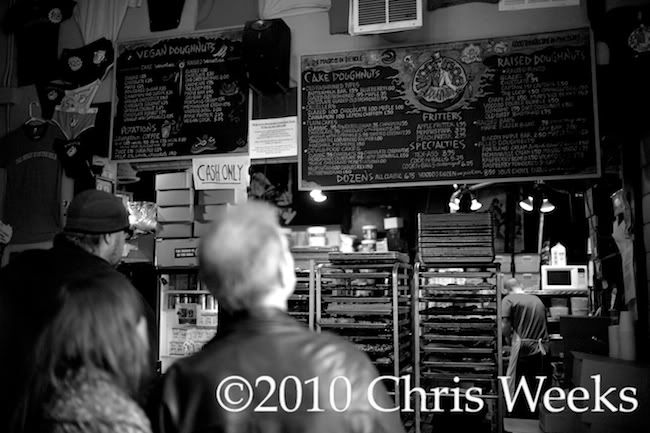 you should read some of the names of the donuts there. i like donuts ... just not of the art variety.  here's a crop...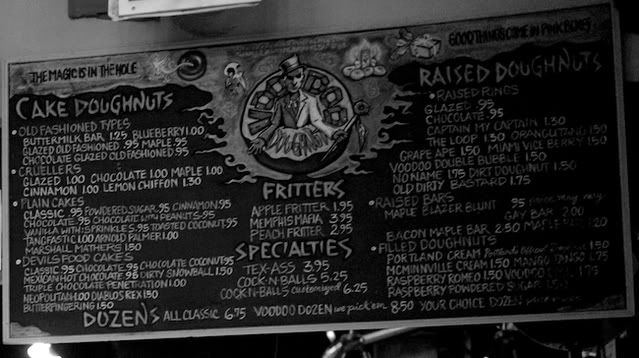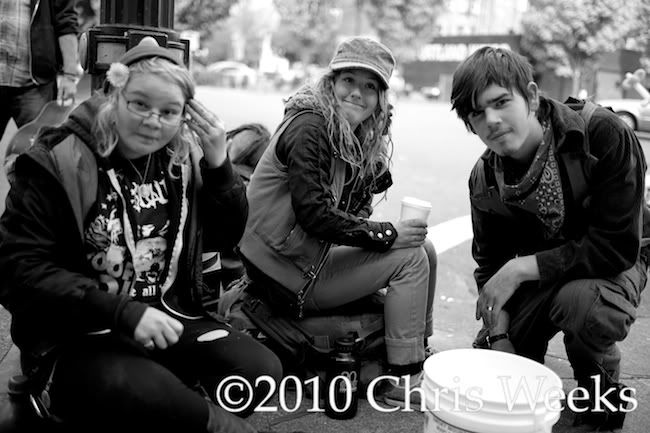 they asked me to take a picture. they said "make us famous." if they only knew...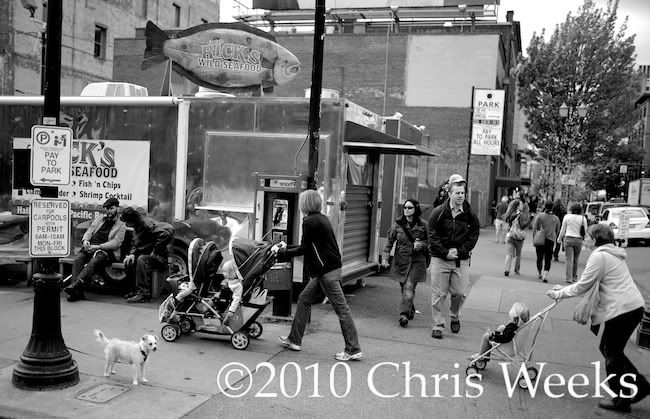 some of the art donkeys who don't like street would say ... too random ... but isn't that what life is?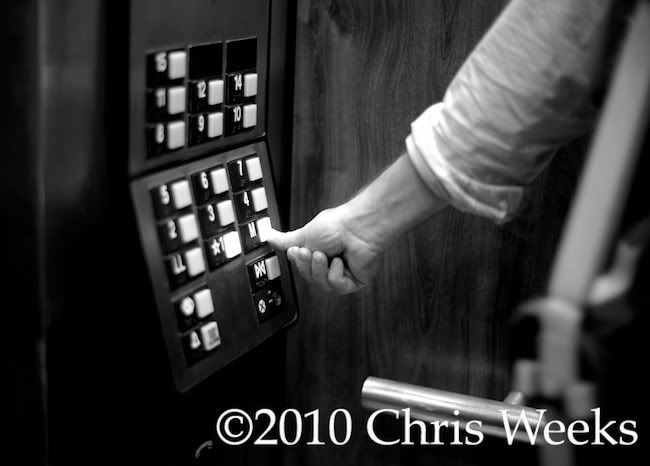 pushing the "m" button. ;) a little m-humour. ;)
funny that starbucks doesn't have the link out the door that stumptown does. reason? perhaps the locals know something about coffee or being caffeinated? i think so. remember that if all you want is a cup of brewed coffee you don't have to stand in line. :) the line's only for those who want lattes. ;)
so ... yeah ... back home. back to production. gonna go down to the set and make some final adjustments. gotta go pick up the 1000w arri ... the mombo combo stand ... the high hat ...
damn ... that world is another ... world.
hope you're all very well and making pretty pictures.
and, yes, i actually did shoot some film on this last trip .. but ... that'll have to wait.
cheers from a marginally sunny la-la.
-c