Went from Apparat to Cold Play.  From doing selects and adjustments in Aperture to finally ftp'ing.  As much as I want to hate Cold Play, if only because there's no way that cool lead singer could possibly be married to G, I can't.
Met my new friend.  He was warding off the rain.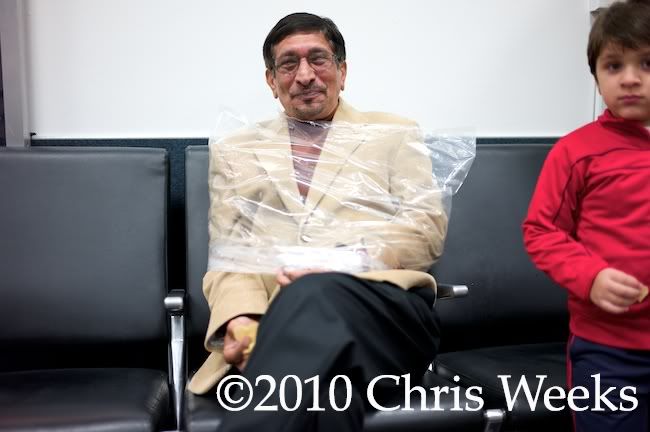 I'm sure he was more successful than I. 
Delta Guy:  You're 8 pounds over.
He looks at me.
Delta Guy:  I'll just chalk it up to the rain.
Thanks, man.  It was the boots.
There's some punctuation and capitalization going on.  No thanks to wordpad or whatever the fuck it is I use to blog.  Doing this in Word.  Then a nice copy/paste.
We had a bit of rain in beautiful L.A.  Besides not seeing the people most important to me there was no chance of doing exterior scenes for something I'm shooting.  Then again, I walked into a nice snowstorm. 
Airport first.
Vespa was getting the chops down for his portrait studio.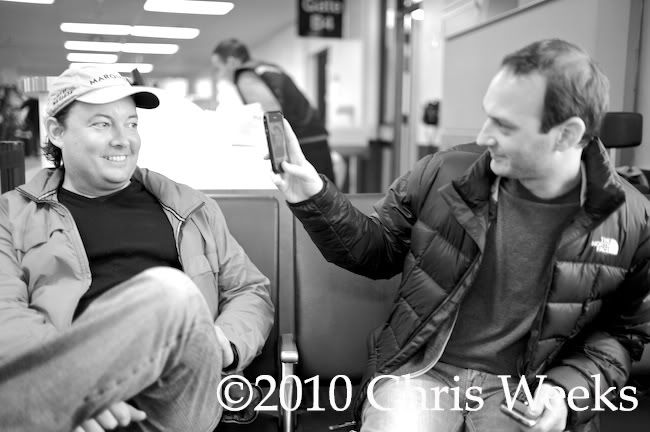 Besides being greeted by a friendly driver with my name on a board I saw a ridiculous map which I'm sure makes some drool.  All I see is elevation, lack of humidity, a reason to wear enormous boots and … to be really friggin' cold.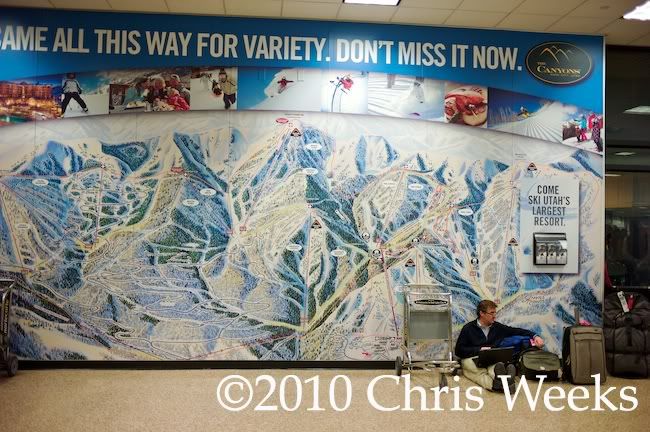 Our driver thought our respective dissertations about why Avatar sucked-ass or was the most brilliant and emotional piece of cinematic art we've ever been fed by a studio.  I didn't cry.
Fyi.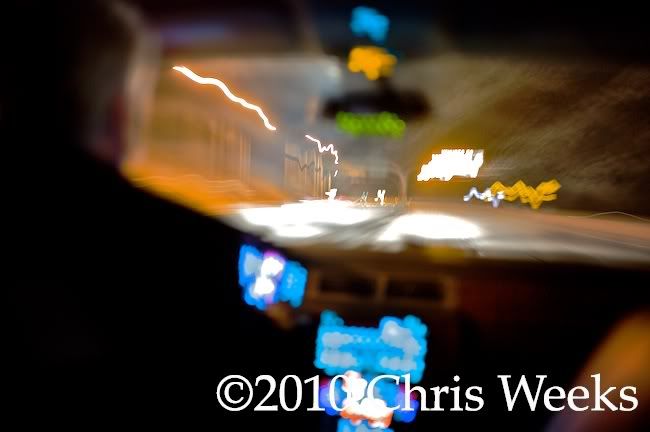 After finally eating I ran into Bob and Mario.  It was friggin' cold.  Sure it was raining in L.A. but seriously it was nothing compared to Utah.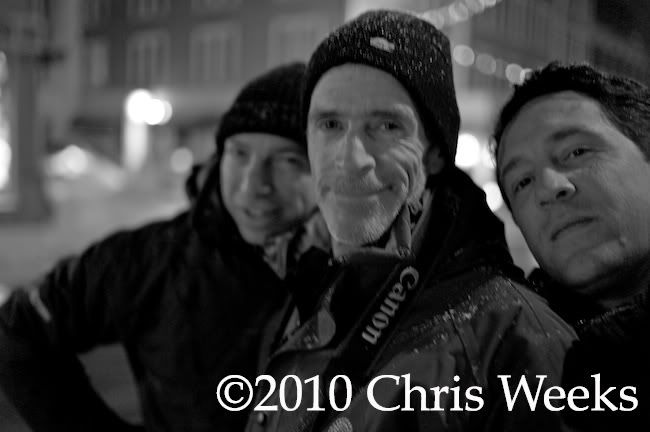 If you're reading this and you shoot fashion week in Nebraska, no, I don't give a rat's ass what you have to say. ;)
I'm sure George does as he illustrates to us his latest 57 page spread in CanadaLand mag, of which, he had a case.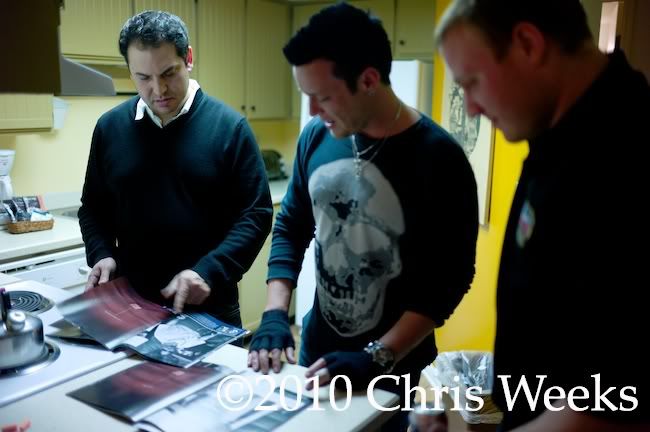 lots of this was to be seen.
which covered the trees.
but made atmosphere a bit more interesting to look at.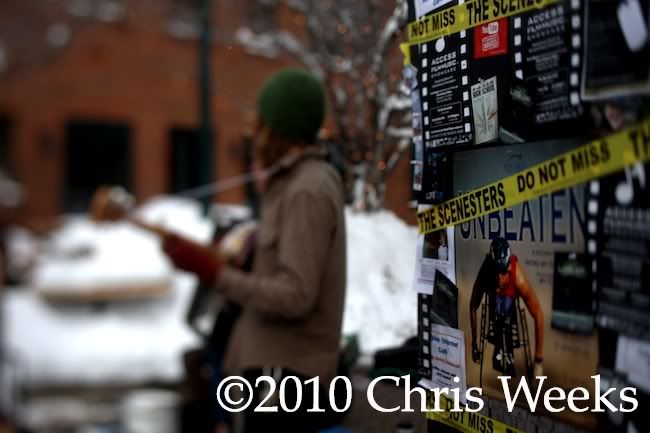 1st day there and I was a bit winded walking up Main.  I stopped to … um … catch my breath and within a few minutes out walks Mr. Sundance himself with his beloved volunteers.
Banksy was here, too.  No one saw him, though.
He was not inside that bag of chips so the guy digging thought.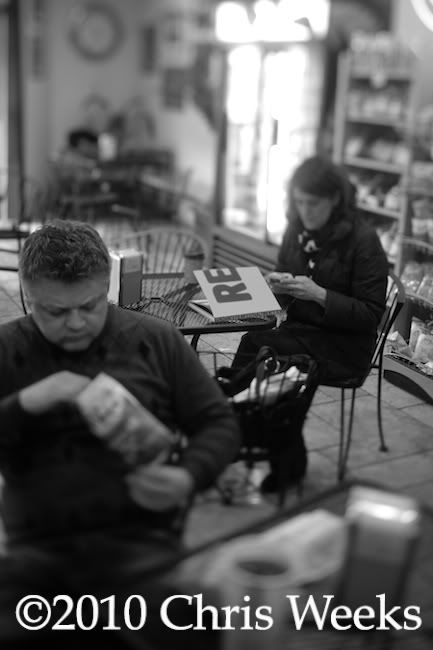 I was actually focused on the Sundance catalogue.  How do you make those seem interesting? 
Ya' know … on-air talent people … they really are their own breed.  Seems that they're usually OVERPOSTERS on facebook.  And most of the time they have no idea how to dress but they'll tell you on facebook every FUCKING time they're on television. ;)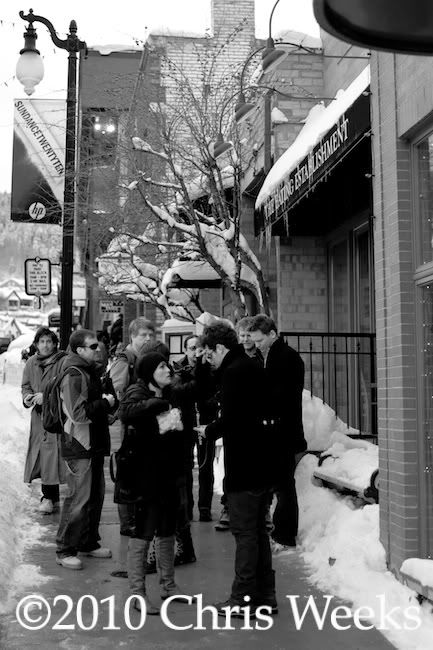 he is  not on-air talent … I guess he could be somewhere. ;)  like latvia.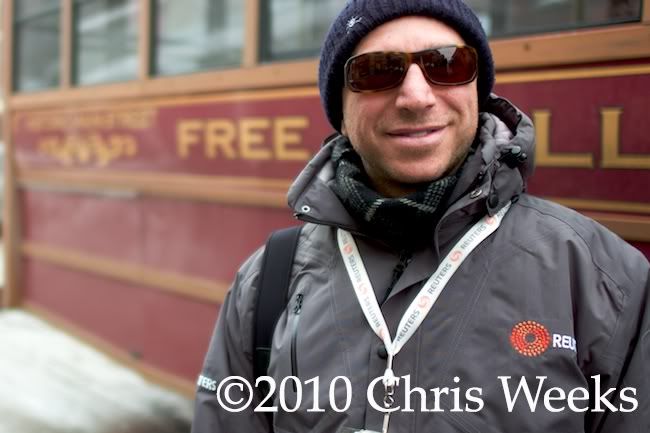 Lotsa different video capturing rigs floating 'round Sundance.  Most of them were 7d's.
The woman's face is priceless and I have no idea what Bob's looking for.  He's the talented Galbraith.  Just fyi. There's another with a popular sell-out website who shoots high school sports.  Yes, please believe that one. ;)

Whilst Redford posed with the volunteers and Kenneth Cole the official photographer grabbed me and said "you need this right?"
All I had was the 5dm2 with the 45 t/s and the m9-m8-thing with a thirty-five 'lux.  But, sure, I'll make a photo.  Genaro is the guy mid-frame.  He makes really nice photos.
I found dogs here.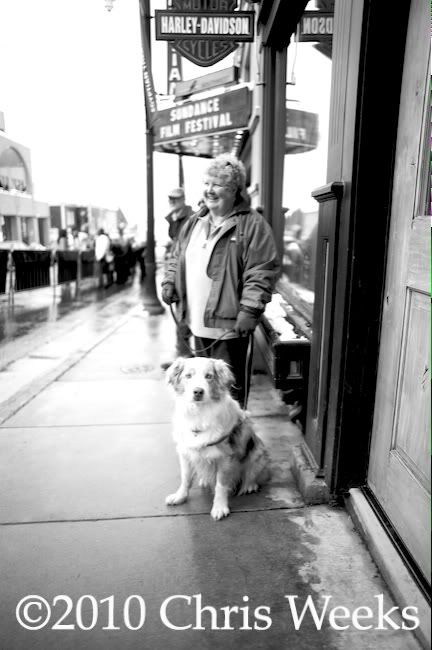 The Banksy always caught my attention.  Then again, everyone else was looked at it everytime they walked by, too…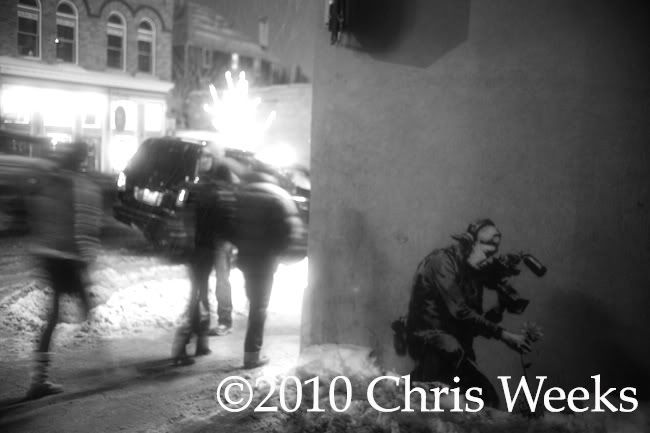 It's important to make venues look full.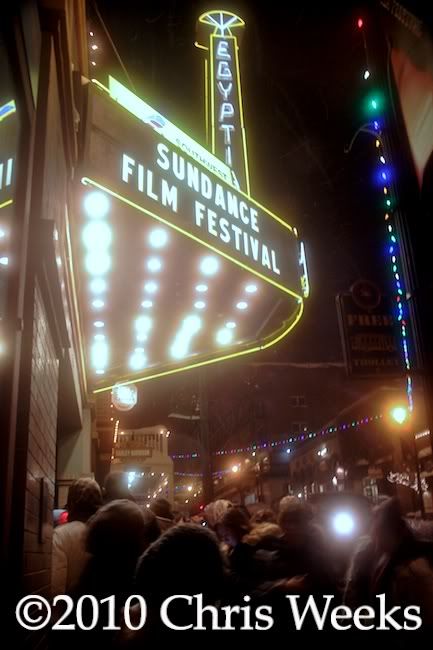 all of the 5dm2 photos were made with either the Leica R 35 'cron or the 50 'lux.  Since I've been shooting this film/movie, I've been getting to know and love certain filters.  I think they can make stills look … different …
like I said … people were always checking out the Banksies.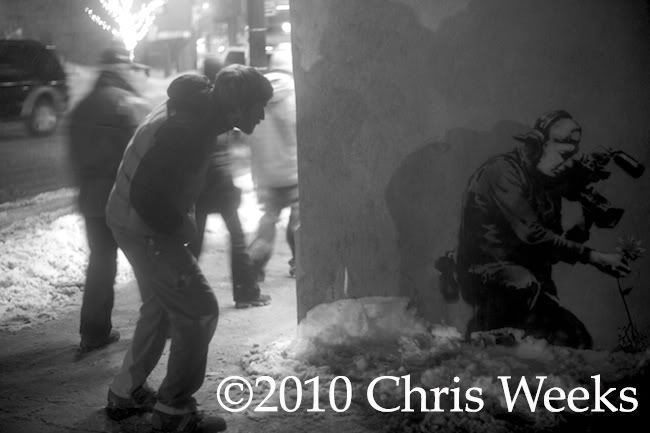 No idea if this film is good or not.  It just looked cool in the viewfinder.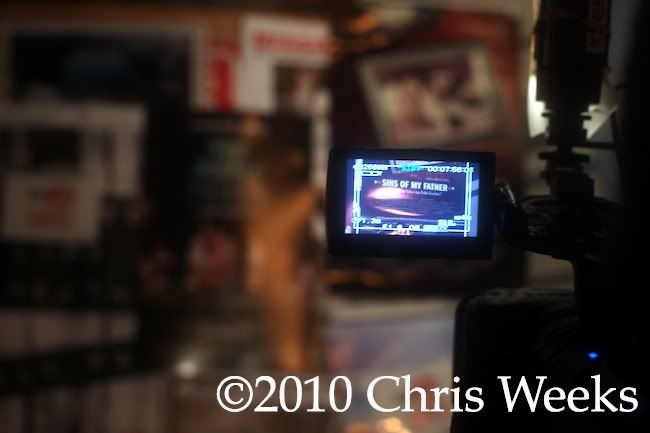 Interesting how different an SLR and a rangefinder let you see things.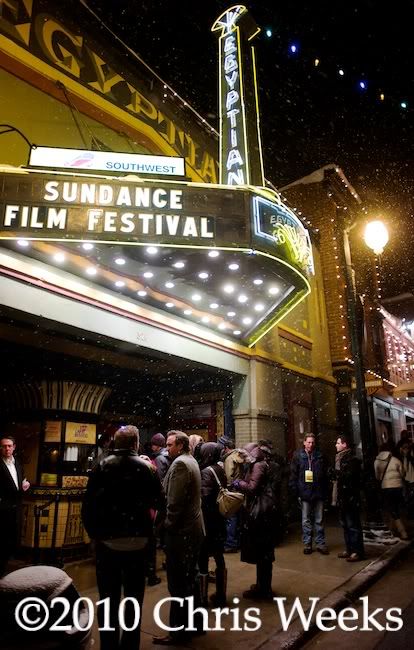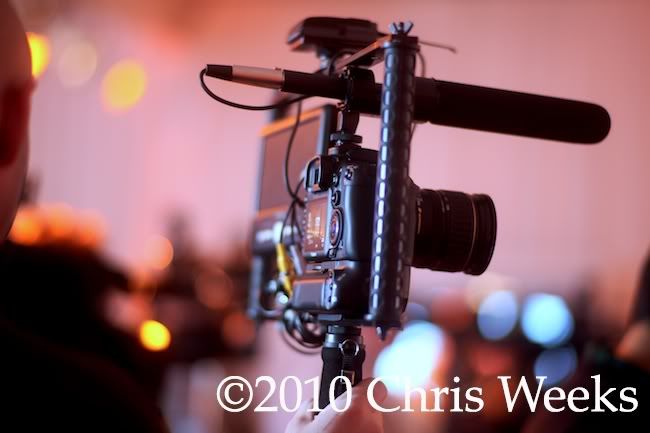 This may have been the same rig as the day before.  I'm unsure.  A lot of people were rocking these things instead of the traditional camcorder-format.
It's so fucking funny … most of the blogs I read … written by old men who have no idea what it's like in the "real world" … they really have no idea.
But they sure can shoot a fuckin' landscape.
I'll bet they own condos in the mountains and put wolf pictures on the walls.  More on that later.
Malin is so sweet …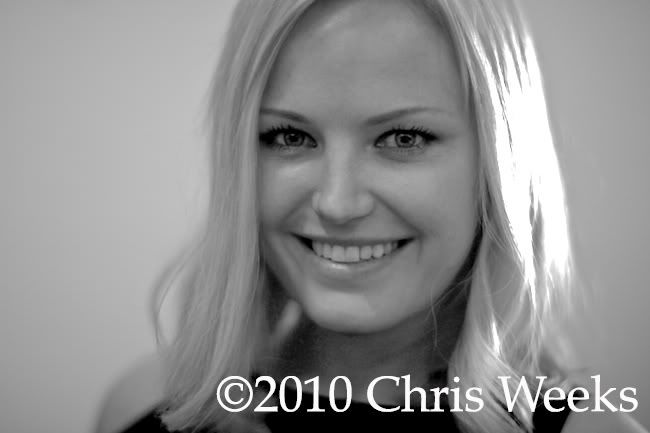 this is not sweet.
Overt consumerism isn't sweet either but the girl connected to the legs is.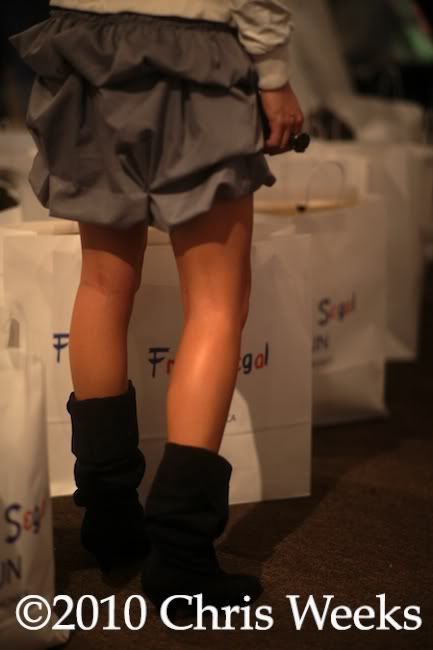 Kristen is, though.  Like amazing.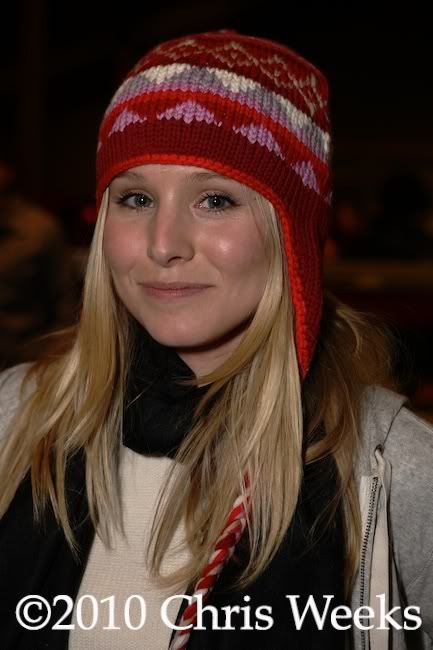 I have no friggin' clue why they posed like this.  No.  Idea.  Why. (John C. Reilly, Danny McBride, Jonah Hill)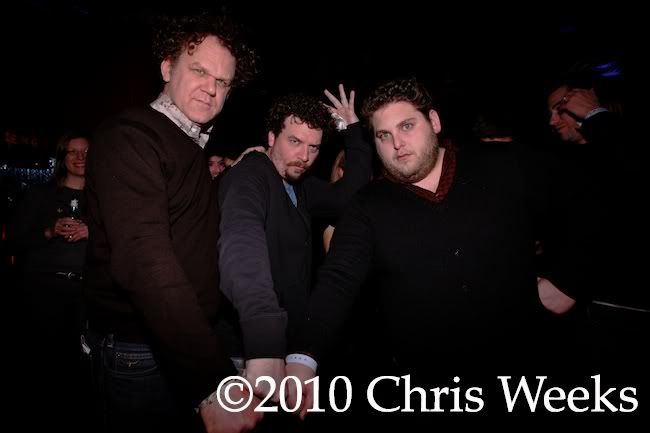 perhaps because they were surrounded by buddahs.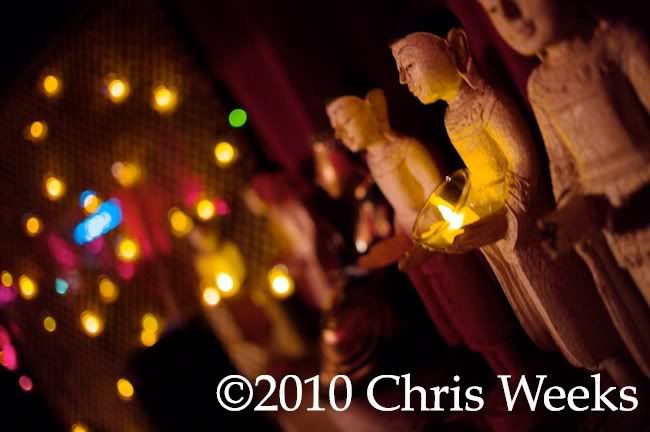 and throngs of sweaty people in a hotbox.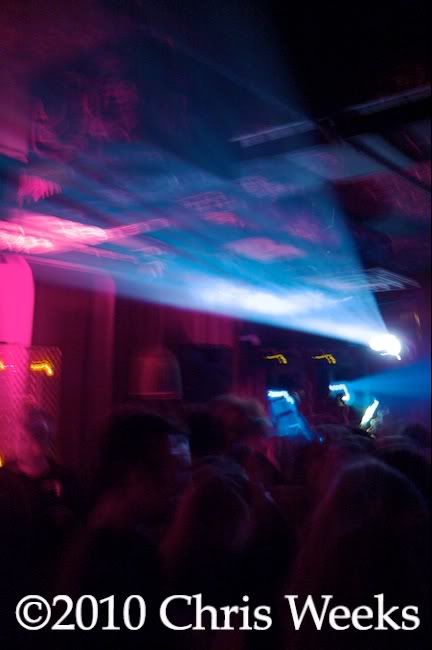 Brent was cool, though.  He kind of always is, though.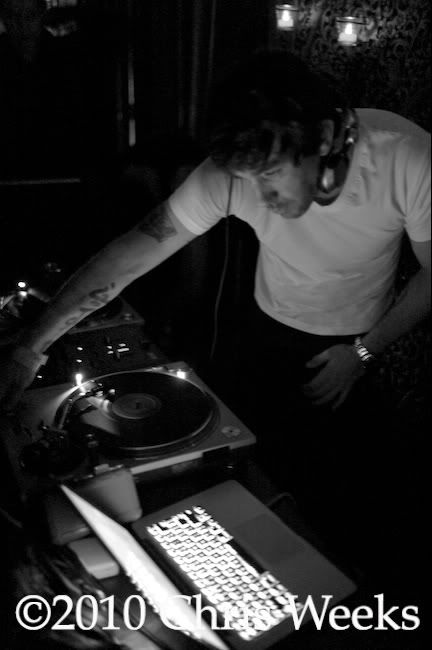 wtf?  Wtf is that woman punching in the background?  i thougth it was a bear.  yep you fuckin' vonces ... i see i didn't captilize the i.  and i don't care.  you ... though ... should try and make a photo.  any photo. get over it:  stock agencies don't want your stuff, natgeo will never hire you ... get over it. ;)
Such an advert for Stella. ;)
There was a football game on.  It was supposed to have been important.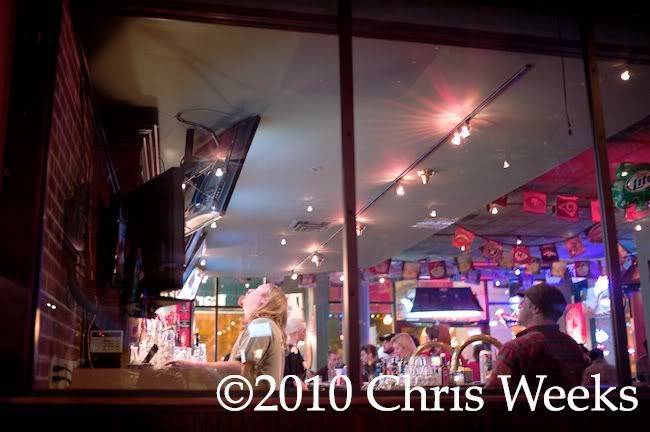 Someone tried to sell me this pit bull for us$1.  I don't really think they meant it.  Seriously, the Salt Lake hillbillies that come "up the hill" … man … wtf?  Alcohol is so not a pretty site on some people.  The joys of being in the "middle of the country."
The irony, no?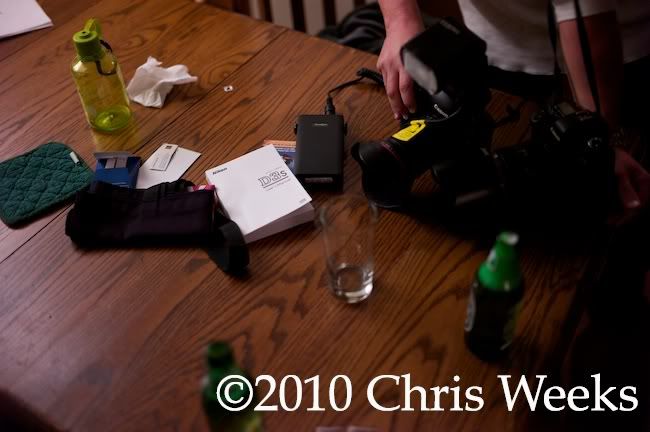 That's the real fucking world.  That's not some masturbatory dream of content of some irrelevant old landscape shooter who couldn't make it in the real world.  Not you Ken, promise.

I'm always stoked when a driver is on the phone whilst driving.
He does.  He really really does.  Like he took this from the party and walked down fucking Main Street with it.  How'd you get it in the plane, mate?
And he really loves his 'nana.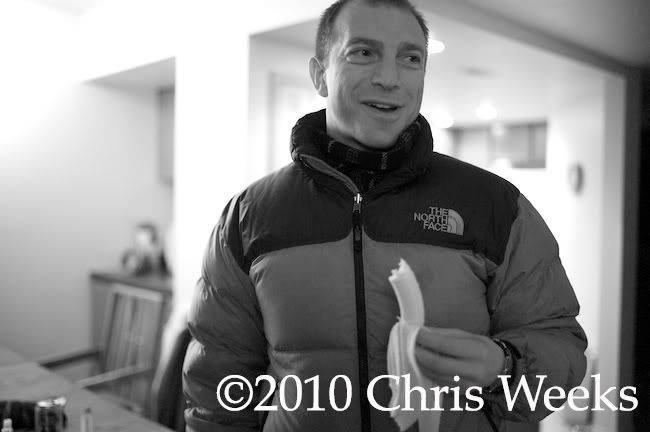 There's that damned wolf photo.  With beer.  And Anna. (can't find her website).  I think that Wolf photo was from some CanadaLand Toronto gallery but better described as a "cheap Peter Lik." ;)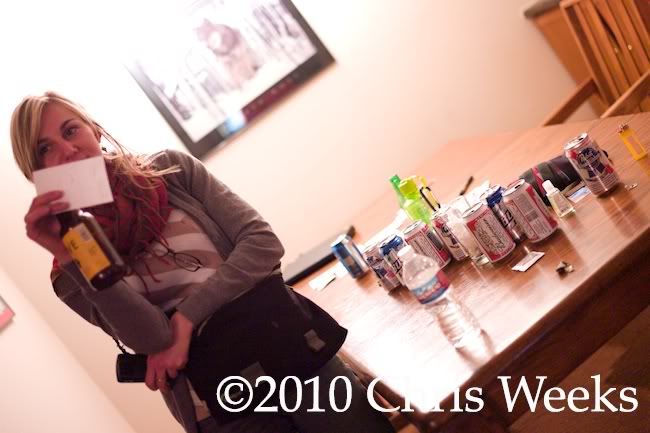 And who focuses on Polk?  Who?  I think I remember who.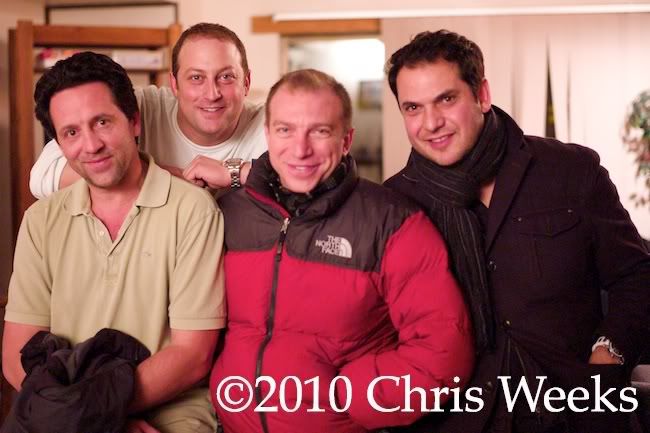 The annual elevator shot.
Really.
Good.
Bacon.
I did that just for you Mr. Nebraska Fashion Fucking Week Shooter. ;)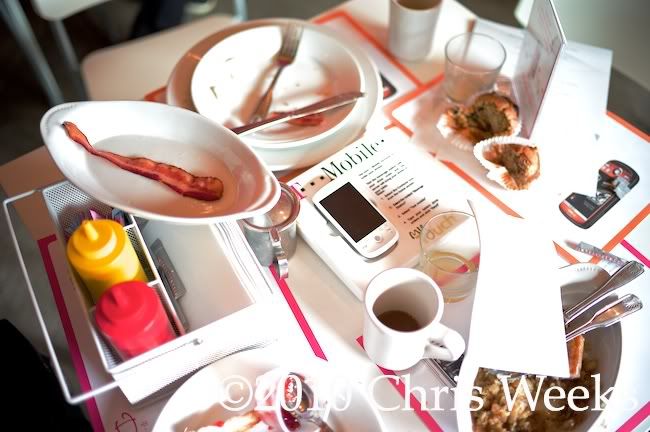 Where else do you get bacon and then Miss Washington?
Sundance.
And here I guess.
My friend Elissa.  And her friend.  No idea.
She's probably a talent agent who's stabbed everyone in the back and has no friends.  I dunno.  That's fucked up.  Then again, those are the people killing creativity in Hollywood.  Not that she is in particular ... just sayin'.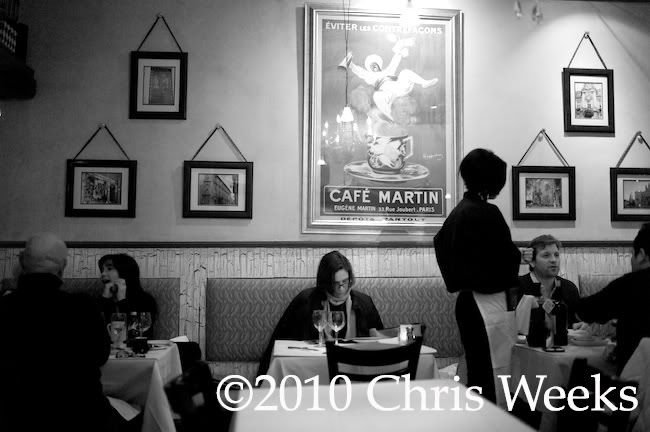 See the wolf?  Yep.  I hear this game went on until 08:00.  funny that the talent in this room is the reason the world gets to see timely entertainment and news photos all over the planet.  nuke that room -- and i guess if this were nuked the editors bunker would have been nuked -- and no one would have gotten any sundance news.  Every popular photo blogger -- save two -- would love to be published even 10% of the least published of anyone in that photo save the random chick in the back some Argentine dudes brought with them.
Gustavo really likes to pose. (damn staffers never have personal websites). ;)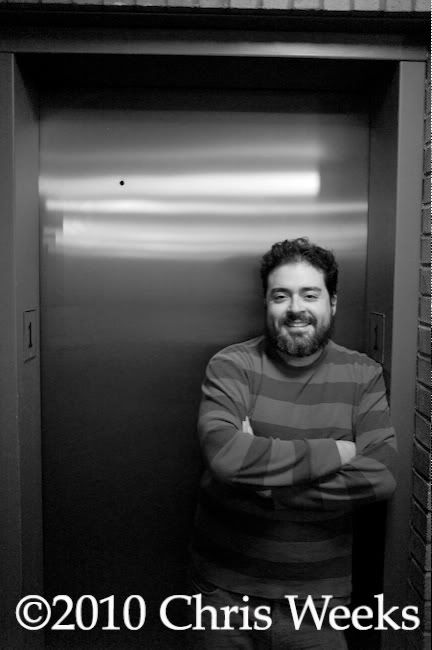 No idea.  My camera ended up in a few different hands.  Safe hands to be sure. ;)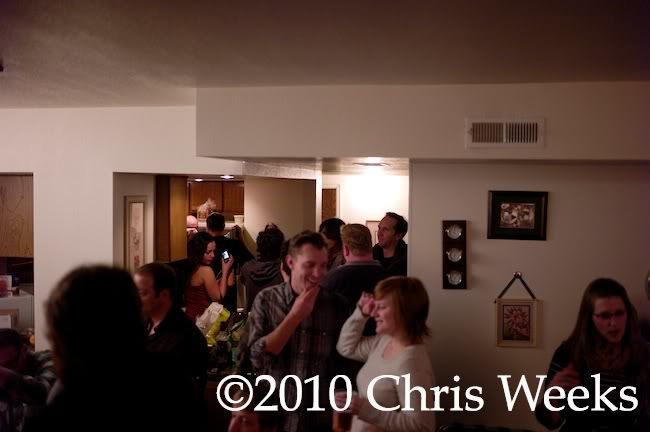 I kinda remember taking it though.
Keith can light like a motherfucker.
George not only poses but he makes grilled cheese.  Honestly, besides making photos I think making grilled cheese is the only thing he knows how make.  I could be wrong.  I guess he does robotic delivery as well.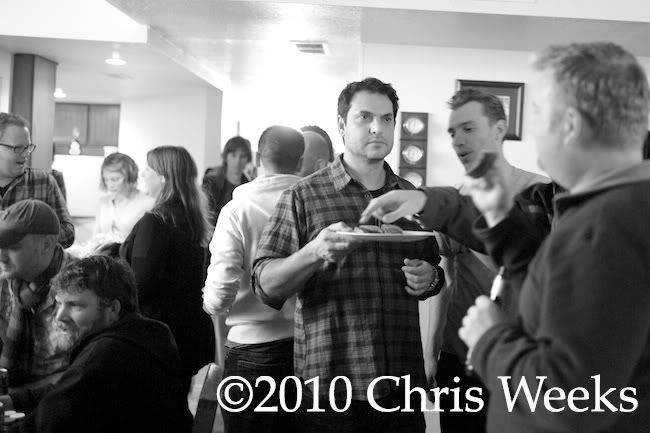 I've decided I like blooming blown-out highlights.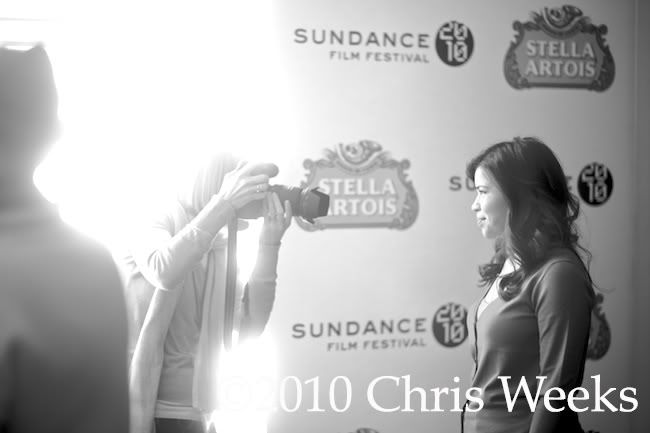 Some of the crew.  Different outlets but … a crew.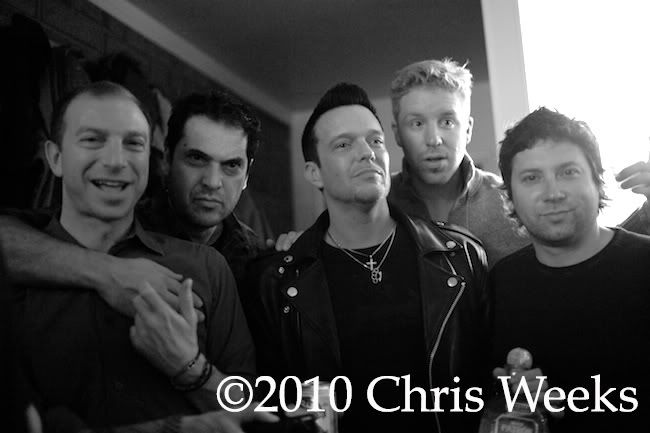 and some dumb motherfuckers loose their p/s's.  won't say who.
Up-and-comer according to the film's publicist.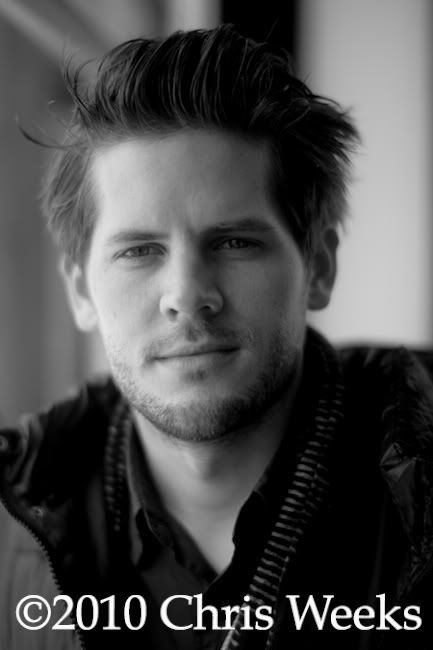 One of the nicest people I know.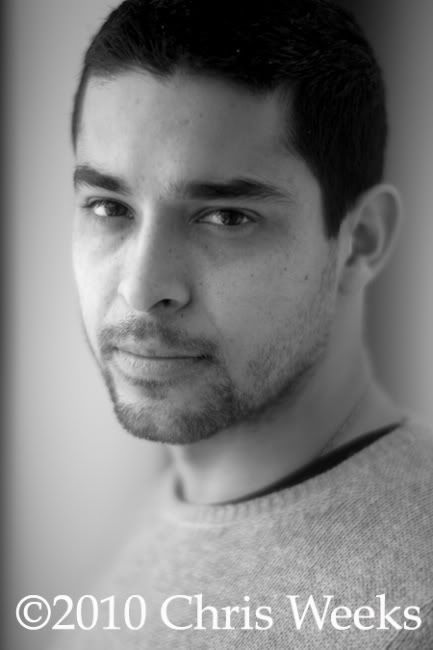 funny how the cool people come through in their photos. Jason ritter is another of the nicest.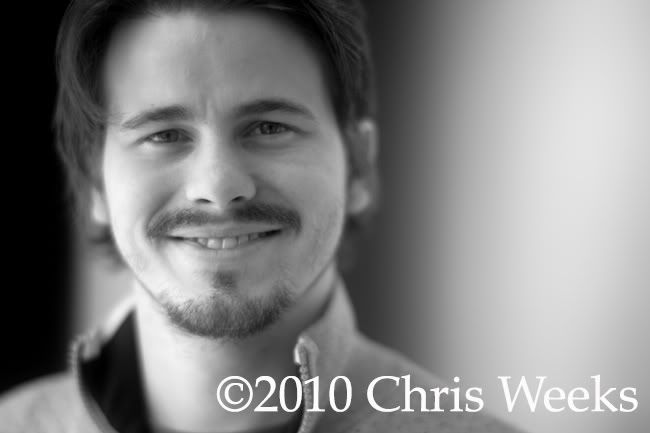 my gf would say "he should be nice."  And I know what she means by that.  Whatever.
They put these up every time we roll in.  I'm sure.
Bob working photos.  Their accommodations were so much better than ours.  Whatever.  We didn't have to edit. ;)
L'Aftermath.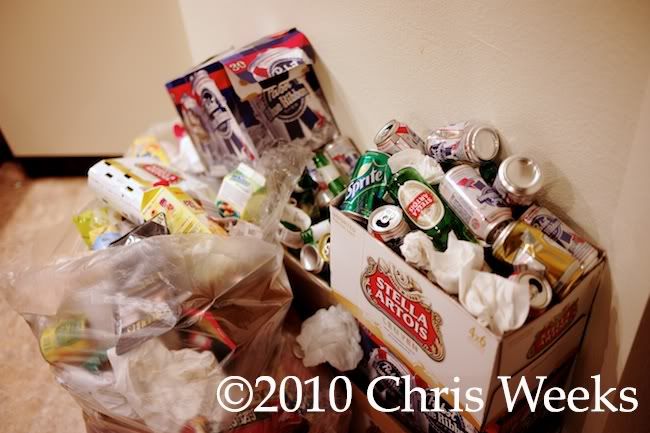 Stella and PBR represent.
Random.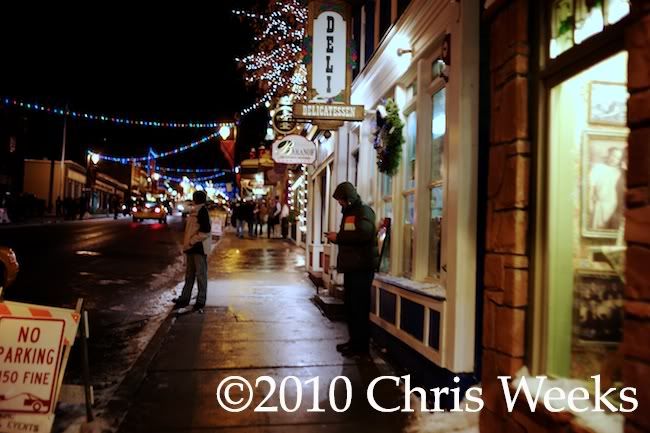 Random, too.  Mario's playing with a prototype of the Hot Rod Camera's PL Mounting system for REAL CINEMA lenses mounting to the Canon 7d.  Yeah, you have to get off your fucking couch in some irrelevant fucking place to see this kind of shit.  You can postulate about photography all you want but … if you aren't out with your peers discovering new shit first hand … you … suck.  Then again, you know that. ;)  hope the seminars teaching the hopelessly untalented treat you well ... even though you wish you were published. ;)
The Hot Rod Camera mount had a nice t/1.5 50 zeiss prime.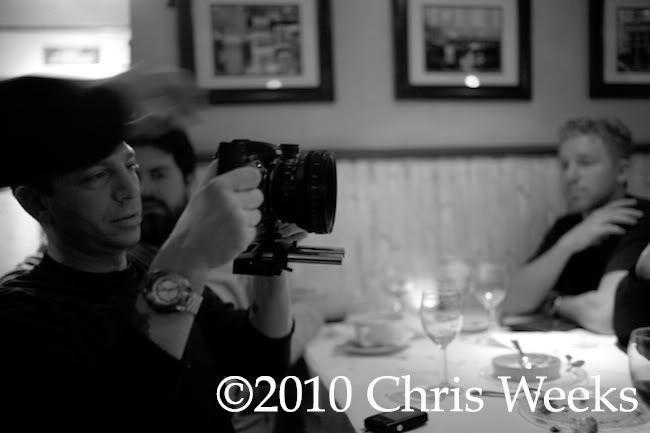 George likes to pose.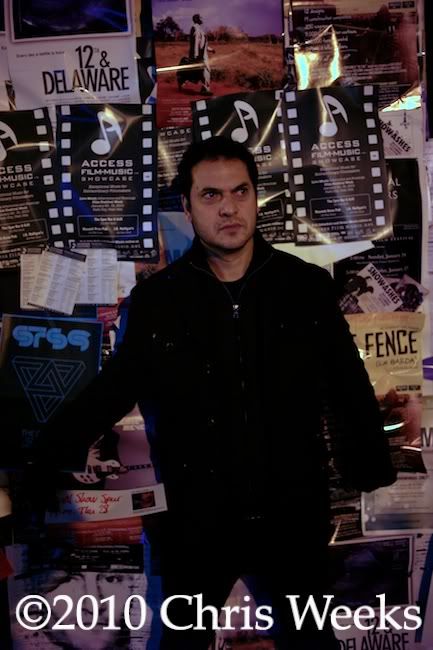 last night of sundance.  Last night of seeing snow tracks …
This, albeit beautiful, showed me I needed a sensor cleaning…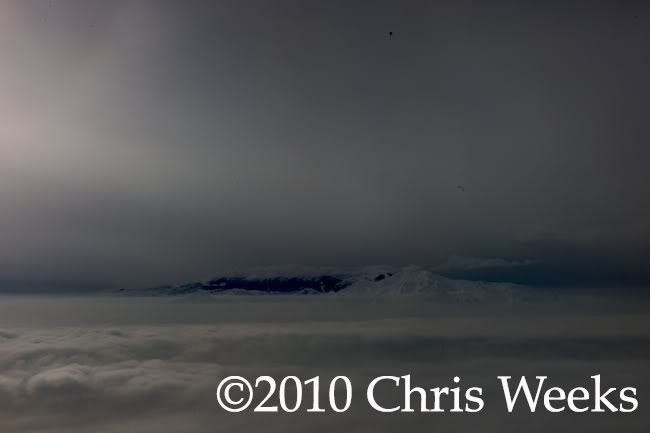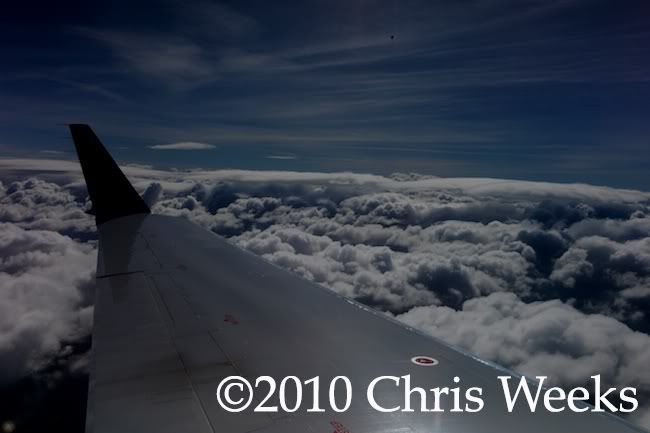 reminds me why flying is so beautiful and peaceful when you have your headphones in and listening to the iPhone.  On airplane mode of course.
From snow to … not-so-cold and having coffee with J.
And making the sneaky photo…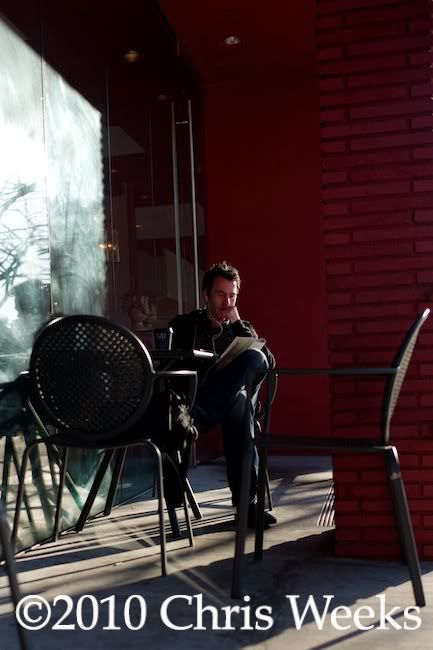 and not so sneaky…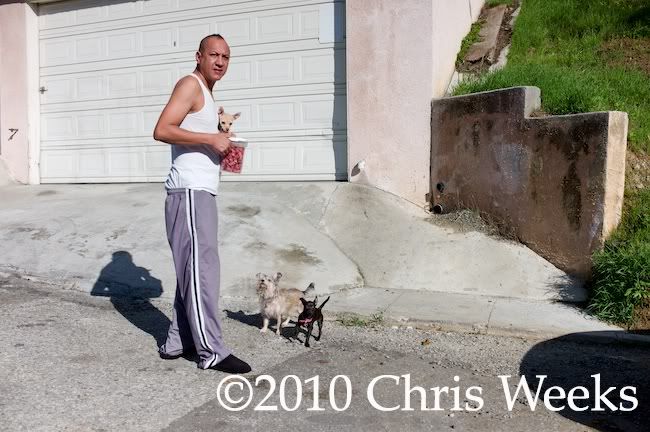 love this photo! :)
homeboy is on guard...
to being an official team photographer. :)
 

And they're a pretty good team.  Might be the most amount of sports I've ever shot.  I mean when I get to shoot but when I do … it's a lot of fun.  At least the other dad now forgets the monopod for his two hundred. ;)

 

Wish I had time to do this more often … I have no idea how other guys are able to do a blog every day.  Jesus.  Takes so much time. 

 

*looks at picture count in folder*

 

damn.  71.  That's kind of a lot for me.

 

I know the iPad's had some haters.  No, I don't care if it does flash.  Flash sucks.  Whenever I crash a browser window it's because of flash.  I get why they don't allow it on the iPhone and now the iPad.  Why people would want to edit photos on one I have no idea. 

 

There are delineations.  MacBookPro for editing photos and video.  Iphone for general distractions and surfing the web.  iPad for reading magazines and books, listening to music and watching video content.  It's easy.  They're evil geniuses who find new ways to suck money out of us.

 

As unexciting as it will be to hear about space rates going down because of electronic delivery I think it'll be interesting to see new electronic-only distributed magazines.  Perhaps they'll do for print what iTunes did for music. 

 

I know.  Certain in the music industry hate iTunes … but … those assholes charged me us$14.99 for cd after cd of like one or two good songs and the rest shit.  Until you sign artists who can make a whole album ... wait ... no ... i'm past cd's.

 

Perhaps the same with print in a way.

 

I kinda see a culling.

 

Game changing.

 

Like the film world's become – above and beyond the fucking boring test footage – different because of small format camera capable of really good reso. 

 

Gonna be interesting.

 

I know it is for me.

 

Shooting motion is … really … interesting.  But you get to know this stuff by doing.

 

Unlike 90% of the fucktards writing blogs for equally uninteresting audiences.

 

Okay … I wanted to get this out before something else distracted me.




Oh yeah,

I can now vouch for the m9 working perfectly in pretty damn cold, damp and snowy conditions.  Blistering as hell, check (this past summer).  Cold as shit (this past sundance).

 

Hope you're all well and are making photos instead of posting on forums.  Posting on dA or flickr's cool. ;)

 

Cheers from a rather chilly for an exterior shoot l.a.

 

-c