feel kinda bad i couldn't tell some of my friends the complete truth about a certain camera that i was shooting the last couple of months ... but ...i signed an nda so ... i had to wait until the rest of the world was told about it.
i'm gonna do a full report on the leica m9 in due time.  i made a lot of photos with that camera and couldn't really do anything with them except share them with people who i was able to share them with.  sounds cryptic but ... well ... ya' know.
i just noticed that moving a 600mb+ file, streaming another video to check it and ftp'ing really f*ck with one's connection.
let me tell you how funny it's been watching all of the "leica rumors" flying around over the past few months.  certain of us were laughing ... wholeheartedly.  a canon sensor.  a full-frame could not fit in an m8 body.  puhlease. ;)
oh, shit i just pissed off the "forum boys."
not that i care.
just so you know ... the photos from the last blog ... at the end ... were all m9 ...at the time the m9 had a codename.  very stealthy.  i just had to strip the exif info. ;)  sneaky.  i know.
honestly, without giving away from the m9 mega-post i'll do soon ... this camera ... is beyond exciting.  i mean ... unless you're my lab.  :(  poor lab.  sorry, guys. 
um ... what else ... well ...
besides doing whatever it is that i did in that project ... with the help of some friends ... i made a little video:
Street Photography: Documenting the Human Condition - Part One of Three from Chris Weeks on Vimeo
Street Photography: Documenting the Human Condition - Part Two of Three from Chris Weeks on Vimeo.
Street Photography: Documenting the Human Condition - Part Three of Three from Chris Weeks on Vimeo.
had to break it up into three parts.  tell ya' what ... video ... as pretty as it is ... is a bitch.
had fun, though, shooting with this ...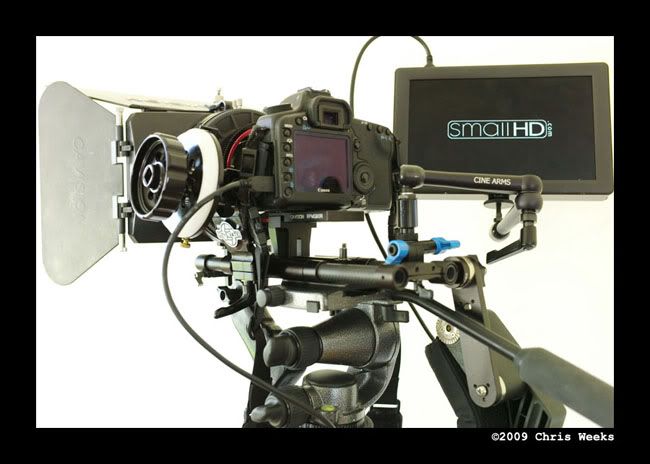 i couldn't have done the video alone.  well.  i could have ... i guess.  but i didn't.  although i've already thanked my friends in the video at the end ... couldn't have done this without mario, laith, patrick, hossein, frank, the incomparable sev, richard, j ... 
that was human part ... the equipment part ... i have to thank cinevate and smallhd.  you guys rock. i guess cavision, too.  seriously, the rest of the "players" in that market are so over-hyped it's not even funny.  flashy videos don't really mean shit; how shit works means everything.
another thing i just laughed out loud .. i don't like LOL ... was this cough-cough-cough-image-gallery.  jesus-h-christ.  um, really?
i have no idea what h stands for, though.  holy?  i tried to look at every photo but got too damn bored.
do you have any idea how happy i am that the docu-project is done?
um ... i'm very happy.
that was way more work ... than i ever thought.  the project with transcoded video and original video files ... is 400mb+.  i need a render farm.  like 2 8-core mac pros!  doing this project on the most recent mbp was ... not as daunting as i thought ... but ... wouldn't want to do a 120 minute feature.  this was only 42 mins ... and ... well ... rendering ... you just basically set it up and walk away.
or go to sleep.
i wanted to do my dj am tribute blog ... but ... every time i look at his photos i get ...
well ...
um ...
sad is one word but it doesn't even come close to how those events made me feel. 
miss you, homie.
he would have loved the m9.
how about some photos?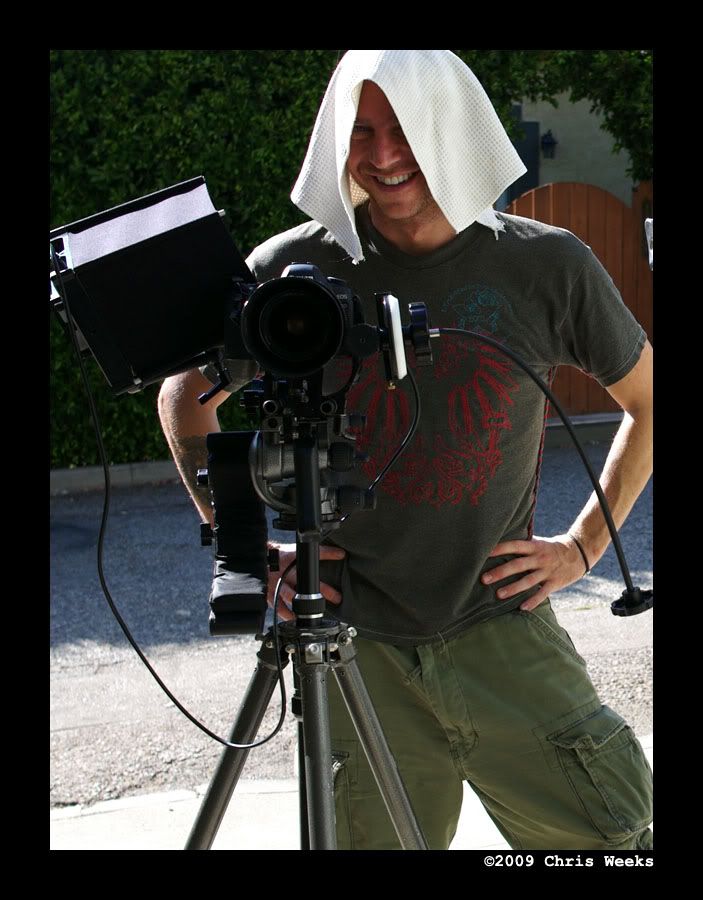 that's the napoli-biyatch taking a break from "taking complete creative license" during some shooting.  when we do the "out takes" and "making of" you'll see and hear me call him "taliban."  i know.  not politically friendly.  i thought it was funny.
and that's all that counts. ;)
was walking 'round with sev in vegas when i made this.  i think the exif has a different name for my new full-frame-friend. ;)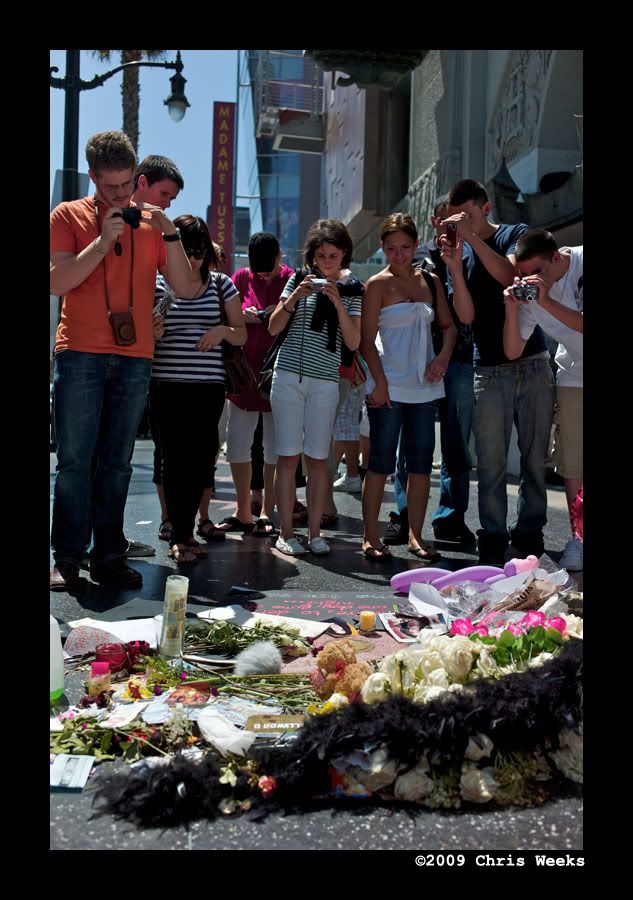 i just don't get the fascination with mj.  i mean i know his music but ... seeing hollywood turn into a giant mj shrine was a bit much.
i love the looks on all of the people's faces.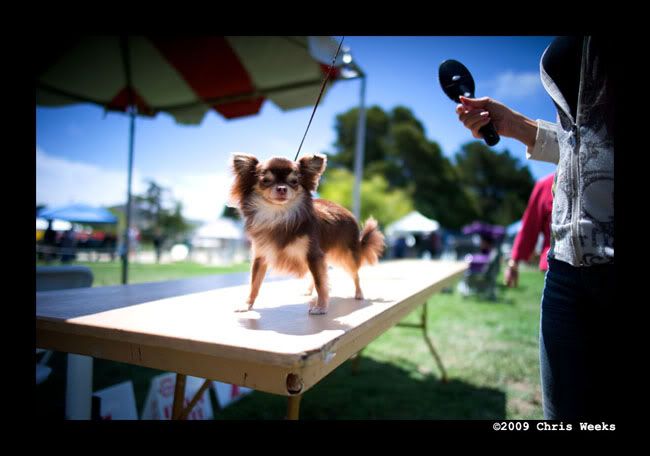 pretty little chi-chi.  the dog show we went to before ... we were with sev.  i think he should have gone to this one as well ... alas he was back in vienna.  think he would have enjoyed shooting some more with the 1.4/24.
um ... i just saw that wank posted an m9 review.  wtf?  i guarantee he's never had it in his hands. ya' know he's like a forum-f*cking-troll that posts opinions never having used anything he's posting about.  such a wank.  when i saw that it immediately made me think "wtf was canon thinking when the gave the 5dm2 to the luminous landscape guy?"  he's sure to be an ace-dp. ace.
the internet is wonderful.
when i was out shooting with frank ... i was doing video with the 5dm2 wondercamera ... we saw many pretty things ... i mean ... photos ...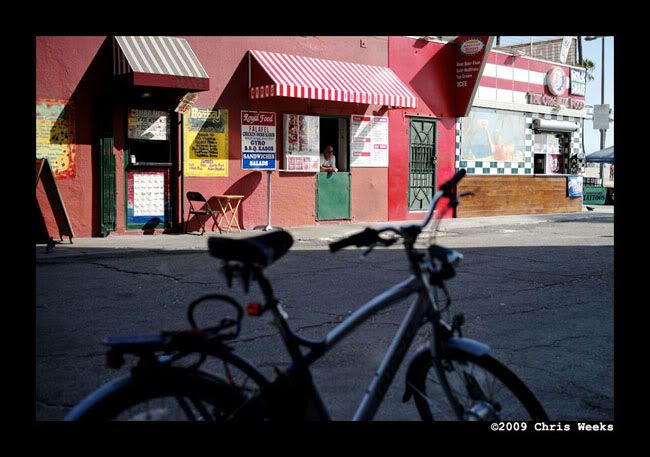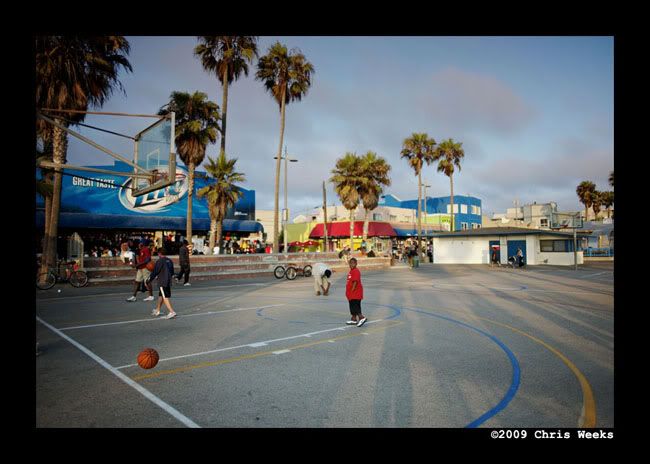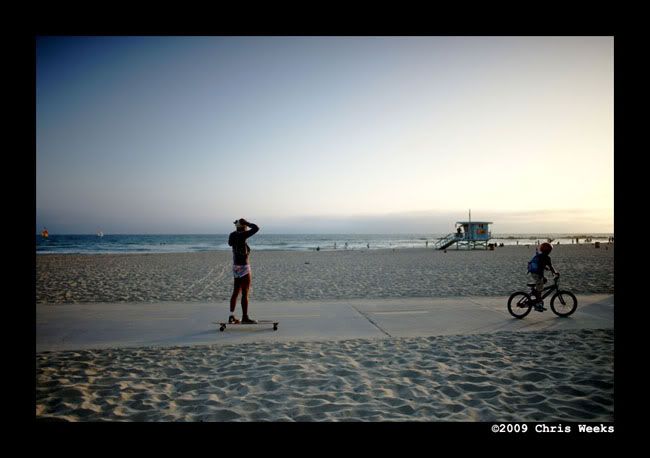 i love that the colours are so different than the canons.  grazie a dio.
i haven't used the b/w mode much as ... i kinda think that shooting colour files is the way to go and process them in either aperture or ps for b/w later.  
frank tells me he's seen homeboy before.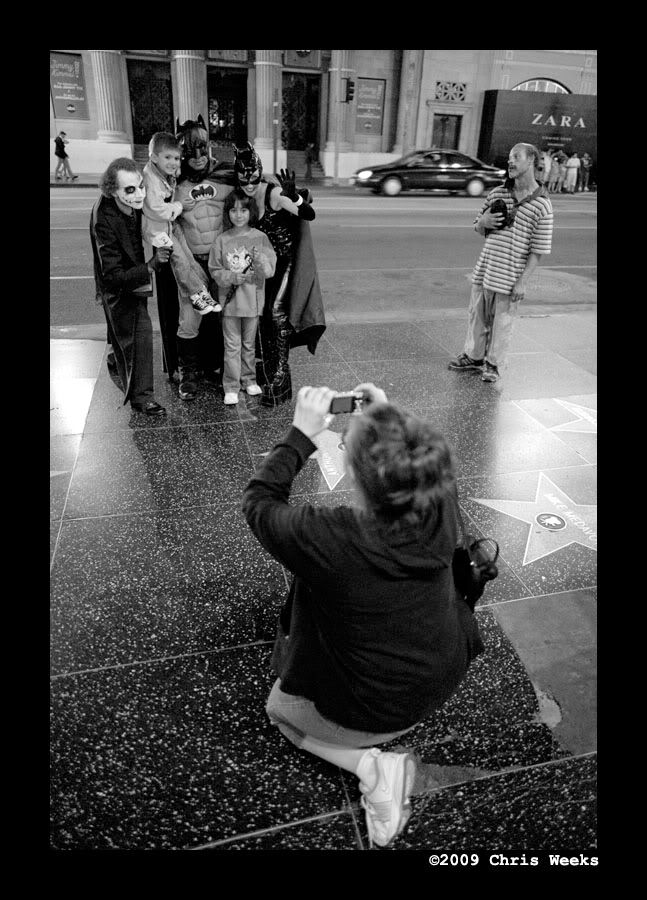 i like that frame.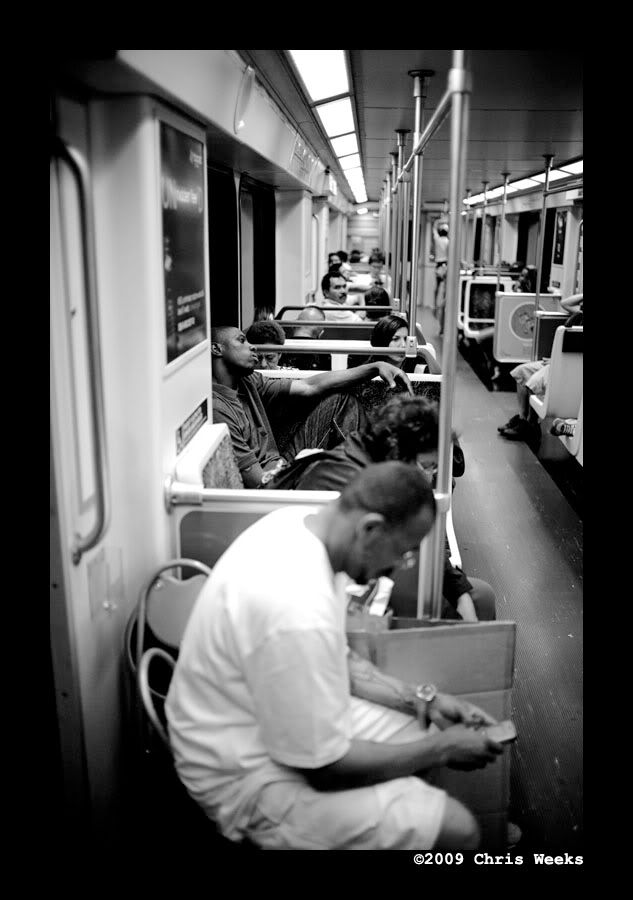 that one, too.
went to the beach as well.  don't "go to the westside" but this summer was a bit hot.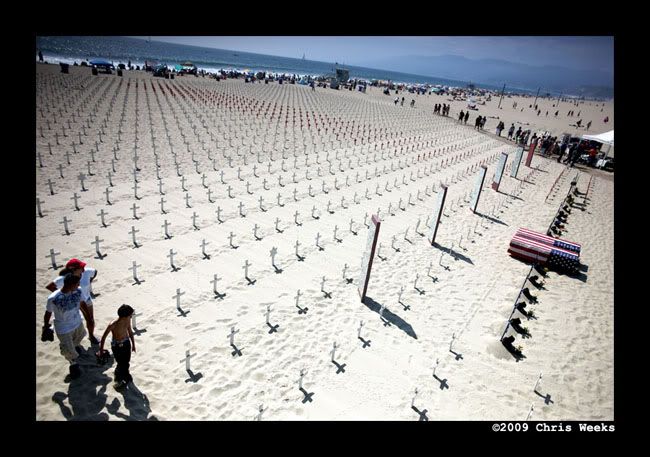 cannot believe how long they've had this memorial up.  and the crosses and stars of david ... just keep growing and growing...
even clown guys get off work.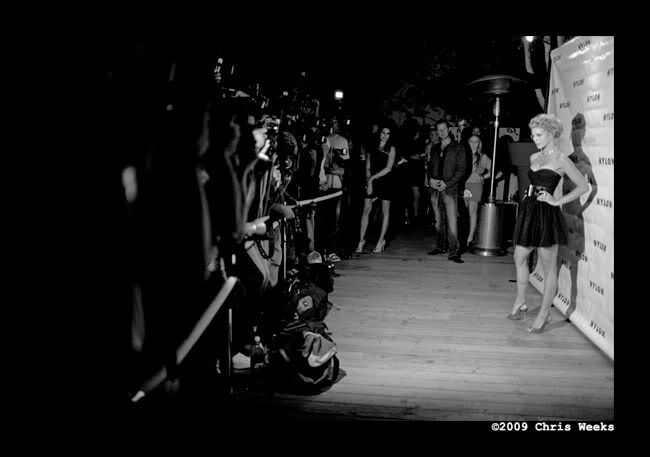 used the m9 on a red carpet as well.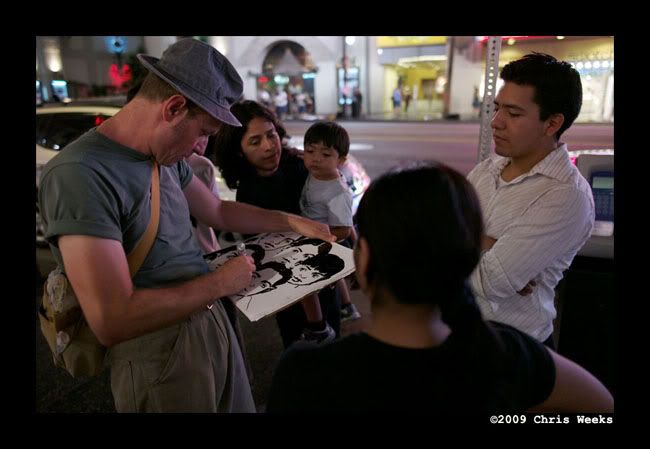 this guy works a lot. 
took a walk with my friend flipo around hollywood.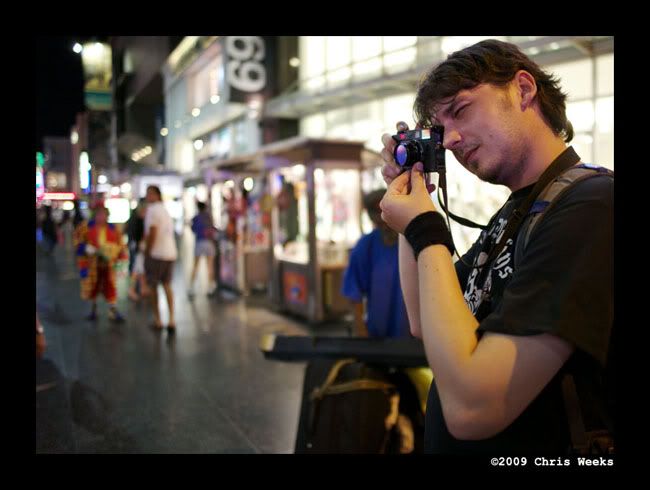 nhat, too.
'
homeboy got himself a leica, too.
:)
mj's death has spawned a cottage industry of people selling unlicensed stuff. 
we saw some nice lounge singing at an open mike night.  this was not planned.  just happened.
so did the heartburn.
so did the.
i'll leave that at that.
with the nocti this time.  it's homage to my friend frank. his work is amazing. 
our little friend quincy -- who's on his way to london to be with his moviemaking parents -- enjoyed posing as well.
not really, actually.
love love love the old 2.0/35 gandy got me a while back.  think it's ver. 3.  yes, ver. 3.
okay ... it's shower/leaving time.
hope you guys enjoyed the ride.
i know i enjoyed it.
more to come about the m9. :)
cheers from a mildly temperate los angeles!
-chris