sorry.  seriously.  i've totally meant to post something.  i like sharing.  dunno why, though, in oppressive heat i just don't feel like doing much.  when i went outside this morning -- 11:00a is still morning -- it was so disgustingly sticky and hot already ... hope it's nicer wherever you are.
let's see.  what's new?  well ... my update to that street thing i put on dA back in the day ... it's gotten ... more involved.  laith was here for june and july, which was nice.  we got to hang a few times.  make some photos.  shoot some 5dm2 video with the new firmware.  then sev was here.  got to hang out in the best neighborhood in all of los angeles.  i'm biased.
we made photos.  we shot video both here and in vegas.  sev made a new friend...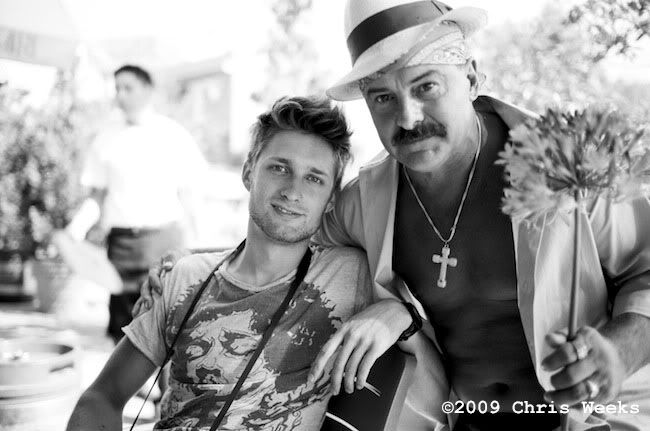 actually, he asked about you.  i declined at giving your phone number, address or email address.  for whatever reason he said he didn't mind if you lived in vienna.  your info is safe with me. ;)
gotta tell you ... as much as i love making stills and doing it for a living ... i am enamored with making videos.  don't care if the 5dm2's 30fps format sucks for bringing into final cut.  there's something called prores 422 within final cut.  i'm getting ahead of myself.  handholding the 5dm2 and shooting video is a giant pain in the friggin' ass.  pulling focus with an SD monitor (e.g., the monitor on the back of the 5dm2) is bullshit.  shooting sev's 12-24 was easy enough.  shooting my 16-35 isn't horrible.  shooting polk's 14mm fisheye could be cool if he hadn't broken it before i got to use it.  anything tighter than wide handheld is horrible.  my grip-neighbor taught me how to do this steady-cam-shuffle thing which made it a bit more palpable and steady.
i've opted for something different, though.  not just to do the few scenes of pick up i need for the "street thing" but i'm gonna shoot a short in a month or so.  just so you know ... cine gear for the 5dm2 runs the gamut between really cheap shit to alright stuff priced up the ying-yang to really good stuff priced either reasonably or at stratospheric levels not meant for anyone outside of a large production company.  rentals?  good luck.  so ... instead of spending five grand with zacuto.  i built a frankenstein cine rig for doing video with the 5dm2.  i got rails/rods support, a shoulder mount and front grip from cavision in british colombia. like "the big z" cavision has a complete rig for the 5dm2.  i guess that's kind of the base so that it can support the whole reason i did this ... to pull focus.  i spoke with a lot of people and most told me that the follow focus units at around us$1000 were built using remote control car transmissions and were plastic.  seriously, f*** that.  not only ... but ... not one of the companies i contacted had professional demos like canon and leica.  i mean i know they're small but, seriously, that's so lame.  yeah, i'm gonna take the word of someone in p.r. that "so-and-so-uses it" so that i would think "so that must be cool?"  so i spoke with people.  the follow focus i've been fortunate enough to use was that of the arri follow focus.  amazing.  really.  feels amazing.  the only other company i was hearing about from friends was cinevate.  i should have my follow focus very very soon!  hubert, dennis and sarah were so helpful and cool as hell.  you should go watch some of their videos to understand more of what i'm talking about.
attaching from the rails below the camera i got a micro mount from redrock.  i mean ... us$45 is too much but ... us$175 for this?  i'll say this ... they do slick-ass videos.  for damn sure.  um ... okay ... that little mount connects to an israeli arm.  noga could -- based upon what i've seen people charge for things -- easily get triple.  very nicely made stuff.  on the end of the noga cinearm sits something i think is so important when you're gonna be using the 5dm2 ... a smallhd.com 8.9 diagonal hd monitor.  not only is pulling focus with just the focusing ring 50% easier ... the picture is beautiful.  whenever possible i won't buy cheap plastic shit.  the smallhd has an aluminum chassis, unlike many others in the same price/size range.  put a hood on it.  uses battery power.  playback is beautiful.  the owners of this company actually "get it" as well besides the "teamwork photos with eagles." 
haven't decided what to do with for a matte box.  haven't really had the need for anything other than an nd or nd grad but i have those and really don't need the "cine kit." 
sound sucks-ass on the 5dm2 unless you're 4 feet from dj a.m.'s monitor.  i didn't really see that as a limitation because i've never really seen a camera -- besides eng stuff -- on a sound stage that did sound.  it was always some angry dude with a mixer holding a boom mike. 
i let the sound run on the 5dm2, delete it in final cut.  even though it complicates stuff -- having to worry about sound and all -- the fact something like the Zoom H4n exist at us$350 is amazing to me. 
luckily, i have some friends and beyond the wired lav mike i got are letting me borrow a nice boom mike.  oh, yeah, and other friends helped out with the tripod and fluid head situation.
i just knew it was entirely possible to spend way-way less than the $5K companies wanted for some beautiful-yet-unecessary entire rigs they sell.
tell ya' this ... it's a very interesting experience putting this whole thing together.
see ... managing the data associated with my still work-flow was just not enough to keep me busy.  i really wanted to add absolutely massive files as well.  (facetious tone implied)  video logging is really one of the most amazing activities anyone could imagine doing. 
anyway ... i've shot so much in the last four months i don't even know where to begin.  seemed as though a lot of my personal work got lost -- not literally, of course -- in the constant flow.  there have been other additions to the work-flow but i can't talk about them. ;)  in editing what i edited to post here it reminded me that there's been so much i haven't posted.  some day i guess.
well, beyond sev and his penchant to make friends ... was so great having him out here.  there were seriously so many funny incidents.  i rode a bus for the first time.  i mean in l.a., of course.  we went to hollywood blvd the night after mj died.  we were in vegas at the same time as well. 
there's some video.  but ... it's not cut together yet.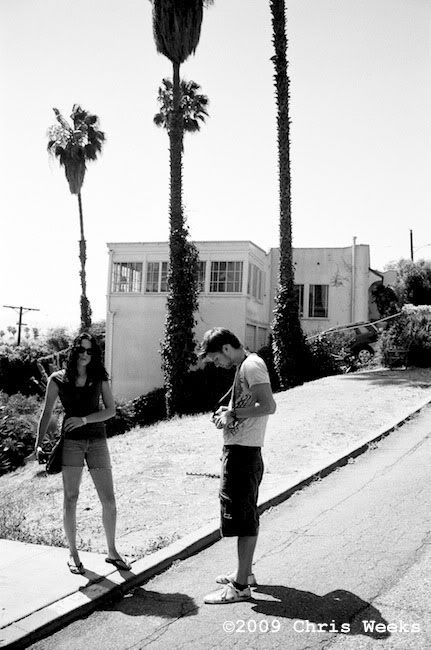 honestly, i think sev left the really hot godammned weather behind.  you can have it back, man.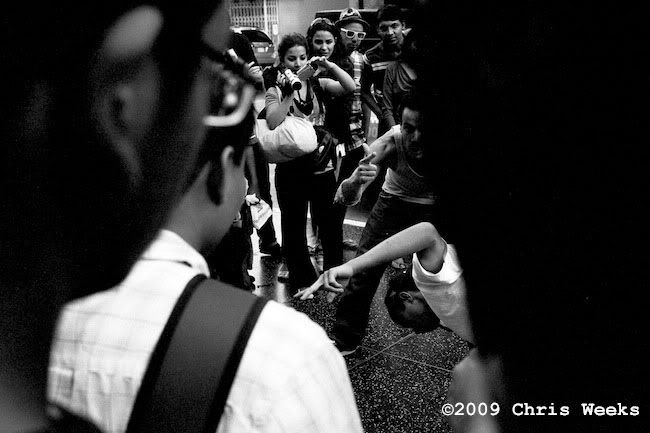 hollywood boulevard is a friggin' trip.  i dunno which, though, venice or hollywood are weirder?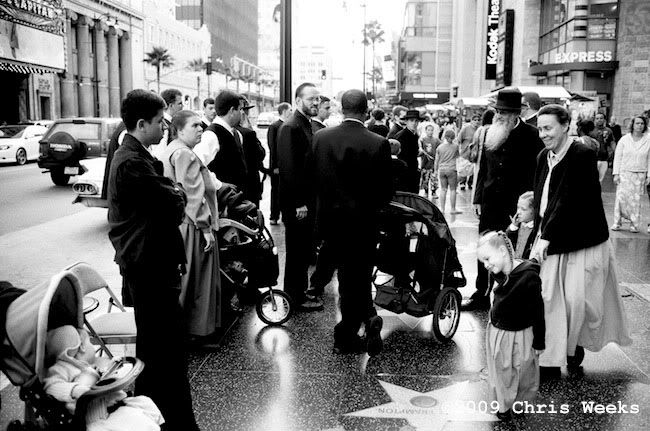 from break dancers to creepy -- yet i'm sure they're nice people -- fundamentalist christians trying to save the sinners in hollywood.
i saw no fundamentalist christians at the art fair-thing.
nor in the reflection at lunch.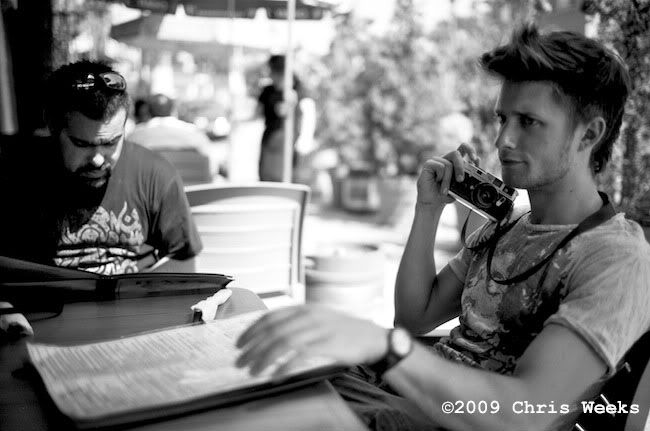 homeboy didn't have his passport but we were able to convince the manager with a german rail pass that he was over the age of 21 to have a nice refreshing beer.  it was hot as hell.
still is.
and humid.
though i just typed human.
unsure why.
love the fact they never see or hear a rangefinder.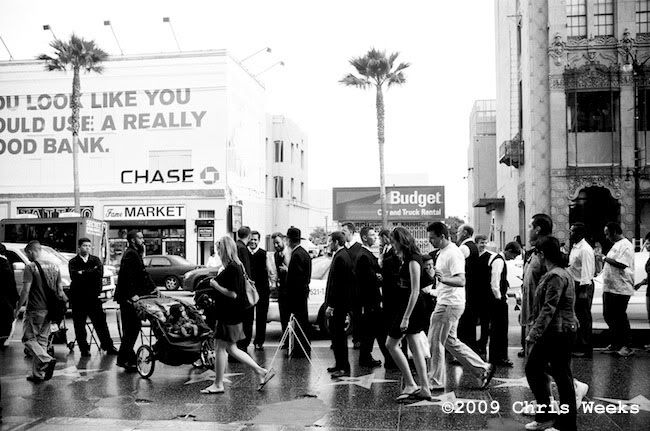 wish you could see this big.  sorry.  those fundamentalists were a trippy bunch.  laith's friend colin has some pov video that's pretty sick.
cannot wait to show you guys what is being cut.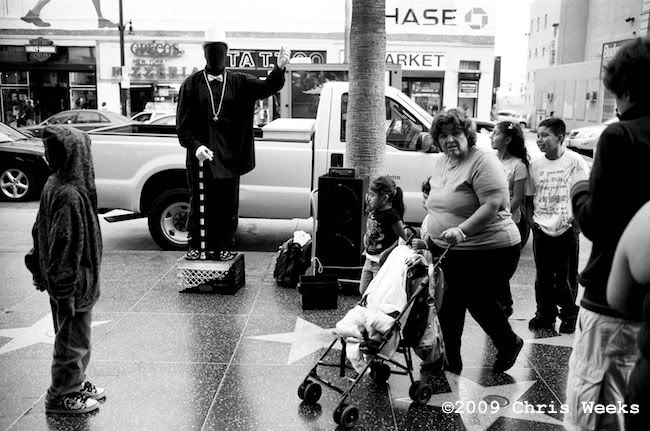 everyone should -- everyone who shoots street, that is -- should really shoot on hollywood boulevard at some point in their lives.
i feel as amazed as that little boy in that stroller every time.  it's a trip.
sev had an interesting conversation with that dude.
sunset boulevard is interesting, too, but in a different way.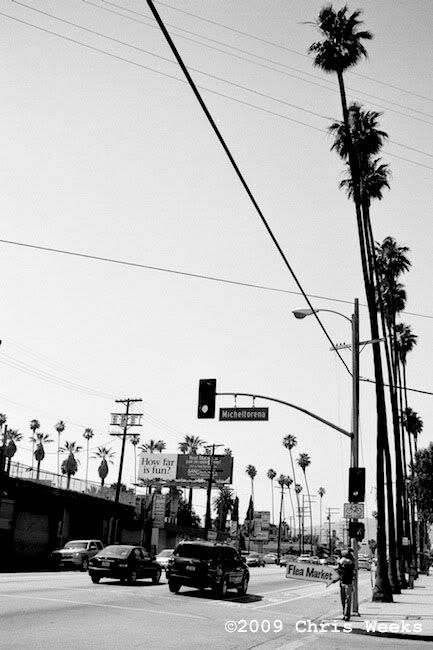 every weekend.  there he stands in a rat head.
it was hot as hell.  the sun was "aggressive" as sev put it.  not many were happy running around in it.
like sev said in his blog ... many were taking advantage of shade in any way, shape or form.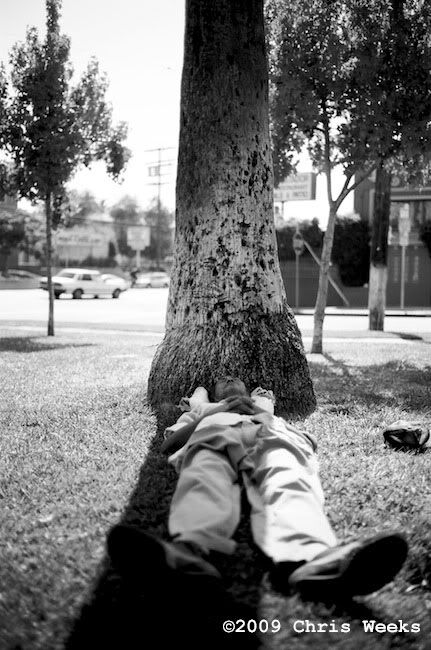 seriously, i love the fact that so many people gave me shit via comments on the dA street thing i did about rangefinders.  if they only really knew.  i don't see how anyone uses anything other than them.  no idea.  they're really the ultimate "sniper."  there was this mexican wrestler dude on hollywood boulevard who'd see me and everytime said "sniperd."



love seeing how close i can actually get without getting caught.
jumping forward like 3/4 weeks. something like that ... got to hang out with my friend frank as well.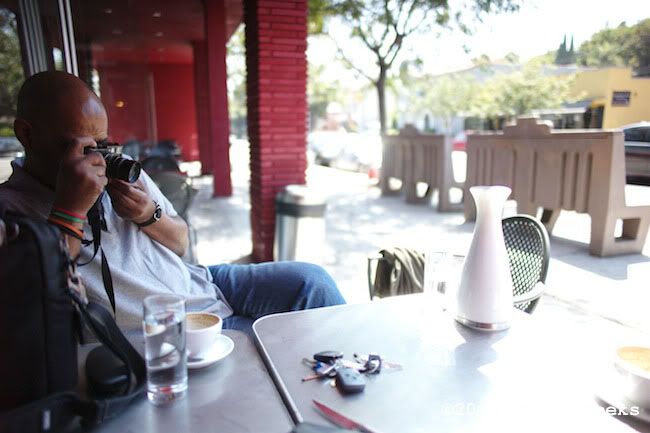 after coffee at the best coffee place in l.a. we went to venice.

again, it was hot but more humid than when sev was here. 
even in the late afternoon.
walked and sat at a café for a while...
frank said he used to go here a lot.
the west side and the east side are both a world and sometimes a couple hours apart.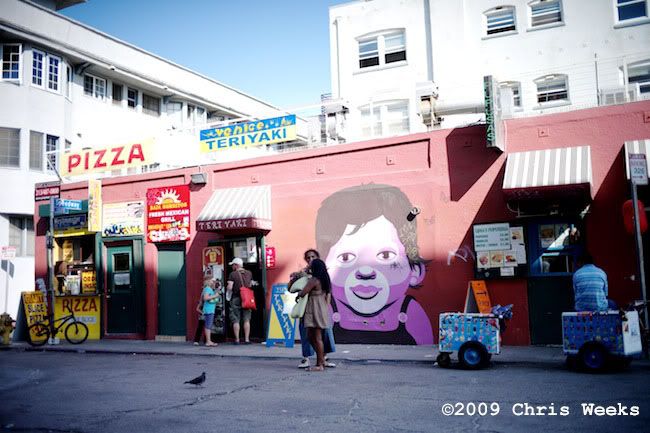 so wish you could see this big.  you wouldn't believe it.  i saw it so i believed it, of course.  seeing it 30" big though ...
lots of dogs in venice.
crack-head-drunks, too, but ... it's interesting.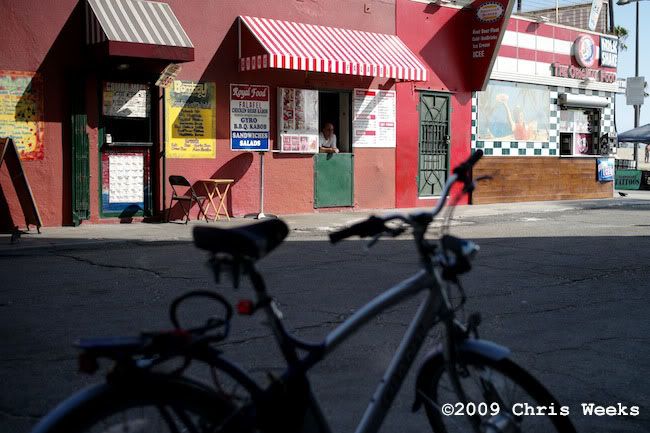 the light was pretty in this little alleyway-access road thing.
those people were doing almost the same thing we were except we had cameras, i guess.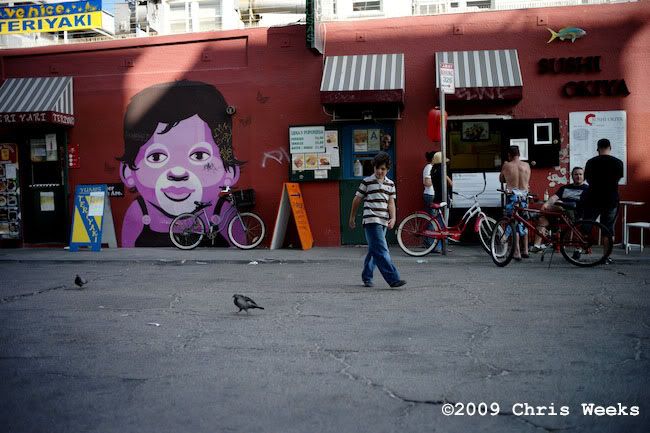 pigeon-stalking...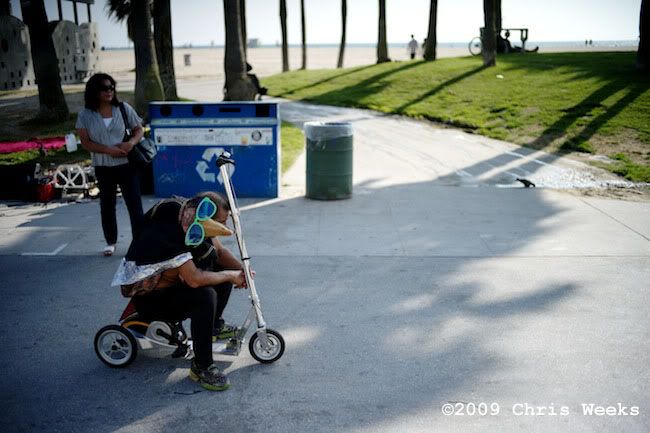 he wasn't having such a great day!
i don't think, at least.
dunno if the "come-alive-for-tips-fairy was having a good day either.  should've ask.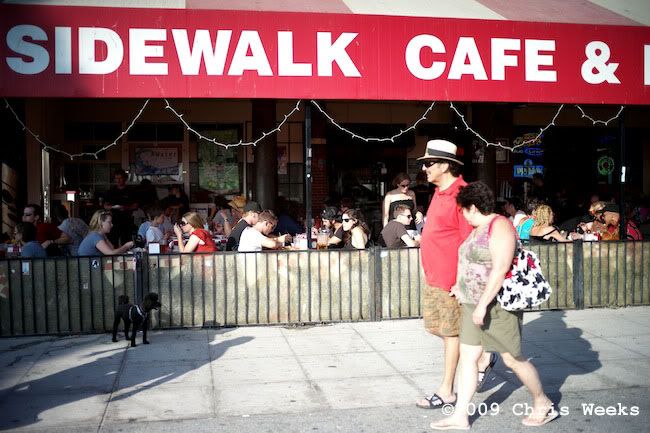 poodle was.
literally the last note before she stopped.
the chi-chi's not a fan of the broken-glass-walking-guy.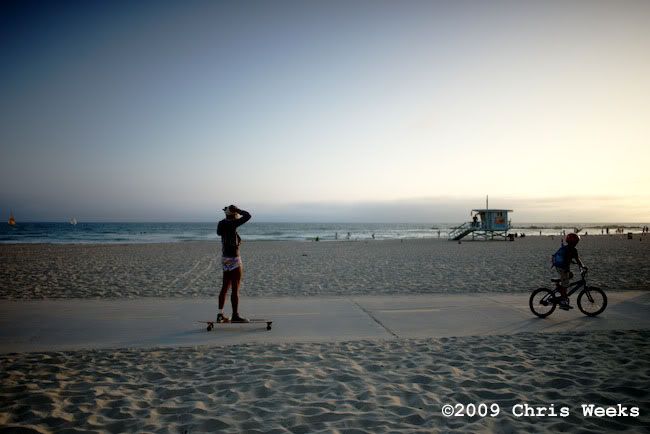 typical california -- on the west side, at least -- day.
afternoon.
whatever it was.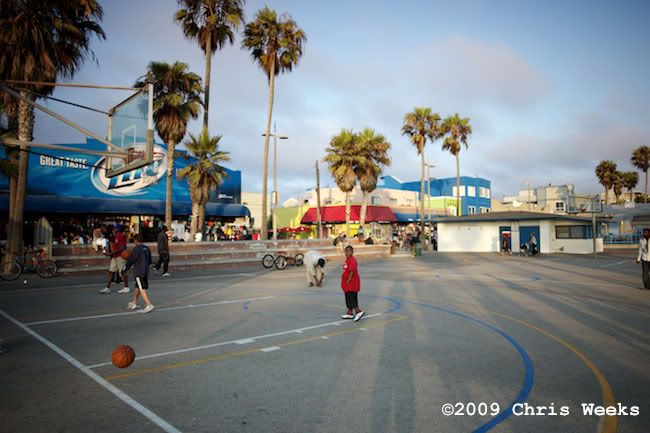 this one is kind of my favourite.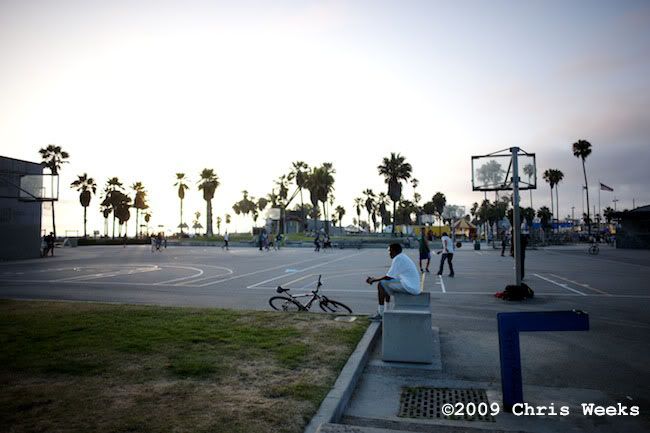 waiting for a pick-up game.  i'm assuming.  or ... deep in thought.  then again, a rapper selling us$5 mixtapes questioned me about my 5dm2.  all good.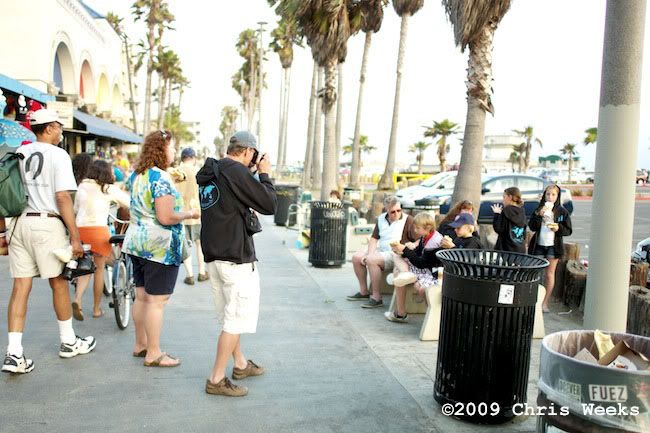 lotsa hamburgers going on.  a pictures.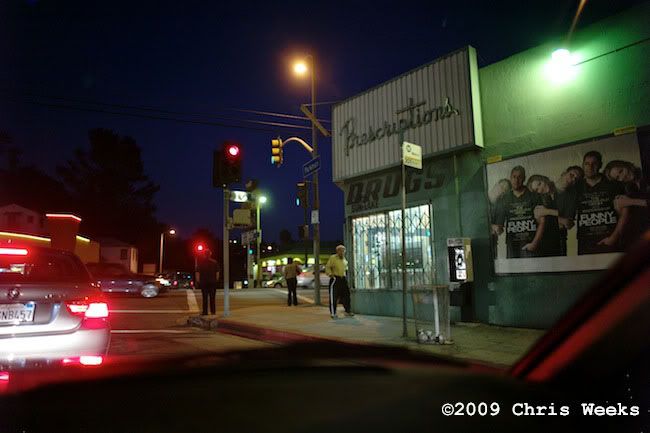 frank didn't think i should crop.  so ... i didn't.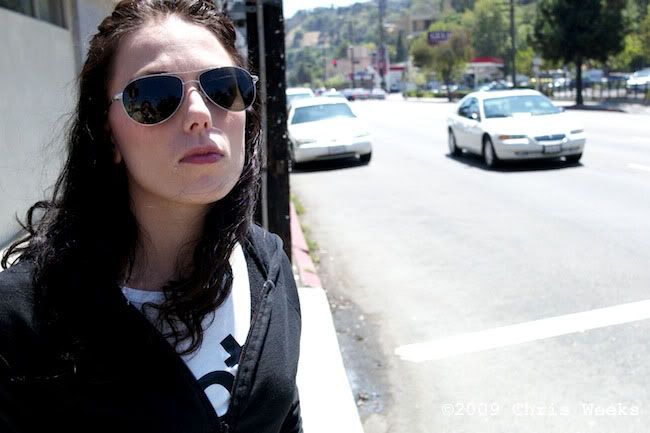 after a trader joe's run. she loves posing. ;)
so ... yeah ... busy busy busy and entering territories which are new. gotta tell ya' ... the 5dm2 with the appropriate equipment can do some pretty crazy shit. i mean contrary to what king-of-the-eighties-video-tech, wank, says. ;)
cannot wait to finish the last few sequences, getting the narrative stuff, a couple more sound bite interviews ... the cutting.  lotsa stuff.
hope you're all very well ... and significantly cooler than we are in l.a.!
more to come from other segments of the recent past.
cheers!
-chris
p.s., click this link for my friend corey.  i promise it's safe for the workplace.  he wants to go to france on someone else's dime and they're counting pageviews on youtube.