i do.  whether they're little pets or bacon or prosciutto or pancetta.  i'm so friggin' tired of hearing about swine flu.  like the last post that kinda went under the radar.  would have posted that video on my fb but i didn't want to get banned by fb.  honestly, i think it's odd the timing of the g8 and then the "outbreak."  i think someone's trying to send the mexican govt a message.  i think it sucks.  i feel bad for my friends in mexico city.
mexico should be able to fucking sue the mainstream media (MSM) outlets for their INFO-DEMIC.
was trying to think -- besides the bullshit-swine-fucking-flu -- what i wanted to rant about.  dunno.  guess nothing.
how about a cute gf and a friendly spaniel?
she's kinda smiling.

you'd think she'd be used to being in front of myriad cameras, right?

spaniel is.  for damn sure.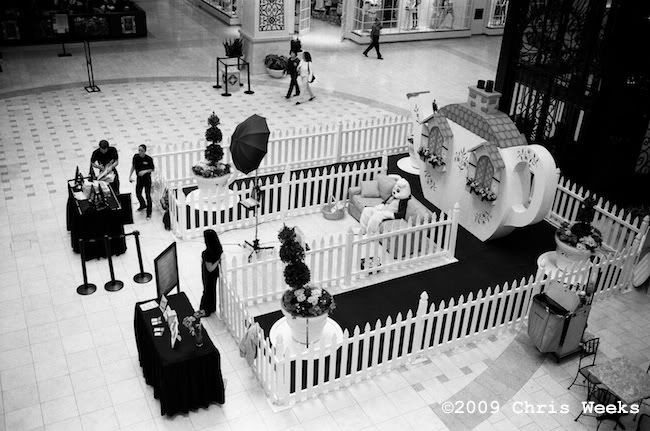 easter bunnies have always freaked me out.  this one ... is no different.  the things americans spend money on freak me out.
i wonder what it must be like for chinese slaves workers ... seeing crazy surfing santas, dog salt and pepper shakers or big black jelly dongs with a mr. t head.  odd.
that ebunny photo on a 30" monitor is pretty cool.
the 12 square foot or 11,148 sq. centimeter print i just did of a giant chihuahua head was pretty cool, too.  the lab did an amazing job.  best lab in the world.  i mean that.
"right-to-lifers" who are also by-and-large also supporters of republicans and wars ... i suspect are only pro-birth because they routinely support people who support warmongering and ... sending people to death row. 
there's nothing pro-life about that shit.
fucking hypo-fucking-crites.  they disgust me.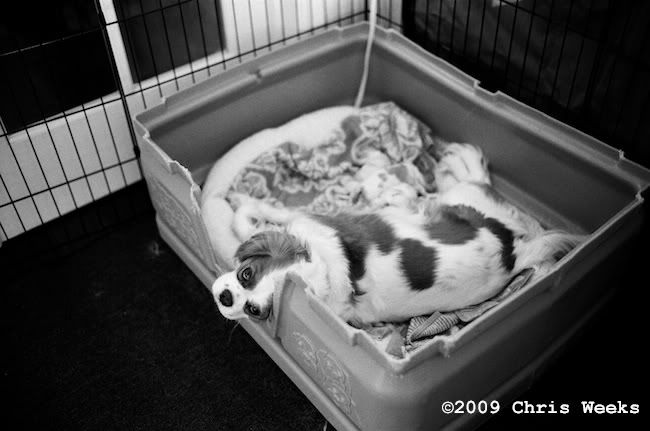 spaniels don't though.  ;)
nor do puppies...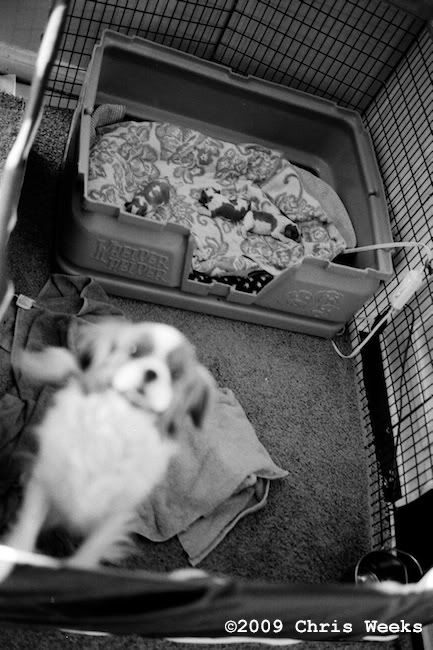 i love that photo.  dunno why.  the out-of-focus mom makes me smile. 

malls don't make me smile, though.  the indoor-only ones really don't make me smile.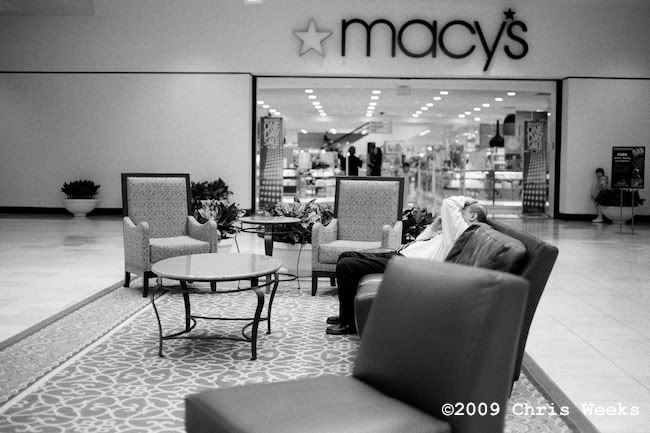 don't think they make homeboy smile either.
look at the connection between mom and spaniel.  it's palpable.  even ... when you're supposed to be blowing out candles. ;)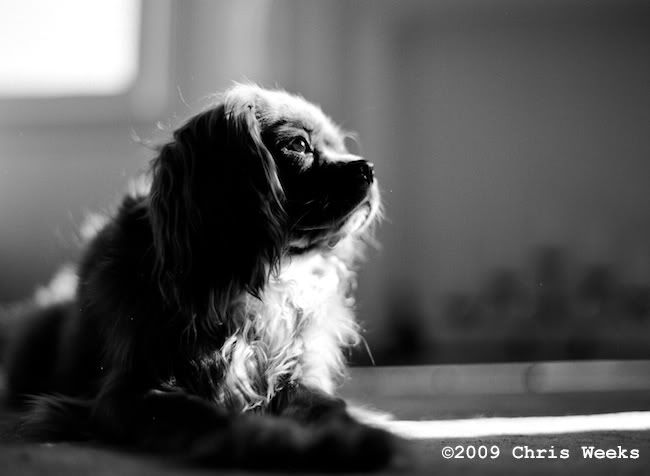 love making photos of our spaniel.  the chihuahua, too, but the spaniel is just "a natural." ;)
trying out some of that fuji 400 b/w neopan-shit.
don't mind it.
this was the 120 variety shot with the contax 645.  seriously, the best medium format camera ever.  when i think medium i think big.  i know people like that mamiya rangefinder camera but ... i prefer zeiss glass.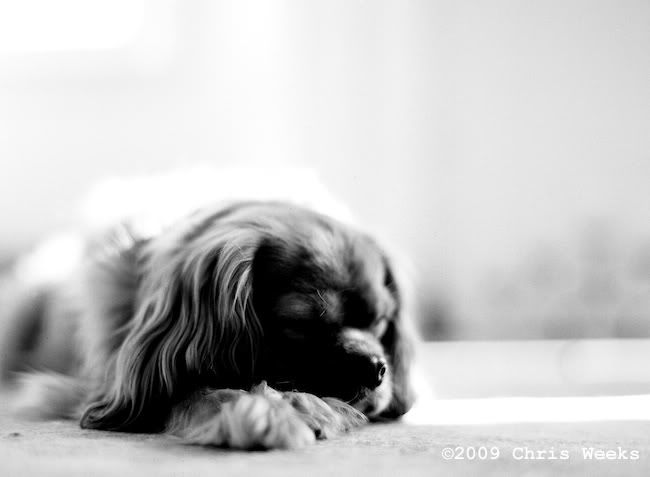 spaniels really are the best.  especially ... the cavailier king charles variety. :)
not that i'm biased what-so-fucking-ever. ;)
this is our frieng g.  not our neighbor g but our vege-oil-mercedes-mechanic.  he's austrian royalty.  and ... the best mechanic on the planet.
not that you can tell by his office.
and before j says something about my fucking office:  no, you can't tell the quality of someone by looking at their office. ;)
looking forward to hanging out with some other "austrian royalty" in july ... in vegas ... and ... if we're lucky ... l.a. as well! 
seen a lot of "dog photos," besides those with m ... as of late ...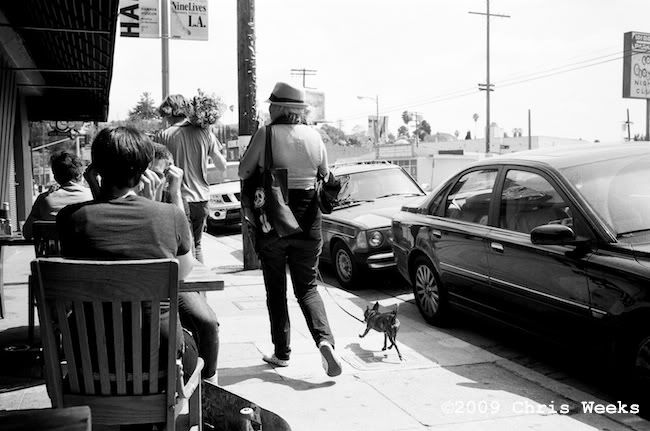 followed by ...

kinda looks like he's doing the goosestep, right?
kind of like the "hail mary" of photography.  then again, i know my framelines pretty well by now.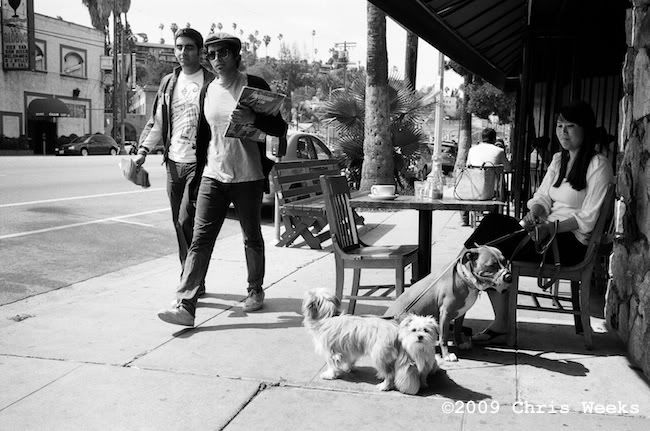 there are so many dogs in l.a.
hipsters, too.
dogs smell better.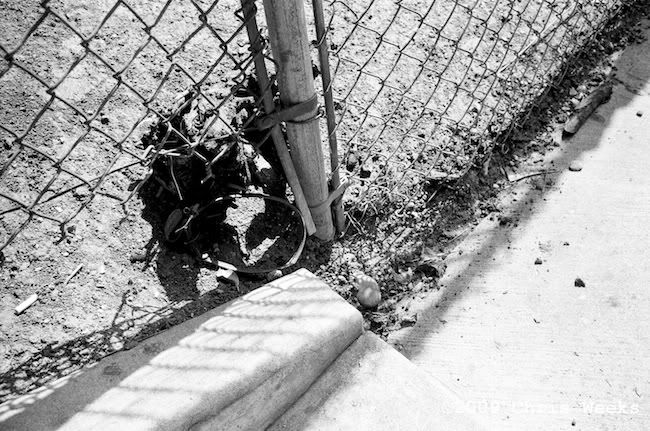 wonder what happened to the dog whose collar this was. 
don't actually like thinking about that.
i wish all dogs had a great home.
i mean ... they all deserve a good and loving home.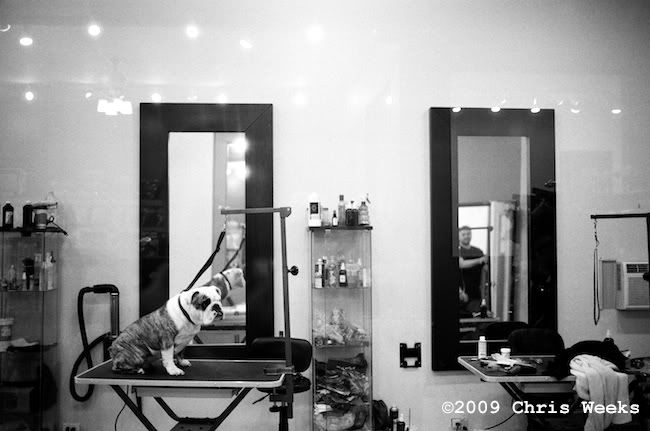 m had a "spa day" which means we were too lazy to bathe his hairy ass.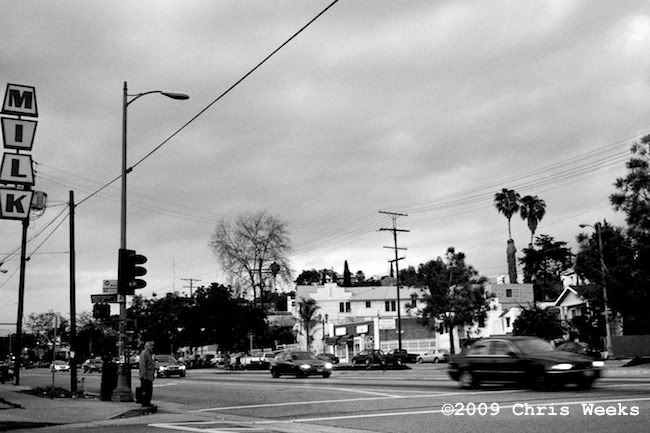 seen lotsa waiting lately, too...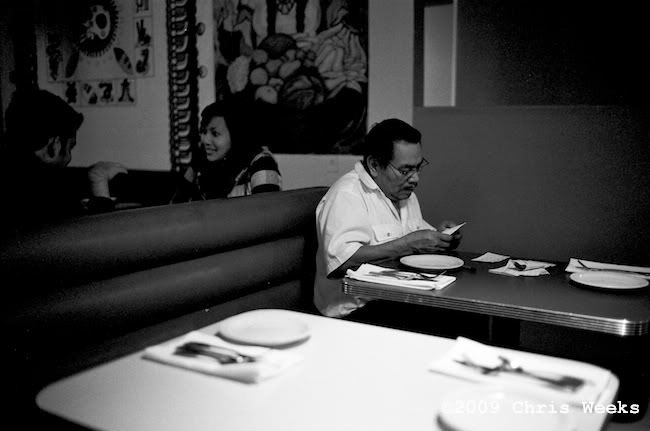 i love the fact they almost never see the leica m making the sneeky photograph.  seriously, you think you can do that with a d-slr?  hmm...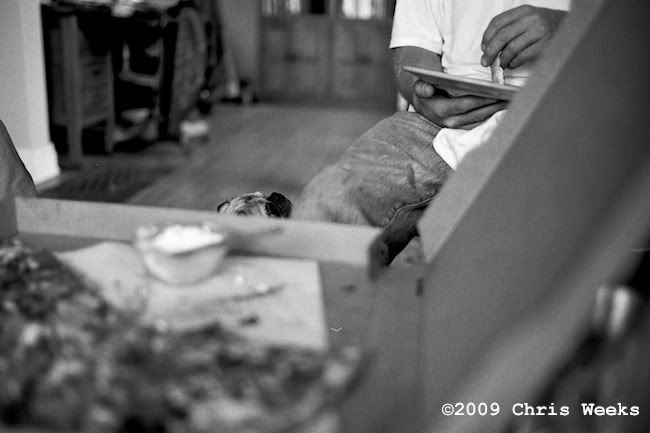 this is some "sneaky waiting" on the part of e waiting for our friend d to give her a piece of the yummy pizza.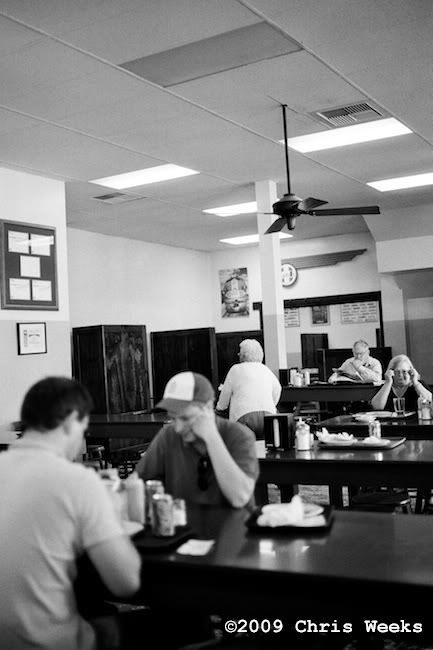 this place is amazing for both food and photos.  i took my
little french friend
here for lunch when she visited last summer.  :)  congrats, love, on your recent success in the photoworld. :)
so happy for her.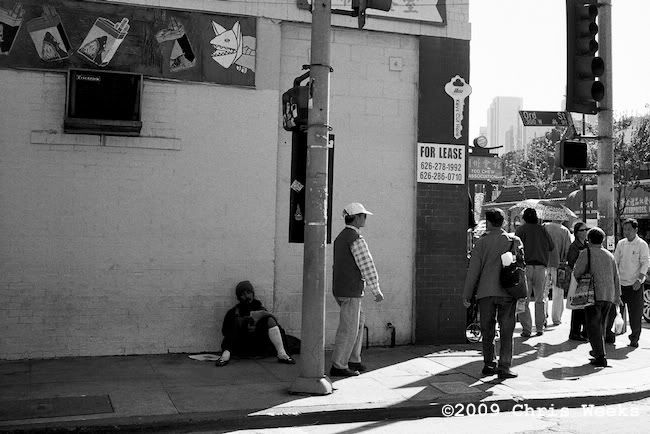 homeboy is almost always on this corner.
always reading.
i think he's an undercover cop, actually.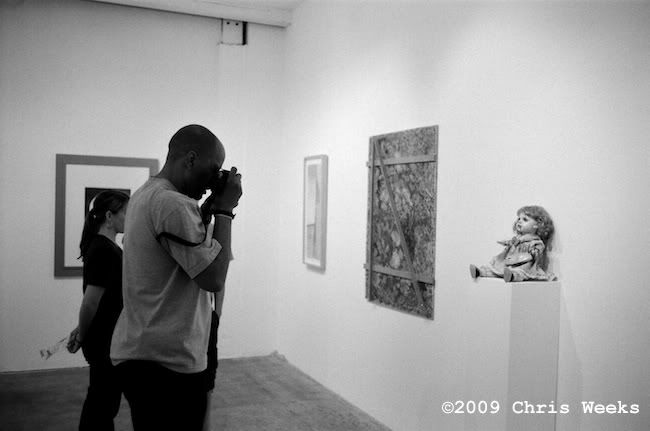 that's my friend frank.  we hung out a couple weeks ago at the brewery during their art walk.
frank's a leica shooter.
:)
and hasselblad but i don't have to talk about hasselblad. ;)
the doll was part of some artist's "dead baby" exhibit.  fucking creepy as hell but the baby nailed to the upside down cross would have been mine if it weren't for the us$5K price. ;)
even when i'm pumping diesel in the bio-benz ... i have my camera.  then again, i won't leave it on the front seat ever ...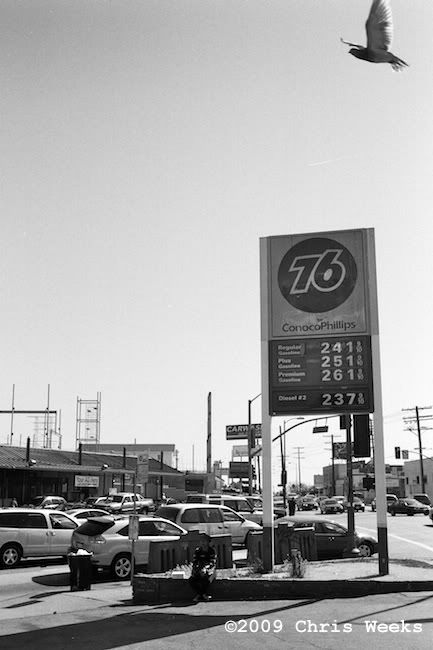 there's almost always someone sitting there in some kind of drug-addled gaze.

the same kind of gaze garnered by readers of wank or that online photo buffoon. ;)

been in a few airports, too.

then again, i'm always either going or having come back from ... airports.



always nice moments in airports.
between the moments when most travelers are so fucking nervous they leave their brains at home.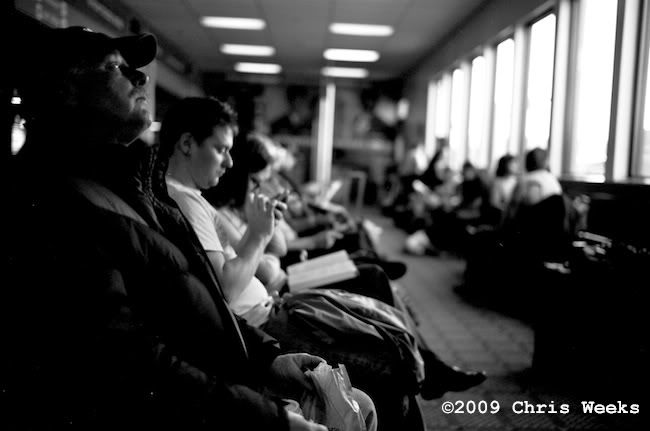 i can be "this close" and they still never see me.
and, no, i don't do all that many hip-shots.
not too many.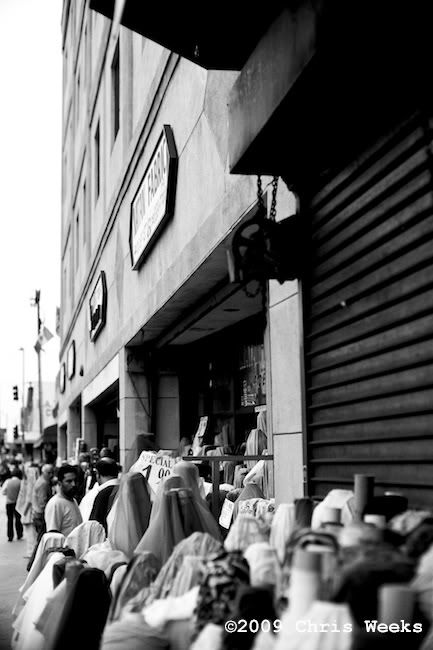 gotta go explore the fabric district more often.  i think there are a lot more photos there.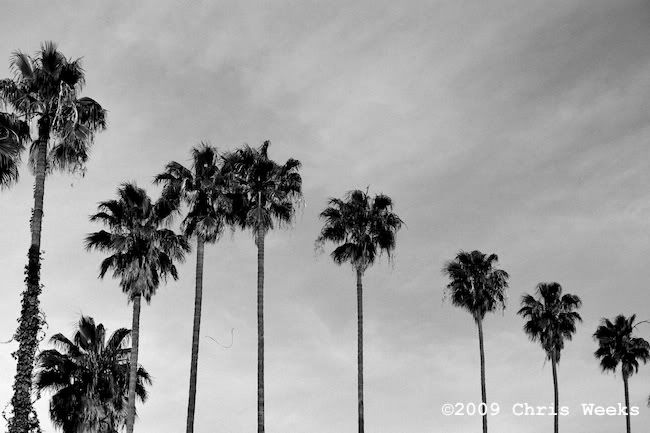 we have a lot of palm trees here.
i don't think they're indigenous, tho.
is anything really indigenous here?
i mean ... nothing is really from here ... save some coyotes and snakes.
by snakes i don't mean caa, icm, endeavor...
not indigenous.  definitely not.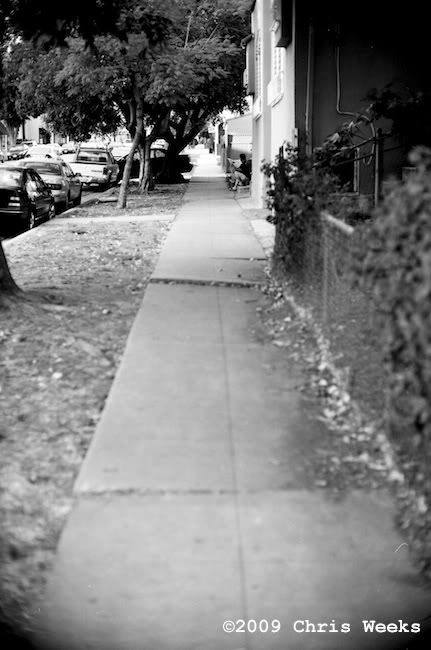 the vignetting is normal on a nocti.  this isn't some bullshit-vignette photoshop philter.
even though i've talked shit about dA i don't hate the place.  and ... i definitely don't hate on the cee-e-oh, angelo.  we're still friends.  we still hang out periodically.  the other day we went out so that i could give him some pointers in the "human condition" photography arena.  i won't say street.  street is a puerile name for a genre the donkeys don't quite get.  they only get it when you describe it as "human condition."
yes, in a couple different contexts i care what those people think.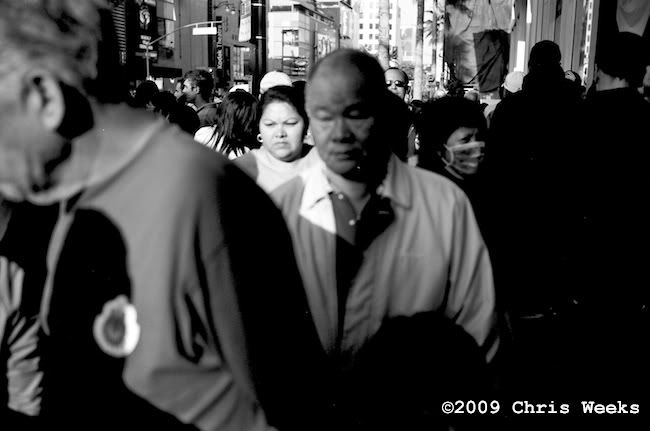 there's something that creeps me out about that frame.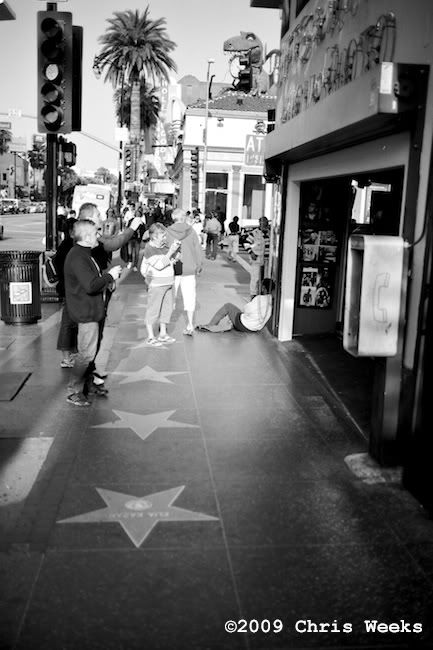 fucking hollywood and highland ... there are more tourist than ... well ... not more than disneyland (#1) or venice beach (#2) ... it's ... i dunno.

they're everywhere.  and ... i wanna know what they think they're going to see.  "talent" does not go there unless they're contractually required to go to.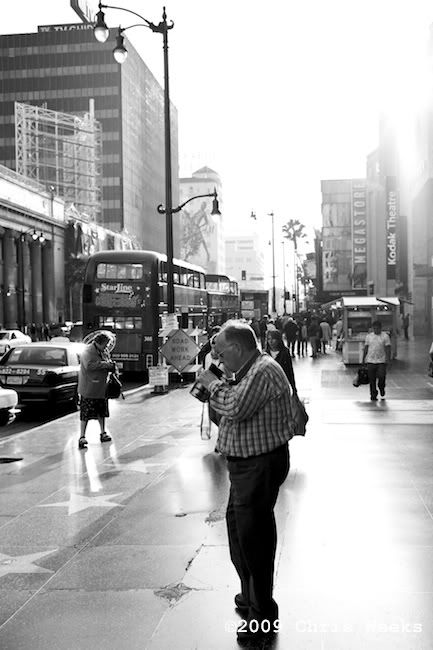 these quebequois were video'ing ... the sidewalk.

i could tell they were from quebec by the way they said oui.

ask j. 

it's uncanny what i can detect by accent.

and scent. ;)



there's even an obama imposter ... to go along with spidey ... jack ... um ... spongebob ...
wonder if obama "hits the pipe" like his counterparts do?
hmm.
dunno.
i made the above photo ... and angelo made this one.  :)
was a fun couple of hours.  he tells me there are going to be a lot of good things happening with/on dA.
i'll finish with my favourite dog/human/condition photograph ... not favourite-favourite but favourite-for-now ...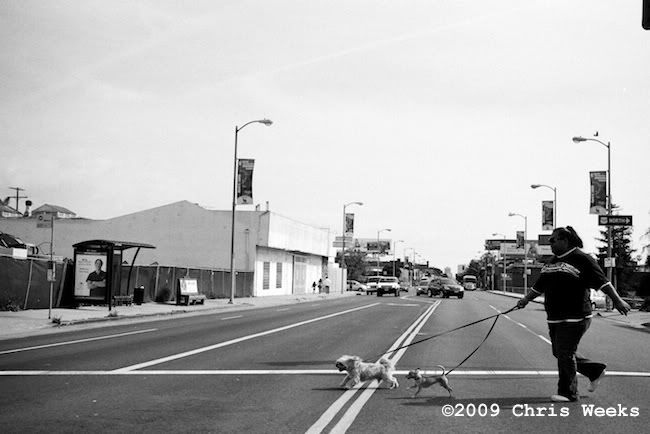 not quite sure why she's running.
was funny as shit.
happy someone else was driving!
so ... yeah ... that's my past couple weeks.  got lotsa traveling coming up.  lotsa shooting.  ya' know.
good stuff.
i know people ask why i make fun of friggin' wank and that onlinephotowank ... well ... this is the thing.  because i can.  i make a living making photos.  neither of them make any money making photos.  when one does that in the context of how i make photos -- and how many of my friends make photos -- i think your opinion is a bit more "real world" than some old white guy sitting in front of a computer SURMISING what it's like to "make photos in the real world."  the honorable genre of test photos notwithstanding, of course.  ;)
i could just post photos and not really have a commentary ... but ... it's my entitled right ... to say anything i fucking want to.  just so you know.
hope everyone is making nice photos and enjoying nice weather!
cheers from the "is-there-anywhere-better-than-here-weather" la.
-chris