i mean unless they're made by apple, of course.  or unless they're programmed by the numbnuts engineers at acquine.  i was happy to get an email reminding me of how bad these dumb motherf****** are.  last week i'm sure j was tired of hearing me sigh heavily and curse at these people.  they say they have a program which grades aesthetical quality of photos.  so f****** stupid.  i put in slew of photos by hcb.  he averaged like 23 or some shit.  i then put in some nice erwitts.  he didn't fare much better.  i put in some steven maisels.  yeah, 'bout the same.
the only people this comes close to impressing are the landscape-dreamers who jerk off on their hoardes of equipment when they think of "their mind's eye" shooting landscapes in denali.  they also probably read wank and the onlinephotowannabe.
thanks for reminding me karsten.  your letter to the head douchebag was ace.
what else?  besides canon ...
i'll backtrack.  i don't use canon service; they're too slow; i have plenty of backup gear.  my guy says "what the fuck is that oily shit on the sensors of your mark 3's?"
"fuck if i know."
it's not like i shoot on porno sets.
not that if you did you'd get fucking oily residue anywhere but your face, right?
anyway ... canon comes out and says their mirror tend to squirt oil.
great job guys!
you fucked up auto-focusing with the mark 3's ...
and a lot of people switched to nikon!
well-played.
they actually did do something i knew was coming ... we can now control aspects that are kind of important for shooting video!!!!  very happy about that. i was gonna buy the fd adapter so i could force aperture.  now ... i don't have to.
when's the 24p firmware option coming?  i know at least one person who claims to have been granted a camera that can do it.  dunno.
had a very nice coffee with my friends justin and frank the other afternoon.  we sat and papped normal people on the street.  guess that could also be called street photography. ;)
looking forward to laith coming to l.a. for a nice extended period of time.
we can work on our "visual summer project." 
won't say what that will be.  i will say that canon has made it much easier to shoot with the upcoming firmware! :)
get to hang with sev this july, too.
still can't believe those jackasses thought a computer could judge aesthetics.  i'll bet the only high marks are for those "test photos" done by the jackass who thinks he can shoot but doesn't show many of his own photos.  yeah, mr. online, you know who you are. ;)
i just love the fucking people on the web who think their opinions are the holy-fucking-grail when if they really knew their shit they'd be repped, syndicated or getting assignments.  don't think online-guy could say that nor the wank, even though he claims to spend a lot of time in "his studio."
no doubt shooting poor kids and puppies with f/22 light.  of course.
i mean ... who wouldn't, right?
also ... kinda liking fuji neopan 400.  not bad at all.  scans up nice, too.  i mean ... that's a good thing because i actually print like less than 1% of what i shoot on film. 
guess a roll got shot halfway-through and then shelved and then shot again.  the look on that girl's face is fucking priceless.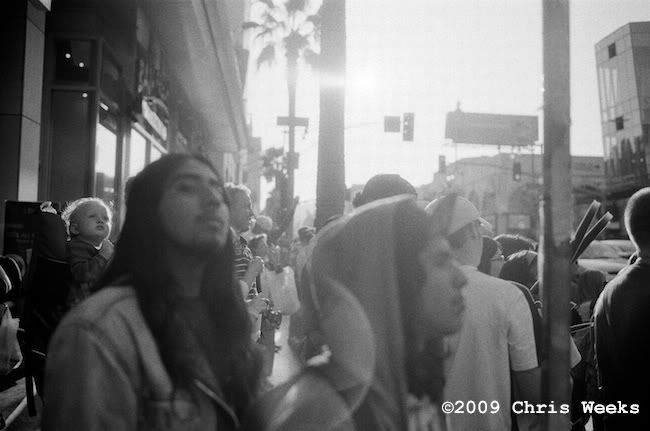 the two dudes in the center said "did you take a picture of me?"
"ché? io?  ché cosa scemo?"
yeah ... i yell back at people in italian.
i was shooting the kid in the backpack.
whilst ... i went out for a stroll with spyed...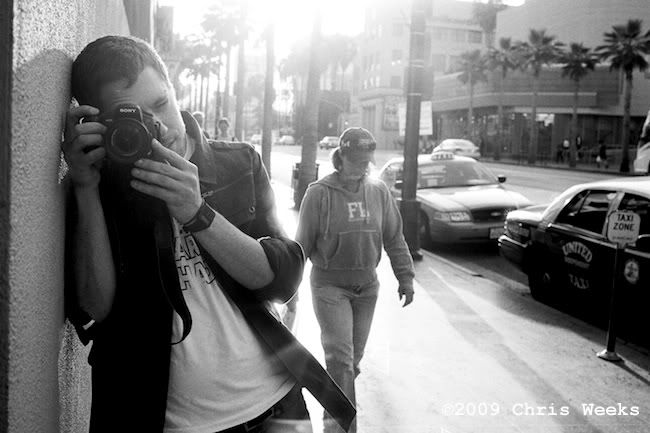 he's on some world tour.  looks like it's going well.  good for him.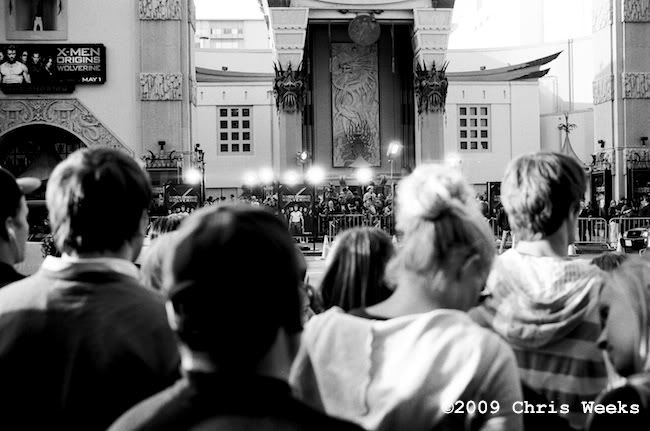 if you could see it on the big apple cinema screen, you could see a photographer looking at her phone across the street on the red carpet.  that was her looking at my text. ;)
taxi-fucking-drivers and tourists freak me out.

lonely hollywood boulevard at magic hour ...
unless you're a grip and you call it "tragic hour." ;)
one of my favourite quotes by one of my favourite people.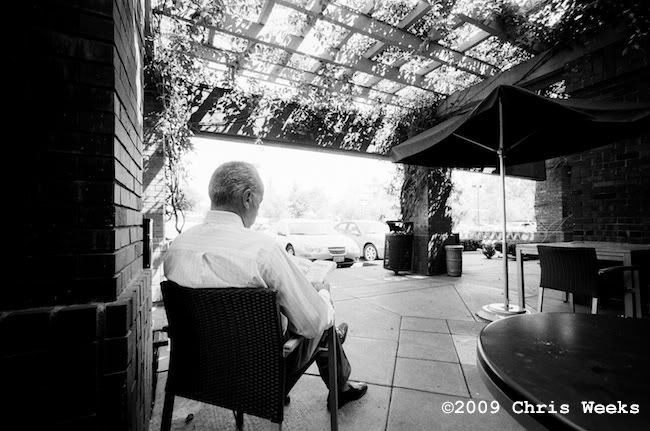 wider-than-usual, eh?  yep.  it's that new rangefinder-coupled voigtlander 15/4.5.  usually gandy lets me keep shit for a month or so.  the last lenses shade met a wall and i think he got pissed off. ;)
sorry, man.
working photographers bang their shit.
masturbating-web-writers think about working as a photographer and then reality hits them in the face because they have as much talent as the bag i pick up my dog's shit with.  fucking prepositions.  hate ending with them but ... whatever.
at least i put a link to gandy's site even though he doesn't have an affiliate program ... unlike other people.  inside joke there.
all kidding aside .. that lens is very nice.  really nice.
leaned in, too.
with a whisper-quiet m -- unlike you dslr-street-guys -- you don't need a long lens to really shoot. ;)
that and homeboy was deaf.
or some shit.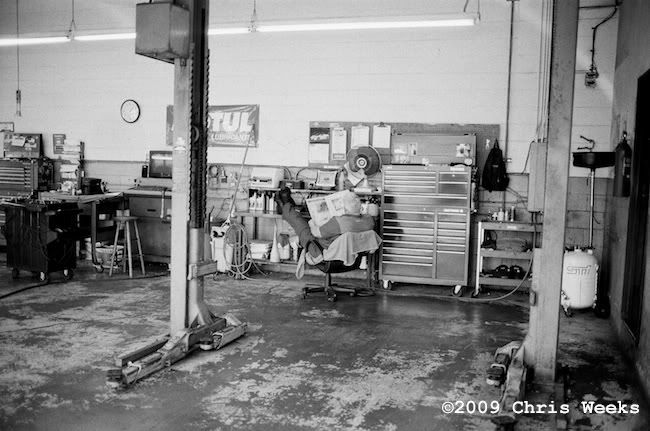 my subie mechanic hard at fucking work. ;)
my car needed a motul change.
i don't say oil.
motul kicks ass.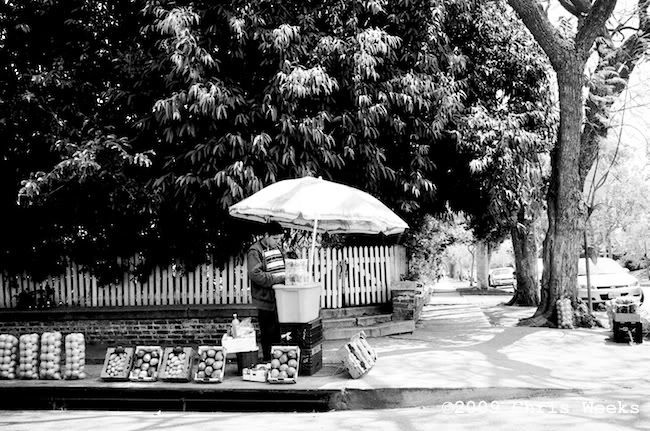 that motherfucker is cagey.  i've tried to get a shot of this guy and his fruit stand for years.
finally.
i'd rather no one knew i was making a photo.
unlike those who shoot dslrs and call themselves street guys. ;)
i love getting the defensive emails when i write shit like that.  it makes me laugh.
almost as much as the ones i get from the people who say "so what if you're repped."
if you have to ask, you just don't know. ;)
go sell to shutterstock.com; i'm sure you'll make a fuckload of €'s.
then again, i think i've seen better than what you do on shutterstock. ;)
dunno why but i really like photos of people selecting food.
not as much as bald heads on planes but ... well ... ya' know.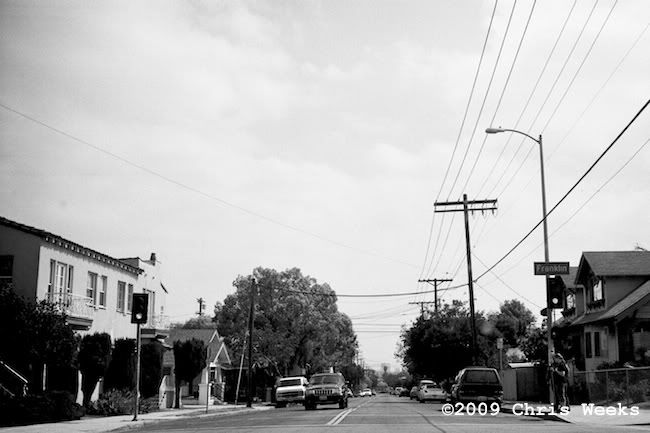 i really feel for blind people, too.  yes, i actually feel.  swear.
could you imagine what it must be like to have to relearn so many things should you become blind later in life?  damn.
chi-chi's eye popped out this past weekend.
no, we don't have a pirate-patch-wearing-chihuahua; she's fine.
fucking horror show.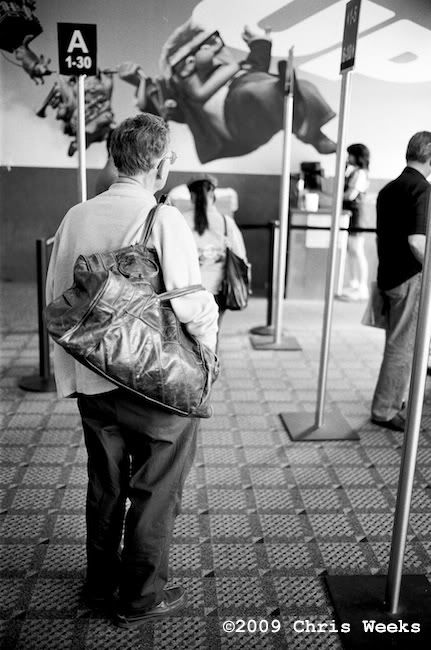 that background tripped me out.

fucking, eh i have a lot of photos in airports goddamnit.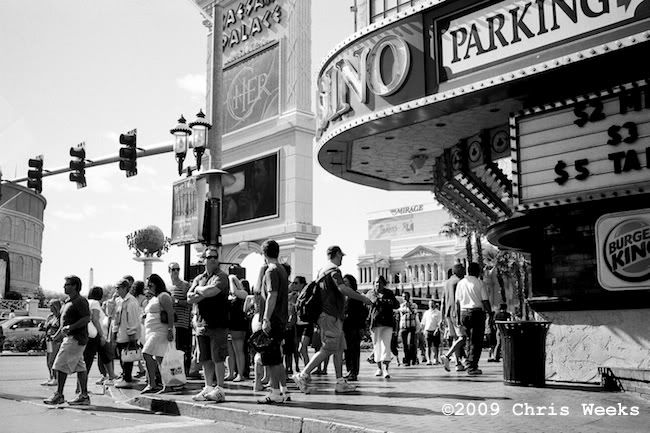 and of vegas for that matter.  such a trip that place.  if you haven't been, you have to see it one time in your life.
where the boobs are large ...
and ed hardy shirts reign.

speaking of ed hardy and douchebags.  he used to be a model believe it or not. ;)
sorry, brother, couldn't resist. ;)
homeboy was deep-in-thought.
i think he had yellow-fever and was thinking about the 20-something hostess.
people can't get enough of these fuckers.
i have a secret machine.  it's like an atm.  truth.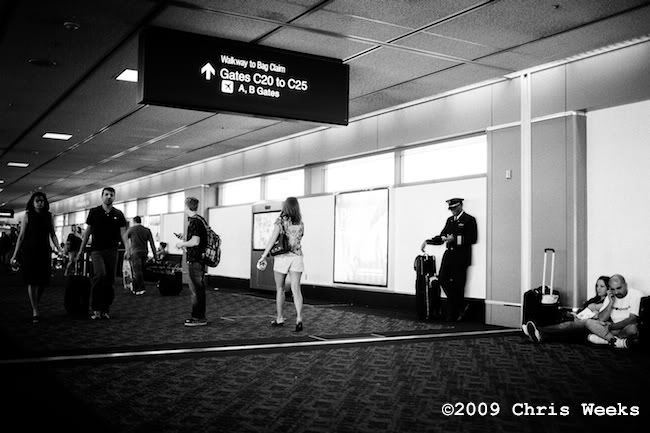 i hope the pilot isn't texting "fuck, i'm so fucking depressed today."
that would suck.
j was meditating.
;)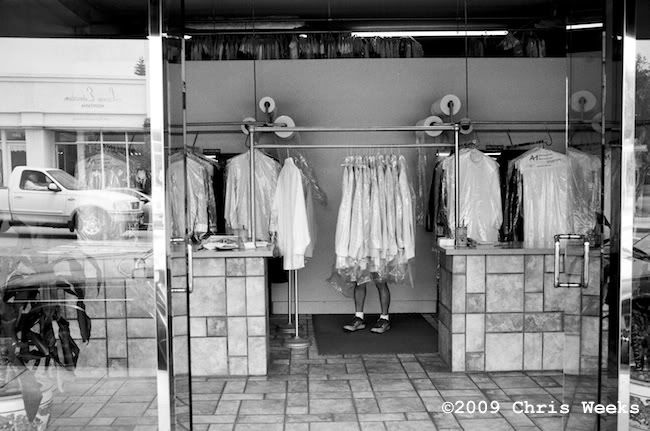 i think the hanging clothes were hungry.
we took a walk down one of the douche-y-est streets in one of the douche-y-est parts of l.a., which is the westside but doesn't include venice. ;)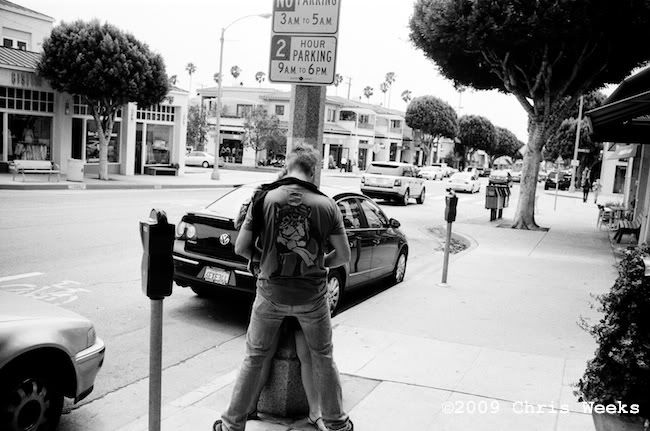 body language is everything.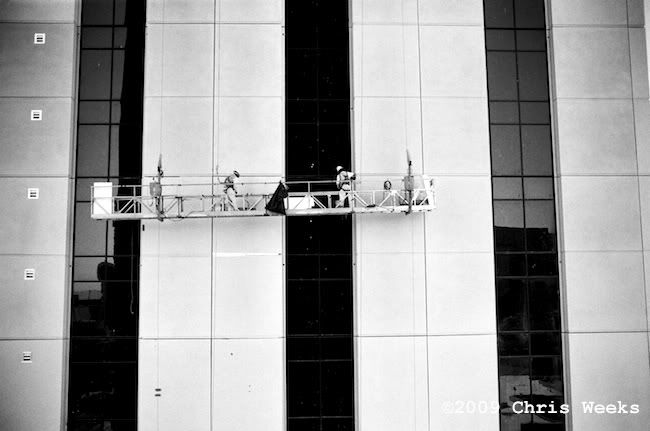 an unfinished tower at caesars.  i hear they skinned it so it looks completed even though they won't be completing it any time soon.
funny that people don't want to throw money away on $500 tables and buy $1000 bottles of vodka you can buy at bevmo for $20. 
funny how the economy works.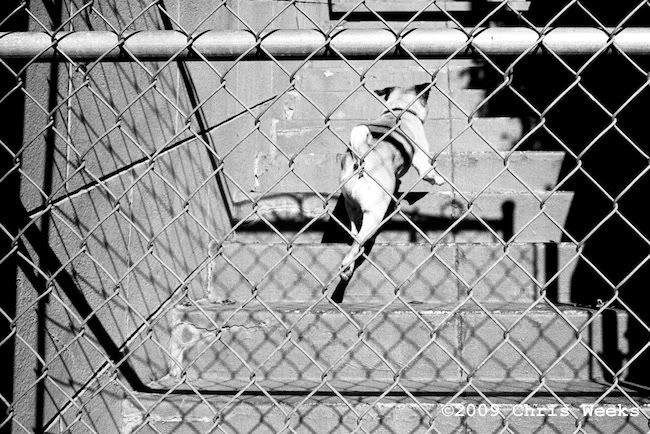 i think she thought there was food at the top of the stairs.
for sure.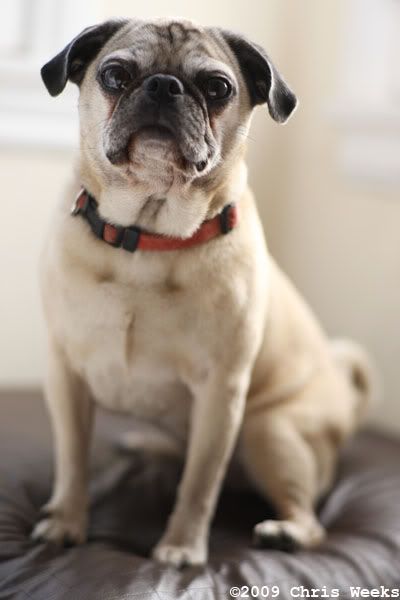 she's so beautiful.  and ... she's like bff with m ...
both such attentive sitters. ;)
i mean it's not like there was a treat hanging out on the lens shade of the
zeiss 85/1.4
.  canon glass is such dogshit compared to the zeiss glass.  wish i didn't have to ever use one of their shitty zooms again.  ;)
how about one more photo of a sweet spaniel?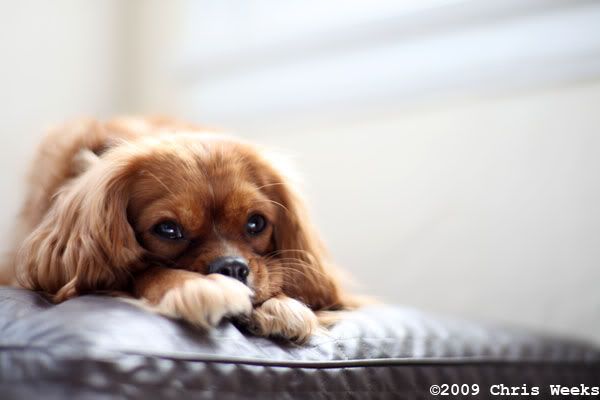 wanna see the setup?  okay ... two, then...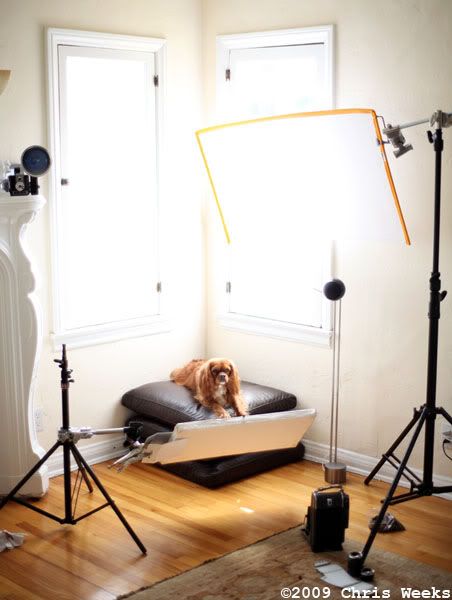 some nice super soft bead board on a pair of lips.  had some nice roscoe 216 on the windows with a nice china silk 24x48 scrim.
fuck that strobist bullshit.  go buy some
good grip gear
and learn about "wrapping light" instead of jerking off on your little specular fucking flash gear. ;)
but i'm sure some nice alien bees look just as cool. ;)

i love dogs.
then again, most of you know that.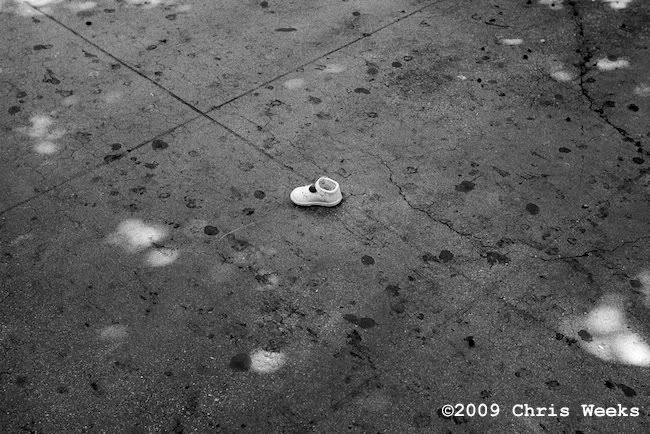 i just thought that shoe looked so small as compared to the sidewalk.
and ... there really is more gum on sidewalks than i would have ever thought.  never really looked. ;)
pissed off wank one more time:  check.
pissed off the onlinewannabe:  check.
made fun of that stupid-ass-aesthetic checker:  check.
pissed off the strobists: check.
pissed off those who aren't repped:  check.
yeah, my job is done here.
hope you're all very well.
cheers from the too-good-to-be-true-weather l.a.!
p.s., i kinda miss snarky tags.