so we went from like close to a hundred Fahrenheit to the mid-sixties in the course of a couple days.  it was hot in the valleys, in the basin and at the beach.  april?  odd.  and thank God i turned down every request for coachella.
um, paul-fucking-mccartney?  leonard-fucking-cohen?  i mean i know the over-forty-set has more money than hipsters but ... yeah ... great line-up.  no, i don't need to see the killers, who i think are just bad interpol rip-offs.  guess the cure would have been alright but ... i think i've seen them before.
every time i've gone to that hell-hole in the desert i've returned sick.  well ... i didn't go this year but ... got a cold or allergies or something. 
coachella ... went to a site i know which usually has good music festival coverage but there was so much fucking pap-work i skipped it.  okay ... actually found the hidden thumbnails in between fucking octo-mom and miley sightings but ... mario's coverage was way-way-way better.  funny to me that one dude can kick the collective-coverage's ass ... of like four people. ;)
not funny, actually, it's just sad.  and really not that amazing, really.
and coachella somehow still managed to give me a cold or something.  dirty bitch.
what else.  not sure if an-almost-sixteen-hour-day was also a cause for getting a cold.  perhaps.  wish i could share some of the photos but ... no.  i think i can in june some time.  got to work with an amazing director, though.  Jonas Akerlund's "smack your bitch up" video is one of the best i've ever seen.  i can't find it but if you can find it, watch it.  amazingly well done.
j says it's like 4 pages in on youtube.
since i started this it went from overcast and grey to ... nice and partly sunny.
cold is still there but a bit better.
and just so you know making the perfect pate a choux is a pain in the fucking ass.
someone sent a comment in about "what do you mean by 'thin'?" in the context of that danish shooter's frames.  thin means underexposed.  simple. 
remember when you want to get something right "in camera" in the context of digital ... treat it like shooting chrome.
oh wait, most reading that won't even know what that means.
i cut my teeth on thousands of rolls of velvia in 35, medium and sheet film.  a well-exposed frame of that stuff is beautiful.  when i was an assistant i remember waiting until 03:00 to judge snip-tests.  those would determine if things were to be processed a third over, a third under ... whatever it took to make sure the ad agency was happy.
which ... actually i don't know if any of those people are ever TOTALLY happy.
my point being is that when you learn film you really learn how to expose properly.
photoshop has turned a lot of graphic designers into "photographers." ;)
sorry ... photo-illustrators. ;)
thank you guys for so many great comments last time 'round.  of the ones i didn't post i'm wondering:  have you ever really "worked" in photography?  on a deadline?  getting a shoot done in the morning for PHYSICAL delivery -- not electronic -- of the work either by messenger or fedex?  have you ever had your workflow selected, edited, captioned and moved by someone other than yourself or your mom?
if you haven't, you have no clue. 
yes, mate, i'm sure you have a great online following and the flickr-dudes or da'ers love-love-love you.
does that mean you're really a "real photographer," though?
guess it's different when in real life you both do photography for a living and almost every single one of your friends is a photographer.
online ... seriously ... i've met some really cool people.  great photographers.  photographers i always thought should be repped or shoot for wires.  some of them are now and i'm stoked for them.  half of those have gone to school for it, half have not.  no matter ... i'm so very very happy for them and wish them continued success.  then again, they know exactly who they are.
there are also those i suspect have gone to school, think they know what the fuck is up, yet just lack a certain something.  worse yet are those who perhaps haven't even gotten "a following" online yet think "i'm fucking amazing.  my shit's as good as joeyl."
at least your mom tells you that, i trust.
then again, you could just be enamoured with photography because you think it gets you laid. ;)
as funny as i think that shit is ... i think even funnier ... is the "t.o.p.'s top 10 list" of cameras.  and i finally found some online references of homeboy's work.  the photo in that last link ... could those two people in the front be any more bored with with they're listening to?  i mean, really.  beyond the terrible-yet-noble "test shots" he does ... i knew that's what his work would look like. ;)
at least wank posts his work, i mean, even if it's f/32 of a sleeping baby. ;)  he's been very quiet lately.  must be on some rad photo safari.
the cold is much better.  besides the garderners around the corner ... sleep was very nice.
it's still gonna make a short flight suck, though.
whatever.  won't be the first time.
so ... been posting photos again ... but this time on flickr.  i think looking at photos is a bit clunky but ... the people seem really nice.  i'm sure there are assholes but i've yet to get comments by them ... yet.  seems to be relatively spam-free as well.
i think ... that the order of the scans i'm looking at in the photobucket window ... i think they're chronological.  that rarely happens.
this is a friend's pug-dog...
she and murphy go on missions.  i think they enjoy the missions.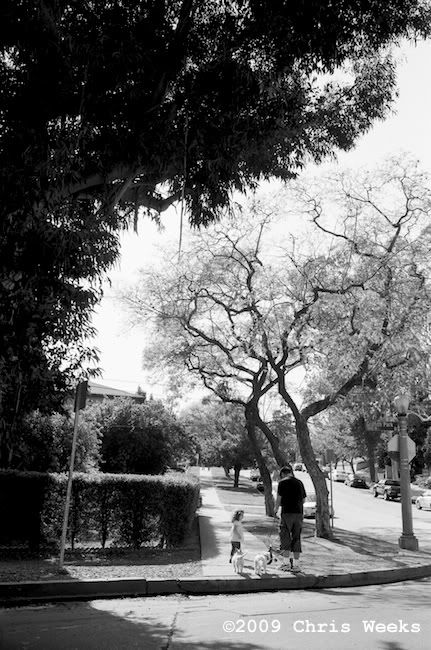 people really do walk in l.a.  in certain parts for sure ... not everywhere ... but ... yes ... people walk here.




they also sit and think about their food.  perhaps he's quietly saying "grace."  perhaps.
i doubt he cares that i shot it slow enough to make the fan blur.  dunno.
i just noticed that the first few selects -- of which i think there were thirty and i remember the folder for this set of scans was like a hundred -- were verts.  odd.
lotsa introspection going on this day ... at this sandwich place.
i love shooting the mp and the 35-lux.
been experimenting with some fuji b/w, too.  i like their instant stuff so ... i mean ... i used to shoot velvia like mad ... but ... dunno ... thought i'd give their b/w a shot.
love hollywood.
probably won't see this line again as we've finally gotten rid of the last of our recently-ripped cd's.  they all exist on a harddrive and that library claims we have ... 1.4 years of continuous music.  the buyers at amoeba are a strange lot.  just fyi.
outlet malls are another odd place.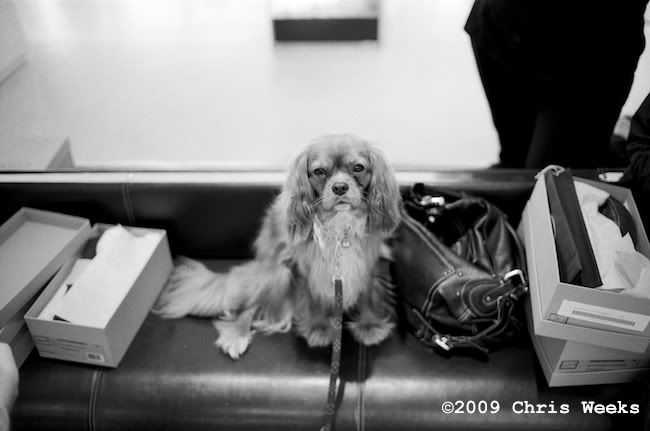 i dunno if murph was feeling the shoe shopping.
murph met a new friend.  actually, murph meets lotsa friends.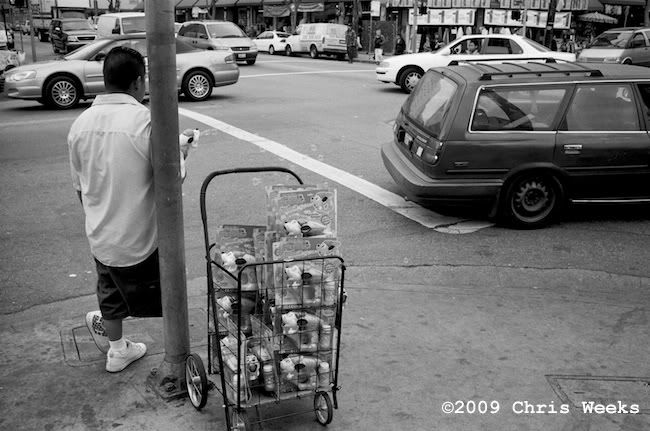 i just wonder exactly how many people stop their car at this corner ... or just walk by and say "i have to have one of those friggin' dog-bubble-blower-things."
we didn't see him sell one.
love papping j.  she loves it so much.
ninth and something is fabric ridiculousness.  you gotta see it.  such a trip.
it's right next to the wholesale flower sellers, too.

if the zoo didn't like to eat plants, we'd have plants.  flowers for that matter.  but ... a certain feline freeloader likes to ... eat anything mildly resembling a plant or flower.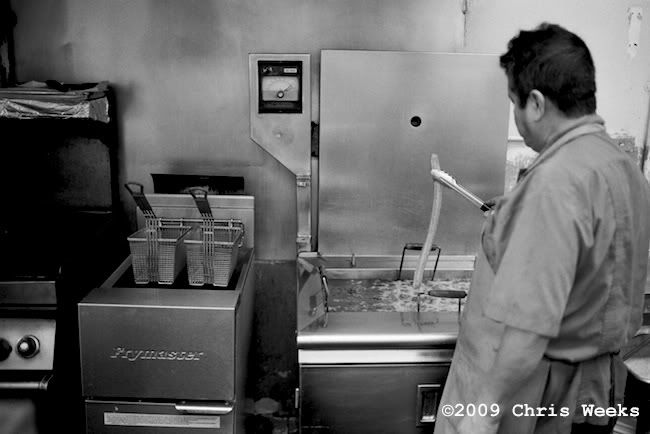 the plane of focus was intended to be on the churro.  just so you know.
olvera street is a trip.  honestly, we go there for one restaurant and one churro-dude.  we have plenty of virgin mary shopping backs and mexican wrestler masks.  promise.
what some people will do to deter you from letting your dog take a dump in their yard.  "pick up your shit."  don't think the 650 pixel-wide photo will let you see exactly what it says.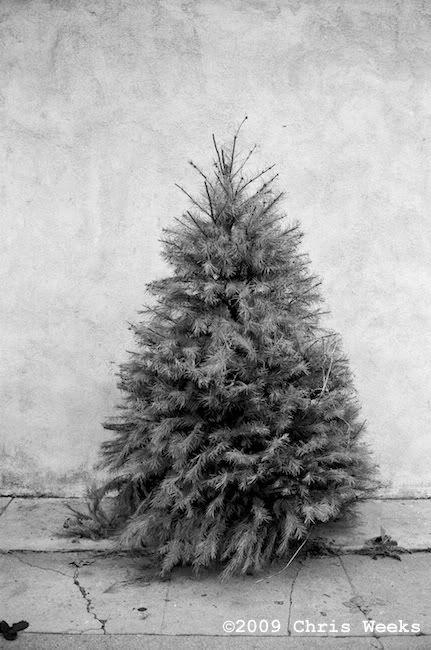 it's fucking april: who the fuck finally puts this "out" with the trash?  then again, this same wall tends to attract ... um ... couches and mattresses as well.
as well as the dogshit in the lower right corner.
actually, that's the inner-donkey making a statement about refuse.
i really like
emilíana torrini
.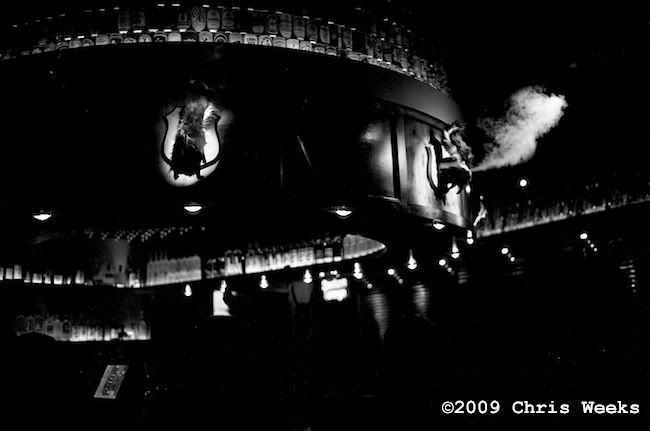 honestly can't resist the steam-from-the-ass-skunk at little stinkers.  so happy someone thought-up this shit and put it in a bar for me to enjoy.
they could turn down the volume a bit ... then again ... like a chef's deadened palate ... i think all dj's are deaf.
how fucking terrified does that poor little guy look?
that photo makes me laugh.
in a nice way.
almost can't resist making frames at bus stops.
this dude puts up some new sign every damn day.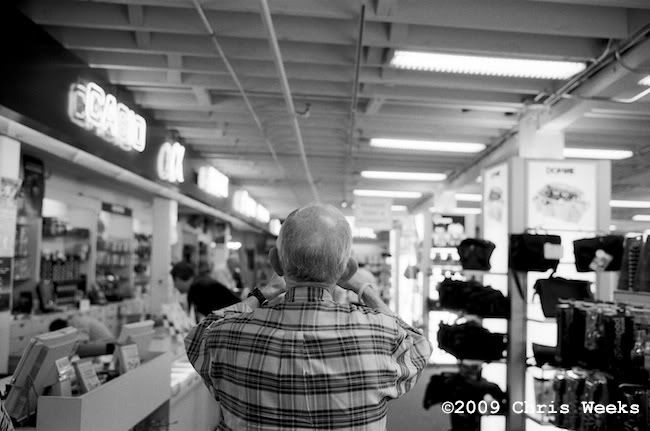 made one frame with the new 24/1.4 whilst visiting some friends...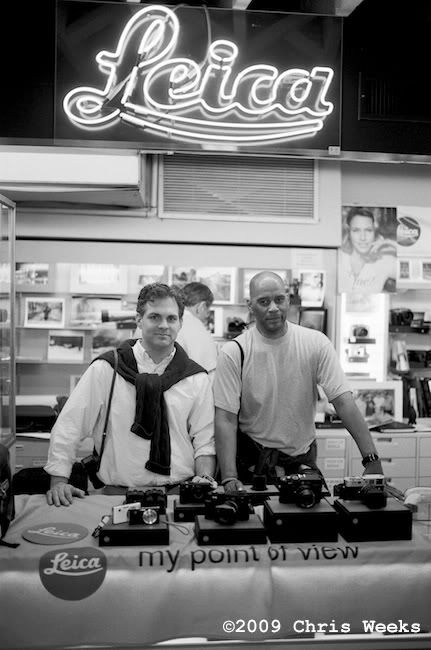 i also got to see the new noctilux.  not that i'll ever own one.  i think my old one from the 80's purchased from a dentist, of course, will suffice.

i really like the shot of the old man's ears, actually.  ;)



good ol' century city.  it's the home of the annenberg space.   took my daughter there a few days after i covered the opening of it.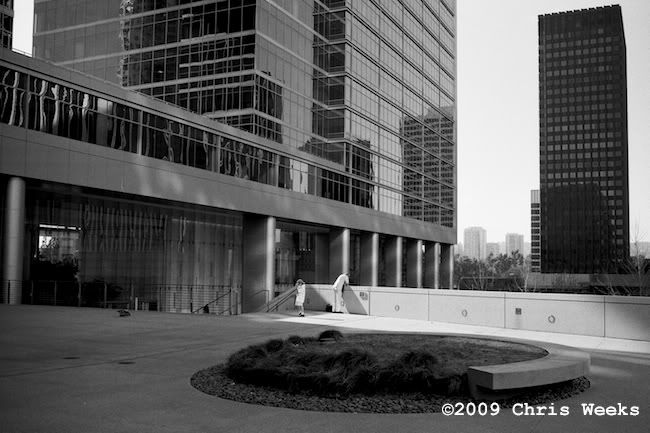 and i walked out and saw some kid with a camera taking a picture of a bag.  reminded me of ... um ... american beauty somehow.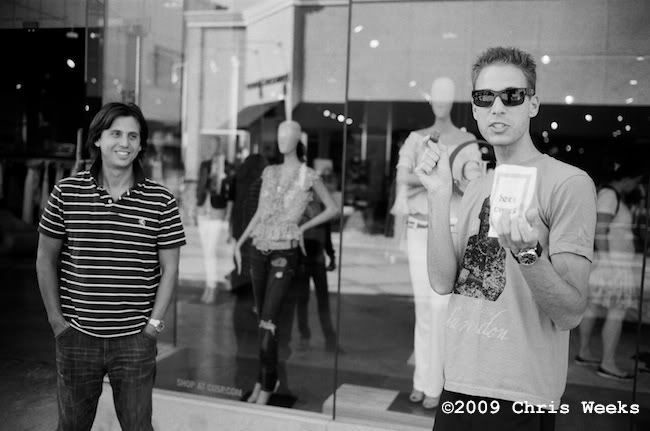 ran into some friends when we went to an adjacent mall to eat.  the one on the right needed a sugar high.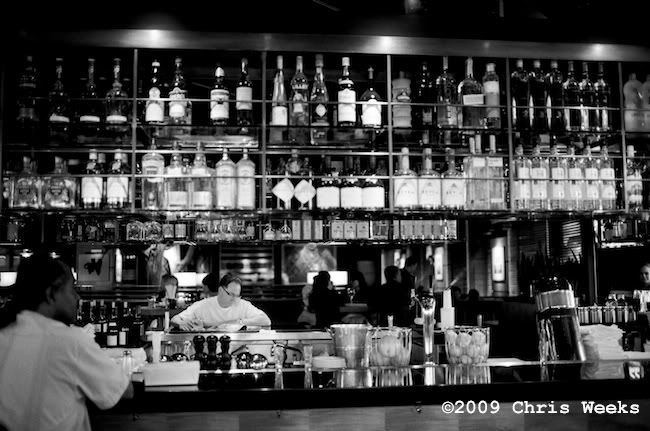 i like sniping in bars.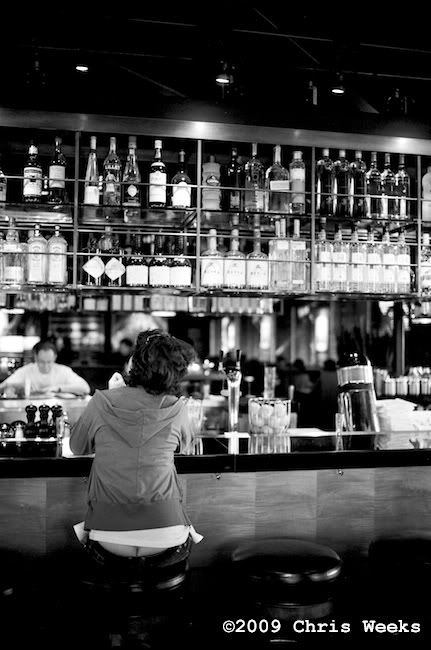 you occassionally see the inevitable sharpie warmer. ;)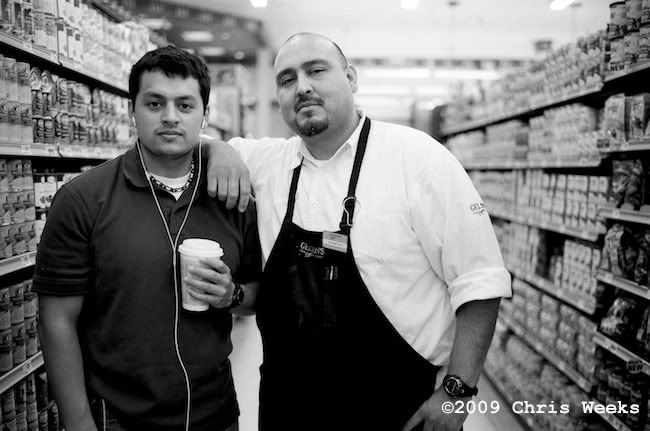 "christian" on the right said "that's a cool camera."
we talked about it and i asked to make a photo.  we have a print we have to get him...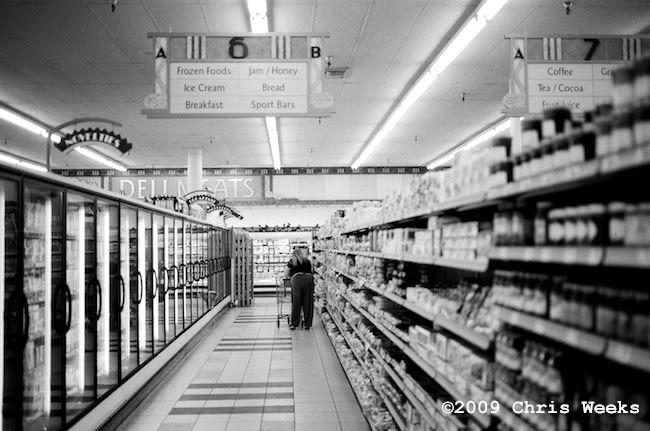 so ... i just figured out that you guys have seen all of the things that caught my eye -- besides work -- in the two weeks this set represented.
odd.
hope you're all well.  thank you for the comments the last time 'round.  there were quite a few.  most even got posted. ;)
the sun's breaking through the clouds finally.
the cold is almost a memory.
cheers from the now-partly-sunny-la!