best quote i've heard all night.
 
i just saw this photo again when i logged into photobucket ...
it's the gift which keeps on giving i think.
dunno.  when i saw that photo it immediately made me think of wank and his two pocket shuffle. ;)  (seriously, that last wank-link is priceless).
i'll keep the fanny pack, mate.  and mine's not even made for photo; it's just a random north face one.
and i think this has gone from a semi-regular blog to a bi-weekly column to ... whenever i feel it which is once or twice a month ... irregularly, of course.
besides ... status updates are essentially a "mini-blog" anyway.  i don't mean fucking tweets, though.  twitter is abso-fuckingly-lutely one of the most annoying "things" i've ever seen.
"i just made coffee."
"um ... it's good."
"now i have to take a shit."
jesus.
really?
i just wrote that and looked up and saw oprah.
coincidence?
let's see ... lately ... been shooting a lot.  and in all actuality ... i've been shooting a lot of personal work as well.
got to talk to douglas kirkland for quite a while a couple weeks ago which was nice.  i was shooting for the annenberg foundation of the opening of their space for photography here in los angeles -- the only one of it's kind in the world i may add.  although i worked the event with jeff, i went back a couple days later with j and b.  m wasn't welcome:  strict anti-spaniel laws are enforced there. ;)
i know that they had to be rather political when selecting work but ... baldisari ... jesus.  fucking donkey alert.  you have to have an mfa to like that ... or run a website and use your skill as a writer overshadow the fact you can't shoot.  gorman was represented as well.  like some of his stuff.  thing is, though, you can look at it and think "this was the 80's."  the latimes shooters had nice galleries.  who else dammit.  oh yeah.  tim street-porter.  architecture stuff.  and mr. shulman ... architecture as well.  sorry but i kinda think shulman "fell into" it all.  lotsa uneven horizons and terrible glares.
not just because i spoke with him but ... what's interesting to me ... forgot someone ... greenfield.  i mean ... honestly ... i know a hundred people as talented as she is.  there's just nothing really spectacular about her work.  it's good.  whatever.
but ... when one looks at something douglas does ... it looks as if it could have been done today even though we know the subject is either old now or long-dead.  what he really gets ... is life and the real subject in his work.  not only that .. he's the most modest amazing person one could get to meet.  if you're in l.a., you should check out the space.
wait ... there was someone else who was there who when you see their work you say "what the fuck?"  oh yeah ... opie.  jesus-friggin'-christ.  really?  i'm sure an mfa can tell us all why they're amazing.  i'm sure.  perhaps even a phd.
from two squirrels screwing to this diatribe.  hmm.
i've been doing a lot of portraits with the 4x5 and have been really loving it.  dunno why but landscape, which i know it does well, just doesn't do it for me.   seems too easy.
guess that's why the wank-and-file love it so much. ;)
what else?  i was on a cruise ship last week! ;)  i was on this crazy old-people cruise ship in norway but this one took the fucking prize.  amazing. 
shot my friend trevor recently...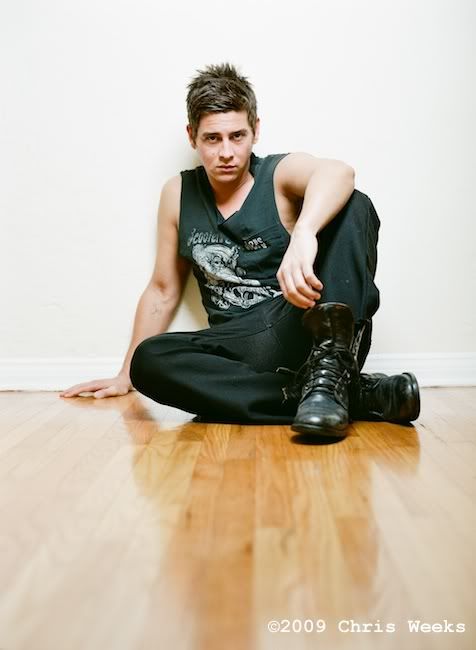 contax 645 with the 80/2.0 zeiss.  kodak porta 400.  hensel pro-mini with a beauty dish on a redwing boom.  ambient light as well.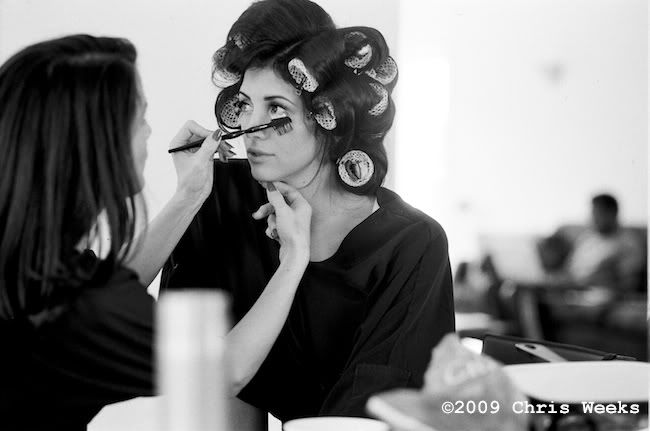 that's my friend hope having her makeup applied.
same setup as trevor's photo except a bit more ambient floating around.
except the first of her in makeup was with the
leica mp
and the 1.4/35 'lux.
like this one ...
apple boxes have many uses.
primarily for sitting but still.
love shooting the leica gear in between "the other photographs."  then again, i even use it for "the other photographs" as well...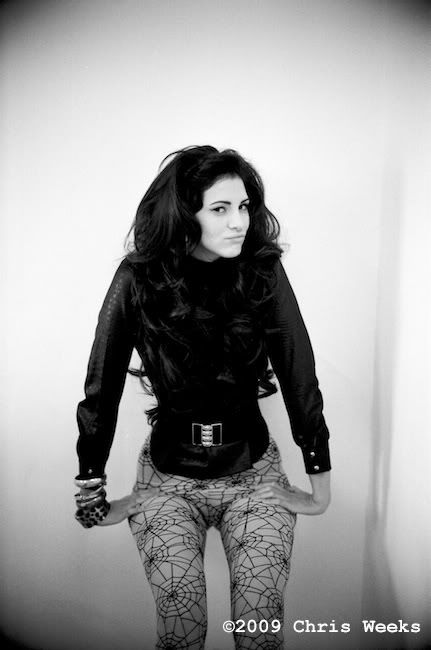 and, no, those vignetting corners are caused by using f/1.0 with the nocti.  they are NOT the favoured filter or whatever mainstream flickr shooters do to their photographs.  in-camera or go the fuck home. ;)

i don't mind a bit of vignetting as long as it's real. ;)

had the opportunity to walk around los angeles as well ... i always enjoy that ...



barkeep
has the trippiest window displays.
and i'm still fascinated by surveillance cameras...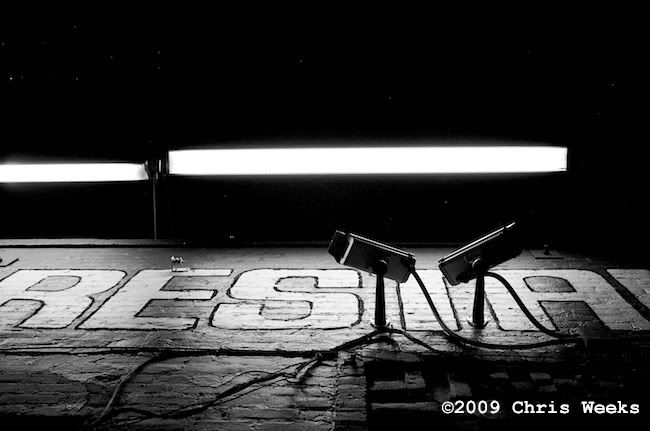 didn't have to walk far to see that not every worker believes in O.S.H.A.
i guess it's one way of getting the job done.
i really think it's time for "the hills" to go away.
fyi.
i mean ... i really like lauren as a person but ... i think it's time they go.
how about a friendly spaniel?
his "throne-away-from-home."  he always gravitates to that thing.
actually, believe it or not some listerine-drinking nightmare called the police on j and i because he was upset a dog was in his presence.  seriously, he was drinking listerine.  and, yes, the cops actually showed up to the "vicious dog report at the swimming pool."
fucking suburban tools.
you should have heard j get in this motherfucker's face.  all those years in entertainment have served her well. ;)
i hear that people with SEVERE drinking problems drink listerine.  26.9% alcohol content.  a glass of wine has 14%.  who-the-fuck-knew.
poor spaniel.
i really like this on a thirty inch monitor.  dunno how it plays at 6.5 inches, though.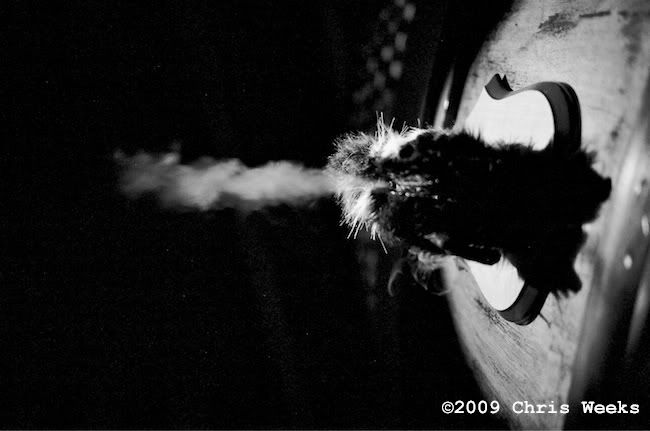 that is a fake skunk .. found at stinker's.
if you're eastside, check it.  if you tip well enough, the bartender will pull either of two handles:  one is for a set of air horns and another is for five or six skunks to shoot steam out of their asses.
l.a.
love.
it.
mario just sent me this.  my heart goes out to the victims, survivors and displaced in italy.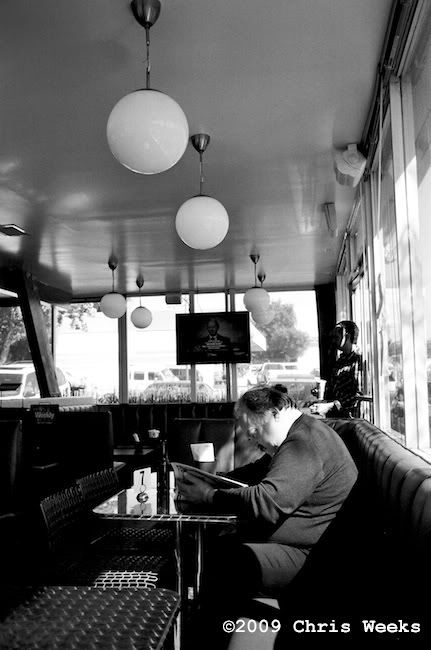 love the fact "they never see me shoot" when i use a leica rangefinder. ;)



dunno ... i just love finding the random elements i find in the street.
i like random, though.
and, fyi, did another blurb book for myself but i made it available to anyone who wants one ... e.u. 01.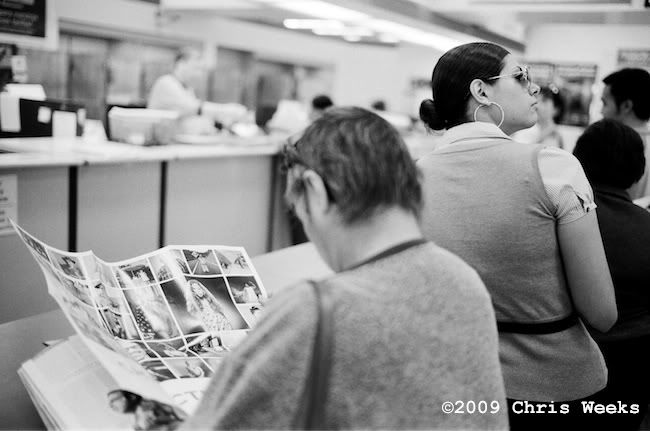 fucking post office.
i think it's universal what a piece of shit these places are.
oh, sorry, did i offend a postal carrier?  sorry. ;)
usually i just offend photo students who have no idea what it's like in the real world. ;)  perhaps they'll be good enough to actually make it. perhaps they won't be good enough.  perhaps they'll find themselves as assistants shooting for a furniture maker.  dunno.
not that i really care.
i love how many things and how many worlds can exist in one frame.  in one 1/500th of a second.
god dammit we have nice weather here. ;)
i was driving with mario on our way to some protest against A.I.G.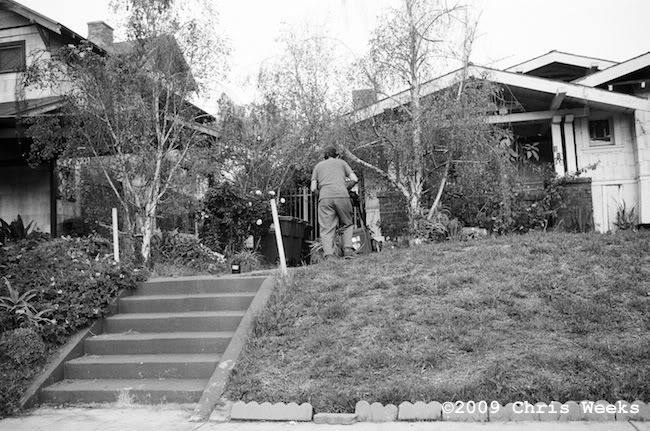 and people actually mow grass.
had no idea.
but they do.
i'm sure even if it's for a job, it's probably more honest than having zero talent and reviewing photo gear, right?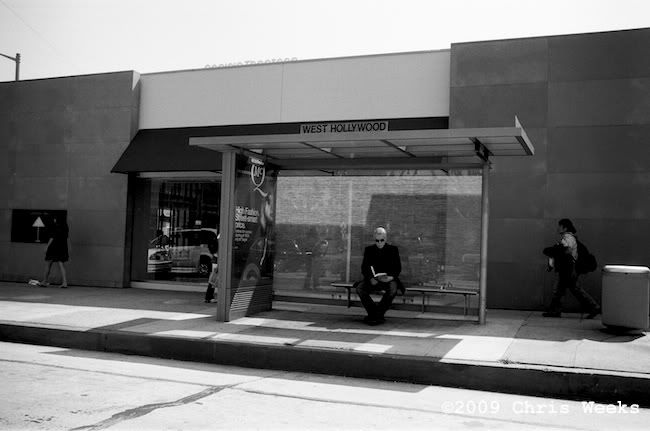 love this area. there's always something interesting.
and further down the street to the right if you're a fucking pap ... you've got a lot of subject matter to shoot (e.g., robertson's trendy shopping area).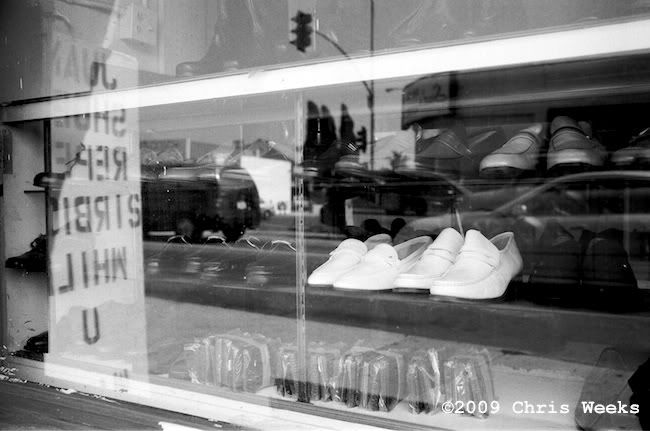 yo, nhat ... i think they have some shoes you'd like. ;)
unless, of course, you're more interesting in a fake mustache.
or you like to pose with film canisters. ;)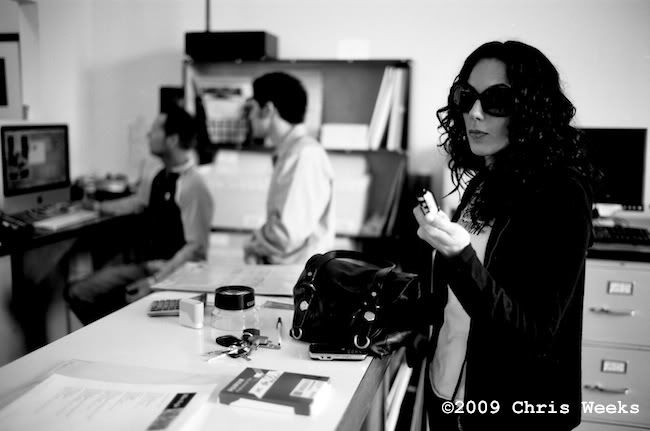 yes, that's 4x5 film being dropped off for processing.  portraits with a 4x5 are so much fun.  wide open as usual. 
see ... i hardly have time to scan for myself.  4x5 lab scans are too expensive.  yes, i have the epson v700.  yes, i make scans sometimes.  no, i don't usually.
it's a time issue.  same reason i don't process my own film.
i make photographs; i don't process them.
of the working photographers i know less than 10 percent of them shoot even ANY film.  and ... none of them save one dude i just met ... process their own work.
people with a lot of time on their hands can do that.
yes, i know you think you know everything.  but you don't.
;)
took another walk and was amazed how many four-legged friends i met ...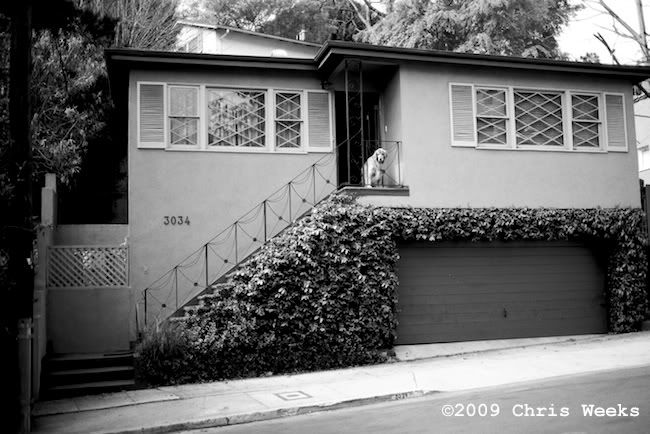 i think he wanted to see if it was a nice day.
it was.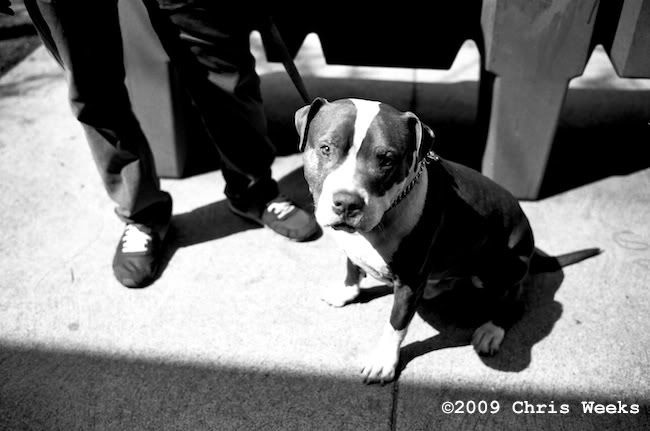 homie was one of the nicest pitties i've ever met.  i think his name was tank.
i think a lot of pitties are named tank, though.
love frenchies.  they're so friggin' cute.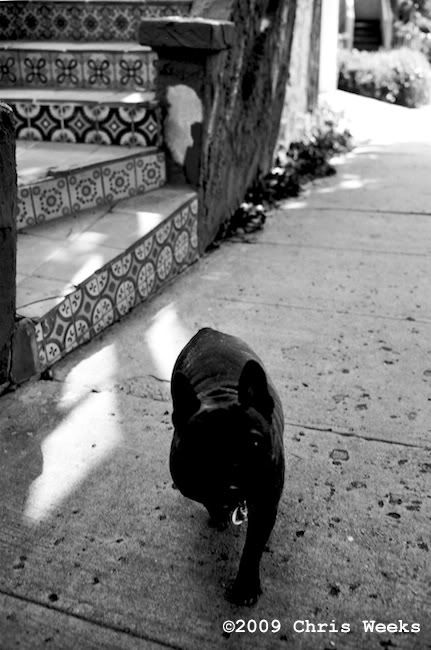 when they're really socialized well they're such amazing little dogs.

even though the cavalier is my favourite of all breeds ...



sir winston was a rescue.  when you buy a dog from a pet store they buy from breeders who think this breed -- and others to be fair -- are commodities.  sir winston's developed the heart problem which plagues this friendly breed ...
and he doesn't have much time left.
how could someone treat something that only wants to love you ... as a commodity?
seriously, makes me sick.
so ... yeah ... pick up the new overhead frame tomorrow!  didn't like the big bulky rental ones made of big round or box tube.  so funny even though matthews makes the bulky ones, they're strong.  they're also heavy.  and ... they fly overhead the subject for the most part unless you put a reflective rag on it. when you fly something overhead ... you can seriously hurt whatever's beneath it.  i checked out the scrimjim line and found them fucking flimsy as shit.  not only ... the rags velcro on.  no thanks.  not only but they're like us$500.  there's also the the sun scrim by sunbounce but ... they have that flimsy feeling as well.  not only that but they're expensive.  honestly, it's really nice having grip-friends who turn you on to the best, lightest and strongest equipment out there.  honestly, everything else other than matthews is kind of shit.
i prefer using available light. 
we have nice weather here.
:)
so, yeah, been busy ... but i wanted to share some of the random stuff of late or at least the last few weeks.
honestly, i can't keep up with digital.  there's just so much. 
hope you all find yourselves well.
cheers from the so-fucking-temperate-los angeles-it's-ridiculous. ;)