i know ... been quiet ... i mean unless you count status updates as micro-blogs.  still don't like twitter, though.  been quiet because i'm friggin' busy as hell.
had lotsa oscar-related stuff this past week.  think i did vegas the weekend before.  think so.
'bout to go hang out with the nyc-guys.
shot the independent spirit awards today!  it's not really the job, the shooting beautiful people ... it's the hanging out with your friends at something called "work."  work!  makes me laugh.  doesn't seem like work most of the time.
i mean ... i'm still excited to look at "my take" even though the editors have gone through it already and sent it out. 
seriously, the thought of doing a select process in photo mechanic, copying to a folder so that originals aren't fucked up, opening those in ps cs3, doing the normal adjustments, resaving, etc., etc., sucks ass.
importing, selecting, doing some adjustments and then copying those adjustments and pasting them on my selects in aperture and then exporting ... ah ... so nice.  so so so nice.
dunno if it was 7 minutes but ... it was pretty damn quick.
made 2500 frames or so.
but like i said ... it's nice to work/hang with your friends...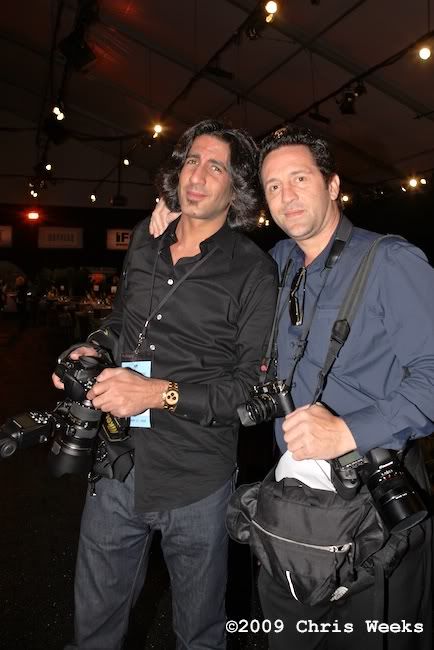 the flowing haired greek is d.k.  google dimitrios kambouris sometime. ;)  he makes great photos!



this is jamie mccarthy ... so stoked we were able to hang out so much over the past few days.



actresses in a box?  i thought it was funny.

i wonder what would think if they saw their photos on a "cheat sheet."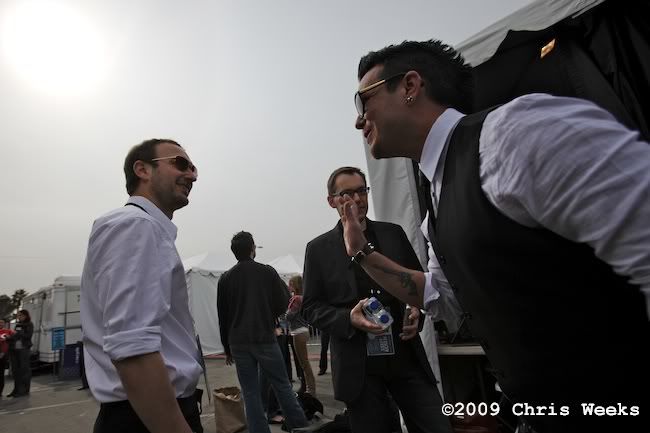 dunno why i thought this hipshot was funny. 
as you can see we had a nice overcast day (e.g., god-given scrim). :)
so funny to me that you're expected to get to certain awards shows at some ungodly hour, then wait, and wait ... and then shoot for a couple hours.  once i'd gotten some of the requisite "atmosphere" done ... went to do some red carpet work ...
thought that photo was funny.  and this one...
odd reaction to champagne.  i think, at least.
she was kinda full of reactions that day ...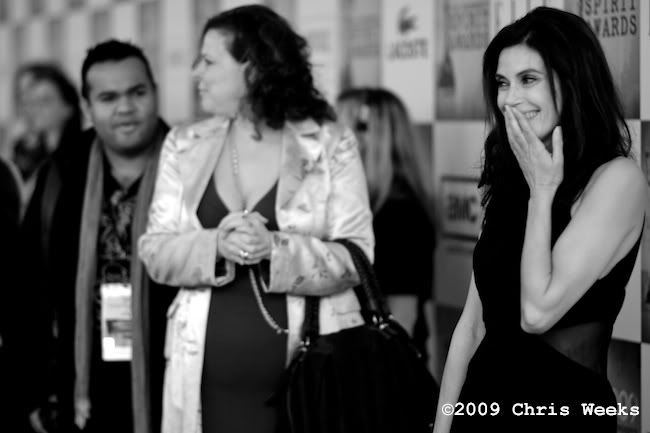 in case you're in europe and don't know who she is ... teri hatcher. 
actually, there are several people i still have no idea who they are.  happens.  there are just so many pretty faces in this town no one ... ok i'm sure some ... could be expected to identity...
and, yes, as per usual when "big names" show there were at least a hundred press line photographers.  just so you know ... THEY ARE NOT PAPARAZZI.  sure, i'm sure one or two have to be from x17 or some pap-agency ... but in general ... PRESS LINE ARE NOT PAPS...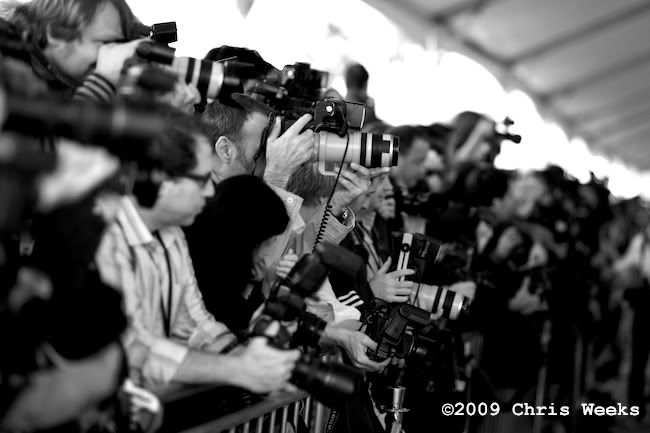 and, yes, this post does, in fact, have a few photos made with the 24-70/2.8L -- the entertainment workhorse -- but most were made with the zeiss ze 85/1.4.  don't think i broke out the zeiss 50/1.4 save a couple times.  love love love the zeiss ze 85/1.4.
honestly, i think that i get more "goods" (read:  in focus) than i did with the 85/1.2's rather slow autofocus.  yes, i like the zeiss ze 85/1.4 so much ... i sold the 85/1.2.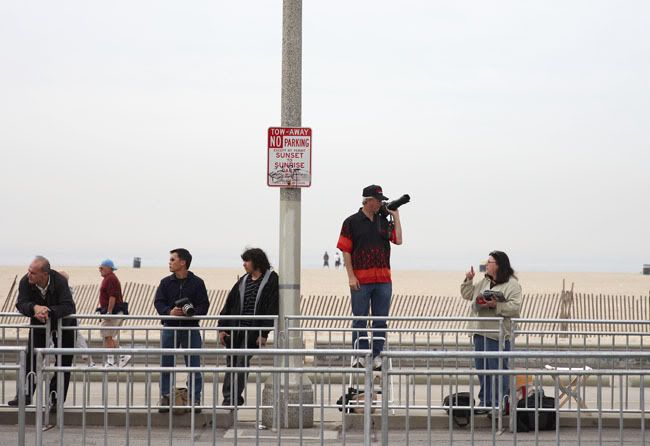 the dudes standing at the event's edge are paps.  anyone who takes a picture -- i say take a picture because they know nothing about "making photos" -- without authorization ... they're paps in the context of celebrity.
in the context of the human condition ... you're just doing "street." ;)
not that i'm biased or unbiased toward one or the other. ;)
still think it's funny my friend brad said "paps are the modern day HCB's."
pardon me, brad, if i disagree with you.
would be interesting to give a group of paps 30 leicas, though. ;)
that would be totally better than giving wank a leica, though. 
the paps would probably get better photos ... and i'm sure ... they're ALL better-published than the wank.
i'm perplexed why wank is so "pro-leica" now when he previously thought they were for "rich amateurs."
no, ken, just because you try and impress your workshop attendees with your leica-toting ... doesn't mean you can make a photo. ;)  enjoy your audience of rich old white guys ... that's about the only success you'll have in the photoworld. ;) 
my boy, granitz, google steve granitz sometime ... he ... and mean we ... get called paparazzi by the likes of wank ... that onlinefailedphotographerguy ... that failed photographertechreporterguy ... just so funny.  google and see what granitz started.  he REVOLUTIONIZED -- and a few others, of course -- how photos are distributed.  smart mo-fo for sure.
not a pap.
whereas it pisses j off when the uninitiated call people like me ... my friends ... other entertainment shooters paps ... it doesn't really bother me as much because a) i know they suck as photographers and b) they have no fucking clue what they're talking about.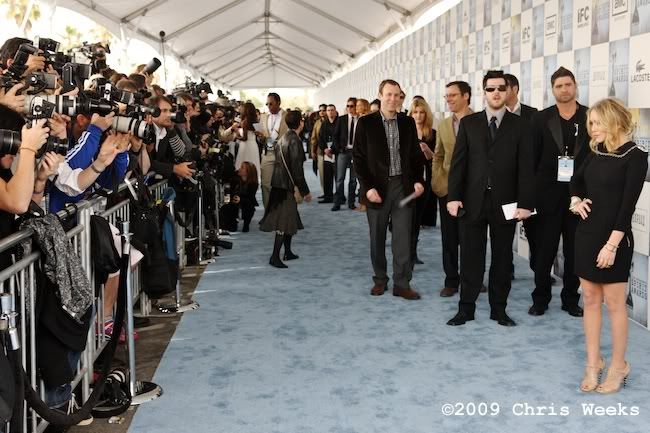 what i love about this is that tyler boye ... is just chillin ... knowing he got the photos he needed.  hilarious.  most others wasted a whole 4gb card on mary kate.  for sure.
see all those friggin' lenses and shooters and gear?  well ... guarantee that 99% of the shooters will have more success in any area of photography than 99% of those in photo school either here ... or in central europe. ;)
just sayin.
just sayin' that mickey rourke is ... fucking rad.  he just doesn't care.
and how do i make the distinction between what's colour and what's monochrome?  well ... usually it's when i know i made the same photo with one of the leica's.  and yesterday ... i shot apx 25 +1 all day. :)
cannot wait to see the take when i get it back from the lab!  in the context of entertainment the leica mp comes out when ... there's gonna be something really good to shoot.
yes, i know ... if you process yourself ... you're much cooler than i and have a much deeper appreciation of film.  especially if you live in central europe, of course, as well. ;)
last time i did a cost-per-frame analysis it was us$00.52 per frame of scanned processed film.  that ain't cheap.  i think with all of the labs closing the remaining labs jacked their prices.  guess i should do another cost-per-frame calculation again. hmm...
good for mickey rourke!  for so many reasons.  handed him a glass of champagne.  he downed it.  he went to sign some autographs for fans.  was walking back and i said "yo, mickey ... another glass?"




funny mo-fo.
loved it when the talent were far enough away so that i could "go wide" with my 85.  i know ... i should have been "banging out headshots" with the 70-200/2.8L.
but no.
see ... i knew they'd make their way down ... and i could get those as well.
see that detail around mickey's neck?  i think that's so cool he has that there.  his beloved dog died. :(  makes me sad for him just thinking about it.  poor little buddy.
if you ever feel bad about where you are in life, find out about mickey's life, man.  you can tell he's so appreciative of what happened with this last film aronofsky directed him in.
wonder if he's more appreciative than mary kate?
remember when i was saying the zeiss ze 85/1.4 manual focus lens was easier to nail than the canon 85/1.2?  reminded me of this photo when i was doing selects...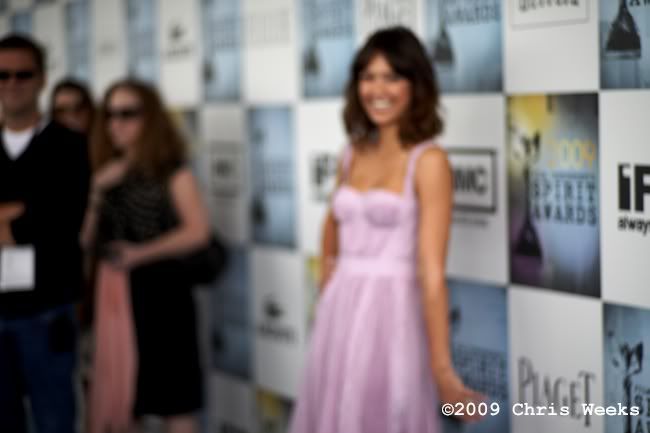 yes, i get out-of-focus shots.  this one ... fucking hurts my eyes.  dunno why.
just does.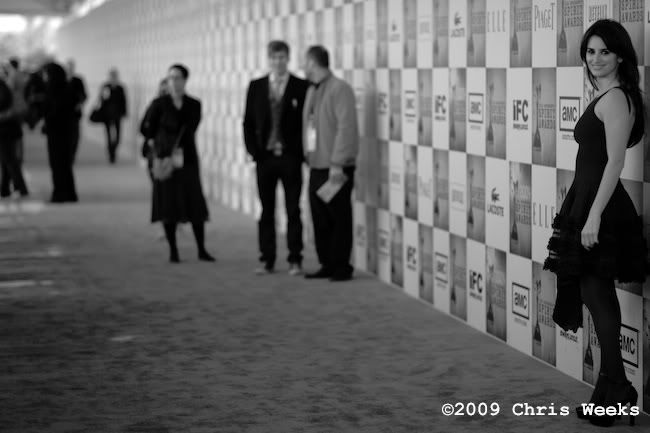 penelope doesn't, though. ;)
definitely doesn't.  funny because some of the line-shooters are FUCKING LOUD.  i mean ... i blame a couple of them for making marlee matlin deaf. 

it's amazing that a smile from 20 feet away sometimes works way fucking better than some anonymous person among 75 other screamers ... gets a better result. ;)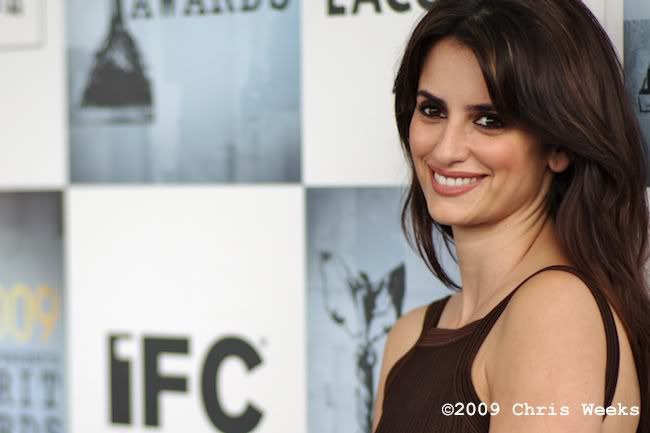 every time i've shot her she's been so incredibly nice.  the first time i ever shot her i said "next to the funny looking guy with the funny accent."
she said "i have a funny accent."
"yeah ... but you're hot ... he's ... um ... old and not."
not nice.  i know.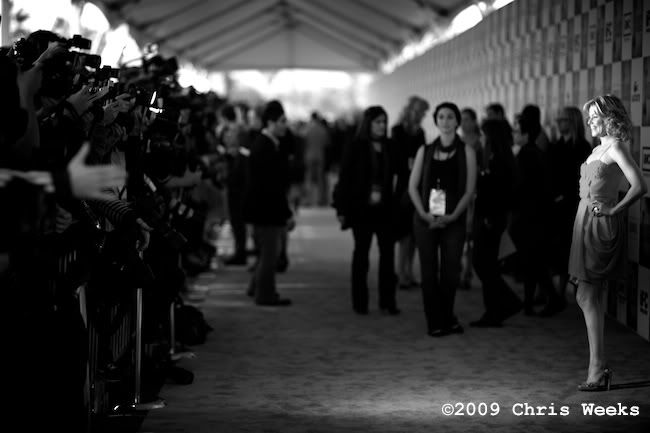 i caught lots of happy accidental light.  that happens when the idiot isn't shooting at f-fucking-eight, though.   happy other shoot at f/5.6 and below with their flashes. ;)
makes for happy accidental light.
i like "other photographs" as well ... ones that i'm sure most shooters on the carpet wouldn't care to make ...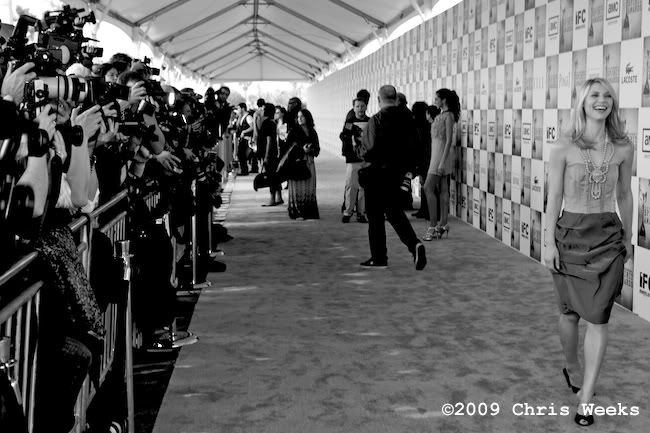 looks like ellen grew up.  think she went a bit heavy on the eye makeup, though. ;)
yeah, i'll be referencing photos i made in the past with links to flickr.  not dA.  community first.  art second. ;)  at least they do know community, though, right?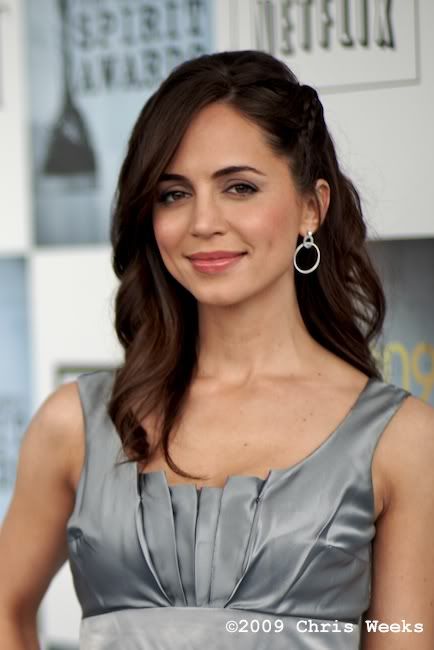 eliza dushku
was there.  but i think i like the photo i made thurday better.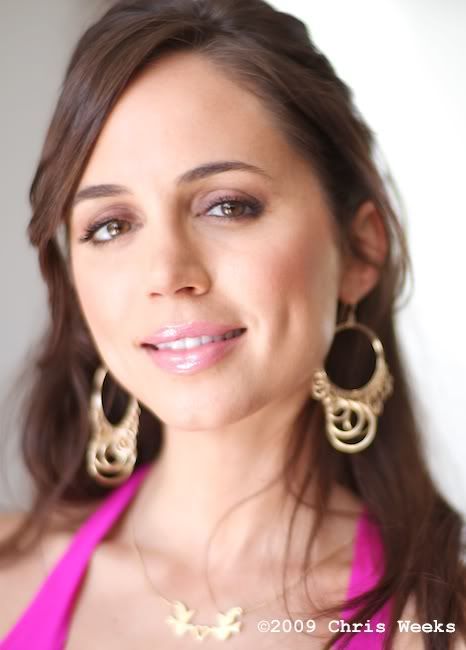 FUCK-ING-LOVE THE ZEISS ZE 85/1.4.  LOVE.
darren was right about it. and, bro, seriously, i'm so sorry about boogie.  i looked at his photos again and felt a huge lump in my throat. 
in general compared to dogs ... people suck big fucking time.
i think it's funny that jamie-fucking-mccarthy had to say to me "language, bro, language." ;)
mary kate laughed though.
can't tell you what she laughed at, though.
sorry.
there are so many stories i could tell ... but ... i probably never will.
i can share them with my friends; they usually have some of the same.
malkovich was there...
anne was there, too...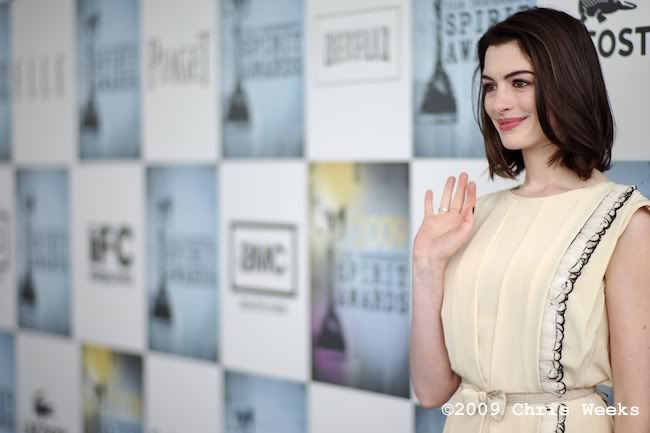 don't think she likes the carpet much.  seems stiff usually.

jessica alba's not stiff on the carpet.  she likes it.
i don't think michelle williams likes being on the carpet much either.
i liked the reflection in mariah's glasses...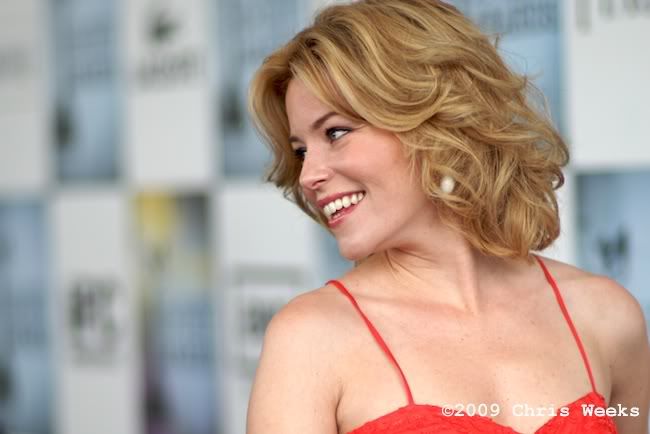 got a chance to talk to elizabeth banks the other night at the women in film party.  very nice.
shot zooey's luncheon the other day as well...
so much hotter than the one dimensional katy perry. ;)
and so much prettier.
and way less full of herself than ...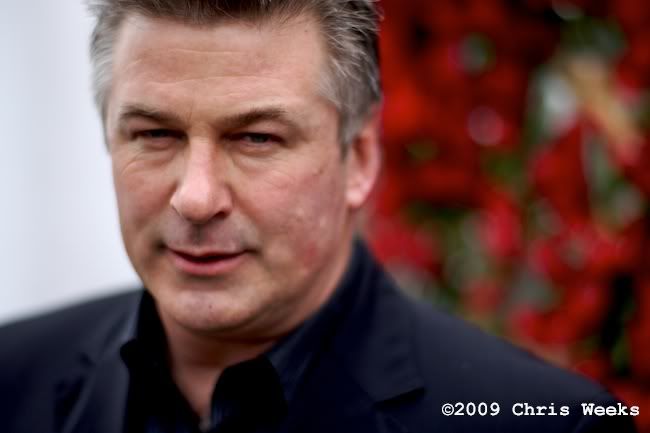 it's like "dude you're an actor; you're not curing fucking cancer."
fucking love the out-of-focus areas of the zeiss ze 85/1.4.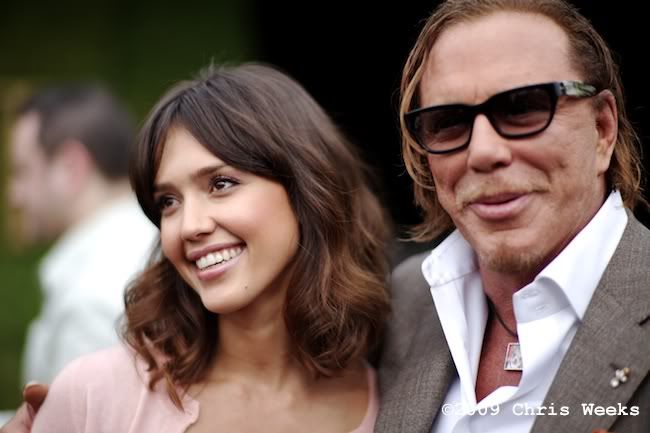 kinda feel sorry for actresses ... they get kinda groped sometimes.  or faux-groped.  but ... that's a whole other story.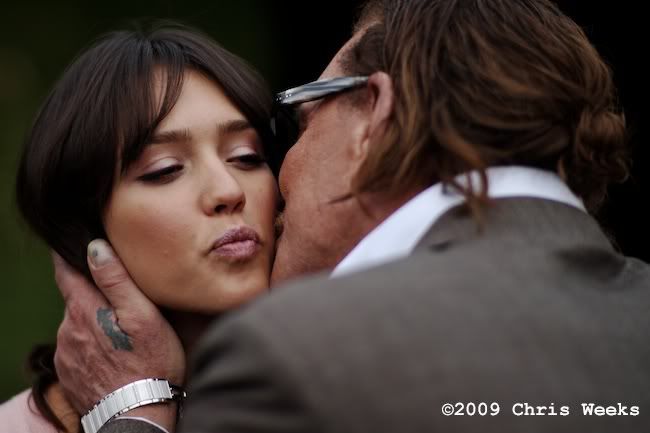 wasn't a red carpet moment, either.  this was backstage.
so yeah ... my oscar-related duties are done.  today's a nice relaxing overcast sunday!
what else?  oh, yeah, j put together my etsy store! :)  there will be more and more added.  promise.
and ... i have a huge backlog of "material" which ... may or may not make it to the blog.  kinda hope it does.  hope to blog a bit more coming up ... hope.
so ... hope you guys are all well!!!!!
cheers from the gloomy-yet-nice l.a.!
-chris