by Nhat Nguyen
I ran out to Marina Del Rey to shoot this story on Jewel Box Platinum. They are the folks who make all the award gold and platinum framed records when an album reaches sales in the millions. Fun place. Small and discreet, you'd never know it driving by. In fact, I have ridden by this place for years thinking it was just a paint shop or a auto parts chroming plant
Front door: Phil Collins keeps away unwanted visitors.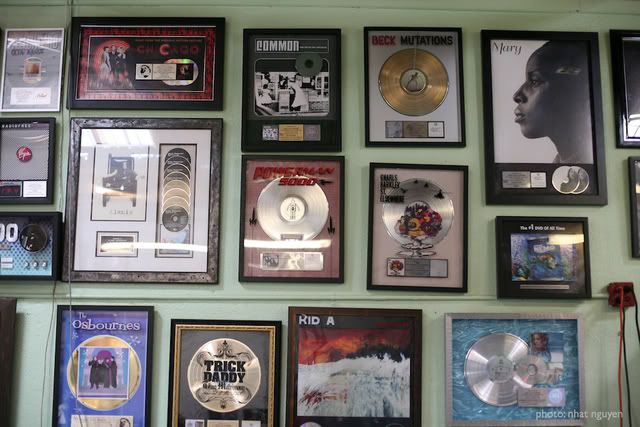 This pretty much sums up what they do.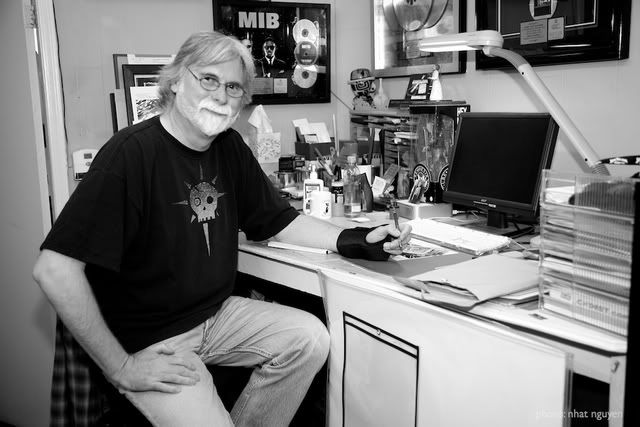 Meet "H", yes he goes by the just the single letter as his name. He wouldn't tell me what it stood for. H is the solo designer here and has been for years.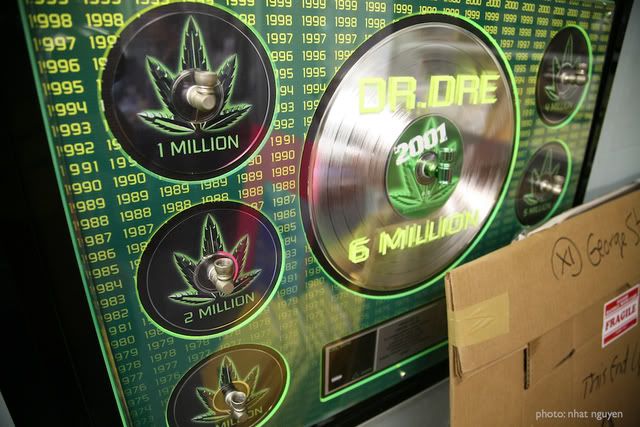 One of the prototypes for Dr. Dre's "The Chronic"
The most expensive one to date is 50 Cent's "Get Rich or Die Tryin'" at over $5000 each (built-in LCD screen and media player)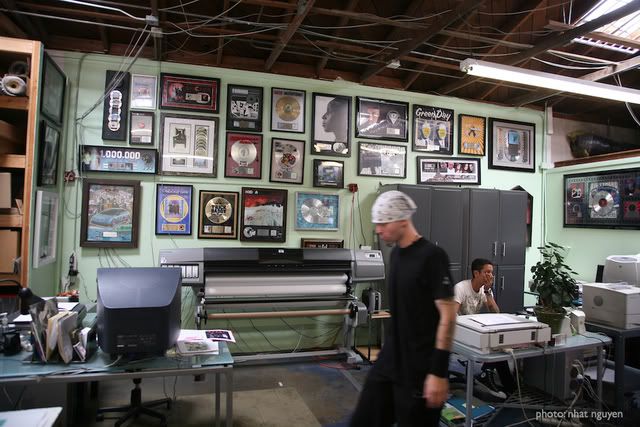 The back area where it all happens.  I want that giant wide bed inkjet printer in the background.
This is Jeff the manager in the back, he handles all the production. Matt is shooting the video interview with him.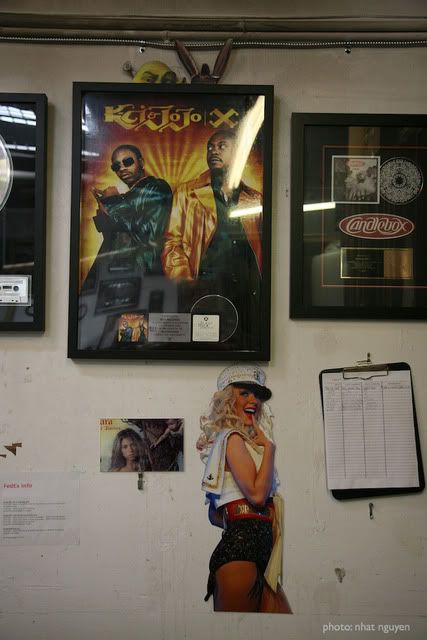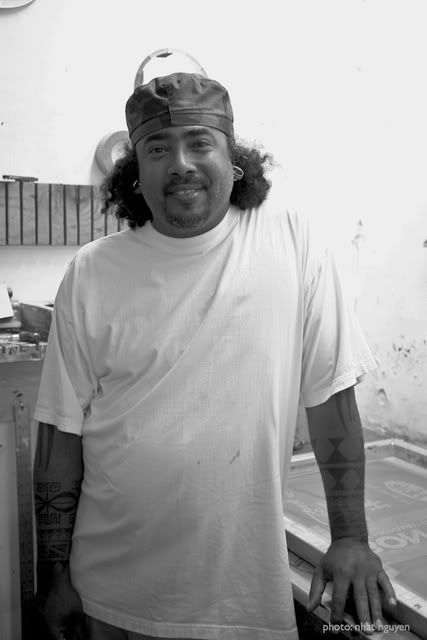 Pedro silk screens in the back. He's working on something for Bon Jovi.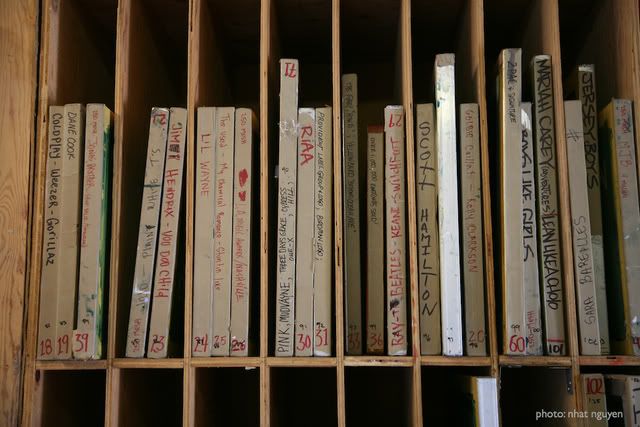 The archive of silk screen masters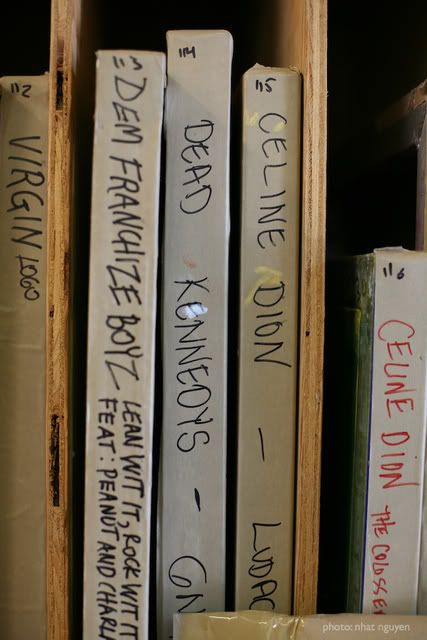 Funny seeing Celine Dion's name next to Dem Franchize Boyz & The Dead Kennedys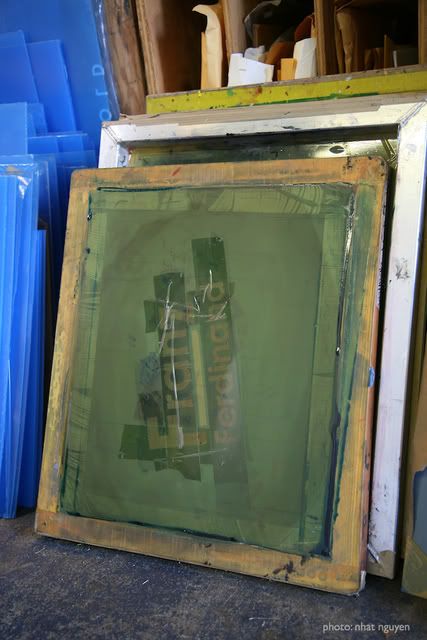 One my fav bands.  Saw them out at Coachella a couple years back. Great show.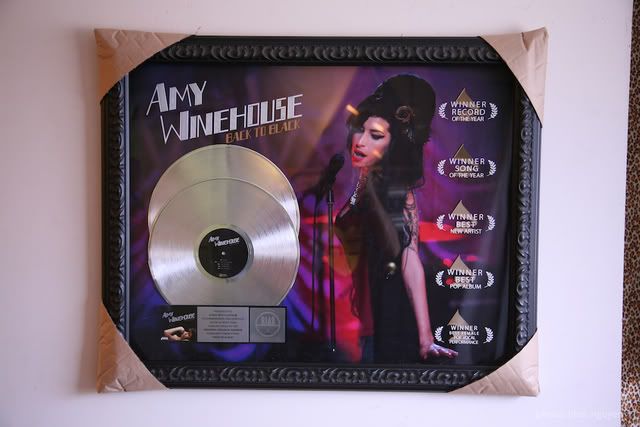 Finished and ready to go. 
That's it for now. I have alot more photos to post and share. I shot T.I. recently, I'll get to posting those soon, especially since he's going to start his jail sentance next month.  I am working on putting together a book of my music photography from the past 5 years, going to self publish that on 
Blurb
. I saw the 
dog books
 that Chris printed and they look great. Planning a trip out to the Salton Sea and might be flying out to Austin to shoot SXSW.  Life after Uber has been a rollercoaster ride in the competitive LA world of freelance photography. 
My 
new site
 is up. I went with Drip Book as a host. 
I was almost hit by a car while out on my bike last nite. He came close to hitting me head on, he wasn't paying attention and veared onto the wrong side of the road. He pulled over and said sorry and we shook hands and parted ways.  
Hope everyone is doing good and shooting away. 
- Nhat