means ... someone found one script in a pile of shit ... and it was halfway decent. ;)  i didn't say that; j said that.  kinda true.
all of the different awards shows are a bit overwhelming.  it's amazing to me how much "weight" different people put on each of the respective awards.
back from the snowy hell of sundance.  'cept it wasn't really hell.  there was no fluffy white stuff falling from above.  that said ... there was a bit more crazy hidden ice than any of the years i've been there.  got to hang out with my nyc friends and i think we went out every night. 
got the zeiss ze 1.4/85 like a day before i left for utah.  since there was absolutely no reason to shoot the beast, i used the venerable 1dm2.  that old body still autofocuses better than any other body i use.  not only but there was no reason to make unneeded actuations on the beast.  seems, though, that the new jr-beast, the 5dm2, does pretty well on it's own.  except for a couple t/s photos with the 5dm2 it pretty much was fitted with either the zeiss ze 1.4/85 or 1.4/85.
funny that every year at sundance one of the leicas have taken falls, knocks or some other kind of action the body didn't like.   when i was just walking around i usually carried the 5dm2 and the zeiss 1.4/50.  shot "camp freddy" with the mp and the 1.4/35, though.  looking forward to seeing those rolls come back from the lab! :)
so are a few other people.
*pauses for some winter x-games snowmobiling*
every time i go to the lab and smell the chemicals it makes me wish i had time to process my own stuff.
then my blackberry buzzes and i know i'd never have time.
seriously, it's so different as a "working photographer" than someone who's ... not a working photographer.  my friend dk went from nyc to utah to the bahamas and then to l.a. yesterday.  each leg of that was an extended-assignment.
happy this time 'round it was la to utah and back.
there's not a huge group of people who get to experience this kind of shooting schedules.
in our circle we all know each other.
funny to me so many on the web (e.g., bloggers, commenters or community participants) think they have a clue and they so don't.  in fact, even with marginal talent or even a "photo education" ... they still will never find out what it's like.
conversely, i'm stoked i know some who have begun their "track" to become "working photographers."
other of you ... enjoy the fact you'll never become anything more than "internet posters" who think they know what they're doing.  ;)
enjoy your time in the lab. ;)
so ... yeah ...
think my sundance began with ... hanging out with these guys ...
rather than ... this ... crazy thing...
nothing about that thing was right.  and ... even though better judgment would have told me to "eat at home" ... even the 5 bites i had ... well ... i think i paid for them for at least another day.
above and beyond the food, though, it's nice to see people i work with ... like merritt (shooter) and melissa (editor)...

and meryl with her little contax...
no idea why she wore that hat.
this is in the main street bus taking us back to "the compound"...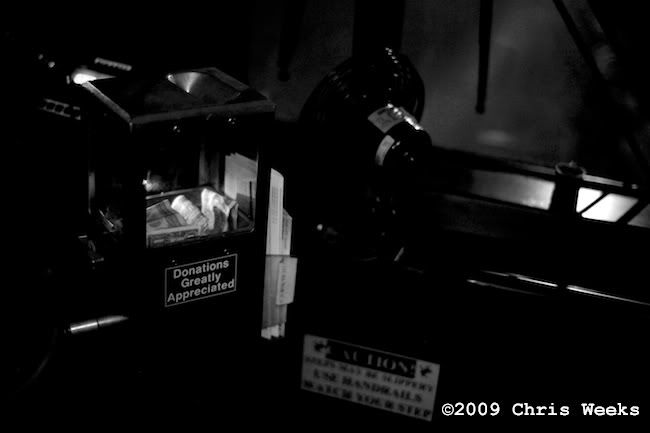 free transportation!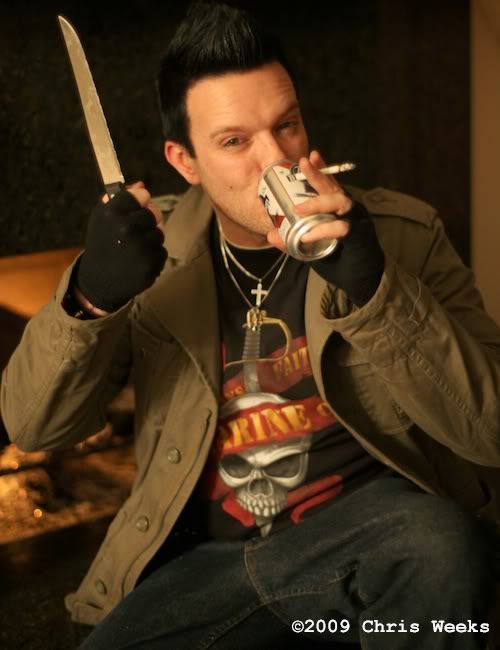 jamie again guarding his beer.

or the fire.

don't remember which.



dunno what annah was explaining to merritt.
the night wore on.  usually does the first night.  this time 'round though ... there were a) less than 75 people in a two-bedroom condo, b) no cops at the front door and c) no firemen at the front door either.
much better this time 'round 'cept someone said "no party, you guys must be getting old."
whatever.
this year at sundance ... it was more subdued.  i think it was a combination of the global economy and the no-on-hate people boycotting utah and their mormons.
mormons are nice.
was difficult to find atmosphere photos because there weren't hoards of people...
walked 'round once and found one...
submitted like 5 photos to the editors and i was done with "official atmosphere." ;)

even on the first day there were movie poster-things all over the place ...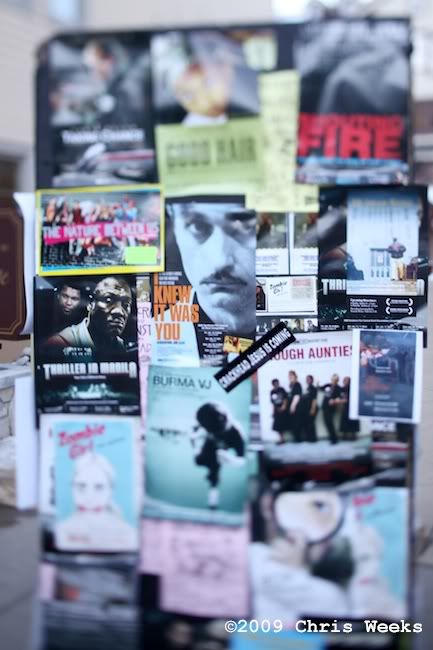 that was another of the five. 

think those were the only non-zeiss photos in this post.



that's dk.  he works a lot.
as opposed to not-working-alot-photographers. ;)
this photo had absolutely nothing to do with anything "officially sundance" but it did get lotsa play. ;)
shot a female snow boarder but i forgot her name as soon as i voice-tagged the files. ;)
so don't remember. 

i do remember being happy i was shooting that zeiss glass.  handing it over to people who haven't manual-focused since 2000 ... well ... that was fun, too.



thought i'd remember the name.
still can't.
i even
covered a premiere
. ;)  yes, mate that's much different than doing your cousin's wedding.
his film had a lot of buzz.  unsure why i was summoned to shoot a premiere but ... i think we could be safe to assume a) using people with cameras is different than having photographers and b) newbies suck. ;)
they could be out doing a familial wedding, right?
that counts as a "working photographer," no?
;)
no, mate, your opinion doesn't mean shit to me. ;)
this little guy's opinion means more ...

that was the 1dm2 with flash.  just so you know.  forgot about that one.
whilst i participated in the commerciality of sundance ... there were photos to be made, though...
that's emma roberts -- julia's neice.  love it when people know how to look at a camera! :)
5dm2
.
zeiss ze 85/1.4
.
large window.
nothing else. :)
did almost the same photo three or four years ago, too.  odd.
christina millan is always nice.  like always.
and so is ewan mcgregor ...
don't be daunted by not having studio gear ... a nice large window does the same thing.
i mean ... if there's some sort of sun coming through it, of course.
so nice being back and using aperture, too.  of the few photos i had to edit in ps cs3 ... i'd much rather be in the normal swing of things and editing in aperture.  so much more intuitive.
and, yes, i have sold the canon 85/1.2L and replaced it with the zeiss 1.4/85.  not only ... but the old canon 50/1.4 has been replaced with the zeiss 1.4/50 as well.  although less pronounced with the canon 85, the canon 50 had a bit of colour-fringing issues.  the zeiss does not.
every mf on the planet shooting canon has the same "out-of-focus background" ... and i prefer the "out-of-focus-background" the way the zeiss renders it!
cannot wait for addition glass to be available.
another reason not to use pirated software. ;)
i've never quite understood how people get pissed off about their photos being misappropriated on the internet when they edited said photos with "ripped software."  doesn't make sense.
nor does wank trying to bag on leica for naming their lenses whatever they've named them.  honestly, wank shouldn't even own a leica.  i think that's worse than 10 dentists, 15 engineers and a couple physicians thrown in for good measure ... collectively owning leica and making horrible photos. ;)
speaking about donkeys -- besides the ones we encountered at the l.a. art show -- i wanna know how one can possible say "a lens isn't recommended" when the person writing up the "article" doesn't even include photos of his work?  i mean seriously?  this dude's "test shots" are probably worse than wank's ... for sure.
amazing anyone takes those two seriously.
and if you're in central europe and think i'm mean, i think you're irrelevant. ;)
and you're on ip-ban.
when i got home from helldance i was greeted by a box from norway. my friends sjurd and antonio built me a new camera...
cannot wait to take some of the 4x5 to the lab.  f/256!  i was so stoked that sjurd and antonio took the time to build me a pinhole!
the view that evening was quite nice...
wonder what it'll look like in pinhole?
okay ... stuff to do ...
hope you're all very well. thanks as always for the comments!
off to the lab and to get something to eat!
cheers from the soon-to-be-rainy-la?
p.s., i hope everything works itself out soon ... for my friends in iceland.  can't believe this craziness.