was about to say "fuck typepad" and would have if i didn't go to "status" and find out many were having problems logging in.  after removing their cookies ... all good.
stupid blogging sites.  at least uber.com (god rest its soul) was good and i could power through a shitload of posts.
typepad?  not so fucking much.
whatever.
about a week or two ago we were driving up to the mountains and were faced with an addition three hour trip "up the actual mountain" and i said, "fuck this."  on the way back i noticed santa anita and decided the next day we'd go "watch the ponies."
b liked it.
so did j.
in fact, so did my parents.
not sure if this guy did, though...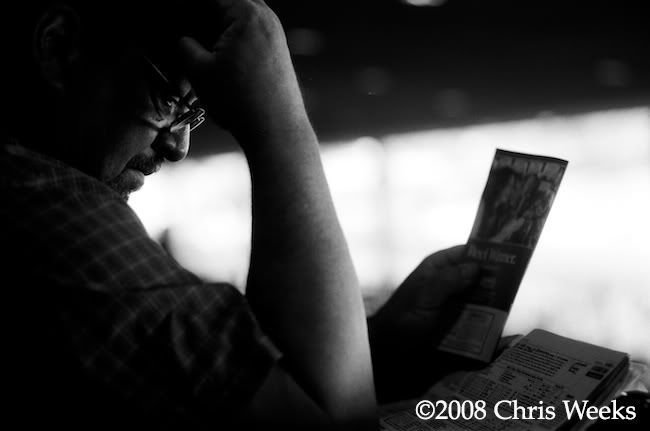 serious business that horse handicapping.
i've always wondered why it's call handicapping when handicapped means you are riding a scooter or getting premiere parking.
oh shit, hold up.  i'm looking at photos and don't quite remember their order.
hmm...
we were having a quite a bit of fog and overcast conditions.  this is, of course, before we skipped the rest of winter AND spring and arrived squarely in late june with these record-setting temps.
sorry that we're 90F degrees warmer than you in minneapolis. ;)
80F without the windchill. ;)
the weather is lovely in park city, ut for the sundance film festival! :)
happy about that.
it was -14F when i went last year and it sucked.
i want to see snow.
as the result of snowing 2 weeks prior to my arrival.
i can wear normal shoes.
so stoked.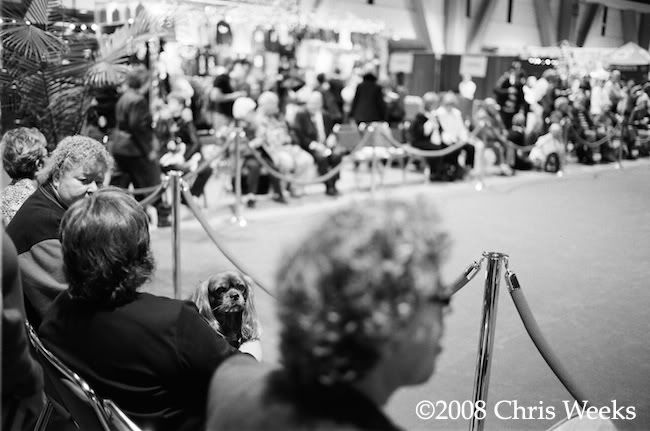 'specially when i notice a happy ruby cav taking in a "best of breed" show. ;)
yes, i'm spaniel-friggin-crazy.
you'll notice that -- yes, besides the tanking of uber -- my posts have gotten fewer and fewer since we got m ...

with a face like that how could i blog as much?  (but i did just figure out how to center verts)
well ... it's that and time and ya' know.  stuff.
m wishes he could play with all of the dogs in the ring.
he's not quite a show dog .. but ... we definitely know how to tell the difference between dogs.  it's amazing.
we've gotten to know a lot about spaniels in the past year and a half.
someone we can even call our friend now has imparted ... in fact ... there are two people we can call our friends ... and the information they've imparted ... my god.
i mean, yeah, dogs are dogs ... but ...
we've kinda taken it to a different level.
this whole process seems kind of masonic, though.  almost like there are levels.
yes, that world.
i think the thing is that when -- yes, i know everyone loves their dog -- you get to know this breed and discover that all that they could ever possibly do is to make you happy and how genuinely kind they are ... it only behooves you to learn about why that is.  not only, but i also think it behooves you when you care about a breed to learn who to refer prospective buyers to.  that sentence sucked but i don't care.
there are people out there peddling dogs with serious problems to unwitting people.  it sucks. 
this breed has a potential heart problem.  reputable breeders try and breed this trait out.  puppy mills whether they're here or in central europe and others who try and rip off unsuspecting rich people by charging upwards of US$4000 ... they don't care.
sorry.
this was about horses.
should be about monster-fucking-trucks, though...
no, it shouldn't.
one of the "most wrong" things about america.
although if you're in iceland, it's totally fucking cool because the ride up the mountains in that monster was amazing.
here it just means you support things you really don't understand. ;)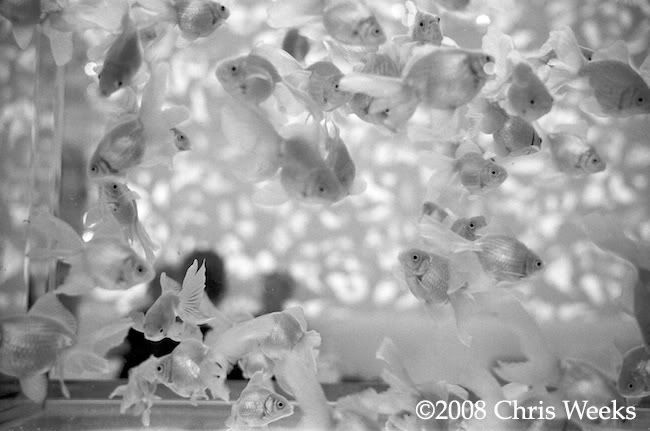 how about goldfish?  there were thousands of them at beijing noodle co. no. 9 in vegas. 
not to eat.  i don't think.
we stuck with pork.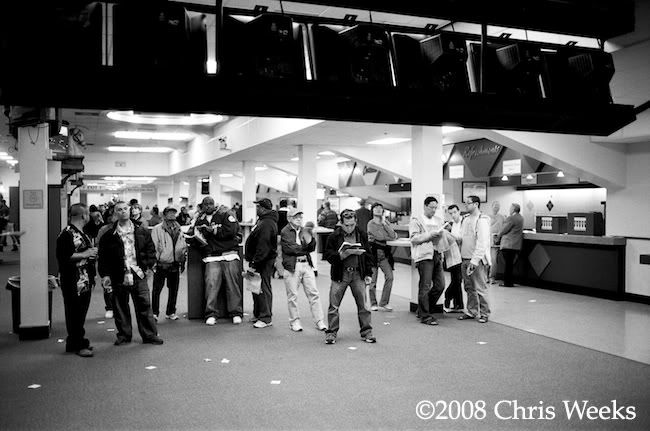 i can definitely tell you to "not" stick with the hotdogs at the track.
although i used to go with my dad and his friends a lot ... i forgot how serious these people are about horses.
dude in the next box over, though, had six tickets with five out of six horses picked correctly.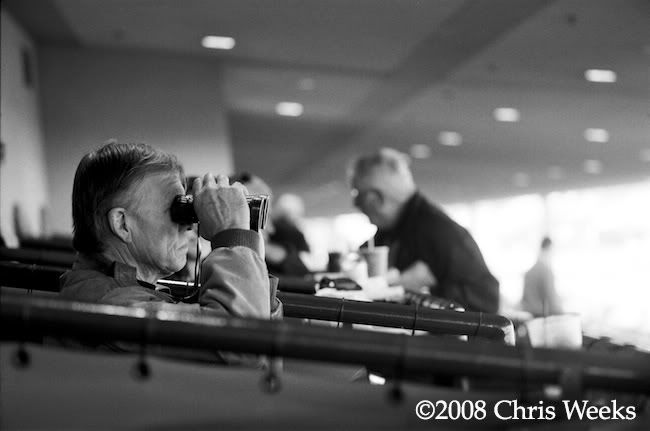 forget how nice the leica 90/2.8 is.  it's just not something i think about shooting much.
i do .. and have ... enjoy shooting the zeiss 50/1.4 for my canons.  kicks the canon versions ass.  no more colour fringing.  just got the 85/1.4 as well.
only shot a few hundred frames.
of the dog, of course ...
m.

that was the canon 5dm2 with the zeiss ze 85/1.4 wide-the-fuck-open with some nice light and a breeze.
did that one in photoshop as i'd already batched the export from aperture. hence the reason this one says 2009 and the others oh-eight.  have to make a new template-thing for aperture. 
the 5dm2 is amazing.
it's us$2.5k.
that's just sick.
for what it can do and the price they're charging ... there's really nothing better out there.
and, ken, one has to know how to actually make a saleable photo to really know what they're talking about. ;)
having "minions" of pageviews doesn't mean you know shit, bro.
just so you know.
horses.
but as much as i love what canon's done and zeiss is doing ...
i still love shooting the mp.  even a crap labscan looks nice.
they're not crap. 
don't want to offend but you know what i mean.
having that little body and that little lens, which can do so much, is such a joy to have up to one's eye.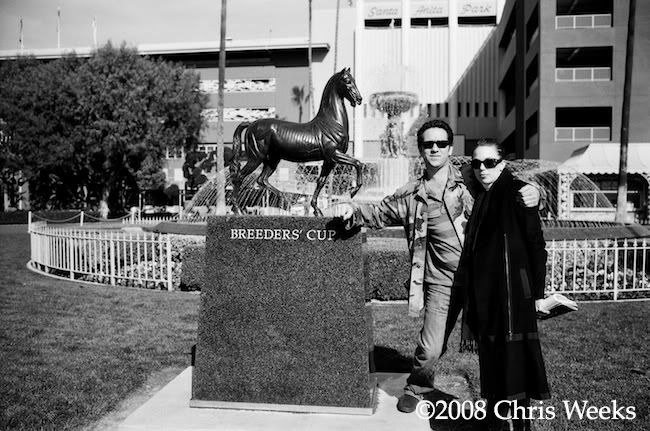 even b can handle a leica m now! :)
and score goals in water polo.
even though her dad's blogging is mirrored a bit by her online comments.  hmm...
what can i say.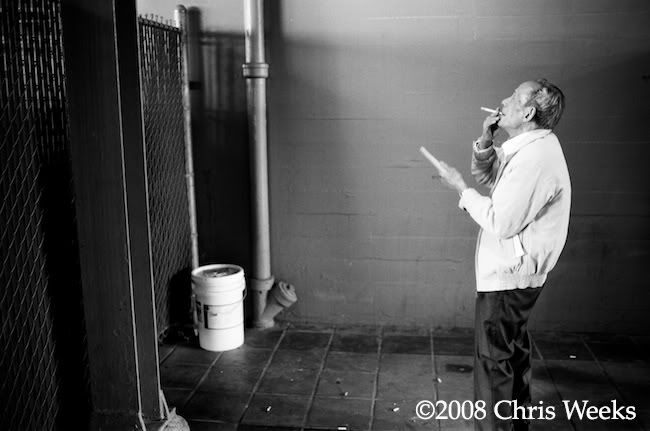 guess i could have been that guy if i didn't quit 18 months ago.
if i were asian, of course, but you know what i mean.
no idea what they're looking for.
perhaps they're channeling their "inner horse-whisperer."
dunno.
was amazed that the box we had allowed the 90 to make some interesting photos ...
not that i wouldn't have minded being on the track, of course.
but ... work's work.
and ... chilling with the family donating to b ... is chilling with the family and donating to b.
it did well at dodger stadium once as well.
hard for me to wrap my mind around anything longer than a 75 or even a 50 on an m-body.
we did see a few horses fall that day.  didn't make any photos of that.
when i photographed professional polo i didn't shoot that aspect either.
i see that kid and want to see the photos he made that day.
i guarantee he made better photos than wank.
i know.  i can't resist.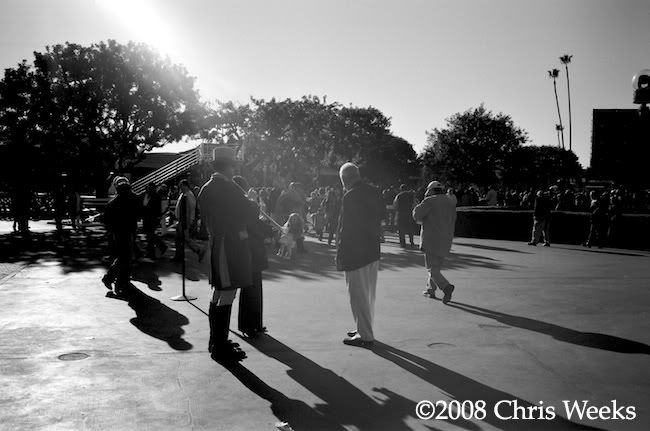 i really don't know what's going on there.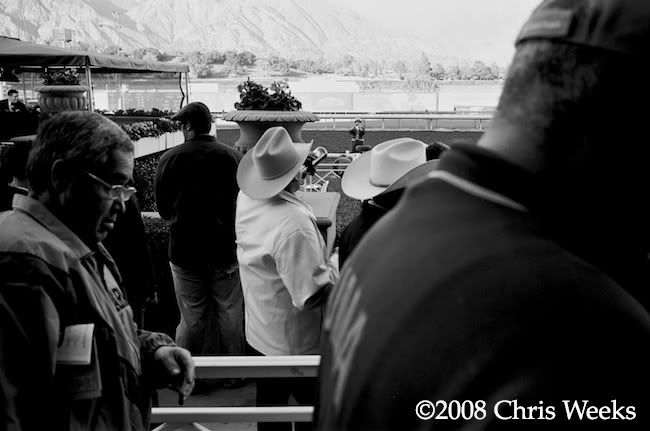 nor here.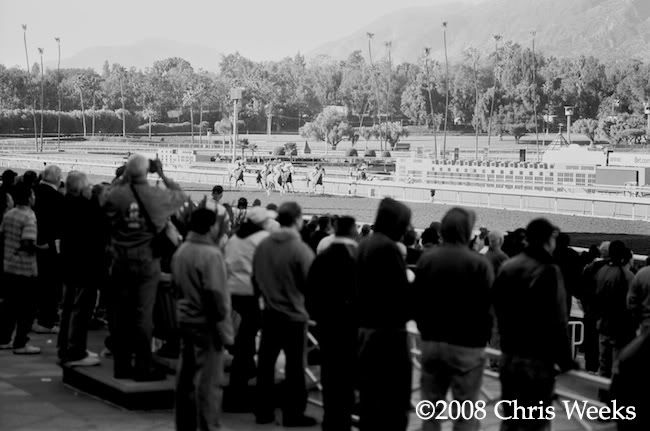 we did manage to walk around a bit, though.
and i think i want to walk 'round a bit more, actually.
they don't give a rat's ass about cameras whatsoever.
besides spending formative years with my dad and his friends i shot some stuff for lifestyle magazines of trainers ...
but i think i want to go back.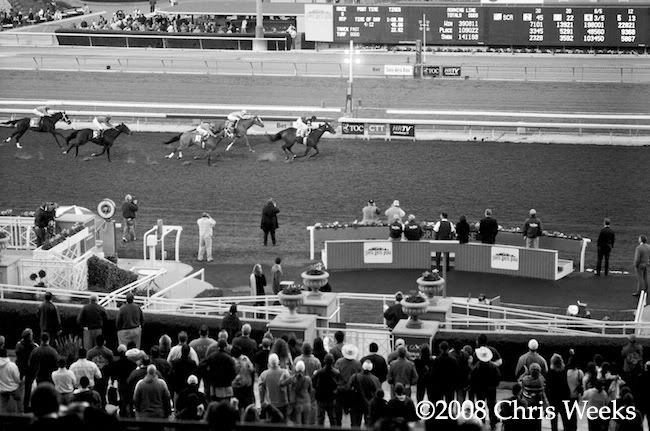 it's such a pretty sport.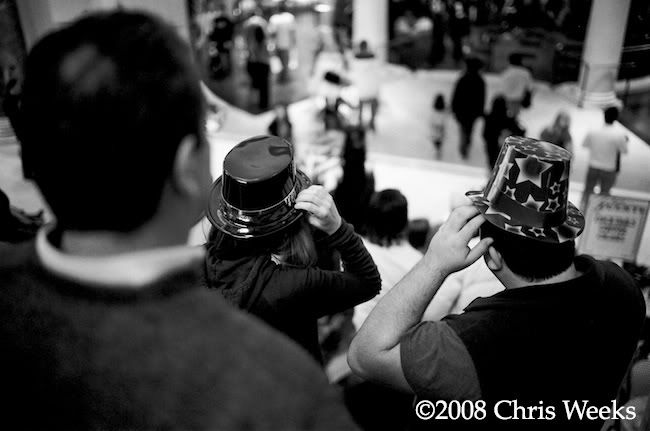 vegas on new years is not a pretty sport.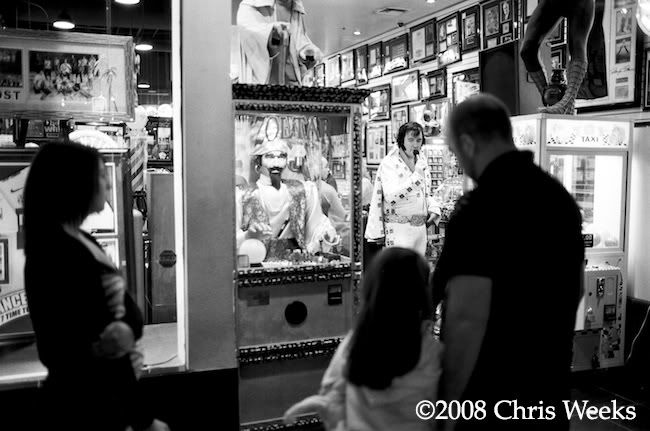 most definitely not.
and kevork made a nice shot of j and i ...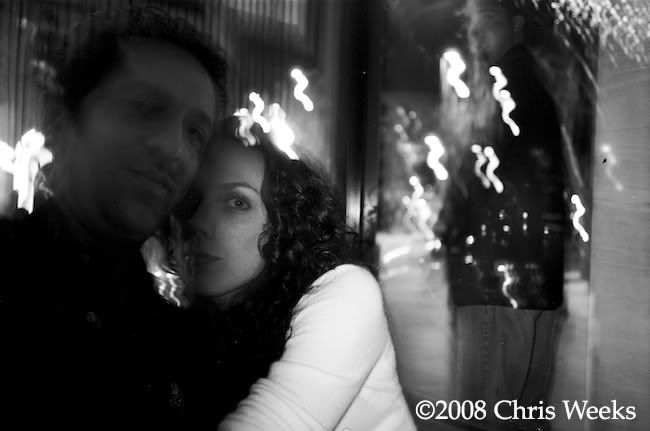 the yasica t4 super d is all i bring to parties.  parties where i can actually party.
kevork wasn't in las vegas for new years ... this was a friend's 40th on the "west side."
we don't venture there much.
too many prius drivers. ;)
not that there's anything wrong with priuses.
always nice to be back on the eastside, though.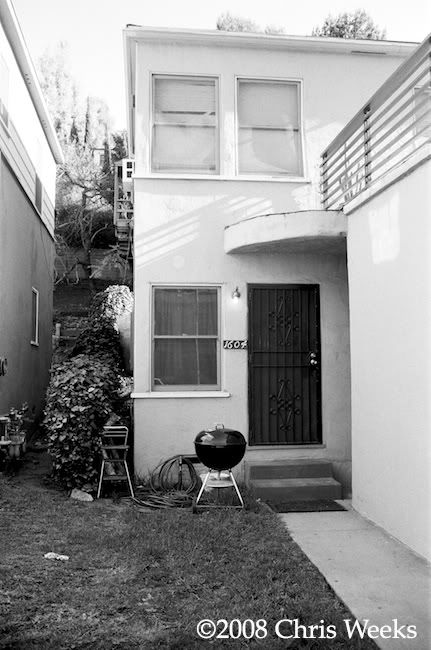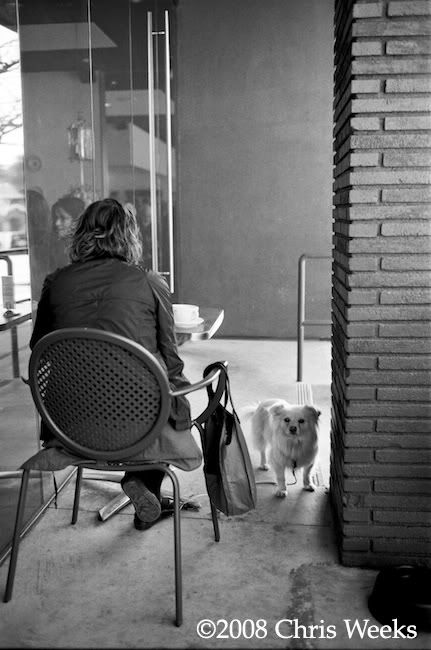 with a dog-friendly policy. :)
so, yeah ... i think i covered everything.  dogs.  horses.  donkeys.  wait ... i didn't talk about photoLA yet.  but i will.
have a pretty good reserve of photos ... but ... i've just been busy as hell.
should have the next "street book" out on blurb in the next week.  wanted to make sure the quality was good enough.  working on 3 others.
j's helping me with the etsy site.
as ... the prints from the canon pixma 9500 are spectacular.  much better than dA prints ... and ... i can sign some!
way better than i could have imagined.
um ... my napolitano-friend ... he decided to keep the nikon fm3 and the zeiss 50/1.4 ... which more importantly than having to put it on ebay ... made me happy that mister-anti-film ... isn't so anti any longer. :)
loving making videos with the 5dm2...  you have to be on facebook to see it, though.
okay ... gotta pick up some gear being repaired and pack and all sorts of shit.
hope you're not freezing.
i'd feel bad wearing shorts today. ;)
thanks as always for the comments and sorry the posts have been a bit scarce lately.
cheers from the balmy and breezy los angeles!