dunno why but i love whatever song that line is from.  hear it every time i go to vegas and when i listen to girl talk.  like now.
jesus christ.  wtf happened to photobucket?  i just hit apple-tab and saw this ...
not that there's anything wrong with miss sharapova but ... it thought it was us weekly or something.  not that there's anything wrong with us weekly.  of course.    hmm ... perhaps its also the fact i'm not used to seeing adverts on sites where i'm a subscriber.
with the title i chose for this "entry" ... how do i segue?  only to a dude in a bearsuit...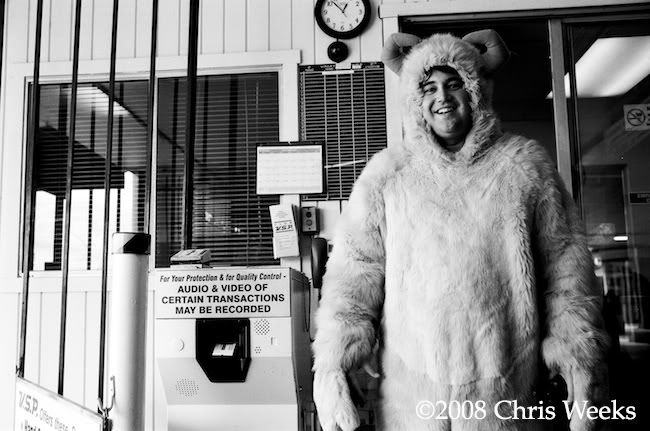 in all fairness ... they dressed up where i park my car sometimes.
from maria sharapova to a dude in a bear suit ... to ... j holding up the new shirt she can't wait to wear...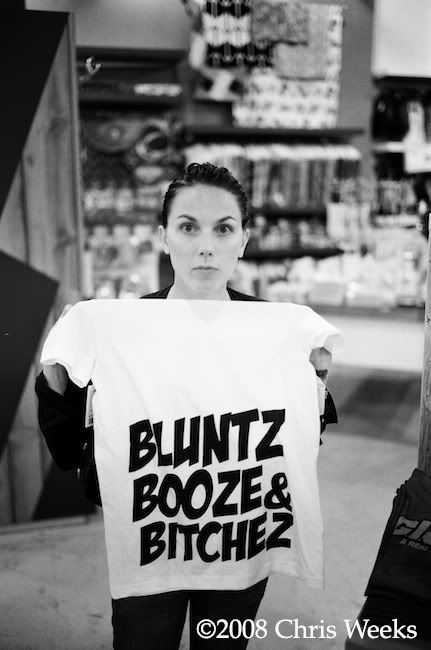 it's really what she's all about.
actually, i had to buy two that day ...
but i'm no so sure she'll be able to wear it to school. 
dunno.
no, she wasn't very happy to pose with it.
all good.  she'll have an interesting archive for sure.
thanks to her i've now seen my first water polo game.  had no idea it was as violent -- underwater, of course -- as the four-legged version.  i also found out that the 5dmark2 looks pretty amazing at 3200.  and unlike any of it's brethren ... pretty damn nice at 6400.  handheld with the 70-200/2.8L. 
very much enjoying getting to know the 5dm2.  there's a whole different feel to it than the last one.  i mean ... the last one ... i still think is one of the best digital cameras (bang vs. buck) ever made.  ever.
anyone need an nikon fm2 with drive or the zeiss zf 50/1.4?  lemme know.
should have the zeiss z-whatever-the-hell 50/1.4 for canon. :)
no need for nikon any longer.  even a film one.  :(
poor old nikon.
it does have a brand new shutter, though.
love that the new nikon d3x is coming out at eight grand!  whatever.  i dunno why people fucking bitching about it.  i paid that much for the monster.  it's still a monster.  if i shot nikon, i'd be stoked to know a big-ass full-frame monster was now within my grasp. 
most pros who get one will pay for it in the first month if they're any fucking good.
wanks who hear their wives say "get a real job you loser" ... well ... i'm sure it'll be a bit tough for them to chew.
honestly, the sony system with the zeiss lenses sounds more interesting to me.
just sayin'.
not that i'd switch.
i'm perfectly happy with everything canon has done.  this new camera is beyond.
and, dan, i'm happy you're just as happy with the macbookpro as i am.  it's pretty fantastic.  the tapping thing for selecting and dragging ... never want to go back.
feels solid as hell, too.  not that the last one was anything less than solid but there's an amazing feel to this one. 
looking forward to shooting the zeiss for canon at the eukanuba nationals this week! :)
since some lazy equipment houses here in l.a. don't have the 200/2.0. 
samy's you suck.
that's why i buy from b&h.
change?
i think it's ironic on many different levels.
dying breed?
pretty much.  i know that i shoot for a lot of magazines and to a lesser extent newspapers but ... printed matter, man.  dunno.
unless it's a well-crafted monthly ... i dunno ... daily and weekly stuff ... it's old news before it's monday or tuesday deadline hits.
tribune went bk today?  wonder how many newspapers -- read to me as:  subscribers of companies i syndicate with -- are also in trouble?  i'll bet quite a few. 
i don't know anyone younger than me who subscribes to a newspaper.  in fact, i don't have any peers my own age who subscribe to anything daily besides the entertainment trades.
the people older than me ... my parents ...
they subscribe.
odd demographic.
especially in times when we're seen the gbp almost at parity with the euro.  odd.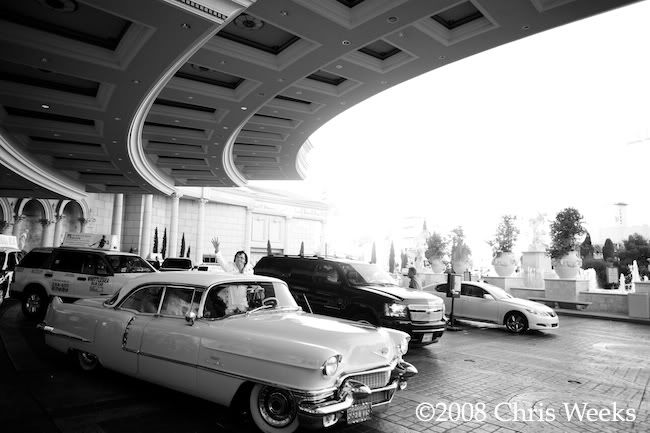 so is an elvis impersonator driving an old pink something or other.  i don't know cars very well.  vintage ones at least.
we watched this dude for a while.  why not.  that's kinda what we do. 
it's fun.
but ... he was doing portraits of some sort by one of the caesar's fountains ...
thing was ... he was mostly fucking with his gear more than shooting.
on the way back from wherever we walked i saw the same dude.  kinda seemed like he was in an alcove and had an h3d in his hands.  funny thing about that h3d ... i have yet to meet anyone who owns one who can shoot their way out of a paper bag.  and if you think i'm referring to you ... grow a set. ;)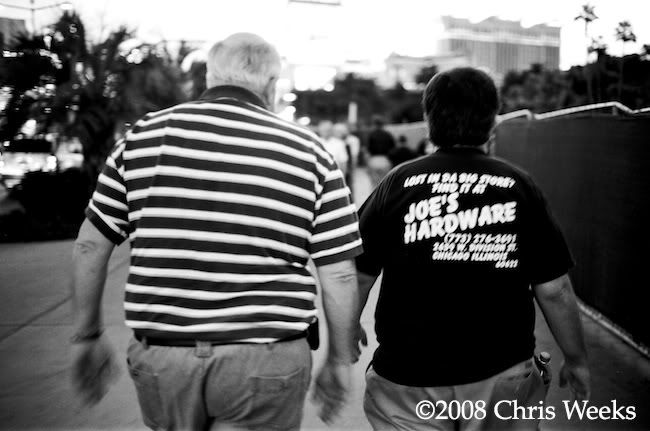 all sorts walking 'round vegas.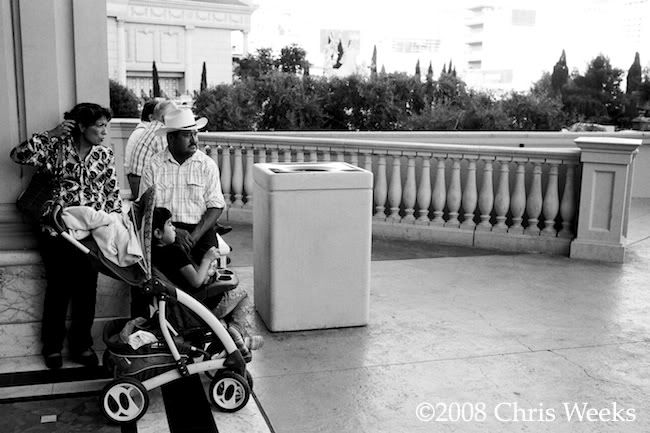 never thought of vegas as a place for kids, though.
it's definitely a place for posing in front of fucking fountains.
mid-bite.  i know.
mean.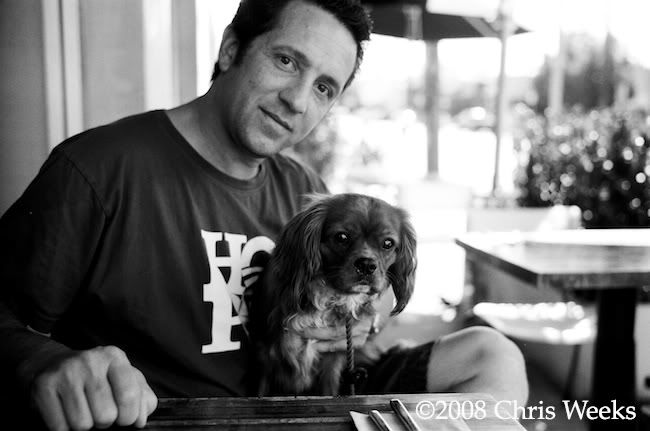 had lunch with jordan and murphy.  was shocked as hell jordan could focus a leica.  damn.  who knew. ;)
even though the money shots for jewel were done digitally ... i still enjoy seeing it the way i really saw it with my mp and the 35/1.4 asph.
yes, wanker there's a reason people still buy leica glass. 
if you're not a dentist, rich retired engineer or a shitty photographer who managed to attract a similar audience , then, no, a leica is not for you.
yes, the contax g system is very nice, wank.
it's just missing that little something which makes the leica so much better.
hearing someone like wank talk anything about leica almost makes me throw up in my mouth a little bit.
whatever.
saw a few airports in the past while ...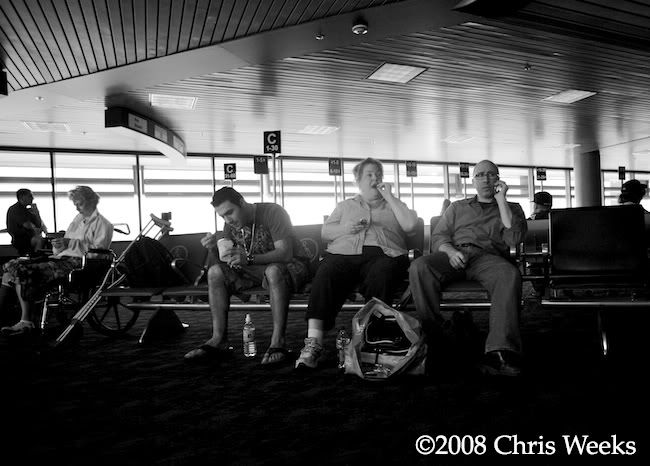 so funny to see so many different people with all of their different things going on.
it's a pretty popular place for the homeless of east of hollywood.  you can see some pretty interesting shit on fountain for damn sure.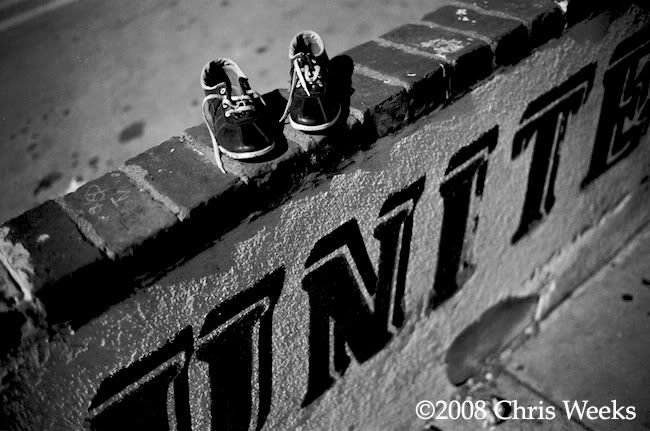 and on sunset.  that was the voigtlander 28/2.0.  very very nice that lens.
may not play well this small.  on my monitors i like it. ;)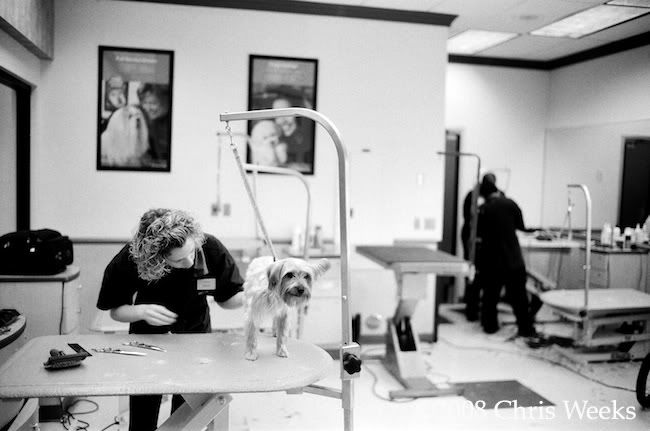 poor little guy.
m was getting a nail trim this day.  i think that's something the pros should do.
none of those nail contraptions work.
and our dog is chill.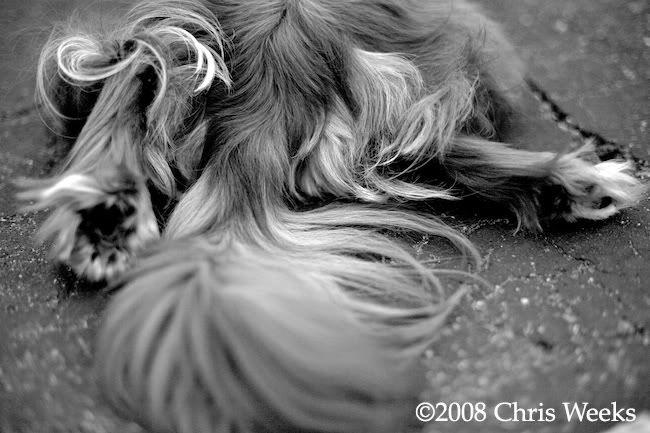 with a very impressive plume.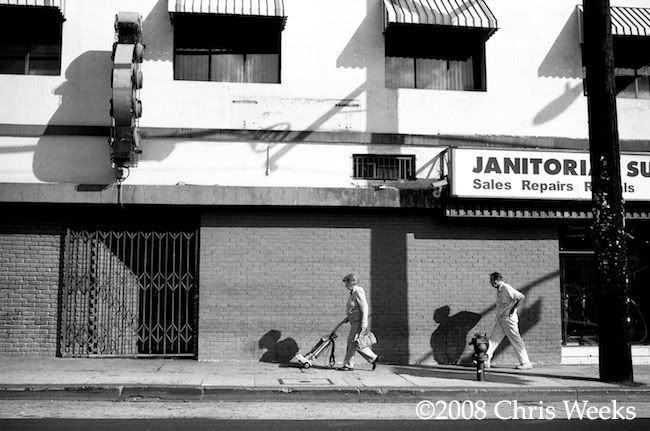 there's almost always someone walking with a vacuum while i wait at the light.  i mean ... it's not like there's a vacuum shop right on the corner or anything ... i'm just saying.
dunno why i'm intrigued with the wrinkles in the faces of old cowboys.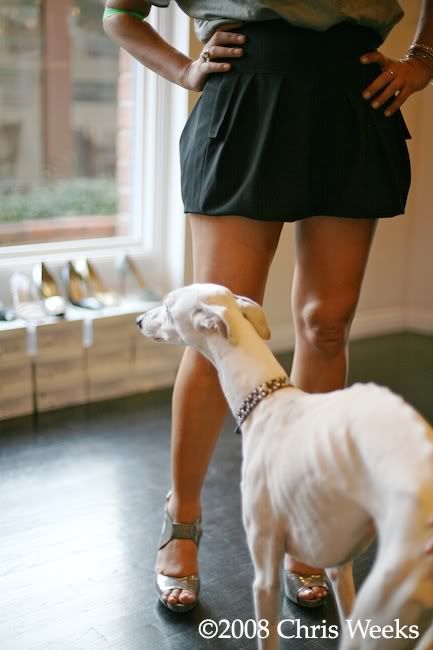 and i really like this photo.
in defence of the greyhound the owner claims she's really old and just skinny.
so ... yeah ... working lots ... shooting lots ... shooting lots of video with the new 5dm2. 
experimenting.
looking forward to some downtime.
finished editing the next book to upload to blurb.
three more to go, actually.
i'll try and put something together about the new 5dm2.  wanna shoot it some more.
i think i'm hungry for vietnamese.
hope this finds all of you very very well!
cheers from the nice and cool l.a.!
-chris