i-know-i-know-i-know.  i shoot a lot of dogs.  i mean ... i photograph a lot of dogs.  no, i don't like capitalization.  in business letters and emails perhaps.  blogs, not so much.
why?  i don't fucking care. ;)
seems as though other bloggers enjoy punctuation and capitalization more than they do actually photographing.  not that they can.  of course.  although they may spend a bit more time with whatever camera they're reviewing than some random standing at the counter at a camera store, i don't think they have any more knowledge than some random.
what i think funny is that they think their opinions are relevant.  i also think it's funny that they'd prefer to be "real photographers" ... "real working photographers" ... but ... they're not.  why?  i mean ... there are some SHITTY photographers out there and they've "made the cut" as it were.
these guys?  guess they can't even make the cut of even the shittiest shooters out there.
whatever.
so ... had lots of time to shoot the canon 5dm2.  i really love the way the shutter sounds now.  it doesn't sound like the old one which sounded ... a bit cheap.  i compare everything to the 1d-series and this one comes the closest.
'kay ... we pulled up to a very cold and dreary long beach ... and ... saw ... the inevitable prepping of dogs for the akc/eukanuba national champion show.  in the u.s. there are this show and westminster.  those are the biggies.
yes, all of these were selected and edited in aperture. :)  i'm alway stoked when i can do selects and edits on large takes ... when i have time to acquire and let the thumbs build ... in aperture.  can burn through edits of 400 images in no time with lifting and stamping my actions.  so fucking cool.  for the quick and dirty selects of a normal-sized workflow where time is really of the essence for dealines, i'm still stuck with the photomechanic-photoshop-photomechanic workflow routine.
and i added a bit of vignetting since there was some natural (?) vignetting going on with the 16-35/2.8l.  i know the wanks don't like any fucking vignetting spoiling their excellent work.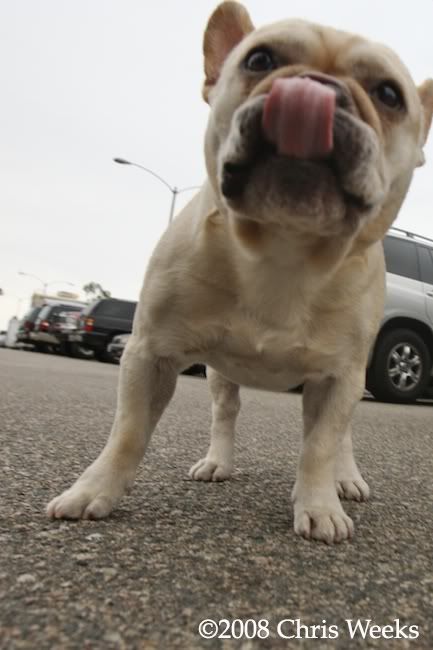 love little frenchies.  pretty cool dogs.
but not as much as the cav's (short for cavalier king charles spaniels) ...
the in-camera crop was intentional.  i wasn't making "straight up photos" at this point.  rather, i was interested in the behind-the-scenes photos at this time...
who says dogs are the only ones who are food motivated?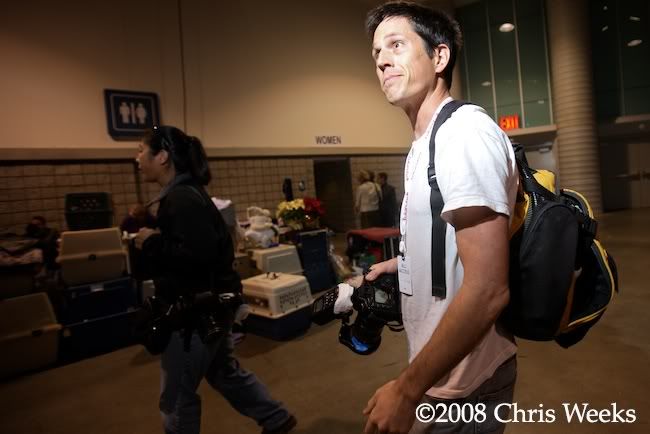 trueblood was there as well.  was amazing hanging out with him on saturday!
at least being in the presence of his talent was refreshing ... considering the complete lack of talent in the dog world.  i mean ... damn.  we're talking medi-fucking-ocre.  dunno if wank could even pull off dog show photography.
the official shooter was this dude. i shit you not.  not only did he light his "set" with tungsten bounced off umbrellas but he mixed it with non-cto-balanced strobe.  probably alien bees. ;)
only but the dude set up a tripod in the main ring to get winner's shots.  being the dick i am i asked "who the fuck uses a tripod:  it's fucking 2008 for christ's sake."  don't think he liked that.
there's also this dude.  i mean.  really. 
besides trueblood, though, i met a photographer named jack kenner.  was nice meeting him as well and looking at his work.  very nice stuff.  he's a REAL photographer.  and he's a very nice guy! 
i guess there's some hope, yet, for photographers in the dog world.
i may or may not have asked aloud "can any of these friggin' dog photographers fucking focus" within earshot of another photographer whilst looking at one of her photos.  perhaps.  don't remember exactly, though. ;)  at least she's better than the "average dog shooter."
there was another, however, she doesn't have a website.  then again, why would she.
because in the dog world ... shooters try and bounce ... where bounce is inappropriate and ... the WRONG way to use flash...
well-played homie.
well-fucking-played. ;)
that last one was the zeiss ze 50/1.4.  love-love-love-love that lens. :)
a bit esoteric for the wire i was shooting for.  mario liked it, though.  i did, too.
and, again, with the zeiss.
another zeiss shot on the 5dm2 ... he's the chairman of the akc.  pretty fancy position.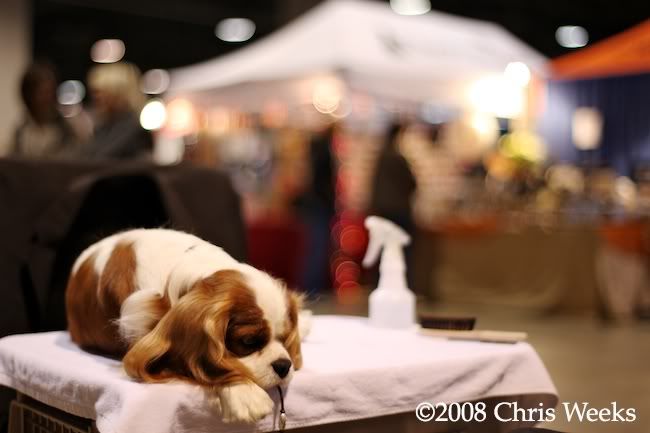 'twas time for a cav-photo.  i thought.  and again ... the zeiss. 
oh yeah ... would have love to have had the replacement focusing screen called the eg-s.  they should all have that screen.  it's so so so nice.  and ... i kinda think it's mandatory when manual focusing.  funny that b&h was out of them and my guy had some. odd.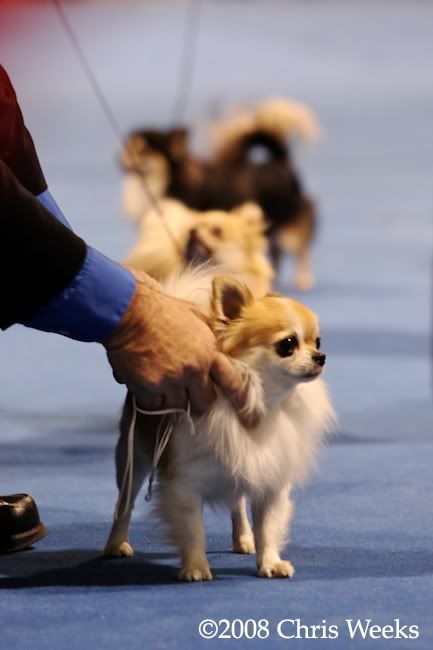 crazy damn chihuahua owners and handlers.  cute, though.  c, our chihuahua, is more tacobell-dog rather than show-dog.  they like apple heads in the ring.  c's a deer head. :(
not that we would have ever showed her.
the "new beast" also handled flash well.  i prefer using it off-camera with that st-e2 thing that uses those fucked up batteries.  same batteries the contax uses.
the pointer on the end was the big winner.  'twas interesting that everyone we spoke with was like "oh, the pointer or the giant schnauzer will win."  dunno how that is ... that everyone knew who'd win.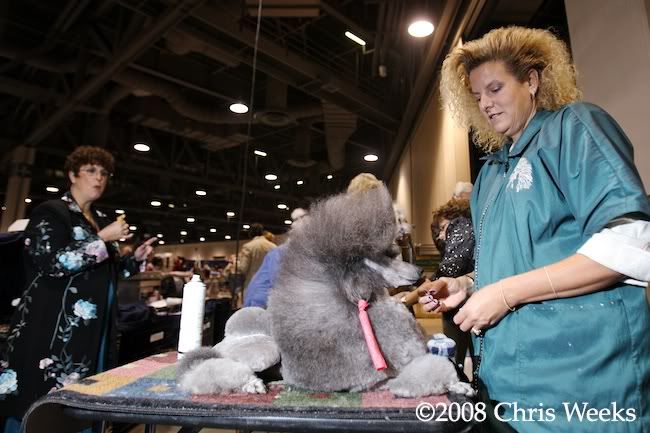 handlers and owners and groomers really had no idea how to react to a photographer with a big camera in one hand and a flash in the other.  was kinda funny watching them react, though.
the dog's didn't seem to mind.
odd that the "poodle people" were the ones who'd ask "who do you shoot for?"
and then say "what's that" when i answered.
i thought that was odd.
no comment.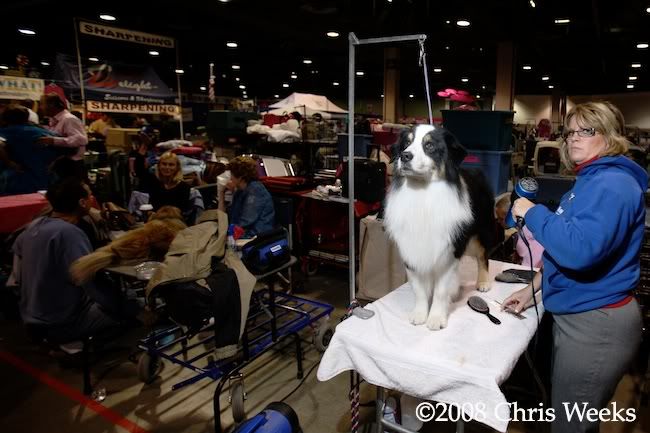 nope ... not happy being photographed.
dogs didn't mind, though.
i love moments.  human and human.  human and dog.  dog and dog.
did i talk about jack?  he's a very fancy fancy spaniel.  he lives in a castle in wales.  no joke.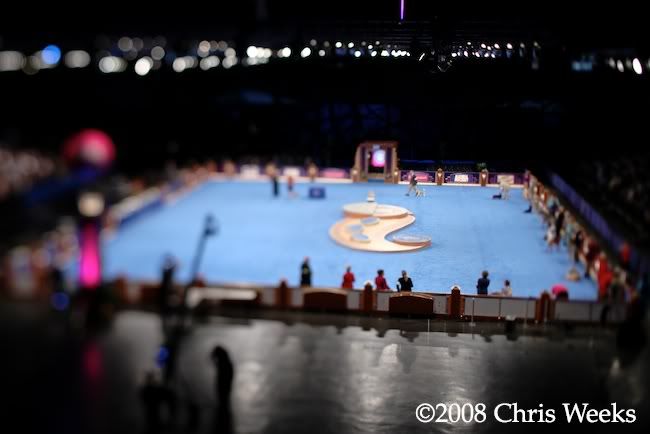 the tilt-shift also made it's way into the bag and mounted on a body.  actually, i think it made it into the bag j carried.  trueblood said "oh, you got your own sherpa." ;)
don't think j liked that.
i think the mexican-theme of the chihuahua booth at the "meet the breeds" exhibit ... was funny on many different levels.  many.
but i'll keep them to myself. ;)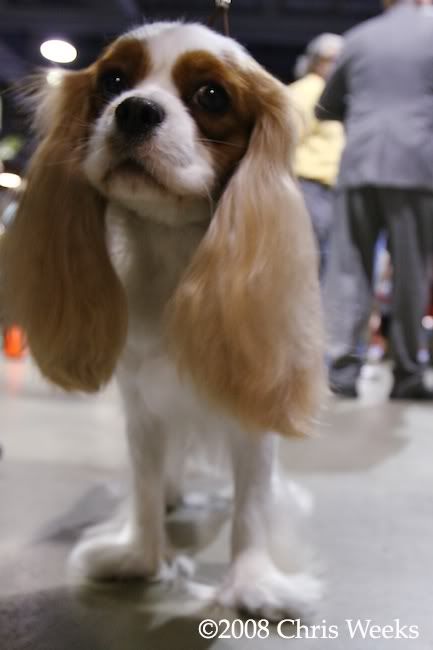 she may have been slight but she was beautiful and sweet ... in true cav-style. :)
the dog wash area was outside in the freezing cold ...
and then there's maltese-style ...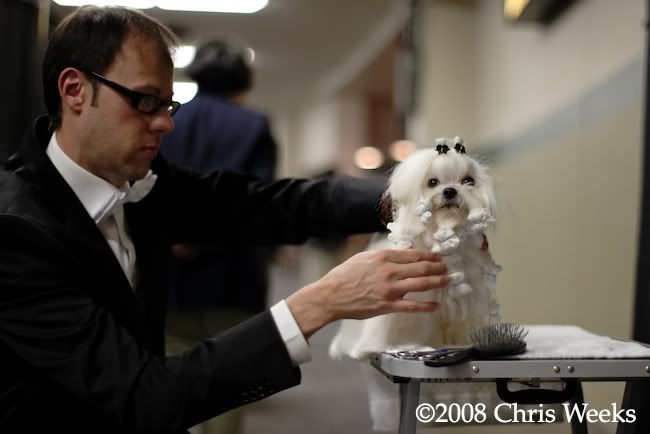 and ... a chance to make a photo with the zeiss ze 50/1.4. 
carried three bodies this day.  usually the "new beast" had the zeiss 50/1.4 on it.  went wide on the 1dsm3 and used the long glass with the 1dm2.  seems the 1dm2 focuses so damn well i couldn't bear to get rid of it.  and ... not to mention ... i only have a remote cable for the 1dm2 for use with the pocket wizards.
and i had a leica, too.
because some of us can actually use a leica make good photos.  unlike wank of course.
and i doubt the dog-show-wanks which really really was the status quo ... wouldn't dare use a tilt-shift.
was able to meet another photographer, though, who really knows his shit.  gilles.  amazing shooter.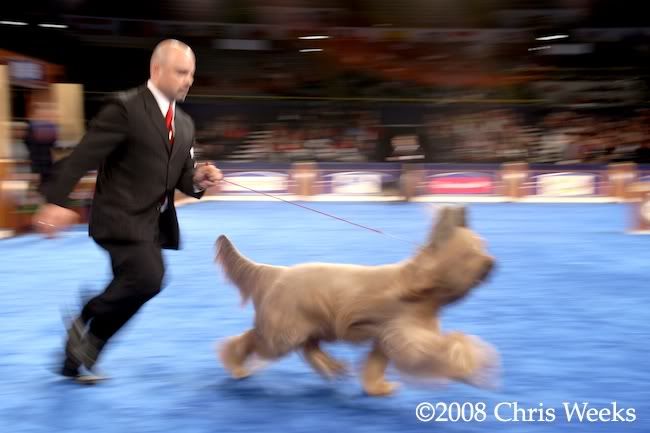 although there's not much action-action ... at least one could make it look like some action was going on.
that is ... if you're unafraid of deviating from fucking programme mode. ;)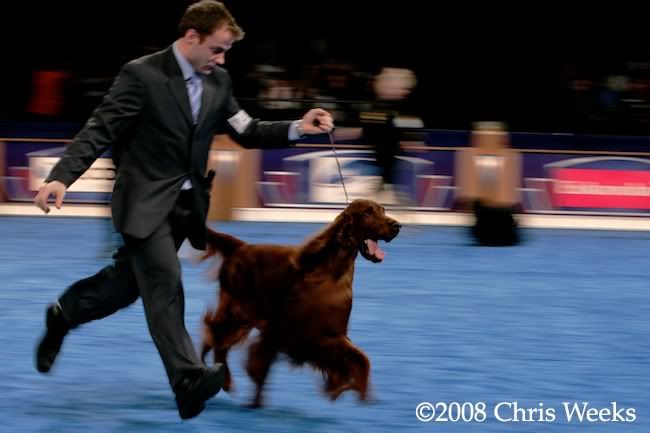 dog people don't like open mouth shots but ... this was one of my fave's.
'twas fun juxtaposing poodles, though...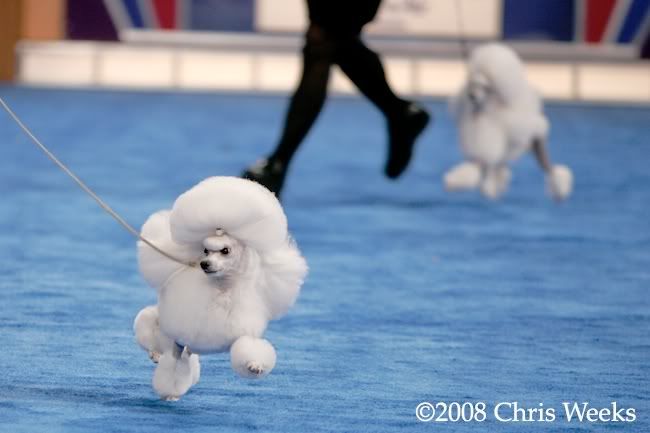 and their shadows...
i mean ... i guess they can't all be cav's. ;)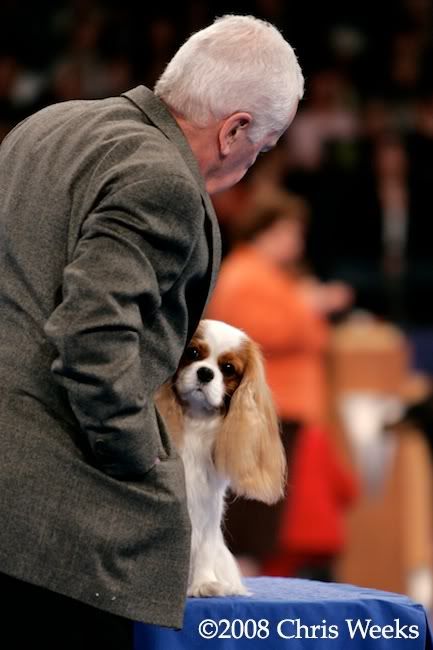 his name is rocky.  moved that photo to the wire as well. :)  had to have a cav in the super-super-tight edit which was transmitted.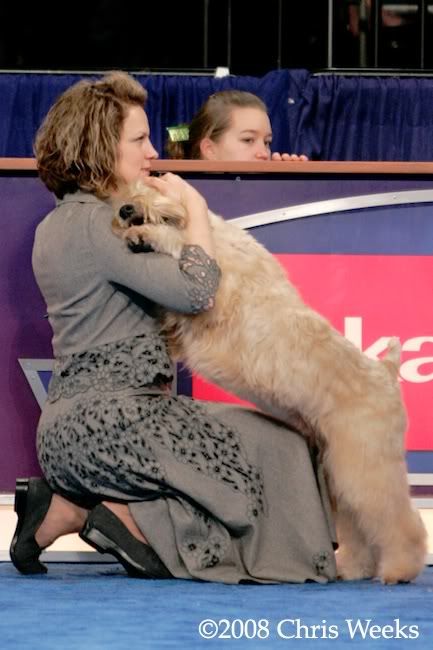 love seeing the not-so-serious part of dog showing.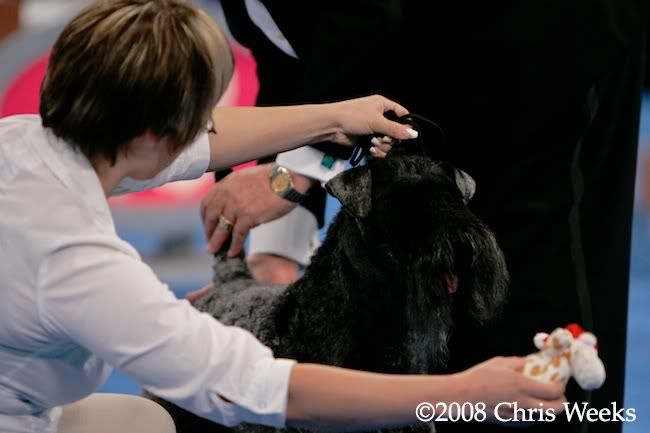 and the crazy things the handlers do to make the dogs alert whilst "stacking." 
just a little imperfect moment in a show demonstrating the best in dog breeding.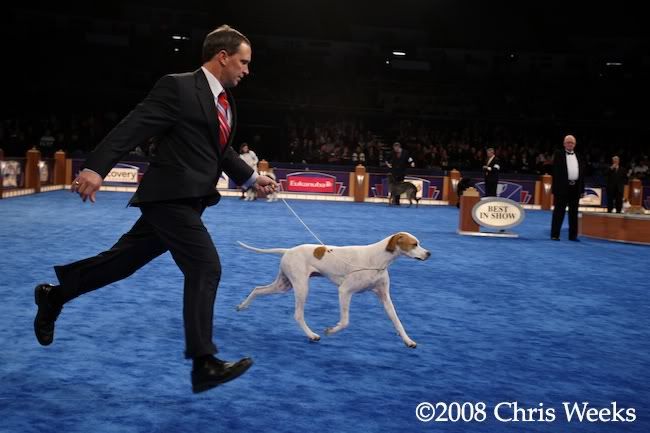 this is "holly" she's the pointer everyone told us would win the "best of show."
and, in fact, she did.
knowing who to dedicate some coverage attention really helps out.  knowing she'd probably win i tried and put the "best in show" sign somewhere within the composition of the frame.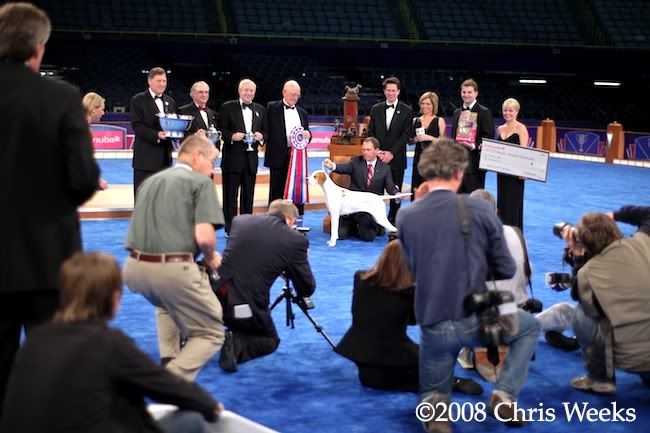 and, of course, homeboy-the-official-photographer with his tripod.  dunno, besides some political connection, what gets you hired as the "official."
then again, half the fucking people i have to work with ... they only get access because they're persistent and annoying.
the best part of this photo is the owner with the squeaky-toy with the photographers.
homeboy-official wasn't interested in this photograph.
odd.
it's odd that guys like that "see it straight up" and probably shoot on p-mode ...
not odd i guess.
just sad.
these are people who "found photography" or "picture taking" as it's hard to call them photographers.
i call them people with cameras.
people with cameras who ... appear to have ... tapped into a market which doesn't have the "highest expectations."
then again, at least those people don't spend their time taking pictures at a camera's highest or near-highest iso's ... and look for black pixels.  jesus-fucking-christ ... go make photos ...
and not those kinds of photos.
who the fuck shoots buildings at night at a camera's highest iso's and thinks they're gonna get a good result?  fucking wankers.  the files (photos) coming out of the canon eos 5dm2 are beautiful.  in fact, i shot my kid's water polo game with the 70-200/2.8L at 3200 wide open at like 1/125th with amazing results.
did some of the highlights have black pixels?  dunno.
i'm a photographer not a masturbating-pixel-fucking-monkey with nothing better to do than to write forum posts and look like a fucking expert?
an expert-in-fucking-what, though?  in photography?
my fucking ass.
these people on forums are ABSOLUTELY NOT photographers.  that goes for wank as well.  and even though that other guy claims to have a degree in art ... he's not all that good either.  sorry gandy i know he's your friend but i call it as i see it.
if you have no talent, i'm not going to listen to you.
sorry.
dogs.  sorry.  forgot.
i don't know pointers but that bitch is very impressive. ;)
you should have seen the "other freak-fucking-person-with-a-camera" yelling at the handler to pick up the ribbon or rosetta as she called it. 
even though i'm bitching about the talentless people with cameras i had to "work around," we had an amazing time over the last couple days of the competition.
because ... it was really about the dogs.
and they were amazing.
well ... seeing some of our friends was amazing, too.  and ... through that whole quagmire of talentless dog photographers ... we met a couple very talented photographers as well. 
what a trippy couple of days it was.
fun, though.
still making 1080p videos with the new beast.
don't really have anything to edit them together, though.  not only ... but where do you post something like that?  for sure not fucking utube.  hmm...
i'm sure i'll figure it all out.
hope everyone is really ready for the holidays ...
crazy rain here in l.a. and snow in malibu ... snow also in vegas.  who the fuck knew.
cheers from the soon-to-be-dry-yet-chilly l.a.!
-chris
p.s., if you want to waste us$100, go and order this. ;)