seriously ... we were having a nice dinner.  brought a very nice bottle of oregon pinot.  we walked to get gelato down a couple blocks.  when we were first getting accustomed to this neighborhood i carried a very big knife.  i mean ... walking through hollywood on the way from an assignment you learn shit.
take my shit you're gonna get fucking stuck.
then complacency set in ... and i didn't really worry about shit as much.
i didn't think there was any reason to be armed.
on the way back from gelato jamie's uncle and i were about 20 feet in front of j and her aunt.  i heard her aunt say something about some plant.  her uncle and i rounded a corner.  i then heard some noise.  looked behind and saw someone in a shitty sub-compact say something.  i heard a scream.  i walked toward the corner and then saw some black kid jumping into the subcompact, which of course sped away, and i saw jamie on the ground.
my heart was in my throat.
she held on to the chloé bag but the asshole pulled quite hard for a five-foot-five-little-bitch.
and, yes, i said black kid.  if he were brown, i'd have said brown.  white.  i would have said white.
if you have a problem with my description, i don't really give a fuck.
trust me on that.
jamie's a bit sore ... really sore.  poor thing.  i feel bad for her.  i feel bad for her uncle and aunt who had to witness this ... sucks.
all good, though, i've reverted to my prior "level of trained readiness."
did an edit of some b/w stuff i shot ... edited it on the speedy new mac book pro which runs aperture like a mofo.  daaaaaaaamn.  i know there's at least one of you out there who's very happy that i won't be bitching about how slow it ran on my prior machine.
edited 1700+ photos and scans from a wedding i shot a coule weeks ago and it KICKED ASS.
the new trackpad is beyond.  i've given up on clicking and now just "tap." 
everyone said "i was going to hate the glossy screen."  um ... really?  i went from location to location -- darkness and light --- to see how it was.  um ... it's amazing.
why are people so reticent to accept change?
amazes me.
stupid bitches.
i'm stoked that i've always embraced FW800.  now ... that's the only fw port available!  just ordered a fw800 card reader! :)
sucked showing off the new machine because everyone wanted to try it out for longer than i wanted them to.
apple scored.
again.
thank you, apple, even though i really do think you're biased toward wedding-fucking-shooters. ;)
now the prior machine goes back to apple for a nice apple care refurb. :)
funny that i read the wank talk about the fact there's no FW400 port.  what's funny to me is that anyone would listen to someone who's not even a "real photographer."  in fact, he's a picture taker and has no right even expounding upon the most photographically rudimentary subjects.
yes, wank, you can edit on your old g4 laptop ... you're not a working photographer.
working photographers need the best tools we can get.
apple just gave us another.
the new mac book pro is fucking beyond.
this keyboard is the best yet.
and unless you subscribe to the ideas of someone like wank -- someone who's not even close to being good enough to be a "real photographer" -- this machine will do well for you.
as much as i bitch about shooting weddings i have to say ... i really liked the work i did a couple weeks ago.  i'll ask her if i can post some stuff here.
i think i may link the following photo to wank's name whenever i mention wank ...
it either looks like a brat or a thumb or something really fucking phallic.
depends upon where your mind is.
we spent a few days with our friends john and kelly in a place we'd usually just "fly over."  we honestly had a blast and wished they lived in our city.
i'm sure john wished he was walking with us the close-to-fateful night the other night.
that would have been interesting.
saw my first roller derby demonstration.  it all seemed like a blur.
hence the shutter dragging.
was pretty cool, though.
john's gf, kelly, was the hottest of all of the girls, though.
and .. perhaps the straightest. ;)
not that it matters.
i'll say that st. louis does a pretty good octoberfest.
double-fucking-fisted, baby.
only good if taken in the context of the above example of fisting, of course.
i think i like this photo the best.
the 28/2.0 voigtlander is very nice at night, too. :)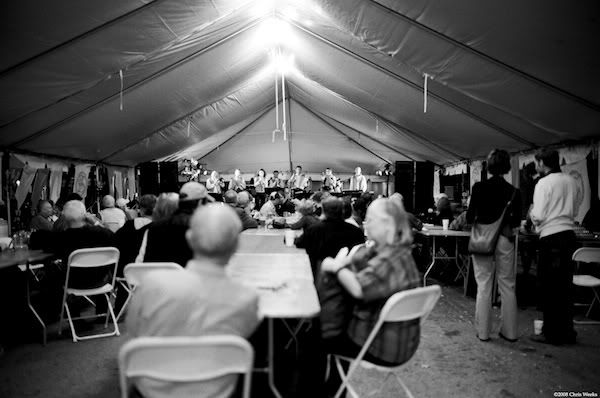 and in tents! :)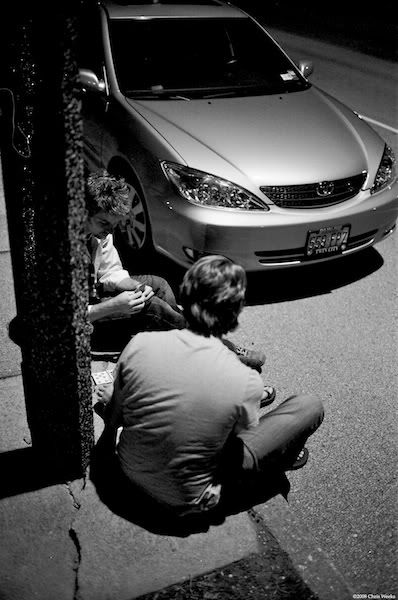 i'm so happy i carry a camera with me 24/7.
the other day i drove to an assignment -- knowing i had a bunch of digi-gear -- but lamenting i forgot the leica at home.
sucks.
i almost try and not be as observant so i don't hate on myself for forgetting "the real camera."
a camera i'd love to see wank try and use.
we should all add ken rockwell as a friend on facebook.
shouldn't he be inundated with friend requests?
john and kelly took us to a dive bar which boasts the largest number of disco balls in any one location...
wish you could see this on a giant cinema screen.
it's amazing.
sorry i can't make it bigger on the internet, though.
i'll try a vertical...
if this place were in l.a., we'd make it the new "in spot" for sure.  there'd be promoters lining up to host here.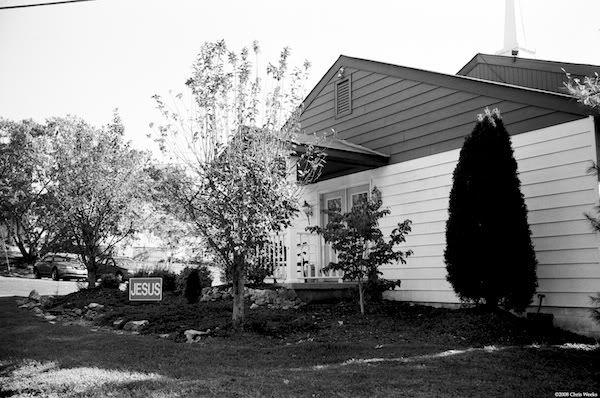 jeeeeeeeesuuuuuhs was everywhere.
though.
hear god.
there's a certain juxtaposition here, though.
hear god.
um ... why don't you just listen to yourself?
religion is such a crock of fucking shit.
we're all god.
wish we all acted more "god-like."
imagine if we did.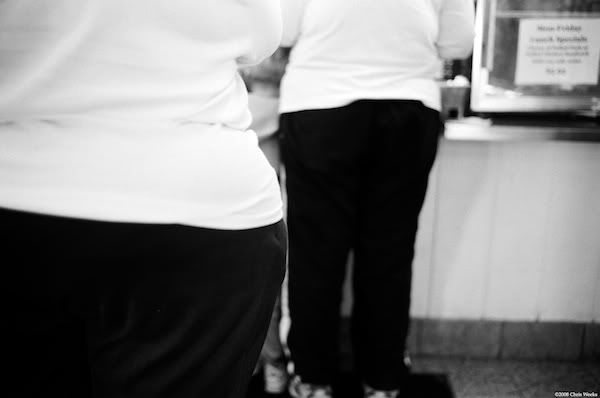 not very god-like of me, though, to point out obesity, right?
work in progress.
i still don't understand how people spend thousands of dollars on religion or religions-of-sorts.
when all of the answers are inside you.
odd.
just so the legions of wanks and wank-fans who email me and call me an asshole ... aren't left-the-fuck-out ...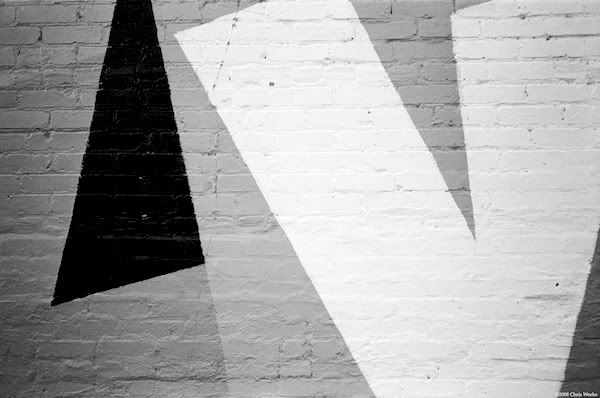 there's a wall photograph for you.
now fuck off, stop emailing me calling me paparazzi:  you have some subject matter you can shoot and try and emulate.
there ya' go. ;)
diamond in the rough?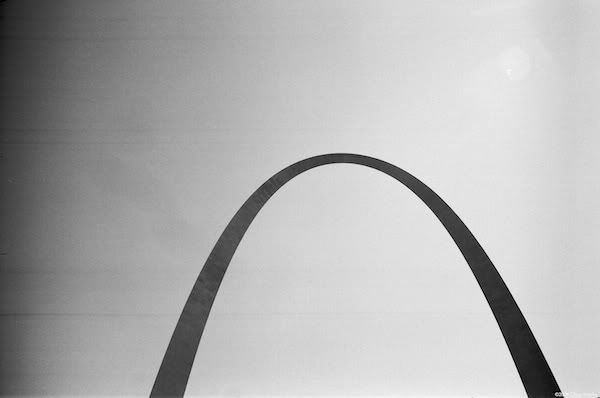 i'm sure a wank would have pulled out the 14 and the 5d and gotten the cityscape as well. ya' know. at magic hour and shit. whatever. i didn't. not the way i saw it. i saw it as a small detail to an otherwise pretty cool city. arch or not.
i wouldn't suggest going down to the arch past 01:00. then again, we had to come back to a pretty gentrified 'hood to get mugged. ya' know what's interesting about art? i think that sometimes art is called art when, in fact, it's a result of someone's obsessive compulsive disorder...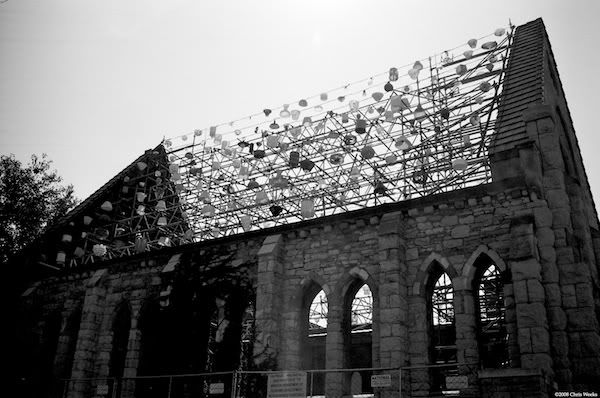 lampshades as the roof for the skeleton of a church.  are they trying to make a statement about shading of the light?
is god really "the light?"
hmm...
did you know that glucosamine comes from bovine larynxs?
neither did i.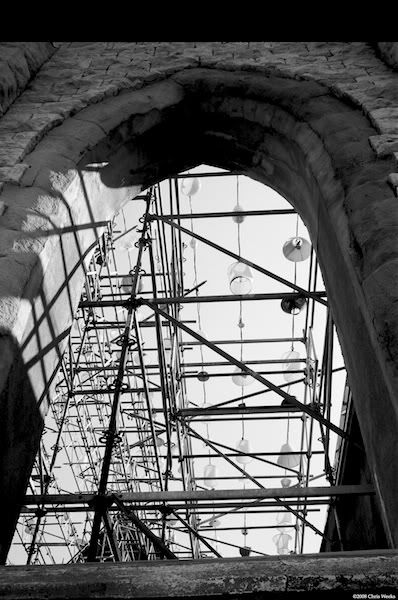 very interesting this "project."
as opposed to my own fucking project (read:  ocd-thingy)...
jamie -- when she saw this on my mac book pro -- said "you were fucking stoked."
:)
she knows me so well.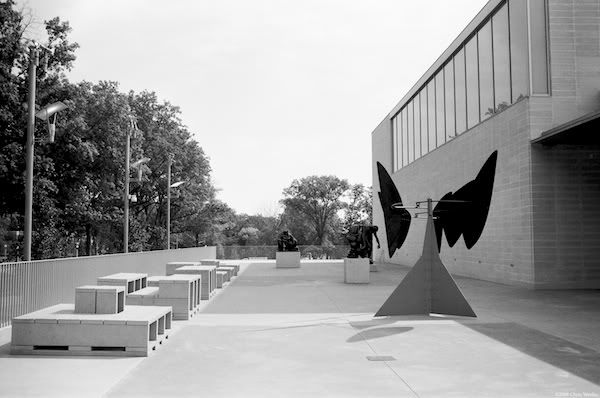 if you're ever in st. louis you have to go see the kemper museum.  it's really amazing.
we'll definitely go back!
then again, very good friends live there as well and ... we look forward to hanging out with them again.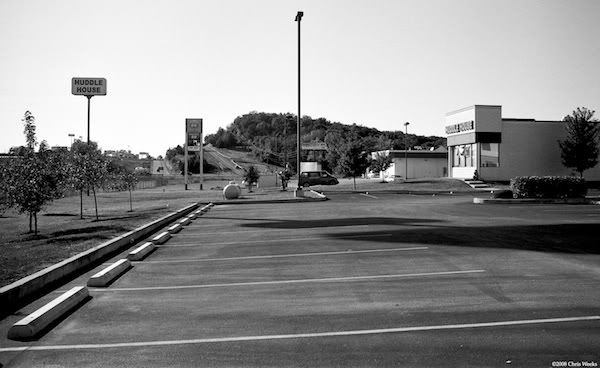 and to me ... dunno why ... this represents the midwest to me.  dunno why.
way way way esoteric but ... i'd love to have this six feet wide on my wall.
perhaps it's because of elinor. ;)
my little lover of the esoteric.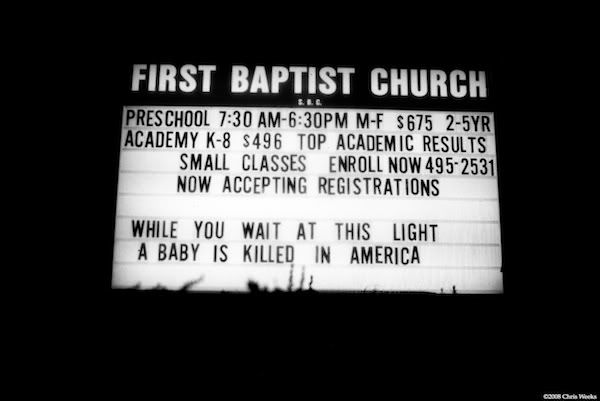 and, no, this wasn't in missouri.  this was right down the street from my parents.
yeah, save the babies but kill the quasi-convicted and support your lying president and send 4000 off to their death.  yep ... you fucking religious dogmatically stupid fucks .. save all the babies ...
so you can send 'em off to war.
and kill them when convicted of something dubious.
when what you really believe says "thou shalt not kill."
what part of that don't you understand?
the yes on 8 people are the same people who think palin is amazing.
but what i think amazing ... is ... the fact palin's gone rogue.  of-fucking-course she has.  anyone surprised?
okay ... time to sharpen the zero tolerance. ;)
very liberal of me.  i know.
i'm hungry.
hope you all had a less eventful weekend that we did.
cheers from the cooler-yet-a-bit-more-wary l.a.!
-chris
p.s., the napolitano bitch ... made an amazing photograph!!!!!

©2008 REUTERS/Mario Anzuoni
well done, brother.  well-fucking-done documentation of america's opinion. there are more in this yahoo slideshow.