forever since i've actually been able to sit and write something. i have folders of new scans and haven't had time to look at them. not only .. there are processed and scanned photos at the lab waiting...
and 12 rolls waiting to go to the lab.
feels nice to be home for a while.
as much as i'd love love love to sort some scans and export them to blog-sized photos ... well ... i'm gonna post dogs. :)
went out to st. louis to shoot the incredible dog challenge. they have ... dunno ... four or five regional competitions throughout the u.s. during different times of the year and it all culminates out in the country 45 mins outside of st. louis. we got to hang out with some friends in st. louis and it made it even that much better.
i don't think j or i could own any of the breeds competing. i mean ... seriously ... lazy-ass dogs are way better.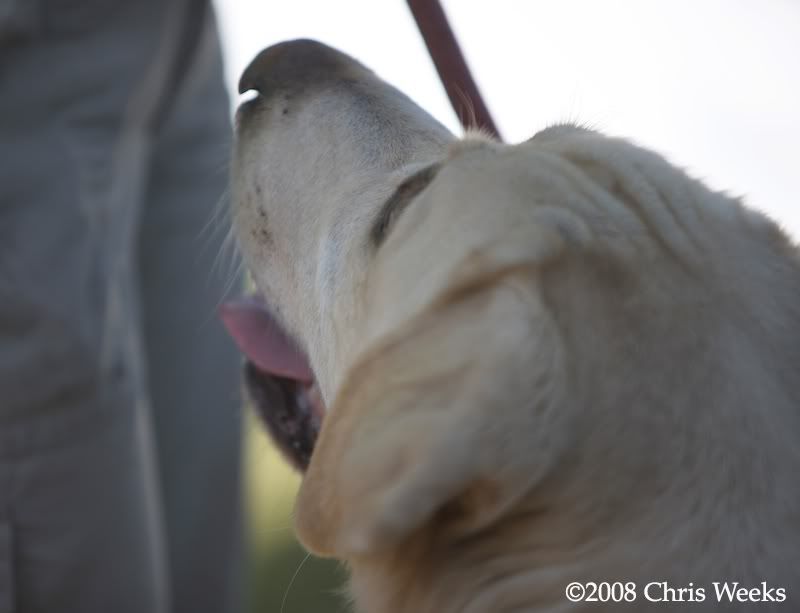 i know from training m ... you really want to see them looking into your eyes. little m when he's heeling and not sniffing new stuff and pulling will just trot and look up.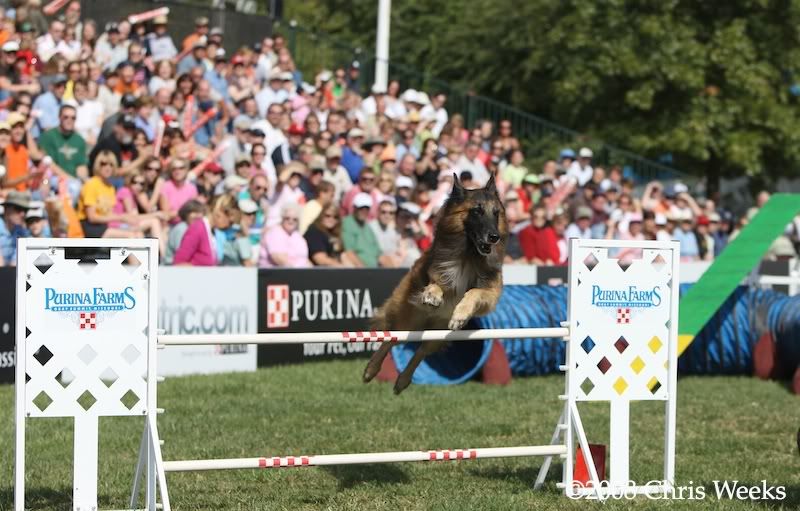 watching the agility dogs was pretty amazing, too ... there's a handler to the right pointing at the next obstacle.
there was no branding at all at this event, though.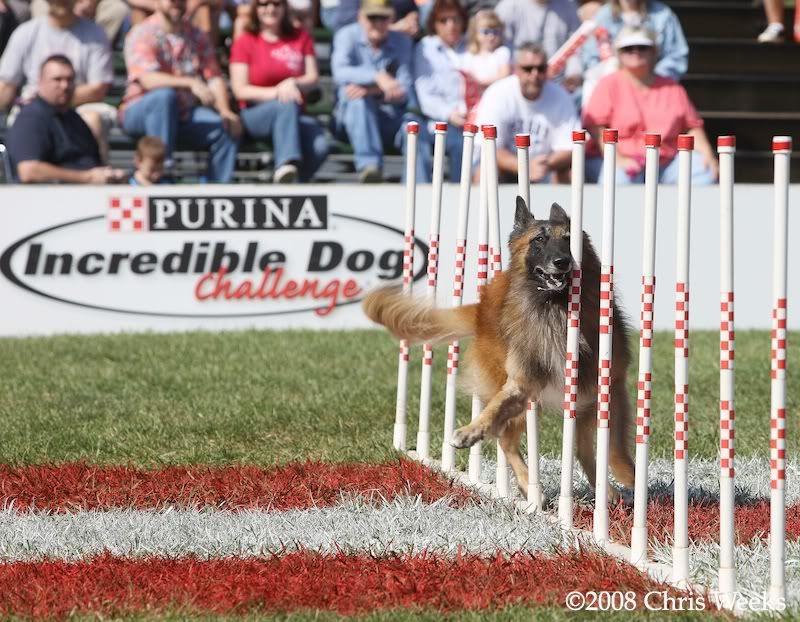 i couldn't quite imagine m doing the weave pole. not even.
requiring one to get wet for "the shot" was the diving dog competition. one of them went over 35 feet.
yes, i was splashed.
but i didn't get the brunt of the water as much as some other photographer. i let people stand in front of me so i could duck. ;)
love the look on his face...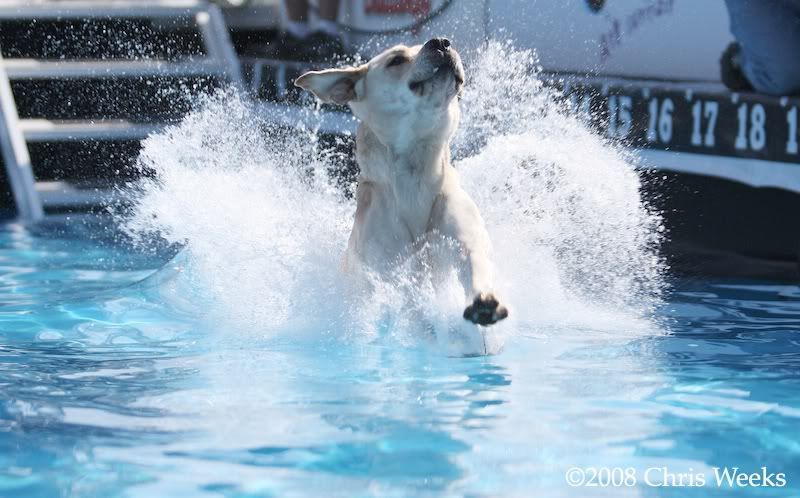 splashdown.
and as much as he has a bit of trepidation on his face...
all he wanted was his toy.
m is more about the crack-cocaine-of-the-dog-world ... chicken.
humans even get into the action ... woman vs. dog.
the woman, laura wilkinson, is an olympic diver, though. little jack russells, though, are very tenacious and don't like losing...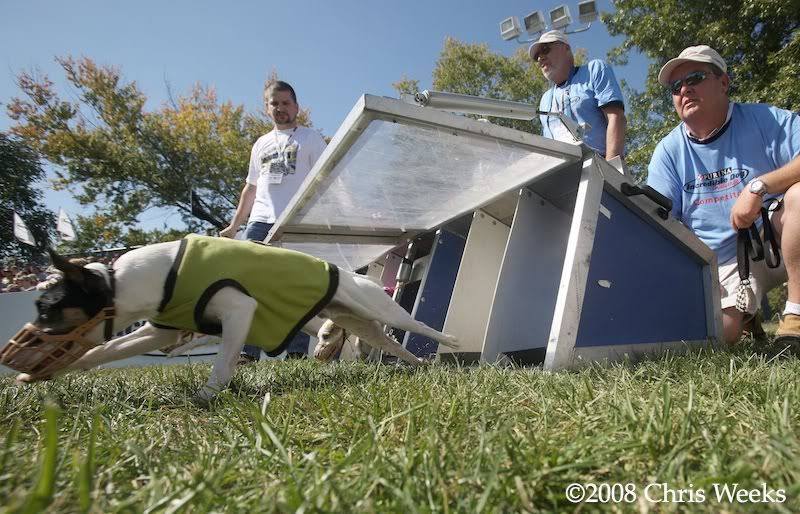 seems like espn and abc and their seven fucking camera positions didn't like the position i'd taken.
i pretended as if i didn't hear their guy the first time; i wanted two passes.
;)
i got what i needed.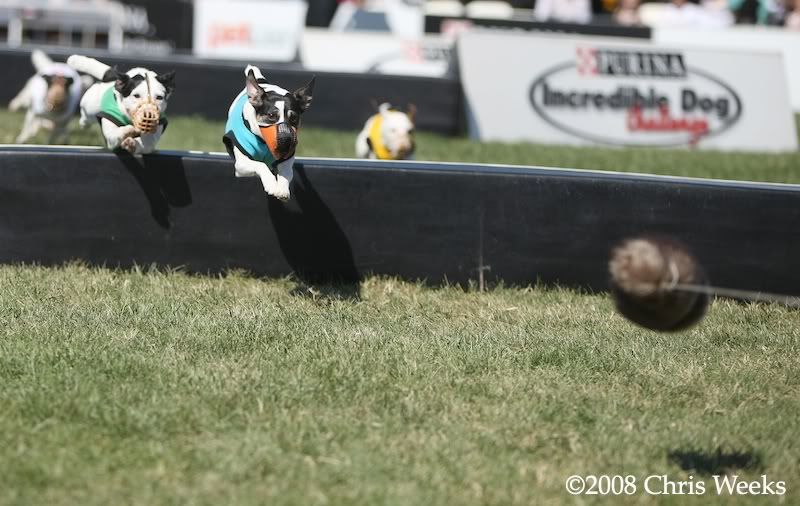 i would not want to be chased by a pack of these little bastards.
it's one thing to put the leader as the focal plane ... but ... i wanted to see the tenaciousness in the eyes of the second, third or fourth dog...
forgot this one ... you can't get splashed here! :) except you have to wrap your right arm around a stage support and still try and shoot. i'm sure espn got the acrobatics on tape. :)
you're welcome espn. ;)
whats so funny about the majority of the camera operators -- i dare not call them videographers -- is that they listen to their instructions from "the truck" as to which shot the director wants.
not only but they seem like totally disenfranchised union guys.
or how guys who edit porn feel about sex. ;)
the dog jumping got the new world record, actually.
forgot another photo ... i've been so in the middle of all sorts of shit ... unless it's aperture or photo mechanic (not camera mechanic as wank referred to it as) ... a photobucket gallery just isn't the same...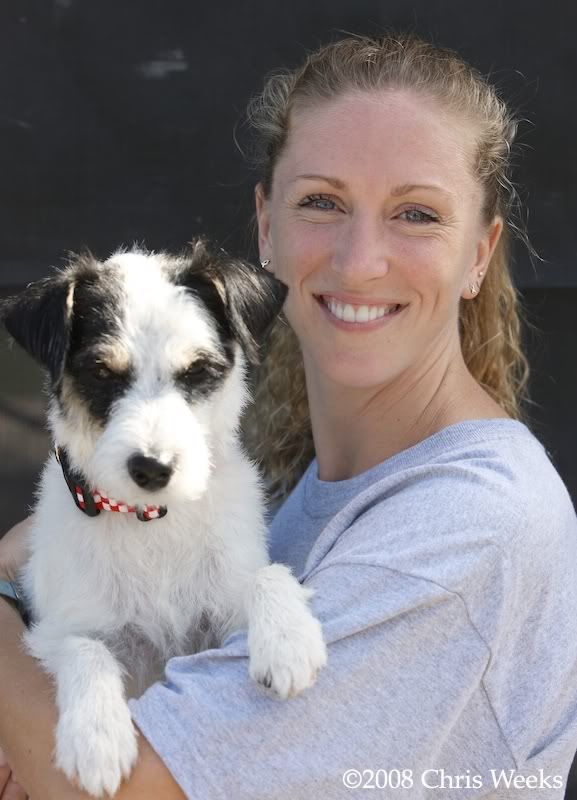 laura and her canine-competitor, nemo.
and, no, i'm not going to learn how to center stuff with html tag bullshit.
blogging here sure isn't friggin' uber.
it's like writing a dA journal. (you have to click on that dA link) ;)
love dog-handler-owner-moments. that dobie was fast-fast-fast yet a bit distracted this time out.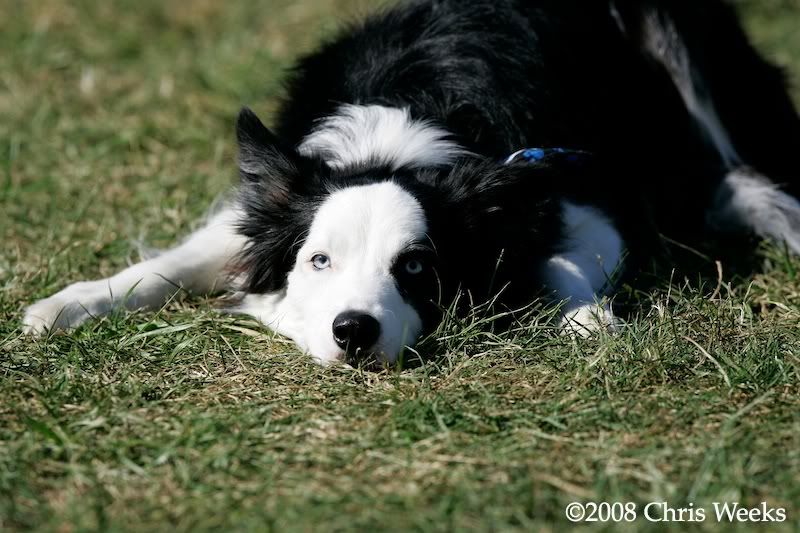 when homeboy "took the field," as it were, he just attentively stayed and waited for the next instruction.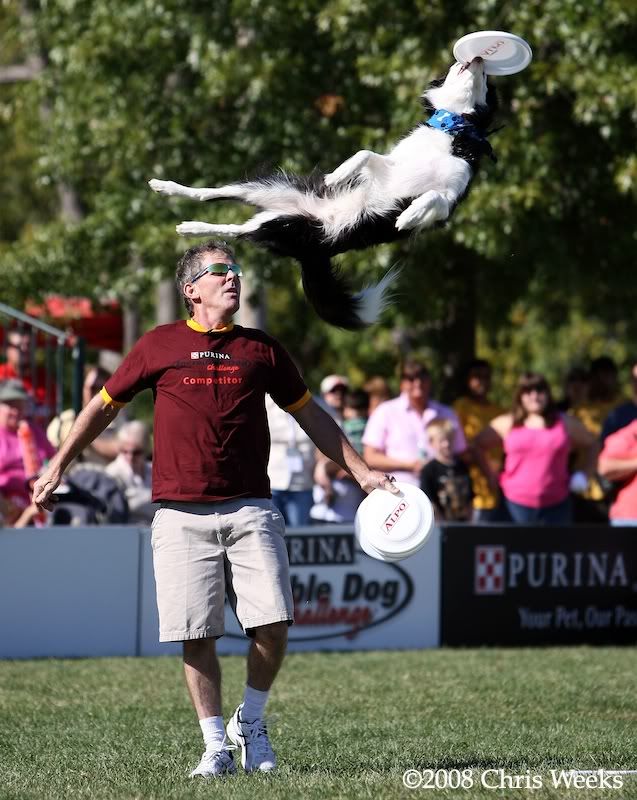 and then did amazing stuff. i still can't believe they enjoy jumping after discs so well. damn.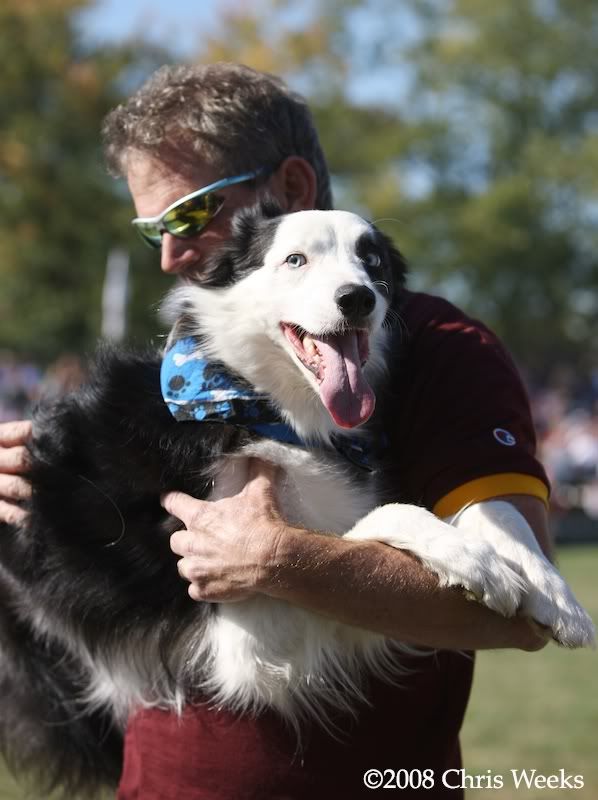 ending with a dog-owner moment.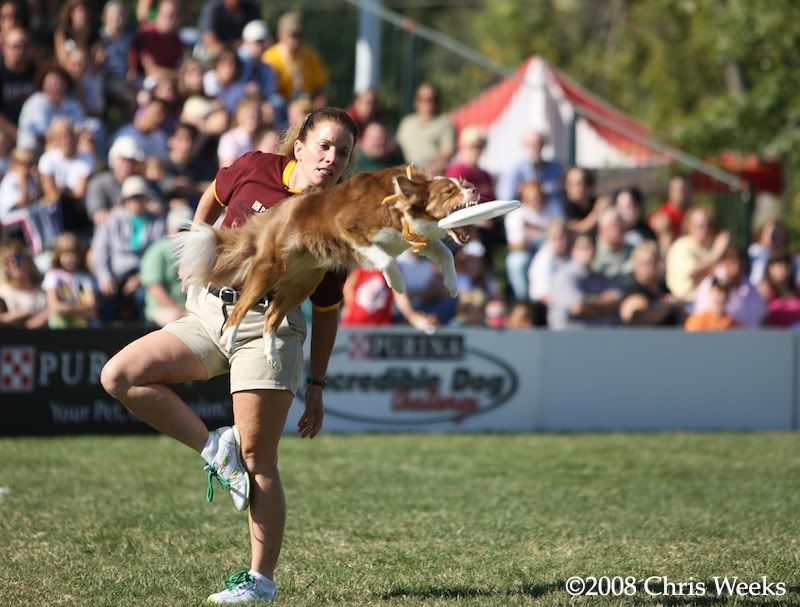 look at his face. nice to have long heavy glass for this event! handheld, bitches. ;) i know. i'm a prick.
this was one of my favourites. first, because it shows a lot of attendees. second because there's scale going on as to how high pups was jumping.
look ... even in midair ... he was looking right into her eyes! i think that's amazing.
i like dogs.
guess you know that, though.
i consider a 300/2.8 something you can totally handhold. funny when i see others with this lens and they're knocking into everyone else -- in tight places, mind you -- with "their stick."
i think they "want to look like photographers" ... much like wank.
a 400/2.8 or a 600/4.0, yes, a stick is needed. and when you shoot a show from a long-throw it's nice to have the proper head and tripod.
i will say my arm was a bit sore. at least i didn't knock anyone ... just pissed off an espn producer. ;)
got to see some st. louis after finishing shooting.
we also found some places where ... well ... don't run out of gas there. trust me. not that we did but you really wouldn't want to be stranded there for damn sure.
got home for about 10 hours or so and then got on another plane and went to shoot ...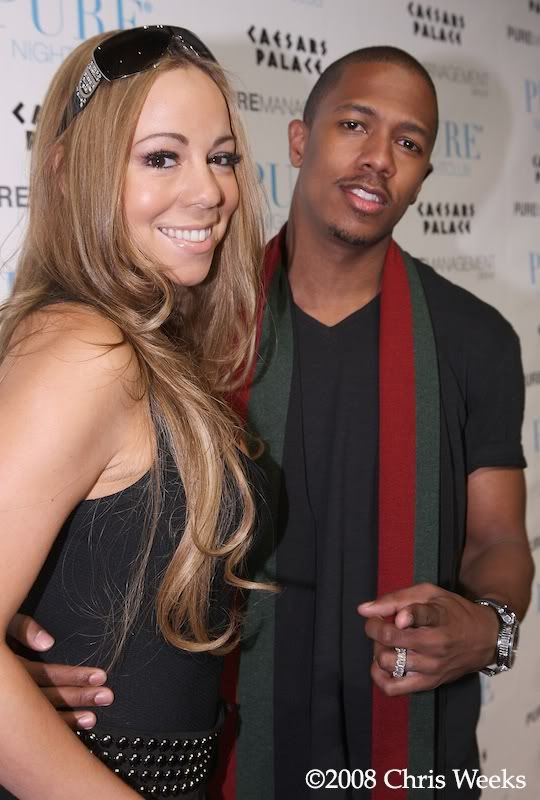 nick cannon's birthday hosted by his wife mariah in vegas.
dirty vegas.
and i mean ... a tuesday-friggin-night ... and hundreds are out drinking and spending money on over-priced drinks like no global meltdown has happened at all.
get in the booze business right now.
trust me.
i'd missed shutter-draggin. ;) sorry to drop the g and sound like friggin' palin.
at least i won't say "my friends ..."
i've always thought that sounds conde-fucking-scending
then again, mccain's an angry old man. between his voice and palin's voice ... dunno how republicans can sell that package to themselves.
pictures.
no politics. ;)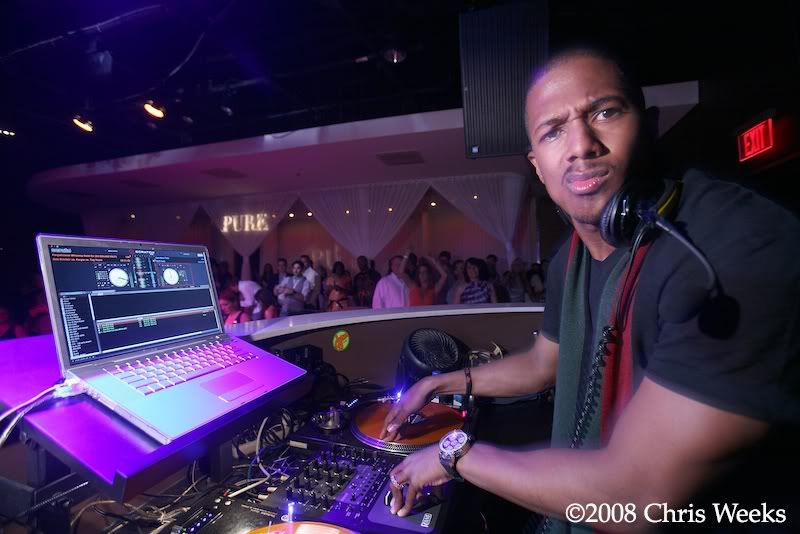 nick loves to dj. loves. he was there to also direct his wife's next music video. hope that goes well.
and that cake. wow. like, really, wow. who knew.
so, yeah, busy-busy-busy. kinda missed blogging. miss the uber interface even more but ... i don't like going back and forth between platforms and communities. i'll check in on uber every once in a while -- like i do/did with dA -- but ... active? dunno.
okay ... i'm hungry and all i've had was a power bar and a smoothie.
where is the damn chinese delivery?
hope you're all well!
cheers from the seems-like-its-on-broil la.
EDIT: basically, typepad kinda sucks but i have nothing but uber to compare. i know the photos aren't resizing down so ... next time i'll adjust aperture to do max 600x600 on the export. sorry, guys. had no idea.