so, yeah, i haven't been all that consistent. i mean ... since uber.com took a dump ... the very jesus-like resurrected from the dead and then ...
dunno ... finally made an ascent to heaven? dunno.
all that happened at a time of extreme busy-ness ... mavricky-ness ...
sorry. no mavrick-ing going on.
looks like even someone from the GOP (american for republicans) is denouncing the robo-calls and endorsing mr. obama. good for her.
so, no, i have no idea what's going on with uber. sucks but ... dunno what else to say. wasn't my fault.
now is not a good time for businesses who "burn cash" and have "high cash 'burn rates'".
see the euro/dollar index?
great time to go to iceland for friggin' sure.
i hear fall's nice there.
honestly, with the uber-crash ... trying to get used to typepad ... a sure-to-be-temporary affinity with facebook, one of the only communities i've ever seen done RIGHT ... and as much shooting as i've done ...
crazy lately.
not only but friggin' palin's appearance on saturday night live shows how irrelevant they are. i'll never watch that for the five minutes i used to watch it. dumb asses letting that fucking intellectual monkey appear.
she doesn't even have a film opening.
i mean what the fuck.
so ... last week ... lets see ... i shot for my friend dj a.m. ...
having seen him for the first time since reading the news of his airplane crash ... i mean ... it was odd. i was very happy to see him but he's really the first person i've known who's really beaten the odds in one of those discovery "moments before disaster" kinda ways.
trying to put myself in his shoes and feeling what he must have felt and is now feeling made me think about a lot of things.
when i saw him come backstage i said, "dude, so good to see you."
after we hugged he said "no, really, you have no idea how good it is to see you."
i've thought about those words a lot.
i think we all get so busy and crazed and caught up ... and forget ...
so many simple things that are so wonderful.
the night before i shot for a.m. i shot some wrestling for a client from nyc. her father got a new heart yesterday.
very happy for her.
and, yes, i have some photos and no they're not a second-edit of the masonic-cat-follies i witnessed this past weekend in an area clearly supporting the old man and the monkey.
(no, i won't approve your comments if you support them.)
;)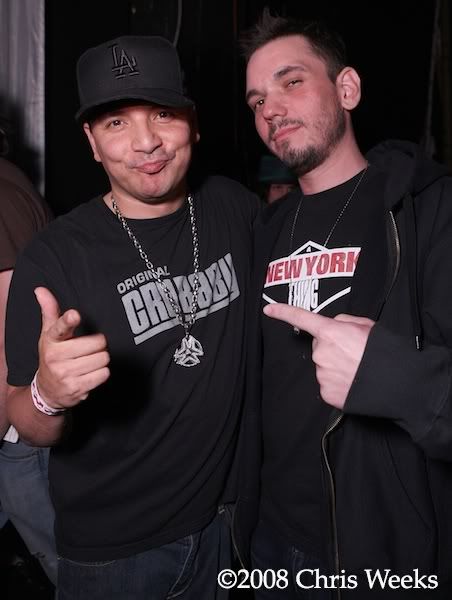 mixmaster mike and dj a.m. if you've never heard a set by mike, you really have to. a.m.'s amazing for sure but i wasn't all that familiar with mike.
amazing.
my friend nico did the poster. yes, sheppard knows about it.
i thought it was cool.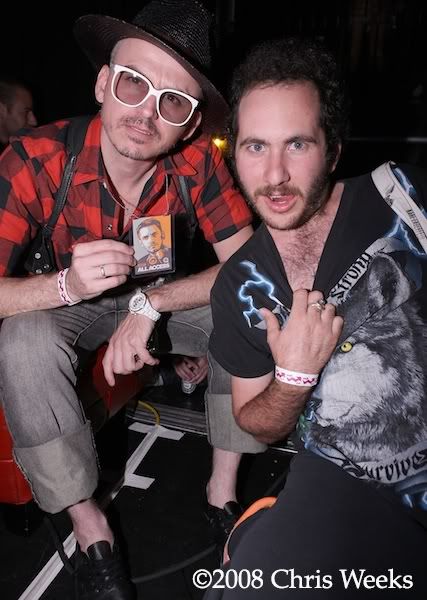 nico's on the left and mark-the-cobrasnake is the guy on the right.
four or five thousand people showed up. all ticket sales were donated to a foundation for the people who died in the crash.
and ... to say hello and welcome a.m. home.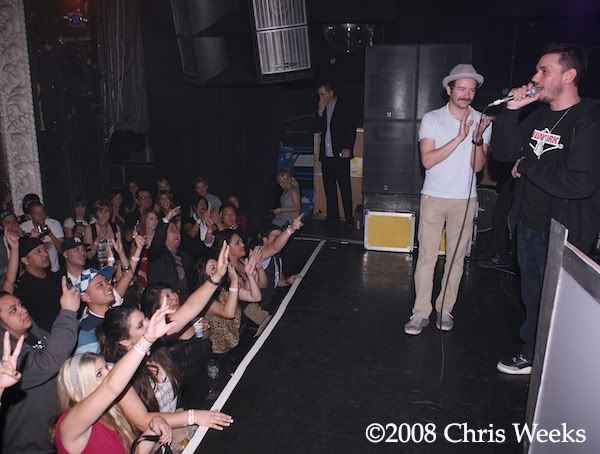 the other dude on the stage is danny masterson.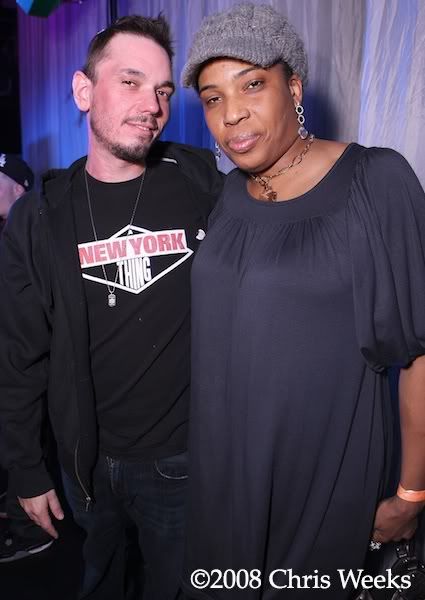 macy gray showed up.
as did hilary duff, which i didn't understand, but .. whatever .. all good ..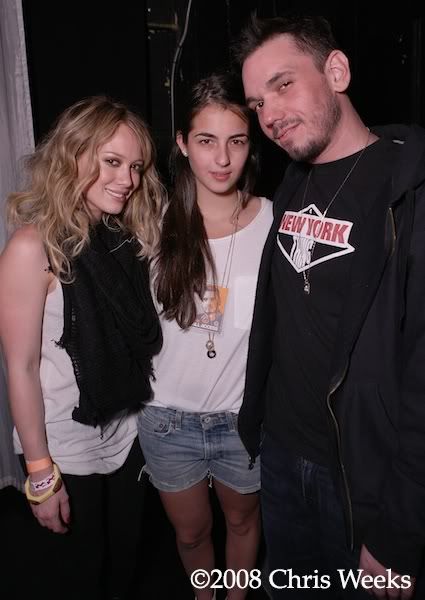 the girl in the middle is someone i should have recognized but she was "unidentified guest."
"unidentified guest" is a terrible thing when you should have your name captioned.
whatever.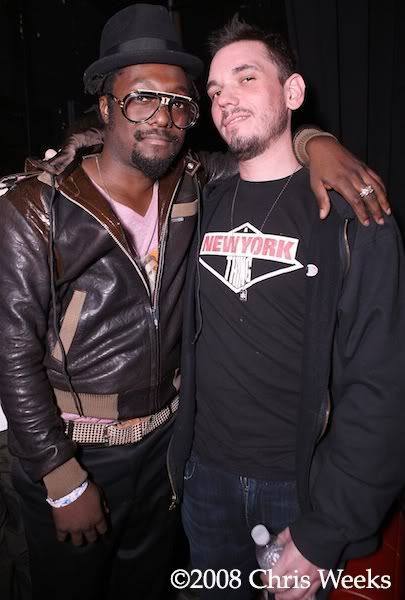 will.i.am from the black eyed peas was there, too.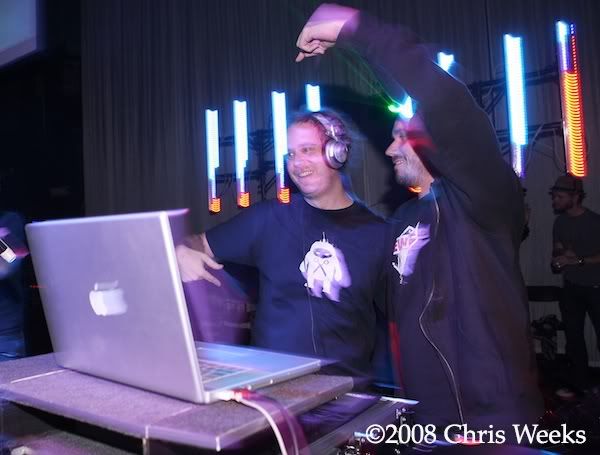 cut chemist is also someone you should really check out.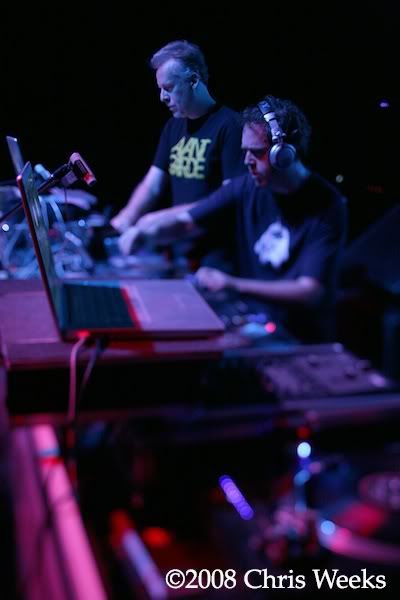 he's amazing.
cisco adler, center, performed with a guy named shwayze ...
i don't get it but whatever. the people who paid us$11 for a vodka liked it.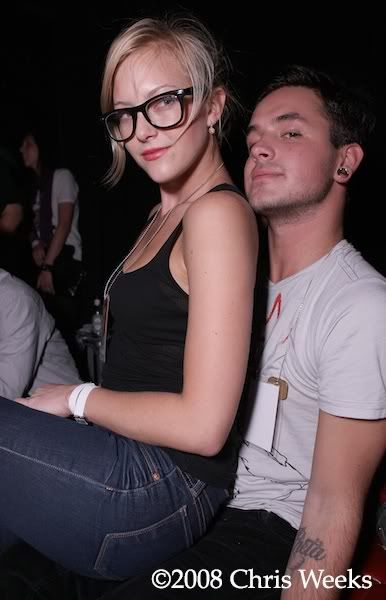 kaycee, left, and my friend nate. she likes to dance. and ... bringing up a young-ish girl ...
when i went on the daily-donkey-check i saw that wank was wanking about with a g10 and autumn leaves whilst the other one the ontopphotographer or onlinephotographer or whatever ... scroll halfway down and look for joyful nudes. click that shit (if you're 18, of course)...
a photography site that has such a verbose way of thinking it's so photographically amazing has a "soft porn" ad. that's amazing.
the link points to domai. from google i find that domai is an acronym for "dirty old man's association international."
that's fucking hilarious.
i think he's called me paparazzi. dunno for sure. was either that donut at pdn, the wank or this guy.
and what those three have in common is that none of them have "made it" in photography and since i make a lot of photos of celebs ... i'm paparazzi.
only neophytes would say that, though. i'm the one with the "fuck you pass" ... flying all over the world shooting for some of the biggest clients and publications in the world.
i'm published more than any one or all of them will be in their lives ... in one day.
okay ... a couple.
just strikes me funny that ya' know ... some pap-as-they-call me ... doesn't need soft porn adverts on my blog "to make it."
now we know that the genre of people looking at reviews with photos clearly indicating the reviewer has no fucking clue ... also attracts really old fuckers ... who love ... well ... what the fuck does domai mean?
(b, if you're reading this you're supposed to skip certain words, 'kay)
think that was my favourite photo from the night.
dunno. perhaps.
a.m. was so itching to get back on a deck. i think that's what cool dj's call a turntable.
they loved mike for sure.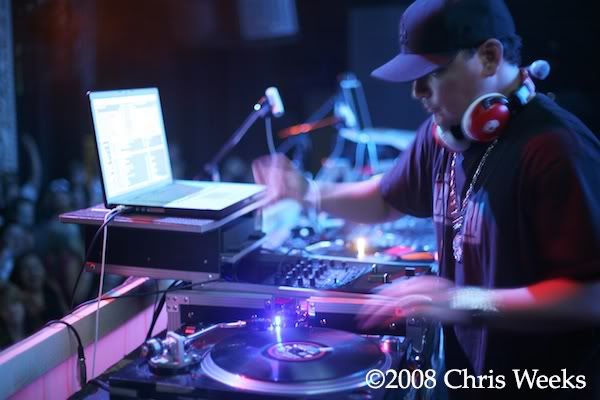 i know a.m. loved the set...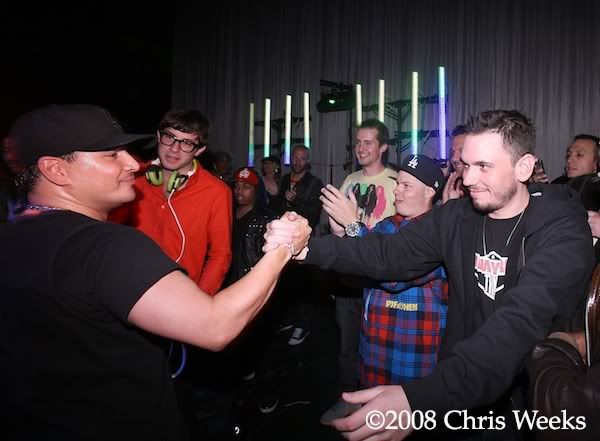 can't believe how good he looks for what i know he went through.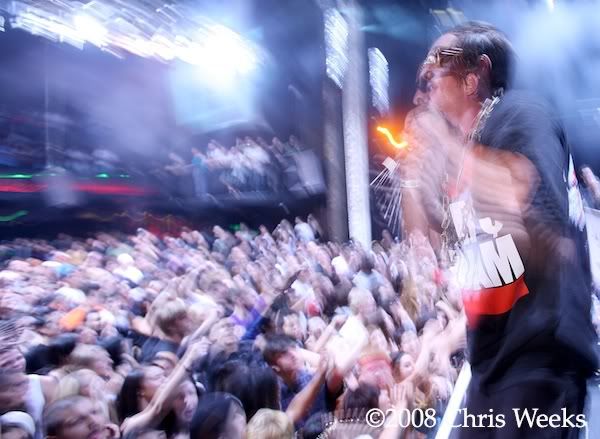 that very long exposure is of actor simon rex aka dirt nasty. youtube search him. there are titles you won't believe.
steve aoki, from left, dj vice and mark ronson.
i think mark killed it.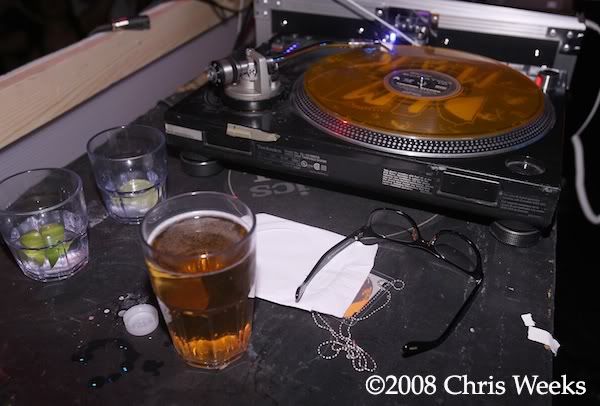 atmosphere.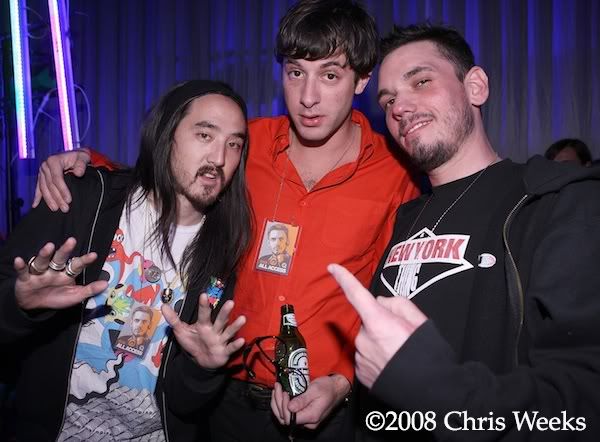 the amount of talent on that stage that night was really sick.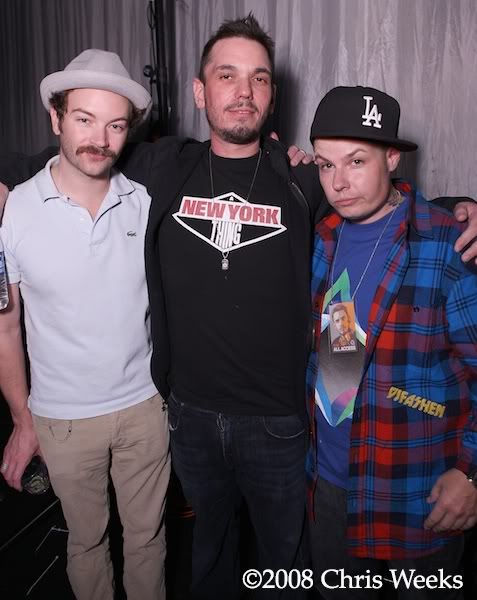 j and i had a good time even though we weren't able to spend a whole helluvalotta time together that night.
i like shutter-draggin'.
not to be like palin droppin' the "g's" from the "ing's."
what else ...
picked on the republican ticket.
posted some of what i've recently shot.
um ... called out domai. ;)
oh, yeah, i shot our dog trainer.
yes, i've done a lot of dogs lately. i like them. they're fun to work with. i hate prepositions at ends of sentences but don't care right now.
i made photos of our dog trainer. he's amazing.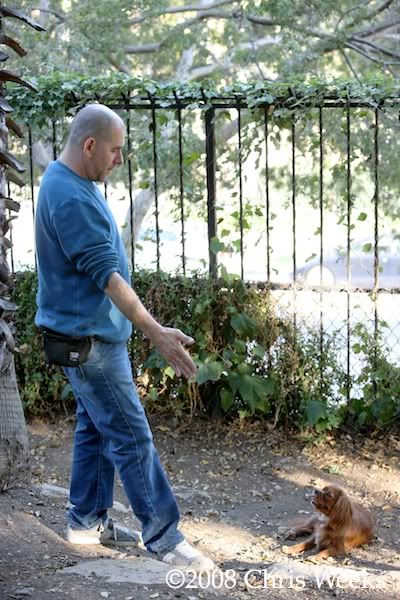 he demonstrates the stay command with mr. m.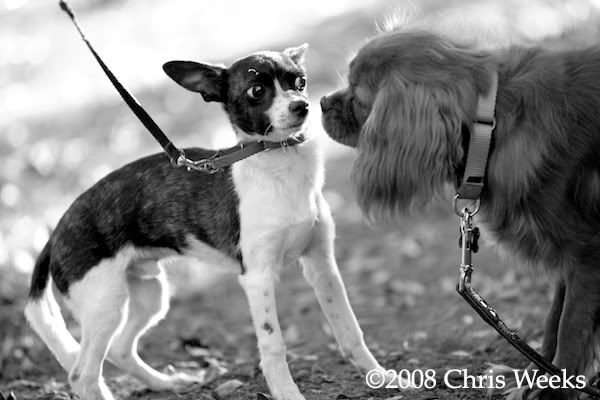 m meets ... um ... don't remember.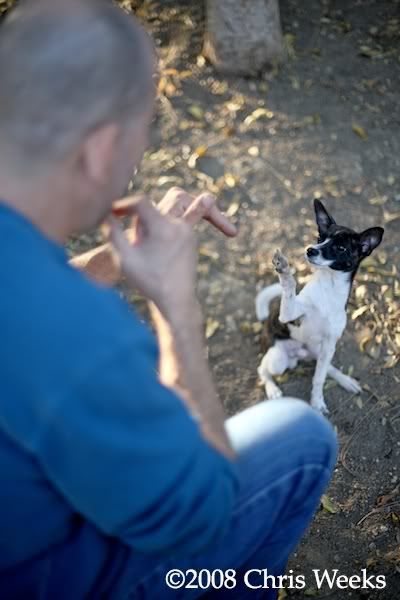 demonstrating the wave.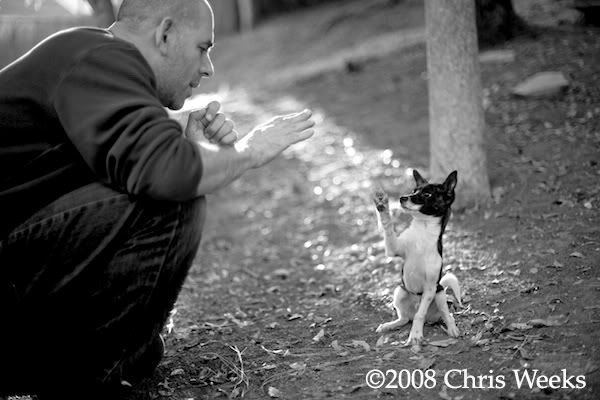 he was young and he hit his mark every time. i was impressed.
the sit up and wave as opposed to the wave. ;)
mid-retrieve.
what i really like about our trainer is that he really does love dogs and uses positive reinforcement training. he's the best.
and this little guy was pretty good, too...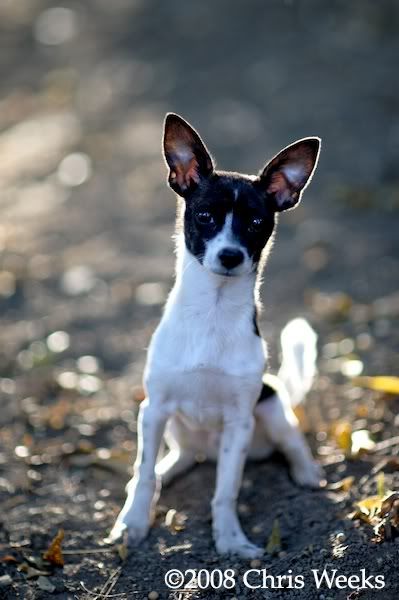 and throw in some nice wrestling ... and it was a full week. ;)
i've also been doing a lot of electronic and physical archiving lately.
i mean still.
it's an ongoing-yet-never-ending project.
again, no idea what's going on with uber.
heard back from all but 2 judges on the street contest. so ... soon.
i think it's time to sleep.
hope you're all well!
cheers from the soon-to-be-hot-as-shit-la!
p.s., thanks christian and art!