i used to love construction as a kid because i remember seeing a bunch of guys building my neighbor's house in our old neighborhood when i was around nine. i used to go out every morning when the workers would show up and watch them do their jobs, occasionally helping move a brick or hammer a nail ... i loved it! i remember them being very nice and friendly to me ...
so as i was walking down my current street a few weeks ago, fast forward 9 years from my first encounter with construction workers, i noticed they were re-building a property on my street. i've been meaning to shoot them for a while, but never got around to it until this weekend ... it was thanksgiving and i just walked up to them with my girlfriend and asked if i could make a few photos. i just had one body loaded with black and white film ... and they said "for sure brother, just careful where you step."
it started out as just shooting this for myself, but i think i will use these photos in a documentary series for my production class at school showing a construction worker in "a day in the life of" fashion ...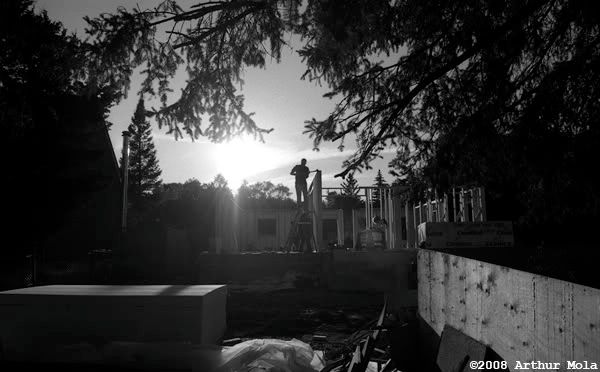 this was the first thing i saw ... i kinda like the silhouette of the worker and the frame of the house surrounded by all the trees ... i like including the surroundings in my photos.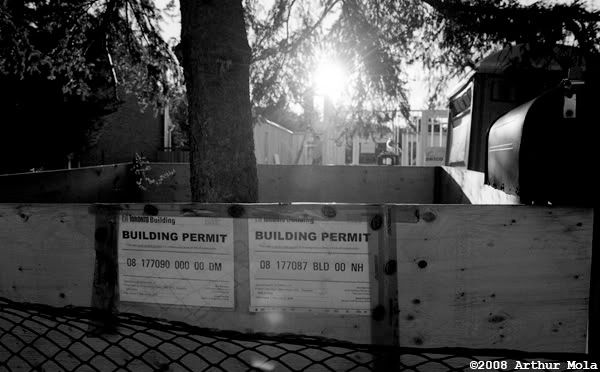 it's legit ...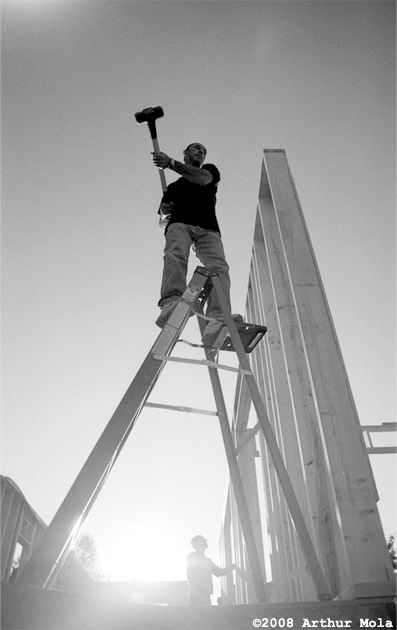 once i got permission to go in to the site, i got close and it was actually really fun making artistic photos of construction workers. i can't wait to show them these. i'm gunna go to the dark room at school tomorrow and make some 11x14's ...
i love the sun ... and the guy below the ladder ... it gives it scale and perspective.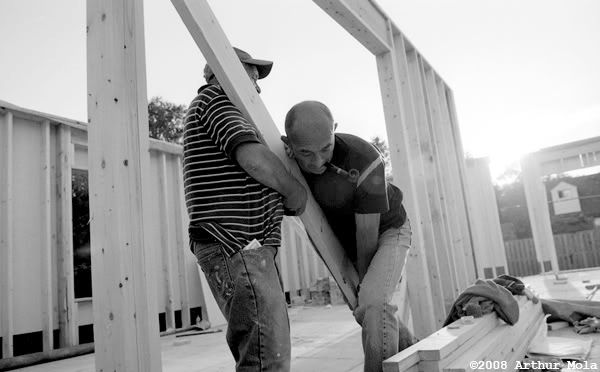 love the pipe ... little details. really reflects the "lifestyle" i think - stereotypical, for sure ... but, still. after i walked around the site a bit, i found all that remained of the old house ...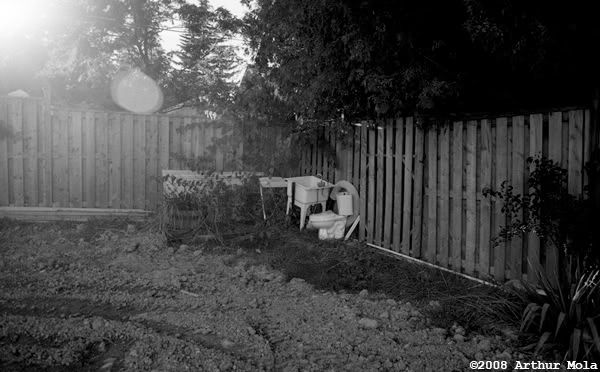 back to the workers ...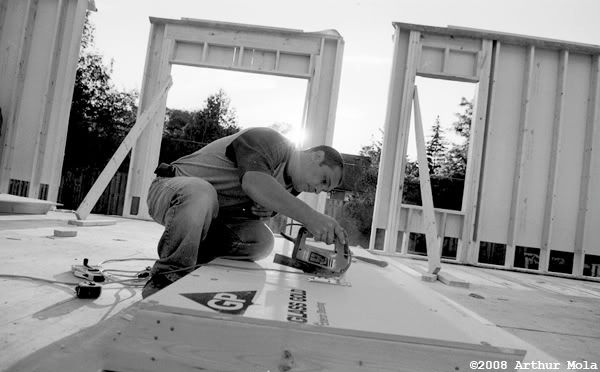 this is the boss ... i think his name is sam, but i can't remember.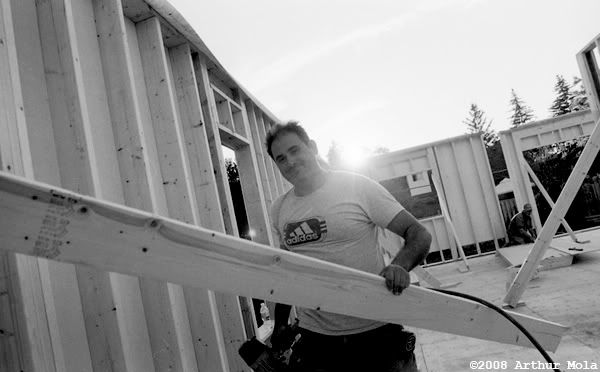 he was really nice though. i think people who aren't photographed often enjoy it. it's attention with a product afterward.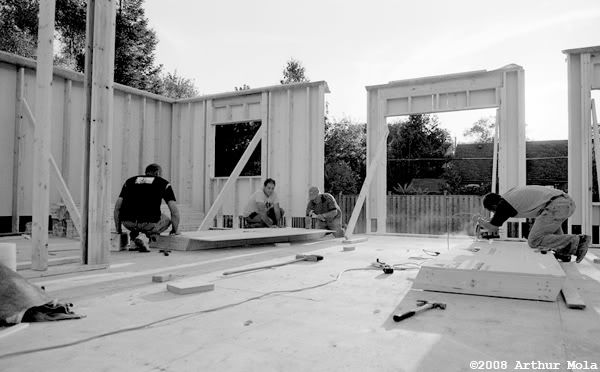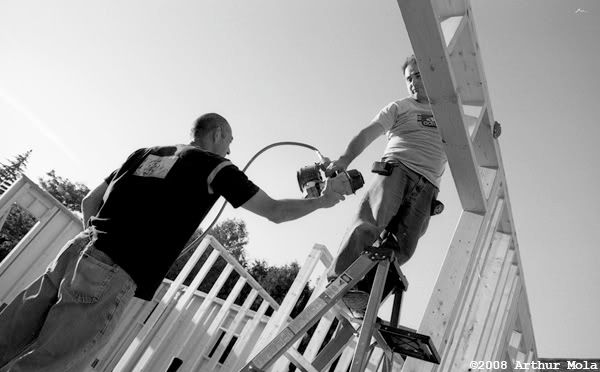 a lot of teamwork.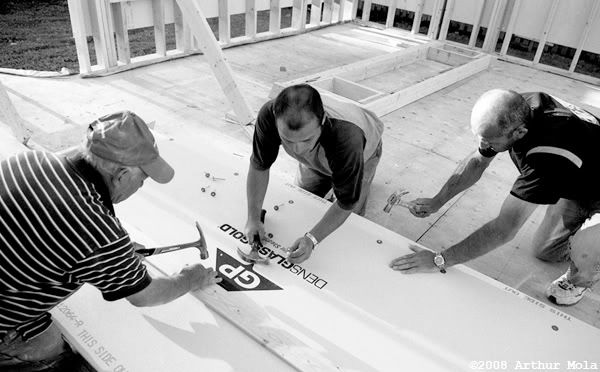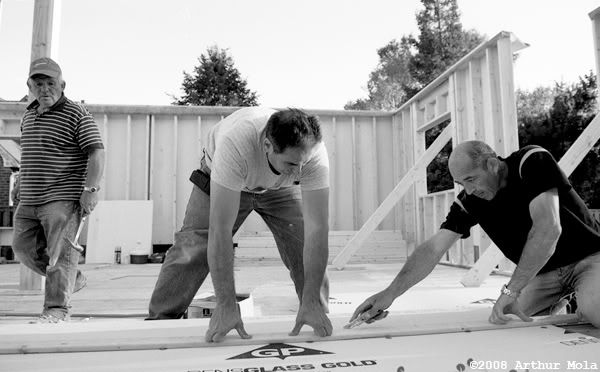 this guy was old - i think he's sam's dad.
some atmosphere ... these are some of my favorite photos to make and they speak so much about whoever or whatever you're photographing.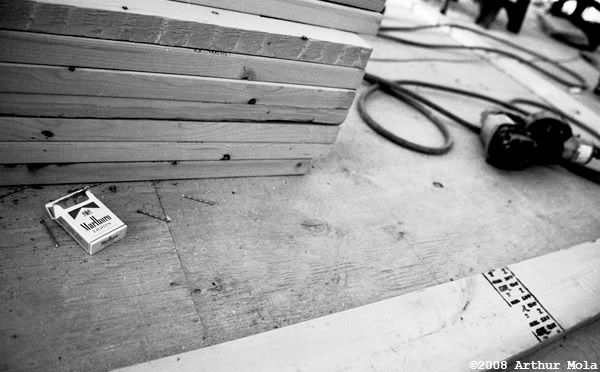 all
the lines of the structure of the house with the small worker between them. the sun shining bright. lines look good in photos for me.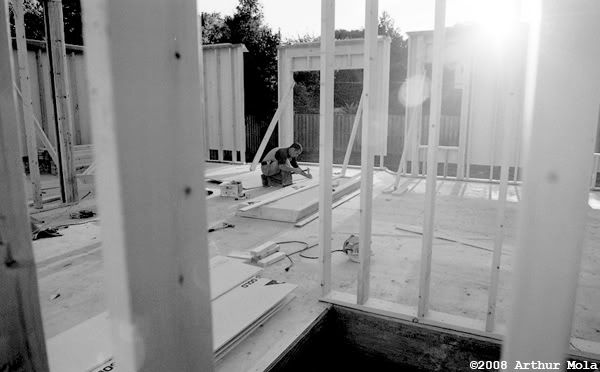 i think a very common thing amongst construction workers is their smoke break. i think it's a significant part of the work day for these people. and it's one of the things i remember observing during my first encounter with construction workers as a kid too.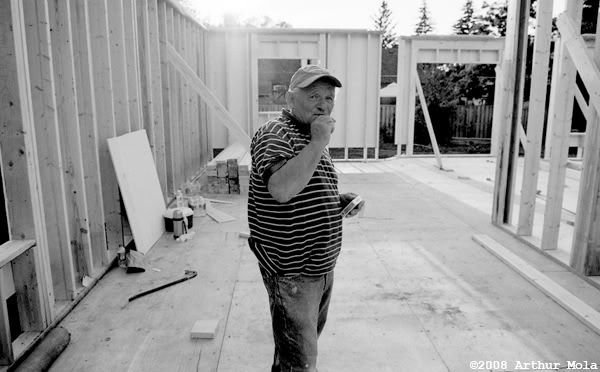 and a moment between father and son at work.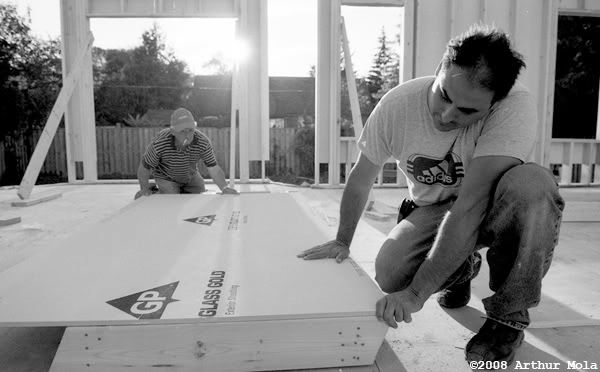 must be kind of cool and weird working with your dad. there's good and bad there i think. but they seemed to work well and be happy with each other.
if you could cut one photo from this series which one would it be? i need to make a series of 15 and i posted 16. there's more, but i'm stuck on these 16 ... wondering if you can help me out?
i have more scans ... lots of scans.
just finally had some time to post. and i think this is an interesting series.
i love how i finished shooting for my 30% mid term critique project in 30 minutes on one roll of film!
crazy!